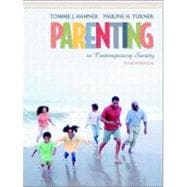 Questions About This Book?
What version or edition is this?
This is the 4th edition with a publication date of 1/1/2001.
What is included with this book?
The Used copy of this book is not guaranteed to include any supplemental materials. Typically, only the book itself is included.
Related Products
Summary
This research-based book on parenting through the lifespan, helps readers learn to work with parents as professionals, as well as develop life skills.Parenting in Contemporary Society, Fourth Edition provides in-depth information about parenting through the lifespan and parenting in diverse family types. It includes all types of parents and family situations, examines similarities and differences among parents in four major minority groups, and examines the various risks, challenges, and alternatives available to parents.Designed for family therapists or counselors.
Table of Contents
Preface
xi
PART I PARENTING: CONCEPTS, CHALLENGES, AND CHANGES
1
(32)
2
(27)
2
(7)
9
(16)
25
(4)
29
(1)
29
(4)

| | |
| --- | --- |
| | The Changing Nature of Parenting: Infancy and Early Childhood |

33
(35)
34
(9)
34
(2)
36
(1)
37
(3)
40
(1)

| | |
| --- | --- |
| | Brain Development and Infant Stimulation |

41
(2)
43
(6)

| | |
| --- | --- |
| | The Parents' Roles as Protectors |

43
(1)

| | |
| --- | --- |
| | Coping with Growing Autonomy |

44
(2)

| | |
| --- | --- |
| | Providing Learning Experiences |

46
(3)

| | |
| --- | --- |
| | Programs for Parents of Infants and Toddlers |

49
(2)

| | |
| --- | --- |
| | Parents and Preschool Children |

51
(11)

| | |
| --- | --- |
| | The Parents' Roles as Nurturers |

51
(1)

| | |
| --- | --- |
| | Discipline versus Punishment |

52
(5)
57
(1)

| | |
| --- | --- |
| | Developing a Sense of Initiative |

58
(2)

| | |
| --- | --- |
| | Providing Learning Experiences |

60
(2)

| | |
| --- | --- |
| | Programs for Parents of Preschool Children |

62
(1)

| | |
| --- | --- |
| | Developmental Needs of Parents |

63
(2)
65
(1)
65
(3)

| | |
| --- | --- |
| | The Changing Nature of Parenting: Middle Childhood and Adolescence |

68
(41)

| | |
| --- | --- |
| | Parents and School-Age Children |

69
(11)

| | |
| --- | --- |
| | The Parents' Roles as Encouragers |

69
(1)

| | |
| --- | --- |
| | Parenting Styles and Practices |

69
(4)

| | |
| --- | --- |
| | Developing a Sense of Industry |

73
(1)

| | |
| --- | --- |
| | Building a Healthy Self-Concept |

74
(2)
76
(1)

| | |
| --- | --- |
| | Providing Learning Experiences |

77
(3)

| | |
| --- | --- |
| | Special Challenges of Preadolescence |

80
(2)

| | |
| --- | --- |
| | Programs for Parents of School-age Children |

82
(2)

| | |
| --- | --- |
| | Parent Involvement in the Schools |

82
(1)
83
(1)

| | |
| --- | --- |
| | Parent Education via the Child's School |

83
(1)

| | |
| --- | --- |
| | Developmental Needs of Parents |

84
(1)
85
(17)

| | |
| --- | --- |
| | Parent-Child Interactions |

85
(3)

| | |
| --- | --- |
| | Developing a Sense of Identity |

88
(4)

| | |
| --- | --- |
| | Rearing Adolescents in Contemporary Society |

92
(3)
95
(5)
100
(2)

| | |
| --- | --- |
| | Programs for Parents of Adolescents |

102
(1)

| | |
| --- | --- |
| | Developmental Needs of Parents |

103
(1)
104
(1)
105
(4)

| | |
| --- | --- |
| | The Changing Nature of Parenting: Later Life |

109
(26)

| | |
| --- | --- |
| | Parents and Adult Children |

110
(6)

| | |
| --- | --- |
| | Parenting Young Adult Children |

111
(5)
116
(9)

| | |
| --- | --- |
| | Content and Meaning of the Grandparent Role |

117
(4)

| | |
| --- | --- |
| | Variables Related to Grandparenting |

121
(3)

| | |
| --- | --- |
| | Grandparents: A Potpourri |

124
(1)

| | |
| --- | --- |
| | Caring for Elderly Parents |

125
(7)
126
(1)

| | |
| --- | --- |
| | Variables Related to Aid and Contact |

127
(1)

| | |
| --- | --- |
| | Qualitative Aspects of Parent Care |

128
(2)
130
(2)
132
(1)
132
(3)

| | |
| --- | --- |
| | Becoming a More Effective Parent: Contemporary Strategies |

135
(27)

| | |
| --- | --- |
| | Systematic Training for Effective Parenting |

136
(6)
137
(1)
138
(1)

| | |
| --- | --- |
| | Expressive Aspects of Communication |

139
(1)

| | |
| --- | --- |
| | Natural and Logical Consequences |

140
(1)
141
(1)
141
(1)

| | |
| --- | --- |
| | Research Relating to the Adlerian Approach |

142
(1)
142
(2)

| | |
| --- | --- |
| | How to Talk So Kids Will Listen |

144
(2)
146
(2)
148
(1)
149
(2)

| | |
| --- | --- |
| | Research Related to Assertive Discipline |

150
(1)

| | |
| --- | --- |
| | The National Extension Parent Education Model |

151
(1)

| | |
| --- | --- |
| | Partners for Fragile Families |

151
(1)
152
(1)

| | |
| --- | --- |
| | Achieve! Success for Young Fathers |

153
(1)

| | |
| --- | --- |
| | Strengthening Stepfamilies |

153
(1)

| | |
| --- | --- |
| | Comparison and Evaluation of Contemporary Strategies |

153
(6)
153
(1)
154
(2)

| | |
| --- | --- |
| | Strengths and Limitations |

156
(3)
159
(1)
160
(2)
PART II PARENTING: DIVERSE FAMILY TYPES

| | |
| --- | --- |
| | Parenting in Diverse Cultures |

162
(39)

| | |
| --- | --- |
| | Socioeconomic Differences in Parenting |

163
(5)

| | |
| --- | --- |
| | Quality of the Home Environment |

164
(2)
166
(2)

| | |
| --- | --- |
| | Parenting in African American Families |

168
(11)
169
(1)

| | |
| --- | --- |
| | Diverse Viewpoints of the African American Family |

170
(1)

| | |
| --- | --- |
| | Functions of African American Families |

171
(1)

| | |
| --- | --- |
| | Characteristics of African American Culture That Affect Parenting |

172
(2)
174
(1)
175
(1)

| | |
| --- | --- |
| | Rearing African American Children |

176
(1)

| | |
| --- | --- |
| | Resources for African American Families |

177
(1)
178
(1)

| | |
| --- | --- |
| | Parenting in Mexican American Families |

179
(5)
179
(1)

| | |
| --- | --- |
| | Family Roles and Relationships |

180
(2)

| | |
| --- | --- |
| | Rearing Mexican American Children |

182
(2)
184
(1)

| | |
| --- | --- |
| | Parenting in Native American Families |

184
(6)
185
(1)
186
(1)
187
(1)

| | |
| --- | --- |
| | Parent-Child Interactions |

187
(2)

| | |
| --- | --- |
| | The Indian Child Welfare Act |

189
(1)
189
(1)

| | |
| --- | --- |
| | Parenting in Asian American Families |

190
(7)
190
(1)
191
(1)

| | |
| --- | --- |
| | Chinese American Families |

192
(3)

| | |
| --- | --- |
| | Japanese American Families |

195
(1)
196
(1)

| | |
| --- | --- |
| | Similarities and Differences among Cultures |

197
(1)
197
(1)
198
(3)

| | |
| --- | --- |
| | Parenting in Single-Parent Families and Stepfamilies |

201
(59)
203
(29)
204
(9)
213
(5)

| | |
| --- | --- |
| | Issues Related to Single Parenting |

218
(12)

| | |
| --- | --- |
| | Services and Support for Single-Parent Families |

230
(2)
232
(22)
235
(8)
243
(1)
244
(2)
246
(6)
252
(2)
254
(1)
255
(5)

| | |
| --- | --- |
| | Parenting in Families with Diverse Lifestyles |

260
(42)
261
(3)

| | |
| --- | --- |
| | Characteristics of Dual-Career Families |

262
(2)
264
(18)

| | |
| --- | --- |
| | Integration of Work and Family Roles and Responsibilities |

265
(7)

| | |
| --- | --- |
| | Marital Relationships in Dual-Career and Dual-Earner Families |

272
(2)

| | |
| --- | --- |
| | Children in Dual-Career and Dual-Earner Families |

274
(5)

| | |
| --- | --- |
| | Support for Dual-Career and Dual-Earner Families |

279
(3)
282
(4)
286
(11)

| | |
| --- | --- |
| | Reasons Gays and Lesbians Marry and Become Parents |

287
(1)
287
(3)
290
(4)

| | |
| --- | --- |
| | Effects of Homosexuality on Children |

294
(1)

| | |
| --- | --- |
| | Alternative Routes to Parenthood for Gays and Lesbians |

295
(1)

| | |
| --- | --- |
| | Gay Adoption and Foster Care |

296
(1)

| | |
| --- | --- |
| | Support for Gay and Lesbian Parents |

297
(1)
297
(1)
298
(4)
PART III PARENTING: RISKS AND ALTERNATIVES

| | |
| --- | --- |
| | Parenting in High-Risk Families |

302
(40)
303
(14)
303
(1)

| | |
| --- | --- |
| | Factors Associated with Adolescent Pregnancy |

304
(1)
305
(3)
308
(4)
312
(2)

| | |
| --- | --- |
| | Programs for Teen Pregnancy and Parenthood |

314
(3)
317
(14)

| | |
| --- | --- |
| | Types of Child Abuse/Neglect |

318
(2)

| | |
| --- | --- |
| | Factors Contributing to Abuse |

320
(2)

| | |
| --- | --- |
| | Effects of Abuse on Children |

322
(4)

| | |
| --- | --- |
| | Familial Aspects of Abuse |

326
(1)
327
(2)

| | |
| --- | --- |
| | Support for Abusive Parents |

329
(2)
331
(7)
332
(1)
332
(2)

| | |
| --- | --- |
| | Characteristics of Homeless Parents |

334
(1)

| | |
| --- | --- |
| | Characteristics of Homeless Children |

334
(1)

| | |
| --- | --- |
| | Support for Homeless Families |

335
(3)
338
(1)
338
(4)

| | |
| --- | --- |
| | Parenting Children with Exceptionalities |

342
(29)

| | |
| --- | --- |
| | Reactions of Parents at Birth |

343
(1)

| | |
| --- | --- |
| | Types of Exceptionalities |

344
(8)
344
(2)
346
(1)
346
(2)
348
(1)
349
(1)

| | |
| --- | --- |
| | Visual Impairments/Blindness |

350
(1)

| | |
| --- | --- |
| | Emotional/Behavioral Disorders |

350
(1)
351
(1)
352
(1)

| | |
| --- | --- |
| | Other At-Risk or Disabling Conditions |

352
(3)
353
(1)
353
(1)

| | |
| --- | --- |
| | Acquired Immune Deficiency Syndrome |

354
(1)

| | |
| --- | --- |
| | Challenges for Families with Exceptional Children |

355
(9)

| | |
| --- | --- |
| | Stress and Family Environment |

355
(3)

| | |
| --- | --- |
| | Parent-Child Relationships |

358
(5)
363
(1)

| | |
| --- | --- |
| | Support for Parents with Exceptional Children |

364
(3)
364
(3)
367
(1)
368
(3)

| | |
| --- | --- |
| | Alternatives to Biological Parenthood |

371
(34)
372
(10)
372
(1)

| | |
| --- | --- |
| | Characteristics of Adoptive Parents |

373
(2)
375
(1)
376
(4)

| | |
| --- | --- |
| | The Search by Adult Adoptees for Birth Parents |

380
(1)

| | |
| --- | --- |
| | Challenges to the Adoption Field |

381
(1)

| | |
| --- | --- |
| | Parenting through Assisted Reproduction |

382
(9)

| | |
| --- | --- |
| | Artificial Insemination by Donor |

383
(1)
383
(2)
385
(1)
386
(1)

| | |
| --- | --- |
| | Issues Relating to Assisted Reproduction |

387
(3)
390
(1)
391
(11)

| | |
| --- | --- |
| | The Role of the Foster Parent |

393
(4)
397
(2)

| | |
| --- | --- |
| | Factors Affecting Duration of Foster Care |

399
(2)
401
(1)
402
(1)
402
(3)

| | |
| --- | --- |
| | Alternatives for Child Care and Early Education |

405
(29)

| | |
| --- | --- |
| | Need for Early Care and Education |

406
(1)

| | |
| --- | --- |
| | Selecting Alternative Care |

407
(1)

| | |
| --- | --- |
| | Types of Early Care and Education |

408
(5)
408
(1)
408
(4)

| | |
| --- | --- |
| | Center-Based Care and Education |

412
(1)
413
(2)

| | |
| --- | --- |
| | School-Age Children in Self Care |

415
(6)
415
(1)
416
(2)

| | |
| --- | --- |
| | Families of Children in Self Care |

418
(1)

| | |
| --- | --- |
| | Support for Children in Self Care |

419
(1)
420
(1)

| | |
| --- | --- |
| | Quality Early Care and Education |

421
(4)
424
(1)

| | |
| --- | --- |
| | Effects of Early Care and Education |

425
(3)

| | |
| --- | --- |
| | Effects on Cognitive Development |

425
(1)

| | |
| --- | --- |
| | Effects on Emotional Development |

426
(1)

| | |
| --- | --- |
| | Effects on Social Development |

427
(1)

| | |
| --- | --- |
| | Parental Satisfaction with Child Care |

428
(1)
428
(1)
429
(1)
429
(1)
430
(1)
431
(3)
Author Index
434
(11)
Subject Index
445