Note: Supplemental materials are not guaranteed with Rental or Used book purchases.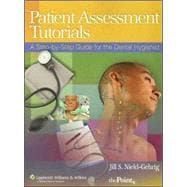 Patient Assessment Tutorials A Step-by-Step Guide for the Dental Hygienist
by
Gehrig, Jill S.
Lippincott Williams & Wilkins
Related Products
Summary
The ability to perform and document patient assessment procedures is vital to the practice of dental hygiene--a complete and accurate assessment is the starting point to providing thorough patient care. Make sure you are prepared for patient assessment with this unique guide that takes you step-by-step through each assessment procedure including techniques for effectively communicating the assessment process and findings to patients. Excellent features include detailed, full-color illustrations and photographs to visually guide you through procedures and techniques, case studies and personal accounts that bring the content to life, and more.
Table of Contents
| | |
| --- | --- |
| | PART 1: COMMUNICATION TECHNIQUES FOR ASSESSMENT |

| | |
| --- | --- |
| | Communication Skills for Assessment |

2
(26)

| | |
| --- | --- |
| | The Communication Process |

4
(8)

| | |
| --- | --- |
| | Communicating with Patients |

12
(7)
19
(2)
21
(1)
22
(3)
25
(3)

| | |
| --- | --- |
| | Making Our Words Understandable |

28
(16)

| | |
| --- | --- |
| | Roadblocks to Effective Communication |

29
(1)

| | |
| --- | --- |
| | Making Health Care Words Understandable |

30
(4)

| | |
| --- | --- |
| | Information Gathering on the Internet |

34
(1)
35
(2)
37
(2)
39
(1)
40
(4)

| | |
| --- | --- |
| | PART 2: ASSESSMENT SKILLS |

44
(58)

| | |
| --- | --- |
| | The Medical History Assessment |

46
(12)
58
(3)
61
(4)
65
(32)
97
(2)
99
(3)

| | |
| --- | --- |
| | Ready References: Medical History |

102
(34)

| | |
| --- | --- |
| | Medical Conditions and Diseases |

103
(8)

| | |
| --- | --- |
| | Common Presciption Medications |

111
(18)

| | |
| --- | --- |
| | Brand Names for Generic Drugs |

129
(7)
136
(22)

| | |
| --- | --- |
| | Introduction to Vital Signs Assessment |

138
(2)
140
(7)
147
(4)
151
(2)
153
(2)
155
(3)

| | |
| --- | --- |
| | Vital Signs: Pulse and Respiration |

158
(20)

| | |
| --- | --- |
| | Peak Procedure for Pulse Assessment |

160
(4)

| | |
| --- | --- |
| | Peak Procedure for Assessing Respiration |

164
(3)
167
(4)
171
(2)
173
(2)
175
(3)

| | |
| --- | --- |
| | Vital Signs: Blood Pressure |

178
(48)

| | |
| --- | --- |
| | Introduction to Blood Pressure |

181
(11)

| | |
| --- | --- |
| | Critical Technique Elements |

192
(5)
197
(8)
205
(8)
213
(3)

| | |
| --- | --- |
| | Practical Focus---Fictitious Patient Cases |

216
(3)
219
(3)
222
(4)
226
(44)

| | |
| --- | --- |
| | Learning to Look at Lesions |

228
(9)

| | |
| --- | --- |
| | Peak Procedures: Describing Lesions |

237
(2)
239
(1)

| | |
| --- | --- |
| | Peak Procedures: Smoking Cessation |

240
(1)
241
(6)
247
(3)

| | |
| --- | --- |
| | Practical Focus---Lesions Descriptions |

250
(15)
265
(2)
267
(3)
270
(64)
272
(9)
281
(3)
284
(21)
305
(2)
307
(3)

| | |
| --- | --- |
| | Practical Focus---Fictitious Patient Cases |

310
(16)
326
(3)
329
(5)
334
(56)
336
(8)
344
(17)
361
(4)
365
(2)

| | |
| --- | --- |
| | Practical Focus---Fictitious Patient Cases |

367
(16)
383
(2)
385
(5)
390
(44)

| | |
| --- | --- |
| | Learning to Look at the Gingiva |

392
(10)
402
(3)
405
(4)
409
(2)

| | |
| --- | --- |
| | Practical Focus---Fictitious Patient Cases |

411
(18)
429
(2)
431
(3)

| | |
| --- | --- |
| | Mixed Dentition and Occlusion |

434
(42)

| | |
| --- | --- |
| | Sorting Out a Mixed Dentition |

436
(3)

| | |
| --- | --- |
| | Learning to Look at Occlusion |

439
(6)
445
(2)

| | |
| --- | --- |
| | Ready References: Mixed Dentition |

447
(3)

| | |
| --- | --- |
| | Ready References: Occlusion |

450
(3)
453
(2)

| | |
| --- | --- |
| | Practical Focus---Mixed Dentition |

455
(8)

| | |
| --- | --- |
| | Practical Focus---Occlusion |

463
(5)
468
(3)
471
(5)
476
(34)

| | |
| --- | --- |
| | Review of Radiographic Anatomy |

478
(2)
480
(2)
482
(1)
483
(4)
487
(2)

| | |
| --- | --- |
| | Practical Focus---Fictitious Patient Cases |

489
(10)

| | |
| --- | --- |
| | Practical Focus---Panoramic Radiographs |

499
(7)
506
(1)
507
(3)

| | |
| --- | --- |
| | PART 3: COMPREHENSIVE PATIENT CASES |

| | |
| --- | --- |
| | Comprehensive Patient Case F - K |

510
(49)
513
(7)
520
(7)
527
(6)
533
(8)
541
(7)
548
(7)
555
(4)
Glossary
559
(6)
Index
565