Note: Supplemental materials are not guaranteed with Rental or Used book purchases.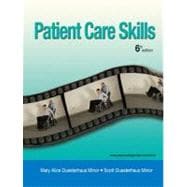 Questions About This Book?
What version or edition is this?
This is the 6th edition with a publication date of 7/16/2009.
What is included with this book?
The Used copy of this book is not guaranteed to include any supplemental materials. Typically, only the book itself is included.
Related Products
Summary
Enriched with new photographs,Patient Care Skillscontinues its tradition of excellence with a refreshed approach to covering all aspects of basic care skills. This book helps readers learn both the specifics of the procedures as well as general rules of good body mechanics, patient handling, and safety for patients and physical therapists/assistants. Comprehensive coverage provides all the information health care professionals need to perform skills related to patient positioning and transfer, vital signs, aseptic technique, and more. For each procedure presented, step-by-step illustrations are accompanied by brief written explanations. Following the sequence of illustrations for a specific procedure decreases the need for extensive text explanations and provides readers with a visual reference to determine if the sequence of steps they are performing matches the sequence of steps presented. Physical Therapy / Occupational Therapy students and professionals.
Table of Contents
Contents
Preface
Acknowledgements
Chapter 1 Americans with Disabilities Act
Learning Objectives
Key Terms
Introduction
Resources
General Considerations for Accessibility
Specific Requirements
Accessible Route
Assembly and Auditorium Areas for Wheelchair Seating
Check-Out Counters
Clear-Space Areas
Control Mechanisms
Curb Cuts
Doors and Doorways
Drinking Fountains
Elevators
Grab Bars
Ground and Floor Surfaces
Handrails
Hotels (Transient Lodging)
Medical Facilities
Parking Spaces
Platform Lifts
Ramps
Reach Ranges
Restrooms and Bathrooms
Stairs
Transportation Facilities
Review Questions
Suggested Activities
Case Study
References
Chapter 2 Patient/Client Management Process
Learning Objectives
Key Terms
Introduction
Health Insurance Portability and Accountability Act (HIPPA)
Models for Describing the Continuum of Health to Disability
Guide to Physical Therapist Practice
Examination
Chart Review
Interview
Systems Review
Tests and Measures
Evaluation
Diagnosis
Prognosis
Plan of Care
Goals
Intervention
Documentation
Formats of Medical Records
Formats of Notes
Requirements for Adequate Documentation
Medicare Guidelines
Audit of Patient Care
Review Questions
Suggested Activities
Case Study
References
Appendices
Chapter 3 Preparation for Patient Care
Learning Objectives
Key Terms
Introduction
Management of the Environment
Procedure 3-1 Body Mechanics
Instructions and Verbal Commands
Patient Preparation
Transporting
Procedure 3-2 Transporting via Gurney
Procedure 3-3 Transporting via Wheelchair
Descending Curb — Backward Method
Descending Curb — Forward Method
Ascending Curb — Backward Method
Ascending Curb — Forward Method
Doorways
Wheelchair Wheelies
Elevators
Review Questions
Suggested Activities
Case Study
Chapter 4 Aseptic Techniques
Learning Objectives
Key Terms
Introduction
Definitions
Guidelines for Isolation Precautions in Health Care Settings
Rationale
Modes of Transmission
Precautions
Administrative Controls
Standard Precautions
New Elements of Standard Precautions
Respiratory Hygiene/Cough Etiquette
Standard Precaution Guidelines
Contact Precautions
Contact Precaution Guidelines
Droplet Precautions
Droplet Precaution Guidelines
Airborne Precautions
Airborne Precautions Guidelines
Transmission-Based Precautions
Apparel
Sterile Field
Requirement 1
Requirement 2
Requirement 3
Requirement 4
Requirement 5
Requirement 6
Requirement 7
Requirement 8
Scrubbing vs. Handwashing
Procedure 4-1 Gowning
Procedure 4-2 Gloving
Removal of Contaminated Gloves
Wounds and Wound Dressings
Purpose
Evaluation
Types of Dressings
Materials
Preparation
Procedure 4-3 Application of Dressings and Wraps
Packing a Wound
Applying a Gauze Wrap
Applying a Compression Wrap
Review Questions
Suggested Activities
Case Study
References
Chapter 5 Vital Signs
Learning Objectives
Key Terms
Introduction
Heart Rate
Purpose
Methods
Procedure 5-1 Measuring Heart Rate
Sites
Norms
Blood Pressure
Purpose
Method
Site
Procedure 5-2 Measuring Blood Pressure
Norms
Respiration
Purpose
Methods
Procedure 5-3 Measuring Respiratory Rate
Norms
Temperature
Purpose
Methods
Sites
Norms
Pain
Purpose
Method
Site
Norms
Anthropometrics
Purpose
Methods
Norms
Review Questions
Suggested Activities
Case Study
References
Chapter 6 Wheelchairs
Learning Objectives
Key Terms
Introduction
Wheelchair Components
Wheel Locks
Pelvic Positioners
Caster Wheels
Drive (Push) Wheels
Armrests
Front Rigging
Wheelchair Types
Folding Wheelchair
Standard Wheelchair
Fixed-Frame Wheelchair
Reclining-Back Wheelchair
Tilt-in-Space Wheelchair
One-Arm Drive Wheelchair
Amputee Wheelchair
Companion Wheelchair
Motorized Wheelchairs and Scooters
Power-Assist Chair
Procedure 6-1 Measuring to Determine Wheelchair Size
Measuring for Seat Depth
Measuring for Seat Width
Measuring for Back Height
Measuring for Armrest Height
Measuring for Seat-to-Footplate Length
Measuring for Footplate Size
Standard Wheelchair Sizes
Review Questions
Suggested Activities
Case Studies
Chapter 7 Transfers
Learning Objectives
Key Terms
Introduction
Levels of Transfers
Levels of Assistance
Amount of Assistance
Type of Assistance
General Rules
Body Mechanics
Gait or Transfer Belts
Preparing the Environment
Instructions and Verbal Cues
Completing the Transfer
Procedure 7-1 Sliding Transfer: Cart to Treatment Table
Procedure 7-2 Three-Person Carry
Hydraulic Lift
Procedure 7-3 Using a Hydraulic Lift
Procedure 7-4 Two-Person Lift
Wheelchair to Floor
Floor to Wheelchair
Procedure 7-5 Dependent Standing Pivot
Procedure 7-6 Dependent Sitting Pivot
Procedure 7-7 Sliding Board
Procedure 7-8 Push-Up
Procedure 7-9 Assist to Front of Wheelchair Seat
Side-to-Side Weight Shifting
Pelvic Slide
Sitting Push-Up
Procedure 7-10 Assist for Moving From Edge of Treatment Table
Procedure 7-11 Assisted Standing Pivot
Guarding the Right Lower Extremity While Transferring to Right
Guarding the Left Lower Extremity While Transferring to Right
Wheelchair to Treatment Table: Using a Step Stool
Procedure 7-12 Squat Pivot Transfer
Procedure 7-13 Transfers Between Floor and Wheelchair
Dependent One-Person Transfer: Floor to Wheelchair
Procedure 7-14 Independent Transfer From Wheelchair to Floor and Return
Preparing the Wheelchair
Forward Lowering: Wheelchair to Floor
Backward Lift: Floor to Wheelchair
Backward Lift Using a Step Stool: Floor to Wheelchair
Turn Around: Wheelchair to Floor
Turn Around: Floor to Wheelchair
Forward to Hands-Knees Via Kneeling: Wheelchair to Floor
Forward to Hands-Knees: Wheelchair to Floor
Review Questions
Suggested Activities
Case Studies
References
Chapter 8 Turning and Positioning
Learning Objectives
Key Terms
Introduction
Goals
Time in Positions
Procedure 8-1 General Procedures
Supine Position
Procedure 8-2 Turning From Supine to Prone
Prone Position
Procedure 8-3 Turning From Prone to Supine
Procedure 8-4 Turning on a Floor Mat
Sidelying
Procedure 8-5 Turning From Supine or Prone to Sidelying
Procedure 8-6 Moving From Supine to Sitting
Supine to Long Sitting
Sidelying to Sitting on Side of Table
Supine to Sitting on Side of Table
Review Questions
Suggested Activities
Case Studies
Chapter 9 Range of Motion Exercise
Learning Objectives
Key Terms
Introduction
Methods
Anatomical Planes of Movement
Diagonal Patterns of Movement
Directions
Procedure 9-1 Lower Extremity ROM Exercises: Anatomical Planes
Procedure 9-2 Lower Extremity ROM Exercises: Diagonal Patterns
Procedure 9-3 Upper Extremity ROM Exercises: Anatomical Planes
Procedure 9-4 Upper Extremity ROM Exercises: Diagonal Patterns
Procedure 9-5 Head, Neck, and Trunk ROM Exercises: Anatomical Planes
Review Questions
Suggested Activities
Case Studies
References
Chapter 10 Ambulation With Ambulatory Assistive Devices
Learning Objectives
Key Terms
Introduction
Teaching Tips
Training Environment
Parallel Bars
Fatigue
Patient Concentration
Weight Bearing
Methods of Instruction
Content of Instruction
Choosing an Assistive Device
Walkers
Axillary Crutches
Forearm (Lofstrand) Crutches
Canes
Choosing a Gait Pattern
Weight Bearing Status
Two-Point Gait Pattern
Four-Point Gait Pattern
Three-Point Gait Pattern
Swing-To Gait Pattern
Swing-Through Gait Pattern
Procedure 10-1 Guarding
In and Out of a Wheelchair
Level Surfaces
Falling
Ascending/Descending Stairs
Procedure 10-2 Assumption of Standing and Sitting
Preparing a Wheelchair
Positioning a Patient
Assumption of Standing
Assumption of Sitting
Procedure 10-3 Ascending and Descending Stairs
Ascending Stairs
Descending Stairs
Curbs
Moving Through Doorways
Tilt Table
Walkers
Fitting
Procedure 10-4 In and Out of a Wheelchair With a Walker
Assuming Standing Using a Walker
Assuming Sitting Using a Walker
Assuming Standing Using Both Armrests
Assuming Sitting Using Both Armrests
Procedure 10-5 Ambulating With a Walker
Three-Point Gait Pattern
Swing-To Gait Pattern
Procedure 10-6 Ambulating on Stairs With a Walker
Stair-Climbing Walker
Standard Walker
Procedure 10-7 Ambulating Through Doorways With a Walker
Door Opens Toward Patient
Door Opens Away From Patient
Axillary Crutches
Fitting
Procedure 10-8 In and Out of a Wheelchair With Axillary Crutches
Assuming Standing: Physical Therapist/Assistant on Involved Side
Assuming Sitting: Physical Therapist/Assistant on Involved Side
Assuming Standing: Physical Therapist/Assistant on Uninvolved Side
Assuming Sitting: Physical Therapist/Assistant on Uninvolved Side
Procedure 10-9 Ambulating on Level Surfaces With Axillary Crutches
Three-Point Gait Pattern
Four-Point Gait Pattern
Two-Point Gait Pattern
Falling
Procedure 10-10 Ambulating on Stairs With Axillary Crutches
Holding the Crutches
Ascending Using a Handrail
Descending Using a Handrail
Ascending and Descending Stairs Without Using a Handrail
Procedure 10-11 Ambulating Through Doorways With Axillary Crutches
Doorways with Automatic Door Closer
Doorways without Automatic Door Closer
Forearm (Lofstrand) Crutches
Fitting
Procedure 10-12 In and Out of a Wheelchair With Forearm Crutches
Assuming Standing Using the Turn-Around Method
Assuming Sitting Using the Turn-Around Method
Assuming Standing Using the Power Method
Assuming Sitting Using the Power Method
Procedure 10-13 Ambulating on Level Ground With Forearm Crutches
Swing-To Gait Pattern
Swing-Through Gait Pattern
Falling
Assuming Standing from the Floor
Doorways
Procedure 10-14 Ambulating on Stairs With Forearm Crutches
Ascending — Forward Method
Descending — Forward Method
Ascending — Backward Method
Descending — Backward Method
Canes
Fitting
Procedure 10-15 In and Out of a Wheelchair With One Cane
Assuming Sitting — Quad Cane and Armrests
Assuming Standing — Quad Cane Only
Assuming Sitting — Quad Cane Only
Assuming Standing — Standard Cane and Two Armrests
Assuming Sitting — Standard Cane and Two Armrests
Assuming Standing — Standard Cane and One Armrest
Assuming Sitting — Standard Cane and One Armrest
Procedure 10-16 Ambulating On Level Surfaces With One Cane
Procedure 10-17 Ambulating On Stairs With One Cane
Holding the Cane
Ascending Using a Cane and Handrail
Descending Using a Cane and Handrail
Ascending Using One Cane
Descending Using One Cane
Procedure 10-18 Ambulating Through Doorways With One Cane
Doorways with Automatic Door Closers
Procedure 10-19 In and Out of a Wheelchair With Two Canes
Ambulating on Level Surfaces With Two Canes
Three-Point Gait Pattern
Four-Point Gait Pattern
Two-Point Gait Pattern
Procedure 10-20 Ambulating on Stairs With Two Canes
Holding the Canes
Three-Point Gait Pattern
Four-Point Gait Pattern
Two-Point Gait Pattern
Procedure 10-21 Ambulating Through Doorways With Two Canes
Door With Automatic Door Closers
Door Without Automatic Closers
Review Questions
Suggested Activities
Case Studies