Note: Supplemental materials are not guaranteed with Rental or Used book purchases.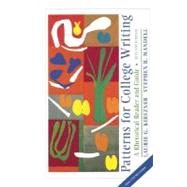 Patterns for College Writing; High School Reprint
ISBN13:
9780312255817
by
Laurie G. Kirszner
Summary
Engaging, accessible readings and thorough rhetorical instruction have made Patterns for College Writing the best-selling reader available. Patterns focuses students on the kinds of writing they will be asked to do throughout their college careers.
Table of Contents
Thematic Guide to the Contents
xix
Preface
xxv
INTRODUCTION: READING TO WRITE
1
(646)
1
(1)
2
(1)
2
(1)
2
(1)

| | |
| --- | --- |
| | Highlighting and Annotating |

3
(1)

| | |
| --- | --- |
| | Reading the Selections in this Book |

4
(3)
5
(2)

| | |
| --- | --- |
| | Responding to Reading Selections |

7
(6)
13
(48)
14
(20)

| | |
| --- | --- |
| | Understanding the Assignment |

14
(1)
15
(4)

| | |
| --- | --- |
| | Moving from Subject to Topic |

19
(4)
23
(1)
24
(1)
24
(2)
26
(1)
27
(1)
27
(1)

| | |
| --- | --- |
| | Making An Informal Outline |

28
(1)

| | |
| --- | --- |
| | Understanding Thesis and Support |

29
(1)
30
(3)
33
(1)
34
(11)
35
(1)

| | |
| --- | --- |
| | Constructing a Formal Outline |

36
(1)

| | |
| --- | --- |
| | Constructing a Formal Outline |

37
(1)

| | |
| --- | --- |
| | Understanding the Parts of the Essay |

38
(7)
45
(16)
45
(1)
46
(3)
49
(1)

| | |
| --- | --- |
| | Points for Special Attention |

50
(2)
52
(2)

| | |
| --- | --- |
| | Points for Special Attention |

54
(1)
55
(3)
58
(3)
61
(46)
61
(3)
62
(1)

| | |
| --- | --- |
| | Varying Sentence Structure |

63
(1)

| | |
| --- | --- |
| | Maintaining Clear Narrative Order |

63
(1)

| | |
| --- | --- |
| | Structuring a Narrative Essay |

64
(40)
65
(1)
65
(3)

| | |
| --- | --- |
| | Points for Special Attention |

68
(1)
69
(1)
70
(5)
75
(6)
81
(5)

| | |
| --- | --- |
| | Thirty-Eight Who Saw Murder Didn't Call the Police |

86
(5)
91
(9)
100
(4)

| | |
| --- | --- |
| | Writing Assignments for Narration |

104
(1)

| | |
| --- | --- |
| | Collaborative Activity for Narration |

105
(2)
107
(50)
107
(5)

| | |
| --- | --- |
| | Objective and Subjective Descriptions |

108
(2)

| | |
| --- | --- |
| | Objective and Subjective Language |

110
(1)
111
(1)

| | |
| --- | --- |
| | Structuring a Descriptive Essay |

112
(43)

| | |
| --- | --- |
| | Student Writers: Description |

113
(1)
114
(2)

| | |
| --- | --- |
| | Points for Special Attention |

116
(1)
117
(1)
117
(2)

| | |
| --- | --- |
| | Points for Special Attention |

119
(1)
120
(1)
121
(5)
126
(4)
130
(6)

| | |
| --- | --- |
| | The Way to Rainy Mountain |

136
(6)
142
(7)
149
(6)

| | |
| --- | --- |
| | Writing Assignments for Description |

155
(1)

| | |
| --- | --- |
| | Collaborative Activity for Description |

155
(2)
157
(50)
157
(4)

| | |
| --- | --- |
| | Using Examples to Explain and Clarify |

158
(1)

| | |
| --- | --- |
| | Using Examples to Add Interest |

158
(1)

| | |
| --- | --- |
| | Using Examples to Persuade |

159
(1)

| | |
| --- | --- |
| | Using Examples to Test Your Thesis |

159
(1)

| | |
| --- | --- |
| | Providing Enough Examples |

160
(1)

| | |
| --- | --- |
| | Choosing Representative Examples |

160
(1)

| | |
| --- | --- |
| | Structuring an Exemplification Essay |

161
(44)
162
(1)
163
(1)

| | |
| --- | --- |
| | Points for Special Attention |

164
(1)
165
(1)
165
(2)

| | |
| --- | --- |
| | Points for Special Attention |

167
(1)
168
(1)
169
(7)
176
(5)

| | |
| --- | --- |
| | English Is a Crazy Language |

181
(5)

| | |
| --- | --- |
| | Just Walk On By: A Black Man Ponders His Power to Alter Public Space |

186
(6)

| | |
| --- | --- |
| | The Human Cost of an Illiterate Society |

192
(10)
202
(3)

| | |
| --- | --- |
| | Writing Assignments for Exemplification |

205
(1)

| | |
| --- | --- |
| | Collaborative Activity for Exemplification |

205
(2)
207
(50)
207
(2)

| | |
| --- | --- |
| | Instructions and Process Explanations |

208
(1)
208
(1)

| | |
| --- | --- |
| | Structuring a Process Essay |

209
(46)
210
(1)
211
(1)

| | |
| --- | --- |
| | Points for Special Attention |

212
(1)
213
(1)
213
(2)

| | |
| --- | --- |
| | Points for Special Attention |

215
(1)
216
(2)
218
(5)
223
(7)
230
(5)
235
(5)

| | |
| --- | --- |
| | The Embalming of Mr. Jones |

240
(7)
247
(8)

| | |
| --- | --- |
| | Writing Assignments for Process |

255
(1)

| | |
| --- | --- |
| | Collaborative Activity for Process |

255
(2)
257
(54)

| | |
| --- | --- |
| | What is Cause and Effect? |

257
(5)

| | |
| --- | --- |
| | Main and Contributory Causes |

259
(1)

| | |
| --- | --- |
| | Immediate and Remote Causes |

260
(1)
260
(1)
261
(1)

| | |
| --- | --- |
| | Structuring a Cause-and-Effect Essay |

262
(46)
263
(1)

| | |
| --- | --- |
| | Describing or Predicting Effects |

264
(1)
265
(1)

| | |
| --- | --- |
| | The Irish Famine, 1845-1849 |

265
(3)

| | |
| --- | --- |
| | Points for Special Attention |

268
(1)
269
(1)
270
(4)

| | |
| --- | --- |
| | Television: The Plug-In Drug |

274
(10)

| | |
| --- | --- |
| | The ``Black Table'' Is Still There |

284
(4)

| | |
| --- | --- |
| | On the Meaning of Plumbing and Poverty |

288
(6)
294
(11)
305
(3)

| | |
| --- | --- |
| | Writing Assignments for Cause and Effect |

308
(1)

| | |
| --- | --- |
| | Collaborative Activity for Cause and Effect |

309
(2)
311
(56)

| | |
| --- | --- |
| | What is Comparison and Contrast? |

311
(4)

| | |
| --- | --- |
| | Using Comparison and Contrast |

312
(1)

| | |
| --- | --- |
| | Establishing a Basis of Comparison |

313
(1)

| | |
| --- | --- |
| | Selecting Points for Discussion |

314
(1)

| | |
| --- | --- |
| | Formulating a Thesis Statement |

314
(1)

| | |
| --- | --- |
| | Structuring a Comparison-and-Contrast Essay |

315
(51)

| | |
| --- | --- |
| | Using Subject-by-Subject Comparison |

315
(1)

| | |
| --- | --- |
| | Using Point-by-Point Comparison |

316
(1)

| | |
| --- | --- |
| | Supplying Clear Transitions |

316
(1)
317
(1)
317
(5)

| | |
| --- | --- |
| | Points for Special Attention |

322
(1)
323
(1)
324
(4)

| | |
| --- | --- |
| | Points for Special Attention |

328
(1)
329
(1)

| | |
| --- | --- |
| | Grant and Lee: A Study in Contrasts |

330
(5)
335
(5)

| | |
| --- | --- |
| | Two Ways to Belong in America |

340
(5)

| | |
| --- | --- |
| | How the Lawyers Stole Winter |

345
(5)

| | |
| --- | --- |
| | Sex, Lies, and Conversation |

350
(7)

| | |
| --- | --- |
| | Aria: A Memoir of a Bilingual Childhood |

357
(7)
364
(2)

| | |
| --- | --- |
| | Writing Assignments for Comparison and Contrast |

366
(1)

| | |
| --- | --- |
| | Collaborative Activity for Comparison and Contrast |

366
(1)

| | |
| --- | --- |
| | Classification and Division |

367
(76)

| | |
| --- | --- |
| | What is Classification and Division? |

367
(2)

| | |
| --- | --- |
| | Understanding Classification and Division |

368
(1)

| | |
| --- | --- |
| | Uses of Classification and Division |

368
(1)

| | |
| --- | --- |
| | Structuring a Classification-and-Division Essay |

369
(72)

| | |
| --- | --- |
| | Selecting and Arranging Categories |

370
(1)

| | |
| --- | --- |
| | Formulating a Thesis Statement |

370
(1)

| | |
| --- | --- |
| | Planning and Outlining Your Essay |

370
(2)

| | |
| --- | --- |
| | Classification and Division |

372
(1)

| | |
| --- | --- |
| | The Western: More Than Just ``Popular'' Literature |

372
(4)

| | |
| --- | --- |
| | Points for Special Attention |

376
(1)
376
(2)
378
(9)

| | |
| --- | --- |
| | The Men We Carry in Our Minds |

387
(6)
393
(8)

| | |
| --- | --- |
| | Sexism in English: A 1990s Update |

401
(13)
414
(10)
424
(17)

| | |
| --- | --- |
| | Writing Assignments for Classification and Division |

441
(1)

| | |
| --- | --- |
| | Collaborative Activity for Classification and Division |

442
(1)
443
(42)
443
(4)
444
(1)
445
(2)

| | |
| --- | --- |
| | Structuring A Definition Essay |

447
(35)
448
(1)
448
(3)

| | |
| --- | --- |
| | Points for Special Attention |

451
(1)
452
(1)
453
(4)
457
(4)
461
(4)
465
(4)
469
(5)
474
(8)

| | |
| --- | --- |
| | Writing Assignments for Definition |

482
(1)

| | |
| --- | --- |
| | Collaborative Activity for Definition |

483
(2)
485
(118)
485
(8)

| | |
| --- | --- |
| | Argumentation and Persuasion |

486
(1)
486
(1)
487
(1)
488
(1)

| | |
| --- | --- |
| | Gathering and Documenting Evidence |

488
(3)

| | |
| --- | --- |
| | Dealing with the Opposition |

491
(1)
492
(1)

| | |
| --- | --- |
| | Deductive and Inductive Arguments |

493
(7)

| | |
| --- | --- |
| | Using Deductive Arguments |

493
(2)

| | |
| --- | --- |
| | Using Inductive Arguments |

495
(1)
496
(1)
497
(3)

| | |
| --- | --- |
| | Structuring an Argumentative Essay |

500
(101)
501
(1)

| | |
| --- | --- |
| | An Argument against the Anna Todd Jennings Scholarship |

501
(4)

| | |
| --- | --- |
| | Points for Special Attention |

505
(1)
506
(1)

| | |
| --- | --- |
| | The Declaration of Independence |

507
(6)

| | |
| --- | --- |
| | Letter from Birmingham Jail |

513
(16)
529
(1)

| | |
| --- | --- |
| | What, Then, Is to Be Done? |

530
(11)

| | |
| --- | --- |
| | Five Myths about Immigration |

541
(6)

| | |
| --- | --- |
| | Debate: Multicultural Education |

547
(1)

| | |
| --- | --- |
| | Multiculturalism Is Misguided |

548
(4)

| | |
| --- | --- |
| | Let's Tell the Story of All America's Cultures |

552
(5)
557
(1)
558
(6)
564
(5)

| | |
| --- | --- |
| | Debate Casebook: Media Violence |

569
(1)
570
(10)

| | |
| --- | --- |
| | Memo to John Grisham: What's Next---``A Movie Made Me Do It''? |

580
(5)

| | |
| --- | --- |
| | Violent Films Cry ``Fire'' in Crowded Theaters |

585
(6)

| | |
| --- | --- |
| | Frankenstein Must Be Destroyed: Chasing the Monster of TV Violence |

591
(10)

| | |
| --- | --- |
| | Writing Assignments for Argumentation |

601
(1)

| | |
| --- | --- |
| | Collaborative Activity for Argumentation |

601
(2)
603
(44)
604
(1)
604
(3)

| | |
| --- | --- |
| | Points for Special Attention |

607
(1)
608
(1)
609
(16)
625
(10)

| | |
| --- | --- |
| | In Search of Our Mothers' Gardens |

635
(11)

| | |
| --- | --- |
| | Writing Assignments for Combining the Patterns |

646
(1)

| | |
| --- | --- |
| | Collaborative Activity for Combining the Patterns |

646
(1)
APPENDIX: USING AND DOCUMENTING SOURCES
647
(19)

| | |
| --- | --- |
| | Paraphrasing, Summarizing, and Using Quotations |

647
(2)
649
(3)

| | |
| --- | --- |
| | Using Mla Style to Cite and Document Sources |

652
(14)

| | |
| --- | --- |
| | Parenthetical References in the Text |

652
(1)
653
(7)
660
(6)
Glossary
666
(13)
Index of Terms, Authors, and Titles
679