Note: Supplemental materials are not guaranteed with Rental or Used book purchases.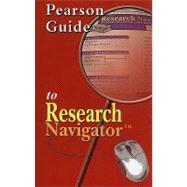 Related Products
Summary
Research Navigator is designed to help you with the research process, from identifying a topic to editing the final draft. It serves as an ideal starting point for your research and offers guidance on how to make your trips to the campus library more productive. Research Navigator includes four databases of credible and reliable source material to get your research process started:
Table of Contents
Quick Guide to Research Navigator
p. v
Introducing Research Navigator™
p. 1
What Is Research Navigator and How Can It Help with Research?
p. 1
What's in Research Navigator?
p. 1
ContentSelect
p. 2
Link to the New York Times Archive
p. 3
Link Library
p. 3
The Financial Times Article Archive and Company Financials
p. 4
Other Resources within Research Navigator
p. 4
Using Your Library
p. 4
Start Writing
p. 5
Endnotes and Bibliography
p. 5
Using ContentSelect
p. 7
About ContentSelect
p. 7
What's in ContentSelect?
p. 7
Academic Journals
p. 7
General Interest Publications
p. 8
Searching ContentSelect
p. 9
Select a Database
p. 9
Basic Search
p. 9
Search by Article Number
p. 11
Advanced Search
p. 11
Full Text Results
p. 12
Abstract and Citation Results
p. 12
Using Link Library
p. 15
Link Library and the Web
p. 15
What's in Link Library?
p. 16
Finding Information with Link Library
p. 17
Using the Financial Times Article Archive and Company Financials Database
p. 19
Search by Keyword
p. 20
˘And÷ Behavior
p. 20
Case Sensitivity
p. 20
Searching Within Results
p. 20
Sorting by Date
p. 20
FT.com Company Financial Data
p. 20
Avoiding Plagiarism and Documenting Your Electronic Sources
p. 23
What Is Plagiarism?
p. 23
Using Copyrighted Materials
p. 23
How to Avoid Plagiarism
p. 24
Paraphrasing
p. 24
Summarizing
p. 25
Quoting Sources
p. 26
How to Include Reference Citations in Your Text
p. 26
American Psychological Association (APA) Style
p. 27
Modern Language Association (MLA) Style
p. 27
Chicago Manual Style (CMS) Guidelines
p. 28
Council of Science Editors (CSE) Style
p. 29
References
p. 31
Table of Contents provided by Ingram. All Rights Reserved.