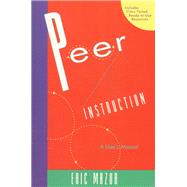 Includes 2-weeks free access to
step-by-step solutions for this book.
Step-by-Step solutions are actual worked out problems to the questions at the end of each chapter that help you understand your homework and study for your exams. Chegg and eCampus are providing you two weeks absolutely free. 81% of students said using Step-by-Step solutions prepared them for their exams.
List Price: $60.40

More New and Used
from Private Sellers
Summary
Presents an entirely new approach to introductory physics within a calculus-based conceptual and a mathematical framework. It offers an approach to presenting the material that is more gradual than existing books on the subject.Peer Instruction: A User's Manualdevelops the full conceptual framework of each chapter within the first section of that chapter while addressing questions common to that topic. The material in this section concentrates on the underlying ideas and paints the big picture, whenever possible without equations. The second part of each chapter then develops the rigorous mathematical framework linked to the material presented in the first part. Each chapter also includes a short set of qualitative, conceptual questions at the end of the first section designed to strengthen the focus on the conceptual framework and facilitate understanding of the mathematical framework. The book is written in a lively, engaging style that anticipates the questions readers will have, articulates them, and answers them in a direct dialogue with the reader.MARKETS:A valuable reference book for anyone desiring an understanding of physics as it relates to engineering and science.
Table of Contents
Foreword
ix
Foreword
xi
Preface
xiii
PART ONE: OVERVIEW
1
(42)
3
(6)
3
(2)

| | |
| --- | --- |
| | Memorization Versus Understanding |

5
(4)
9
(10)
9
(1)
10
(4)
14
(1)

| | |
| --- | --- |
| | Do Problem-Solving Skills Suffer? |

15
(1)
16
(2)
18
(1)
19
(6)
19
(3)
22
(1)
23
(2)

| | |
| --- | --- |
| | A Step-By-Step Guide to Preparing for a peer Instruction Lecture |

25
(8)
25
(1)
26
(1)
27
(1)
27
(1)
28
(1)

| | |
| --- | --- |
| | The Problem with Conventional Problems |

29
(1)
30
(3)
33
(6)
39
(4)
39
(2)
41
(2)
PART TWO: RESOURCES
43
(202)
45
(14)
47
(11)

| | |
| --- | --- |
| | Answer Key for Force Concept Inventory |

58
(1)
59
(12)
60
(10)

| | |
| --- | --- |
| | Answer Key for Mechanics Baseline Test |

70
(1)
71
(4)

| | |
| --- | --- |
| | Introductory Questionnaire Results |

71
(4)
75
(30)
76
(1)
76
(1)
77
(1)
77
(1)
78
(1)
79
(1)
79
(1)
80
(1)
81
(1)
81
(1)
82
(1)
82
(1)
83
(1)
84
(1)
84
(1)
85
(1)
86
(1)
86
(1)
87
(1)
88
(1)
89
(1)
89
(1)
90
(1)
91
(1)
92
(1)
92
(1)
93
(1)
94
(1)
94
(1)
95
(1)
95
(1)
96
(1)
97
(1)
97
(1)
98
(1)
98
(1)
99
(1)
100
(1)
100
(1)
101
(1)

| | |
| --- | --- |
| | Historical Introduction to Modern Physics |

101
(1)

| | |
| --- | --- |
| | Wave-Particle Duality/Uncertainty |

102
(1)
103
(1)
103
(1)

| | |
| --- | --- |
| | Answer Key for Reading Quizzes |

104
(1)
105
(118)
106
(5)
111
(5)

| | |
| --- | --- |
| | Energy, Work, and the Conservation of Energy |

116
(7)
123
(2)

| | |
| --- | --- |
| | Inertial Mass, Momentum, and Collisions |

125
(10)
135
(4)
139
(3)
142
(14)
156
(9)
165
(2)
167
(7)
174
(14)
188
(6)
194
(2)
196
(6)
202
(8)
210
(5)
215
(2)
217
(6)

| | |
| --- | --- |
| | Conceptual Exam Questions |

223
(22)
224
(1)
224
(4)
228
(1)
229
(1)
230
(1)

| | |
| --- | --- |
| | Oscillations, Waves, and Sound |

231
(1)
231
(1)
232
(3)
235
(1)
236
(3)

| | |
| --- | --- |
| | Induction and Maxwell's Equations |

239
(1)
240
(2)
242
(1)
242
(3)
Appendix: Disk Instructions
245
(2)
Index
247