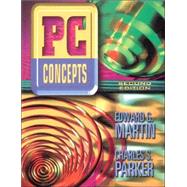 Personal Computer Concepts (2nd)
by
Martin
Questions About This Book?
What version or edition is this?
This is the 2nd edition with a publication date of 12/22/1999.
What is included with this book?
The New copy of this book will include any supplemental materials advertised. Please check the title of the book to determine if it should include any CDs, lab manuals, study guides, etc.
Summary
[This text is] created to provide a highly compact and current presentation of the world of PCs for students taking a first course in computers. It contains the knowledge one absolutely needs to know to understand how PCs work and how they can be used to maximum benefit. [The text discusses] such topics as storage and processing concepts, types of computer systems, PC hardware, PC software, communications systems fundamentals the Internet and the World Wide Web, shopping for a PC, and social issues regarding technology. -Pref.
Table of Contents
Preface
vi

| | |
| --- | --- |
| | Introduction to Personal Computers |

1
(28)
2
(1)
3
(1)

| | |
| --- | --- |
| | What's a Personal Computer? |

3
(3)

| | |
| --- | --- |
| | The Role of Data and Programs |

6
(2)

| | |
| --- | --- |
| | Data: A Multimedia Perspective |

6
(1)

| | |
| --- | --- |
| | Programs: The Instructions That Shape Data |

7
(1)
8
(1)
8
(1)
8
(1)
9
(3)
9
(1)
9
(3)

| | |
| --- | --- |
| | Organizing Data and Programs |

12
(3)
12
(2)
14
(1)

| | |
| --- | --- |
| | Fields, Records, Files, and Databases |

14
(1)
15
(2)
15
(1)
16
(1)

| | |
| --- | --- |
| | PC-Compatible or Macintosh? |

16
(1)
17
(2)
18
(1)
18
(1)

| | |
| --- | --- |
| | Using PCs: A Comprehensive Example |

19
(3)
22
(1)
23
(2)
25
(2)
27
(2)
29
(44)
30
(1)
31
(2)
31
(1)
31
(2)
33
(1)
33
(15)

| | |
| --- | --- |
| | Bits and Bytes: The Building Blocks of Computer Logic |

34
(6)

| | |
| --- | --- |
| | Looking Inside the System Unit |

40
(8)

| | |
| --- | --- |
| | Secondary Storage Hardware |

48
(9)

| | |
| --- | --- |
| | Properties of Secondary Storage Systems |

48
(1)
49
(3)
52
(2)
54
(2)
56
(1)
57
(7)
57
(2)
59
(3)

| | |
| --- | --- |
| | Special-Purpose Output Devices |

62
(2)
64
(2)
66
(2)
68
(3)
71
(1)
71
(2)
73
(48)
74
(1)
75
(2)
75
(1)
76
(1)
76
(1)
77
(3)
77
(1)
78
(1)

| | |
| --- | --- |
| | Graphical User Interfaces (GUIs) |

78
(2)

| | |
| --- | --- |
| | Elements of a Graphical User Interface |

80
(12)
80
(6)
86
(4)
90
(1)
91
(1)
92
(8)
92
(6)
98
(1)
99
(1)
100
(12)
100
(1)
101
(1)
101
(5)

| | |
| --- | --- |
| | Database Management Systems |

106
(2)

| | |
| --- | --- |
| | Other Productivity Software |

108
(4)
112
(2)
114
(2)
116
(3)
119
(1)
119
(2)

| | |
| --- | --- |
| | Communications and Networks |

121
(38)
122
(1)

| | |
| --- | --- |
| | Telecommunications Applications |

123
(6)

| | |
| --- | --- |
| | Electronic Mail and Messaging |

123
(2)

| | |
| --- | --- |
| | Information Retrieval and the Web |

125
(1)
126
(2)
128
(1)
129
(5)
129
(3)
132
(2)

| | |
| --- | --- |
| | Adapting Computers to Telecommunications Media |

134
(6)
135
(1)

| | |
| --- | --- |
| | Network Interface Cards and Modems |

136
(3)
139
(1)
140
(1)
140
(5)

| | |
| --- | --- |
| | Local Area Networks (LANs) |

142
(2)

| | |
| --- | --- |
| | Hierarchical Local Networks |

144
(1)

| | |
| --- | --- |
| | Wide Area Networks (WANs) |

145
(1)
145
(1)
146
(7)
153
(2)
155
(1)
156
(1)
157
(1)
157
(2)

| | |
| --- | --- |
| | Introduction to the Internet and World Wide Web |

159
(46)
160
(1)

| | |
| --- | --- |
| | Evolution of the Internet |

161
(5)

| | |
| --- | --- |
| | From the ARPANET to the World Wide Web |

161
(2)

| | |
| --- | --- |
| | The Internet Community Today |

163
(2)
165
(1)

| | |
| --- | --- |
| | What Does the Internet Have to Offer? |

166
(10)
166
(2)

| | |
| --- | --- |
| | Information Retrieval and the World Wide Web |

168
(3)
171
(1)
172
(1)
173
(2)
175
(1)
176
(2)

| | |
| --- | --- |
| | Desktop Tools for Accessing the Internet |

178
(14)

| | |
| --- | --- |
| | Browsers and Plug-In Packages |

178
(10)
188
(4)
192
(1)

| | |
| --- | --- |
| | Connecting to the Internet |

192
(5)
192
(1)
193
(2)
195
(2)
197
(2)
199
(1)
200
(3)
203
(1)
203
(2)
205
(32)
206
(1)
207
(5)
207
(1)
208
(4)
212
(5)
213
(1)
213
(2)
215
(1)
216
(1)

| | |
| --- | --- |
| | Hardware and Software Installation |

217
(1)
218
(8)
218
(1)
219
(3)
222
(1)

| | |
| --- | --- |
| | Troubleshooting and Technical Assistance |

222
(4)
226
(3)
227
(1)
227
(1)

| | |
| --- | --- |
| | Functional versus Technological Obsolescence |

228
(1)
229
(2)
231
(1)
232
(1)
233
(3)
236
(1)

| | |
| --- | --- |
| | Social Issues Involving Computers |

237
(30)
238
(1)

| | |
| --- | --- |
| | Computers, Work, and Our Well-Being |

239
(2)
239
(1)

| | |
| --- | --- |
| | Ergonomics-Related Concerns |

240
(1)

| | |
| --- | --- |
| | Environment-Related Concerns |

241
(1)
241
(10)
242
(4)

| | |
| --- | --- |
| | Minimizing Computer Crime |

246
(4)
250
(1)
251
(5)

| | |
| --- | --- |
| | Privacy and Electronic Mail |

251
(2)

| | |
| --- | --- |
| | Privacy and Marketing Databases |

253
(1)
253
(1)
254
(2)
256
(1)

| | |
| --- | --- |
| | Ethical Issues Regarding Computers |

256
(3)
258
(1)
258
(1)
259
(1)
260
(2)
262
(3)
265
(1)
265
(2)
Glossary
267
(10)
Index
277
(6)
Credits
283