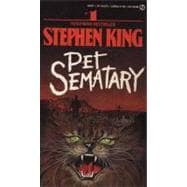 Summary
""Sometimes dead is better...."" When the Creeds move into a beautiful old house in rural Maine, it all seems too good to be true: physician father, beautiful wife, charming little daughter, adorable infant son -- and now an idyllic home. As a family, they've got it all...right down to the friendly cat. But the nearby woods hide a blood-chilling truth -- more terrifying than death itself...and hideously more powerful.
Author Biography
Stephen King, the world's bestselling novelist, was educated at the University of Maine at Orono. He lives with his wife, the novelist Tabitha King, and their children in Bangor, Maine.
Table of Contents
Introduction
The Pet Sematary
The Micmac Burying Ground
Oz the Gweat and Tewwible
Table of Contents provided by Publisher. All Rights Reserved.