Note: Supplemental materials are not guaranteed with Rental or Used book purchases.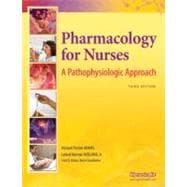 Questions About This Book?
What version or edition is this?
This is the 3rd edition with a publication date of 2/9/2010.
What is included with this book?
The Used copy of this book is not guaranteed to include any supplemental materials. Typically, only the book itself is included.
Customer Reviews
Wonderful book
March 10, 2011
by





I purchased this is great book that helped me to understand pharmacy as well as pathology. This pharmacology book is a very easy reading. Each chapter is only 5 to 7 pages long. At the end of each chapter are wonderful study questions that cover all important aspects of the chapter. The textbook is written in a prototype approach, easy to follow presentation and extensive pedagogical aids enable students to understand key concepts and apply essential components of nursing care to drug therapy. It really introduce a very well rounded approach for nurses and nursing students!

Flag Review
---
Pharmacology for Nurses : A Pathophysiologic Approach

:
stars based on
1
user reviews.
Summary
Effectively learning pharmacology requires students to clearly see the connection between pharmacology, disease and patient care. Pharmacology for Nurses, 3e i(this is the standalone book) is structured to present pharmacology and pathology together, so students can more easily grasp the interrelationship between these subjects and provide a holistic perspective to patient care.
A prototype approach, easy to follow presentation and extensive pedagogical aids enable students to understand key concepts and apply essential components of nursing care to drug therapy.
Pasco-Hernando Community College, New Port Richey, FL. Workbook provides a guide to learning and applying key concepts and procedures from the textbook profiled 2010-16. Features matching exercises, fill-in-the-blank activities, and dosage calculation problems. For student nurses. Three-hole punched with perforated pages.
Author Biography
Michael Patrick Adams, PhD, is an accomplished educator, author, and national speaker. The National Institute for Staff and Organizational Development in Austin, Texas, named Dr. Adams a Master Teacher. He has published two other textbooks with Pearson Publishing: Core Concepts in Pharmacology and Pharmacology: Connections to Nursing Practice. Dr. Adams obtained his Master's degree in Pharmacology from Michigan State University and his Doctorate in Education at the University of South Florida. Dr. Adams was on the faculty of Lansing Community College and St. Petersburg College, and was Dean of Health Programs at Pasco-Hernando Community College for 15 years. He is currently Professor of Biological Sciences at Pasco-Hernando Community College.
Leland Norman Holland, Jr., PhD (Norm) over twenty years ago started out like many scientists, planning for a career in basic science research. Quickly he was drawn to the field of teaching in higher medical education, where he has spent most of his career since that time. Among the areas where he has been particularly effective are preparatory programs in nursing, medicine, dentistry, pharmacy and allied health. Dr. Holland is both an affiliate and supporter of nursing education nationwide. He brings to the profession a depth of knowledge in biology, chemistry and medically-related subjects such as microbiology, biological chemistry, and pharmacology. Dr. Holland's doctoral degree is in medical pharmacology. He is very much dedicated to the success of students and their preparation for work-life readiness. He continues to motivate students in the life-long pursuit of learning.
Carol Quam Urban, PhD, RN is the Assistant Dean for Undergraduate Nursing and an Assistant Professor in the School of Nursing, College of Health and Human Services where she teaches undergraduate courses in pharmacology and pathophysiology. Her current research interests focus on improving learning for students at-risk for academic difficulties, outcomes-based education, effective educational models using computer-based learning, and service-base learning. She has also published on the ethical needs of at-risk students. She is a member of Sigma Theta Tau - Epsilon Zeta chapter, Alpha Chi, the National Association for Developmental Education, National College Learning Center Association, and the College Reading and Learning Association. At Mason, she serves on the General Education Committee and the Distance Education Council.
Table of Contents
UNIT 1 Core Concepts in Pharmacology
Chapter 1 Introduction to Pharmacology: Drug Regulation and Approval
Chapter 2 Drug Classes and Schedules
Chapter 3 Principles of Drug Administration
Chapter 4 Pharmacokinetics
Chapter 5 Pharmacodynamics
UNIT 2 Pharmacology and the Nurse-Patient Relationship
Chapter 6 The Nursing Process in Pharmacology
Chapter 7 Drug Administration Throughout the Lifespan
Chapter 8 Psychosocial, Gender, and Cultural Influences on Pharmacotherapy
Chapter 9 Medication Errors and Risk Reduction
Chapter 10 Herbal and Alternative Therapies
Chapter 11 Substance Abuse
Chapter 12 Emergency Preparedness and Poisonings
UNIT 3 The Nervous System
Chapter 13 Drugs Affecting the Autonomic Nervous System
Chapter 14 Drugs for Anxiety and Insomnia
Chapter 15 Drugs for Seizures
Chapter 16 Drugs for Emotional and Mood Disorders
Chapter 17 Drugs for Psychoses
Chapter 18 Drugs for the Control of Pain
Chapter 19 Drugs for Local and General Anesthesia
Chapter 20 Drugs for Degenerative Diseases of the Nervous System
Chapter 21 Drugs for Neuromuscular Disorders
UNIT 4 The Cardiovascular and Urinary Systems
Chapter 22 Drugs for Lipid Disorders
Chapter 23 Drugs for Hypertension
Chapter 24 Drugs for Heart Failure
Chapter 25 Drugs for Angina Pectoris and Myocardial Infarction
Chapter 26 Drugs for Dysrhythmias
Chapter 27 Drugs for Coagulation Disorders
Chapter 28 Drugs for Hematopoietic Disorders
Chapter 29 Drugs for Shock
Chapter 30 Diuretic Therapy and Drugs for Renal Failure
Chapter 31 Drugs for Fluid Balance, Electrolyte, and Acid—Base Disorders
UNIT 5 The Immune System
Chapter 32 Drugs for Immune System Modulation
Chapter 33 Drugs for Inflammation and Fever
Chapter 34 Drugs for Bacterial Infections
Chapter 35 Drugs for Fungal, Protozoan, and Helminthic Infections
Chapter 36 Drugs for Viral Infections
Chapter 37 Drugs for Neoplasia
UNIT 6 The Respiratory System
Chapter 38 Drugs for Allergic Rhinitis and the Common Cold
Chapter 39 Drugs for Asthma and Other Pulmonary Disorders
UNIT 7 The Gastrointestinal System
Chapter 40 Drugs for Peptic Ulcer Disease
Chapter 41 Drugs for Bowel Disorders and Other Gastrointestinal Conditions
Chapter 42 Drugs for Nutritional Disorders
UNIT 8 The Endocrine System
Chapter 43 Drugs for Pituitary, Thyroid, and Adrenal Disorders
Chapter 44 Drugs for Diabetes Mellitus
Chapter 45 Drugs for Disorders and Conditions of the Female Reproductive System
Chapter 46 Drugs for Disorders and Conditions of the Male Reproductive System
UNIT 9 The Integumentary System and Eyes/Ears
Chapter 47 Drugs for Bone and Joint Disorders
Chapter 48 Drugs for Skin Disorders
Chapter 49 Drugs for Eye and Ear Disorders
Appendix A — ISMP's List of High-Alert Medications
Appendix B — Top 100 Drugs Ranked by Number of Prescriptions
Appendix C — Bibliography and References
Appendix D - Answers
Appendix E — Calculating Doses
Glossary
Index