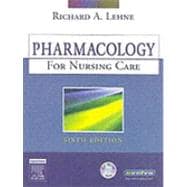 Questions About This Book?
What version or edition is this?
This is the 6th edition with a publication date of 6/20/2006.
What is included with this book?
The Used copy of this book is not guaranteed to include any supplemental materials. Typically, only the book itself is included.
Summary
Always a student favorite, Pharmacology for Nursing Care offers a clear approach explaining drug prototypes and how they work. It provides the background needed to understand related drugs currently on the market, as well as drugs yet to be released. In simplifying a complex subject, this text focuses on the essentials of pharmacology. Large print is used to show need-to-know information, and small print is used for nice to know material. At the end of each chapter, a summary of major nursing implications helps in applying the material to real-world situations. This edition includes a new companion CD-ROM featuring NCLEX® examination-style review questions, a variety of electronic calculators, and animations depicting drug mechanisms and effects. Uses a prototype drug approach that places a strong emphasis on understanding over memorization equipping students with the knowledge to learn not only about related drugs currently on the market, but also about those drugs that will be released once the student begins practice. Summaries of Major Nursing Implications at the end of each chapter provide an in-depth look at assessment, implementation, and ongoing evaluations. Utilizes large print for essential information and small print for nice-to-know information to help both faculty and students focus their limited classroom and study time on understanding the essentials. Concise drug summary tables present detailed information on individual drugs, including class, generic and trade names, dosages, routes, and indications. Key Points at the end of each chapter summarize content in a bulleted format to help students review important concepts. Prototype drug discussions employ a clear and consistent format with separate headings for Mechanism of Action; Pharmacologic Effects; Pharmacokinetics; Therapeutic Uses; Adverse Effects; Drug Interactions; and Preparations, Dosage, and Administration. An attractive full-color design adds visual interest, highlights key information, and facilitates student learning. Drugs for Multiple Sclerosis and Drugs for Hemophilia chapters. Drugs for Erectile Dysfunction and Benign Prostatic Hyperplasia chapter covers newsworthy drugs such as Viagra and Levitra. Special Interest Topics boxes on current issues in pharmacology, such as Medication-Overuse Headache: Too Much of a Good Thing and Face Time with Botox. Adult Immunization appendix summarizes the latest information on immunizations. Numerous new illustrations show drug mechanisms and effects, and depict topics such as histologic changes in Alzheimer's disease and the movement of drugs following GI absorption.
Author Biography
Richard A. Lehne's involvement in nursing education began 27 years age at the University of Virginia School of Nursing, where he taught undergraduate and graduate pharmacology courses and has also taught at the University of Arizona in both the School of Nursing and School of Pharmacy.
Table of Contents
Introduction
Orientation to Pharmacology
Application of Pharmacology in Nursing Practice
Drug Regulation, Development, Names, and Information
Basic Principles of Pharmacology
Pharmacokinetics
Pharmacodynamics
Drug Interactions
Adverse Drug Reactions and Medication Errors
Individual Variation in Drug Responses
Drug Therapy Across the Life Span
Drug Therapy During Pregnancy and Breast Feeding
Drug Therapy in the Young
Drug Therapy in the Elderly
Peripheral Nervous System Drugs
Introduction
Basic Principles of Neuropharmacology
Physiology of the Peripheral Nervous System Cholinergic Drugs
Muscarinic Agonists and Antagonists
Cholinesterase Inhibitors
Neuromuscular Blocking Agents and Ganglionic Blocking Agents Adrenergic Drugs
Adrenergic Agonists
Adrenergic Antagonists
Indirect-Acting Antiadrenergic Agents
Central Nervous System Drugs
Introduction
Introduction to Central Nervous System Pharmacology Drugs for Neurodegenerative Disorders
Drugs for Parkinson's Disease
Drugs for Alzheimer's Disease
Drugs for Multiple Sclerosis - NEW! Neurologic Drugs
Drugs for Epilepsy
Drugs for Muscle Spasm and Spasticity Drugs for Pain
Local Anesthetics
General Anesthetics
Opioid (Narcotic) Analgesics
Pain Management in Patients with Cancer
Drugs for Headache Psychotherapeutic Drugs
Antipsychotic Agents
Antidepressants
Drugs for Bipolar Disorder
Sedative-Hypnotic Drugs
Management of Anxiety Disorders: Generalized Anxiety Disorder, Social Phobia, Panic Disorder, Obsessive-Compulsive Disorder, and Post-traumatic Stress Disorder
Central Nervous System Stimulants and Attention-Deficit/Hyperactivity Disorder
Drug Abuse: Basic Considerations
Drug Abuse: Alcohol
Drug Abuse: Opioids, Depressants, Stimulants, Marijuana, Psychedelics, Ecstasy, Inhalants, and Nicotine
Drugs That Affect Fluid and Electrolyte Balance
Diuretics
Agents Affecting the Volume and Ion Content of Fluids
Drugs That Affect the Heart, Blood Vessels, and Blood
Review of Hemodynamics
Drugs Acting on the Renin-Angiotensin-Aldosterone System
Calcium Channel Blockers
Vasodilators
Drugs for Hypertension
Drugs for Heart Failure
Antidysrhythmic Drugs
Prophylaxis of Coronary Artery Disease Drugs Used to Lower Cholesterol Levels
Drugs for Angina Pectoris
Anticoagulants, Antiplatelet Drugs, and Thrombolytics
Drugs for Myocardial Infarction
Drugs for Hemophilia NEW!
Drugs for Deficiency Anemias
Hematopoietic Growth Factors
Drugs for Endocrine Disorders
Drugs for Diabetes Mellitus
Drugs for Thyroid Diseases
Drugs Related to Hypothalamic and Pituitary Function
Drugs for Disorders of the Adrenal Cortex
Women's Health
Estrogens and Progestins
Birth Control
Drugs for Infertility
Uterine Stimulants and Relaxants
Men's Health - New!
Androgens
Drugs for Erectile Dysfunction and Prostatic Hyperplasia - NEW!
Anti-Inflammatory, Antiallergic, and Immunologic Drugs
Review of the Immune System
Pediatric Immunization
Immunosuppressants
Antihistamines
Cyclooxygenase Inhibitors: Nonsteroidal Anti-inflammatory Drugs and Acetaminophen
Glucocorticoids in Nonendocrine Diseases
Drugs for Bone and Joint Disor
Table of Contents provided by Publisher. All Rights Reserved.