Note: Supplemental materials are not guaranteed with Rental or Used book purchases.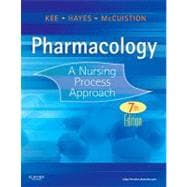 Questions About This Book?
What version or edition is this?
This is the 7th edition with a publication date of 2/22/2011.
What is included with this book?
The Used copy of this book is not guaranteed to include any supplemental materials. Typically, only the book itself is included.
Customer Reviews
Pharmacology
June 6, 2011
by





Master essential pharmacology concepts with this straightforward, easy-to-understand textbook. This edition has been revised and updated with the most current nursing pharmacology information available. More reader-friendly and understandable than ever, this edition features helpful new photos throughout. I heartily recommend it.

Flag Review
---
Pharmacology: A Nursing Process Approach

:
stars based on
1
user reviews.
Summary
Featuring concise, straightforward coverage, Pharmacology: A Nursing Process Approach, 7th Edition puts nursing pharmacology concepts and essential drug calculation skills into a practical nursing context to prepare you for real world drug administration responsibilities. This edition has been revised and updated with the most current nursing pharmacology information available. Innovative features such as Prototype Drug Charts, Nursing Process Summaries, an extensive math/dosage calculation section, and NCLEX Examination style study questions make nursing pharmacology more understandable than ever.
-Unique Prototype Drug Charts provide easy access to key information on dosages, contraindications, drug lab food interactions, pharmacokinetics, and more for more than 100 drugs.
-Unique An extensive, color coded dosage calculation section covers six methods of dosage calculation basic formula, ratio and proportion, fractional equation, dimensional analysis, and dosing by body weight and body surface area eliminating the need for a separate dosage calculation book.
-Nursing Process Summaries present client care and drug therapy within the framework of each step of the nursing process, including information on client teaching and cultural and herbal considerations.
-Preventing Medication Errors boxes reinforce concepts introduced in the medication safety chapter and highlight common errors that occur in clinical practice to help you ensure safe drug administration.
-Herbal Alerts provide a quick reference to side effects, drug interactions, and additional information for popular herbs you may encounter in practice.
-A fully updated bioterrorism appendix helps you recognize the clinical manifestations of bioterrorism weapons and respond with appropriate nursing care.
-Unique Illustrated overviews of normal anatomy and physiology in all drug therapy chapters help you understand how drugs work in various body systems.
-Critical Thinking Case Studies at the end of each chapter challenge you to apply your knowledge and analytical skills to realistic client scenarios.
-NCLEX Study Questions for each chapter help prepare you for the growing pharmacology coverage on the NCLEX Examination. Answers are listed upside-down at the bottom of the page for quick feedback.
Table of Contents
A Nurse's Perspective of Pharmacology
Drug Action: Pharmaceutic, Pharmacokinetic, and Pharmacodynamic Phases
Nursing Process and Client Teaching
Medication Safety NEW!
Medication Administration
Drug Calculations
Medications and Calculations
Systems of Measurement with Conversion
Methods for Calculation
Calculations of Oral Dosages
Calculations of Injectable Dosages
Calculations of Intravenous Fluids
Pediatric Drug Calculations
Contemporary Issues in Pharmacology
The Drug Approval Process
Cultural and Pharmacogenetic Considerations
Drug Interaction and Over-the-Counter Drugs
Drugs of Abuse
Herbal Therapy with Nursing Implications
Pediatric Pharmacology
Geriatric Pharmacology
Medication Administration in Community Settings
The Role of the Nurse in Drug Research
Nutrition and Electrolytes
Vitamin and Mineral Replacement
Fluid and Electrolyte Replacement
Nutritional Support
Autonomic Nervous System Agents
Adrenergic Agonists and Adrenergic Blockers
Cholinergic Agonists and Anticholinergics
Neurologic and Neuromuscular Agents
Central Nervous System Stimulants
Central Nervous System Depressants
Anticonvulsants
Drugs for Neurological Disorders: Parkinsonism and Alzheimer's Disease
Drugs for Neuromuscular Disorders: Myasthenia Gravis, Multiple Sclerosis, and Muscle Spasms
Pain and Inflammation Management Agents
Antiinflammatory Drugs
Nonopioid and Opioid Analgesics
Psychiatric Agents
Antipsychotics and Anxiolytics
Antidepressants and Mood Stabilizers
Antibacterial Agents
Penicillins and Cephalosporins
Macrolides, Tetracyclines, Aminoglycosides, and Fluoroquinolones
Sulfonamides
Antiinfective Agents
Antituberculars, Antifungals, Peptides, and Metronidazole
Antivirals, Antimalarials, and Anthelmintics
Drugs for Urinary Tract Disorders
Immunologic Agents
HIV- and AIDS-Related Drugs
Vaccines
Antineoplastic Agents
Anticancer Drugs
Targeted Therapies to Treat Cancer
Biologic Response Modifiers
Respiratory Agents
Drugs for Upper Respiratory Disorders
Drugs for Lower Respiratory Disorders
Cardiovascular Agents
Cardiac Glycosides, Antianginals, and Antidysrhythmics
Diuretics
Antihypertensives
Anticoagulants, Antiplatelets, and Thrombolytics
Antihyperlipidemics and Peripheral Vasodilators
Gastrointestinal Agents
Drugs for Gastrointestinal Tract Disorders
Antiulcer Drugs
Eye, Ear, and Skin Agents
Drugs for Eye and Ear Disorders
Drugs for Dermatologic Disorders
Endocrine Agents
Endocrine Drugs: Pituitary, Thyroid, Parathyroid, and Adrenal Disorders
Antidiabetics
Reproductive and Gender-Related Agents
Female Reproductive Cycle I: Pregnancy and Preterm Labor Drugs
Female Reproductive Cycle II: Labor, Delivery, and Preterm Neonatal Drugs
Postpartum and Newborn Drugs
Drugs for Women's Reproductive Health and Menopause
Drugs for Men's Health and Reproductive Disorders
Drugs for Disorders in Women's Health, Infertility, and Sexually Transmitted Infections
Emergency Agents
Adult and Pediatric Emergency Drugs
Appendices
Therapeutic Drug Monitoring (TDM)
Potential Weapons of Bioterrorism
Table of Contents provided by Publisher. All Rights Reserved.