Note: Supplemental materials are not guaranteed with Rental or Used book purchases.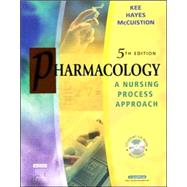 Questions About This Book?
What version or edition is this?
This is the edition with a publication date of 10/11/2005.
What is included with this book?
The Used copy of this book is not guaranteed to include any supplemental materials. Typically, only the book itself is included.
Summary
This full-color pharmacology textbook is full of innovative, user-friendly features such as prototype drug charts, nursing process sections, and an extensive math/dosage calculations section. The 5th edition has been completely updated and includes a Companion CD-ROM that contains animations, NCLEX® examination-style review questions, printable IV therapy and medication safety checklists, drug calculation problems, and convenient electronic calculators. A separate drug calculations section - Medications and Calculations - features 65 pages of math review and step-by-step instructions for dosage calculations using the four primary methods - basic formula, ratio and proportion, dimensional analysis, and fractional equation. Nursing Process sections relate nursing care to drug therapy. Each step of the nursing process includes concise actions for the plan of care in relation to treatment for selected drug prototypes. A chapter on Principles of Drug Administration features comprehensive coverage of the procedures for administering drugs. It addresses all routes of administration and various settings. Unit openers for drug therapy chapters include an illustrated overview of normal anatomy and physiology, giving readers the foundation for understanding how the drug works in that body system. Herbal Alert boxes highlight various herbal products and their interactions with drugs. More than 100 detailed Prototype Drug Charts list the following information: dosage, indication, contraindication, drug-lab-food interactions, pharmacokinetics, pharmacodynamics, therapeutic effects, side effects, and adverse reactions. Highlighted Client Teaching, Cultural Considerations, and Herbal Alerts are included in the Nursing Process sections to emphasize key implications for nurses. Client Teaching in the nursing process sections guide readers through instructions for teaching patients about medication, self-administration, dietary concerns, and side effects. Includes a separate Transcultural and Genetic Considerations chapter. Critical Thinking Case Studies and Study Questions at the end of each chapter present readers with a clinical scenario and several questions that reinforce key concepts and encourage critical thinking. A new chapter on substance abuse addresses this important aspect of the nurse's role in pharmacology. Preventing Medication Errors boxes draw attention to important safety considerations and present guidelines from the Institute for Safe Medication Practice (ISMP). Critical Thinking Case Study boxes provide clinical scenarios and questions to sharpen analytical and critical thinking skills. Now includes step-by-step instructions for dosage calculations using dimensional analysis. Web sites, organizations, and research database information are available at the end of clinical chapters for further review and research. The newest JCAHO guidelines for medication safety are applied throughout the text and the abbreviations appendix has been revised to reflect these updates. Includes a new Herb/Drug Interaction chart, as well as new sugar-free and alcohol-free drug lists. Features updated coverage of pain as the fifth vital sign. Look-alike/sound-alike drugs are highlighted throughout to promote safe drug administration. Includes a list of the 200 most frequently prescribed drugs. Electronic Resources boxes at the beginning of each chapter direct readers to additional learning activities available on the Companion CD and the Evolve website.
Author Biography
Linda E. McCuistion is a Professor in the Division of Nursing at Our Lady of Holy Cross College in New Orleans, Louisiana. Evelyn R. Hayes is Professor in the School of Nursing, College of Health Sciences, at the University of Delaware. Joyce LeFever Kee was a distinguished faculty educator at the University of Maryland for 4 years and at the University of Delaware for 27 years.
Table of Contents
| | |
| --- | --- |
| | One: A Nurse's Perspective of Pharmacology |

1
(44)

| | |
| --- | --- |
| | Drug Action: Pharmaceutic, Pharmacokinetic, and Pharmacodynamic Phases |

2
(12)
3
(1)
3
(1)
3
(4)
3
(1)
4
(1)

| | |
| --- | --- |
| | Metabolism, or Biotransformation |

5
(1)

| | |
| --- | --- |
| | Excretion, or Elimination |

6
(1)
7
(7)

| | |
| --- | --- |
| | Dose Response and Maximal Efficacy |

7
(1)

| | |
| --- | --- |
| | Onset, Peak, and Duration of Action |

7
(1)
7
(2)

| | |
| --- | --- |
| | Therapeutic Index and Therapeutic Range (Therapeutic Window) |

9
(1)
9
(1)
10
(1)

| | |
| --- | --- |
| | Side Effects, Adverse Reactions, and Toxic Effects |

11
(1)
11
(1)
11
(1)
11
(1)
11
(3)

| | |
| --- | --- |
| | Nursing Process and Client Teaching |

14
(9)
15
(1)
15
(8)
15
(1)
16
(1)
16
(5)
21
(2)

| | |
| --- | --- |
| | Principles of Drug Administration |

23
(22)
24
(1)

| | |
| --- | --- |
| | The ``Five-Plus-Five Rights'' of Drug Administration |

24
(7)

| | |
| --- | --- |
| | Medication Self-Administration |

31
(1)

| | |
| --- | --- |
| | Special Considerations: Factors That Modify Drug Response |

31
(1)

| | |
| --- | --- |
| | Guidelines for Drug Administration |

32
(1)

| | |
| --- | --- |
| | Forms and Routes for Drug Administration |

32
(10)
32
(1)
33
(1)
33
(1)
34
(1)
34
(1)
35
(2)

| | |
| --- | --- |
| | Nasogastric and Gastrostomy Tubes |

37
(1)
37
(1)
37
(5)

| | |
| --- | --- |
| | Nursing Implications for Administration of Parenteral Medications |

42
(1)
42
(1)
42
(1)
42
(1)

| | |
| --- | --- |
| | Developmental Needs of Pediatric Clients |

42
(1)
42
(3)

| | |
| --- | --- |
| | Two: Medications and Calculations |

45
(74)

| | |
| --- | --- |
| | Medications and Calculations |

46
(73)
46
(1)

| | |
| --- | --- |
| | Section 4A Systems of Measurement with Conversion |

46
(1)
47
(1)
47
(1)

| | |
| --- | --- |
| | Conversion Within the Metric System |

48
(1)
48
(1)
48
(1)
49
(1)
49
(2)
50
(1)

| | |
| --- | --- |
| | Conversion Among the Metric, Apothecary, and Household Systems |

51
(2)

| | |
| --- | --- |
| | Metric, Apothecary, and Household Equivalents |

52
(1)

| | |
| --- | --- |
| | Section 4B Methods for Calculation |

53
(1)
54
(1)

| | |
| --- | --- |
| | Interpreting Oral and Injectable Drug Labels |

55
(1)

| | |
| --- | --- |
| | Method 1: Basic Formula (BF) |

55
(1)

| | |
| --- | --- |
| | Method 2: Ratio and Proportion (RP) |

56
(1)

| | |
| --- | --- |
| | Method 3: Fractional Equation (FE) |

57
(1)

| | |
| --- | --- |
| | Method 4: Dimensional Analysis (DA) |

58
(1)

| | |
| --- | --- |
| | Method 5: Body Weight (BW) |

59
(1)

| | |
| --- | --- |
| | Method 6: Body Surface Area (BSA) |

60
(7)
62
(5)

| | |
| --- | --- |
| | Section 4C Calculations of Oral Dosages |

67
(1)
67
(1)

| | |
| --- | --- |
| | Tablets, Capsules, and Liquids |

68
(1)

| | |
| --- | --- |
| | Interpreting Oral Drug Labels |

68
(1)
69
(1)

| | |
| --- | --- |
| | Preventing Medication Errors |

69
(1)

| | |
| --- | --- |
| | Calculation for Tablet, Capsule, and Liquid Doses |

70
(4)

| | |
| --- | --- |
| | Body Weight and Body Surface Area |

74
(1)

| | |
| --- | --- |
| | Drugs Administered Via Nasogastric Tube |

74
(2)

| | |
| --- | --- |
| | Section 4D Calculations of Injectable Dosages |

76
(1)
76
(1)
76
(1)
77
(1)
77
(4)

| | |
| --- | --- |
| | Prefilled Drug Cartridges and Syringes |

79
(1)
80
(1)

| | |
| --- | --- |
| | Interpreting Injectable Drug Labels |

81
(1)
81
(1)
81
(2)

| | |
| --- | --- |
| | Calculations: Subcutaneous Injections |

82
(1)
83
(3)
83
(2)
85
(1)
86
(8)

| | |
| --- | --- |
| | Drug Solutions for Injection |

86
(1)

| | |
| --- | --- |
| | Powdered Drug Reconstitution |

86
(1)
87
(6)

| | |
| --- | --- |
| | Section 4E Calculations of Intravenous Fluids |

93
(1)
94
(1)

| | |
| --- | --- |
| | Continuous Intravenous Administration |

94
(4)
94
(1)

| | |
| --- | --- |
| | Calculation Intravenous Flow Rate |

95
(1)

| | |
| --- | --- |
| | Mixing Drugs for Continuous Intravenous Administration |

95
(3)

| | |
| --- | --- |
| | Intermittent Intravenous Administration |

98
(1)

| | |
| --- | --- |
| | Secondary Intravenous Sets Without IV Pumps |

98
(1)

| | |
| --- | --- |
| | Intermittent Infusion Adapters/Devices |

98
(1)
99
(1)

| | |
| --- | --- |
| | Direct Intravenous Injections |

99
(1)

| | |
| --- | --- |
| | Electronic Intravenous Regulators |

100
(1)

| | |
| --- | --- |
| | Patient-Controlled Analgesia |

101
(1)
101
(1)

| | |
| --- | --- |
| | Calculating Flow Rates for Intravenous Drugs |

102
(6)

| | |
| --- | --- |
| | Section 4F Pediatric Drug Calculations |

108
(1)
108
(1)
109
(1)
109
(1)

| | |
| --- | --- |
| | Pediatric Dosage per Body Weight |

110
(1)

| | |
| --- | --- |
| | Pediatric Dosage per Body Surface Area |

111
(1)

| | |
| --- | --- |
| | Pediatric Dosage From Adult Dosage |

112
(2)

| | |
| --- | --- |
| | Pediatric Calculations for Injectables |

114
(5)

| | |
| --- | --- |
| | Three: Contemporary Issues in Pharmacology |

119
(100)

| | |
| --- | --- |
| | The Drug Approval Process |

120
(8)
121
(1)

| | |
| --- | --- |
| | Drug Standards and Legislation |

121
(2)
121
(1)
121
(2)
123
(1)
123
(1)

| | |
| --- | --- |
| | Initiatives to Combat Drug Counterfeiting |

124
(1)
124
(1)
125
(1)

| | |
| --- | --- |
| | Food and Drug Administration Pregnancy Categories |

126
(1)
126
(1)
126
(1)
127
(1)

| | |
| --- | --- |
| | Transcultural and Genetic Considerations |

128
(11)
129
(1)

| | |
| --- | --- |
| | The Purnell Model for Cultural Competence |

129
(1)
129
(10)
129
(1)
129
(2)
131
(1)
131
(1)
132
(1)
132
(1)
132
(1)
132
(1)

| | |
| --- | --- |
| | Health Care Practitioners |

133
(6)

| | |
| --- | --- |
| | Drug Interaction and Over-the-Counter Drugs |

139
(10)
140
(1)
140
(3)

| | |
| --- | --- |
| | Pharmacokinetic Interactions |

140
(1)

| | |
| --- | --- |
| | Pharmacodynamic Interactions |

141
(2)
143
(1)

| | |
| --- | --- |
| | Drug-Laboratory Interactions |

144
(1)

| | |
| --- | --- |
| | Drug-Induced Photosensitivity |

144
(1)
144
(5)
146
(1)
146
(1)
147
(2)
149
(19)
150
(2)

| | |
| --- | --- |
| | Terminology of Drug Abuse |

150
(1)

| | |
| --- | --- |
| | Neurobiology of Addictive Drugs |

150
(1)

| | |
| --- | --- |
| | Overview of Addictive States |

151
(1)
152
(5)
152
(2)
154
(2)
156
(1)
157
(1)
157
(4)
157
(3)
160
(1)
160
(1)
161
(3)
161
(1)
162
(2)
164
(1)

| | |
| --- | --- |
| | Special Needs of Drug-Abusing Clients |

164
(1)
164
(1)
165
(1)

| | |
| --- | --- |
| | Chemical Impairment in Nurses |

165
(1)
165
(1)
165
(1)
165
(1)
166
(2)

| | |
| --- | --- |
| | Herbal Therapy with Nursing Implications |

168
(16)
169
(1)
169
(1)

| | |
| --- | --- |
| | Dietary Supplement Health and Education Act of 1994 |

170
(1)
170
(1)
170
(1)

| | |
| --- | --- |
| | Commonly Used Herbal Remedies |

171
(2)

| | |
| --- | --- |
| | Aloe Vera (Aloe barbadensis) |

171
(1)

| | |
| --- | --- |
| | Chamomile (Matricaria recutita) |

171
(1)

| | |
| --- | --- |
| | Dong Quai (Angelica sinensis) |

171
(1)

| | |
| --- | --- |
| | Echinacea (Echinacea angustifolia) |

171
(1)

| | |
| --- | --- |
| | Feverfew, (Chrysanthemum parthenium) |

171
(1)
171
(1)

| | |
| --- | --- |
| | Ginger (Zingiber officinale) |

172
(1)
172
(1)
172
(1)

| | |
| --- | --- |
| | Goldenseal (Hydrastis canadensis) |

172
(1)
172
(1)

| | |
| --- | --- |
| | Licorice (Glycyrrhiza glabra) |

172
(1)

| | |
| --- | --- |
| | Milk Thistle (Silybum marianum) |

172
(1)

| | |
| --- | --- |
| | Peppermint (Mentha piperita) |

172
(1)

| | |
| --- | --- |
| | St. John's Wort (Hypericum perforatum) |

172
(1)

| | |
| --- | --- |
| | Saw Palmetto (Serenoa repens) |

173
(1)

| | |
| --- | --- |
| | Valerian (Valeriana officinalis) |

173
(1)

| | |
| --- | --- |
| | Summary of Commonly Used Herbal Remedies |

173
(1)

| | |
| --- | --- |
| | Using Herbs to Treat Selected Common Ailments |

173
(1)

| | |
| --- | --- |
| | Potential Hazards of Herbs |

173
(7)

| | |
| --- | --- |
| | Tips for Consumers and Health Care Providers |

180
(2)
182
(1)
182
(1)
182
(1)
182
(2)
184
(9)
185
(1)
185
(2)
185
(1)
186
(1)
186
(1)
187
(1)
187
(1)
187
(2)

| | |
| --- | --- |
| | Pediatric Medication Dosing and Monitoring |

187
(1)

| | |
| --- | --- |
| | Pediatric Medication Administration |

188
(1)
189
(1)

| | |
| --- | --- |
| | Considerations for the Adolescent |

190
(3)
193
(9)
194
(1)
194
(1)
194
(1)
195
(1)
195
(1)
195
(1)

| | |
| --- | --- |
| | Metabolism or Biotransformation |

196
(1)
196
(1)
196
(1)

| | |
| --- | --- |
| | Effects of Selected Drug Groups on Older Adults |

197
(1)
197
(1)

| | |
| --- | --- |
| | Diuretics and Antihypertensives |

197
(1)
198
(1)
198
(1)
198
(1)
198
(1)
198
(1)
198
(1)

| | |
| --- | --- |
| | Noncompliance/Nonadherence |

198
(1)

| | |
| --- | --- |
| | Health Teaching with the Older Adult |

199
(3)

| | |
| --- | --- |
| | Medication Administration in Community Settings |

202
(9)
203
(1)
203
(2)
203
(1)
204
(1)
204
(1)
205
(1)
205
(1)
205
(3)
205
(2)
207
(1)
208
(1)
208
(3)

| | |
| --- | --- |
| | The Role of the Nurse in Drug Research |

211
(8)
212
(1)
212
(2)
212
(1)
212
(1)
212
(1)
212
(2)
214
(1)

| | |
| --- | --- |
| | Objectives and Phases of Human Clinical Experimentation |

214
(2)
214
(1)

| | |
| --- | --- |
| | Human Clinical Experimentation |

214
(1)
215
(1)
215
(1)

| | |
| --- | --- |
| | Recent Developments and What Is on the Horizon |

216
(3)

| | |
| --- | --- |
| | Four: Nutrition and Electrolytes |

219
(42)

| | |
| --- | --- |
| | Vitamin and Mineral Replacement |

220
(14)
221
(1)
221
(9)
223
(1)

| | |
| --- | --- |
| | Prototype Drug Chart 14-1: Vitamin A |

223
(1)
224
(2)

| | |
| --- | --- |
| | Prototype Drug Chart 14-2: Vitamin C |

226
(4)
230
(4)
230
(1)
230
(1)
230
(1)
230
(1)

| | |
| --- | --- |
| | Prototype Drug Chart 14-3: Iron |

231
(1)
231
(3)

| | |
| --- | --- |
| | Fluid and Electrolyte Replacement |

234
(17)
235
(1)
235
(1)
236
(1)
236
(2)
236
(2)
238
(13)
238
(1)

| | |
| --- | --- |
| | Prototype Drug Chart 15-1: Potassium |

239
(3)
242
(2)
244
(1)

| | |
| --- | --- |
| | Prototype Drug Chart 15-2: Calcium |

245
(3)
248
(3)
251
(10)
252
(1)
252
(5)

| | |
| --- | --- |
| | Routes for Enteral Feedings |

252
(1)
252
(2)
254
(1)
255
(1)
255
(2)
257
(4)

| | |
| --- | --- |
| | Total Parenteral Nutrition |

257
(1)
257
(4)

| | |
| --- | --- |
| | Five: Autonomic Nervous System Agents |

261
(34)

| | |
| --- | --- |
| | Adrenergics and Adrenergic Blockers |

265
(15)
266
(1)
266
(8)

| | |
| --- | --- |
| | Inactivation of Neurotransmitters |

268
(1)

| | |
| --- | --- |
| | Classification of Sympathomimetics/Adrenomimetics |

268
(1)
268
(1)

| | |
| --- | --- |
| | Prototype Drug Chart 17-1: Epinephrine |

269
(1)
269
(1)

| | |
| --- | --- |
| | Isoproterenol Hydrochloride |

270
(1)

| | |
| --- | --- |
| | Prototype Drug Chart 17-2: Albuterol |

270
(1)
271
(3)

| | |
| --- | --- |
| | Adrenergic Blockers (Antagonists) |

274
(6)

| | |
| --- | --- |
| | Alpha-Adrenergic Blockers |

274
(1)
274
(1)

| | |
| --- | --- |
| | Prototype Drug Chart 17-3: Atenolol |

275
(2)

| | |
| --- | --- |
| | Adrenergic Neuron Blockers |

277
(3)

| | |
| --- | --- |
| | Cholinergics and Anticholinergics |

280
(15)
281
(1)
281
(4)

| | |
| --- | --- |
| | Direct-Acting Cholinergics |

282
(1)

| | |
| --- | --- |
| | Prototype Drug Chart 18-1: Bethanechol Chloride |

283
(1)

| | |
| --- | --- |
| | Indirect-Acting Cholinergics |

284
(1)
285
(4)
286
(1)

| | |
| --- | --- |
| | Prototype Drug Chart 18-2: Atropine |

287
(2)

| | |
| --- | --- |
| | Antiparkinson-Anticholinergic Drugs |

289
(1)

| | |
| --- | --- |
| | Antihistamines for Treating Motion Sickness |

289
(6)

| | |
| --- | --- |
| | Prototype Drug Chart 18-3: Trihexyphenidyl HCI |

290
(2)

| | |
| --- | --- |
| | Prototype Drug Chart 18-4: Tolterodine Tartrate |

292
(3)

| | |
| --- | --- |
| | Six: Neurologic and Neuromuscular Agents |

295
(78)

| | |
| --- | --- |
| | Central Nervous System Stimulants |

298
(9)
299
(1)
299
(1)
299
(3)

| | |
| --- | --- |
| | Amphetamine-Like Drugs for ADHD and Narcolepsy |

299
(1)

| | |
| --- | --- |
| | Prototype Drug Chart 19-1: Methylphenidate |

300
(2)
302
(1)
302
(1)

| | |
| --- | --- |
| | Respiratory Central Nervous System Stimulant |

303
(1)

| | |
| --- | --- |
| | Headaches: Migraine and Cluster |

303
(4)
304
(1)

| | |
| --- | --- |
| | Prototype Drug Chart 19-2: Sumatriptan |

305
(2)

| | |
| --- | --- |
| | Central Nervous System Depressants |

307
(14)
308
(1)

| | |
| --- | --- |
| | Types and Stages of Sleep |

308
(1)
308
(1)
309
(7)

| | |
| --- | --- |
| | Prototype Drug Chart 20-1: Secobarbital Sodium |

311
(1)
311
(2)
313
(1)
313
(1)
313
(1)
313
(1)

| | |
| --- | --- |
| | Sedatives and Hypnotics for Older Adults |

313
(2)

| | |
| --- | --- |
| | Prototype Drug Chart 20-2: Zolpidem Tartrate |

315
(1)
316
(5)
316
(1)
316
(1)

| | |
| --- | --- |
| | Stages of General Anesthesia |

316
(1)

| | |
| --- | --- |
| | Assessment Before Surgery |

316
(1)
317
(1)
317
(1)
317
(1)
317
(1)
317
(4)

| | |
| --- | --- |
| | Drugs for Pain Management: Nonnarcotic and Narcotic Analgesics |

321
(18)
322
(1)
322
(1)
322
(5)

| | |
| --- | --- |
| | Salicylates and Nonsteroidal Antiinflammatory Drugs |

322
(2)
324
(1)

| | |
| --- | --- |
| | Prototype Drug Chart 21-1: Acetaminophen |

325
(2)
327
(7)

| | |
| --- | --- |
| | Opioid Use in Children and Older Adults |

328
(1)
329
(1)

| | |
| --- | --- |
| | Prototype Drug Chart 21-2: Morphine Sulfate |

329
(2)
331
(1)
331
(2)

| | |
| --- | --- |
| | Prototype Drug Chart 21-3: Hydromorphone |

333
(1)
334
(1)

| | |
| --- | --- |
| | Transdermal Opioid Analgesics |

334
(1)

| | |
| --- | --- |
| | Narcotic Agonist-Antagonists |

334
(2)

| | |
| --- | --- |
| | Prototype Drug Chart 21-4: Nalbuphine |

335
(1)
336
(1)

| | |
| --- | --- |
| | Treatment for Narcotic-Addicted Persons |

337
(2)
339
(11)
340
(1)

| | |
| --- | --- |
| | International Classification of Seizures |

340
(1)
340
(8)

| | |
| --- | --- |
| | Pharmacophysiology: Action of Anticonvulsants |

341
(1)
341
(1)

| | |
| --- | --- |
| | Prototype Drug Chart 22-1: Phenytoin |

342
(1)
343
(1)
343
(1)

| | |
| --- | --- |
| | Oxazolidones/Oxazolidinedione |

343
(1)
343
(1)
343
(1)
343
(1)

| | |
| --- | --- |
| | Anticonvulsants and Pregnancy |

343
(1)

| | |
| --- | --- |
| | Anticonvulsants and Febrile Seizures |

343
(5)

| | |
| --- | --- |
| | Anticonvulsants and Status Epilepticus |

348
(1)
348
(2)

| | |
| --- | --- |
| | Drugs for Neurologic Disorders: Parkinsonism and Alzheimer's Disease |

350
(13)
351
(1)
351
(7)

| | |
| --- | --- |
| | Nonpharmacologic Measures |

351
(1)
351
(1)
351
(3)
354
(1)

| | |
| --- | --- |
| | Prototype Drug Chart 23-1: Carbidopa-Levodopa |

355
(1)
356
(1)
356
(1)
356
(1)

| | |
| --- | --- |
| | Precautions for Drugs Used to Treat Parkinson's Disease |

357
(1)
358
(5)
358
(1)

| | |
| --- | --- |
| | Acetylcholinesterase Inhibitors/Cholinesterase Inhibitors |

359
(1)

| | |
| --- | --- |
| | Prototype Drug Chart 23-2: Tacrine |

360
(3)

| | |
| --- | --- |
| | Drugs for Neuromuscular Disorders: Myasthenia Gravis, Multiple Sclerosis, and Muscle Spasms |

363
(10)
364
(1)
364
(3)
364
(1)

| | |
| --- | --- |
| | Acetylcholinesterase Inhibitors/Cholinesterase Inhibitors |

364
(1)

| | |
| --- | --- |
| | Prototype Drug Chart 24-1: Pyridostigmine Bromide |

365
(2)
367
(1)

| | |
| --- | --- |
| | Skeletal Muscle Relaxants |

368
(5)

| | |
| --- | --- |
| | Centrally Acting Muscle Relaxants |

368
(2)

| | |
| --- | --- |
| | Prototype Drug Chart 24-2: Carisoprodol |

370
(3)

| | |
| --- | --- |
| | Seven: Psychiatric Agents |

373
(30)

| | |
| --- | --- |
| | Antipsychotics and Anxiolytics |

375
(15)
376
(1)
376
(1)
376
(9)

| | |
| --- | --- |
| | Pharmacophysiologic Mechanisms of Action |

376
(1)
376
(1)
377
(1)
378
(1)

| | |
| --- | --- |
| | Prototype Drug Chart 25-1: Fluphenazine |

379
(1)

| | |
| --- | --- |
| | Prototype Drug Chart 25-2: Haloperidol and Haloperidol Decanoate |

380
(1)

| | |
| --- | --- |
| | Antipsychotic Dosage for Older Adults |

381
(1)

| | |
| --- | --- |
| | Atypical (Serotonin/Dopamine Antagonists) Antipsychotics |

381
(3)

| | |
| --- | --- |
| | Prototype Drug Chart 25-3: Risperidone |

384
(1)
385
(5)

| | |
| --- | --- |
| | Nonpharmacologic Measures |

386
(1)
386
(1)

| | |
| --- | --- |
| | Miscellaneous Anxiolytics |

386
(2)

| | |
| --- | --- |
| | Prototype Drug Chart 25-4: Lorazepam |

388
(2)

| | |
| --- | --- |
| | Antidepressants and Mood Stabilizer |

390
(13)
391
(1)
391
(1)
391
(1)

| | |
| --- | --- |
| | Herbal Supplements for Depression |

391
(1)
391
(8)

| | |
| --- | --- |
| | Tricyclic Antidepressants |

391
(1)

| | |
| --- | --- |
| | Prototype Drug Chart 26-1: Amitriptyline HCI |

392
(1)

| | |
| --- | --- |
| | Selective Serotonin Reuptake Inhibitors |

393
(1)
393
(1)

| | |
| --- | --- |
| | Prototype Drug Chart 26-2: Fluoxetine |

394
(1)

| | |
| --- | --- |
| | Monoamine Oxidase Inhibitors |

394
(5)

| | |
| --- | --- |
| | Mood Stabilizer: Lithium for Bipolar Disorder |

399
(4)

| | |
| --- | --- |
| | Prototype Drug Chart 26-3: Lithium |

399
(4)

| | |
| --- | --- |
| | Eight: Antiinflammatory and Antiinfective Agents |

403
(88)
405
(18)
406
(1)
406
(1)
406
(1)

| | |
| --- | --- |
| | Nonsteroidal Antiinflammatory Drugs |

407
(8)
407
(3)

| | |
| --- | --- |
| | Prototype Drug Chart 27-1: Aspirin |

410
(1)
411
(1)

| | |
| --- | --- |
| | Phenylacetic Acid Derivatives |

411
(1)

| | |
| --- | --- |
| | Propionic Acid Derivatives |

411
(1)

| | |
| --- | --- |
| | Prototype Drug Chart 27-2: Ibuprofen |

412
(1)
412
(1)
413
(1)

| | |
| --- | --- |
| | Prototype Drug Chart 27-3: Celecoxib |

414
(1)

| | |
| --- | --- |
| | Selective COX-2 Inhibitors (Second-Generation NSAIDs) |

414
(1)

| | |
| --- | --- |
| | Use of NSAIDs in Older Adults |

414
(1)
415
(1)

| | |
| --- | --- |
| | Disease-Modifying Antirheumatic Drugs |

415
(3)
415
(1)

| | |
| --- | --- |
| | Prototype Drug Chart 27-4: Gold |

416
(1)
417
(1)
417
(1)

| | |
| --- | --- |
| | Prototype Drug Chart 27-5: Infliximab |

418
(1)
418
(1)
418
(5)

| | |
| --- | --- |
| | Antiinflammatory Gout Drug: Colchicine |

419
(1)
419
(1)
419
(1)

| | |
| --- | --- |
| | Prototype Drug Chart 27-6: Allopurinol |

420
(3)

| | |
| --- | --- |
| | Antibacterials: Penicillins and Cephalosporins |

423
(16)
424
(1)
424
(1)
424
(3)

| | |
| --- | --- |
| | Antibacterials/Antibiotics |

424
(3)

| | |
| --- | --- |
| | Penicillins and Cephalosporins |

427
(12)
427
(3)

| | |
| --- | --- |
| | Prototype Drug Chart 28-1: Amoxicillin and Dicloxacillin |

430
(2)
432
(2)

| | |
| --- | --- |
| | Prototype Drug Chart 28-2: Cefazolin and Cefaclor |

434
(5)

| | |
| --- | --- |
| | Antibacterials: Macrolides, Tetracyclines, Aminoglycosides, and Fluoroquinolones |

439
(15)
440
(1)

| | |
| --- | --- |
| | Macrolides, Lincosamides, Vancomycin, and Ketolides |

440
(4)
440
(2)

| | |
| --- | --- |
| | Prototype Drug Chart 29-1: Azithromycin |

442
(1)
443
(1)
444
(1)
444
(1)
444
(3)

| | |
| --- | --- |
| | Prototype Drug Chart 29-2: Doxycycline |

445
(2)
447
(3)

| | |
| --- | --- |
| | Prototype Drug Chart 29-3: Gentamicin Sulfate |

448
(2)

| | |
| --- | --- |
| | Fluoroquinolones (Quinolones) |

450
(3)

| | |
| --- | --- |
| | Prototype Drug Chart 29-4: Levofloxacin |

450
(3)

| | |
| --- | --- |
| | Unclassified Antibacterial Drugs |

453
(1)

| | |
| --- | --- |
| | Antibacterials: Sulfonamides |

454
(6)
455
(1)
455
(5)

| | |
| --- | --- |
| | Trimethoprim and Co-Trimoxazole |

456
(1)

| | |
| --- | --- |
| | Prototype Drug Chart 30-1: Co-Trimoxazolene/TMP-SMZ |

457
(1)

| | |
| --- | --- |
| | Topical and Ophthalmic Sulfonamides |

458
(2)

| | |
| --- | --- |
| | Antitubercular Drugs, Antifungal Drugs, Peptides, and Metronidazole |

460
(12)
461
(1)
461
(1)
461
(1)
461
(3)

| | |
| --- | --- |
| | Prototype Drug Chart 31-1: Isoniazid |

462
(2)
464
(5)
467
(1)
467
(1)
467
(1)
467
(1)
467
(1)

| | |
| --- | --- |
| | Prototype Drug Chart 31-2: Fluconazole |

468
(1)
469
(1)
469
(1)
470
(1)
470
(2)

| | |
| --- | --- |
| | Antiviral, Antimalarial, and Anthelmintic Drugs |

472
(11)
473
(1)
473
(1)

| | |
| --- | --- |
| | Diagnostic Tests for Influenza |

473
(1)
473
(4)
473
(1)
473
(1)
473
(1)

| | |
| --- | --- |
| | Gamma Globulin (Immune Globulin) |

474
(1)
474
(2)

| | |
| --- | --- |
| | Prototype Drug Chart 32-1: Acyclovir Sodium |

476
(1)
477
(1)
477
(3)

| | |
| --- | --- |
| | Prototype Drug Chart 32-2: Chloroquine HCI |

478
(2)
480
(3)

| | |
| --- | --- |
| | Drugs for Urinary Tract Disorders |

483
(8)
484
(1)

| | |
| --- | --- |
| | Urinary Antiseptics/Antiinfectives and Antibiotics |

484
(4)
484
(1)

| | |
| --- | --- |
| | Prototype Drug Chart 33-1: Nitrofurantoin |

485
(1)
486
(1)

| | |
| --- | --- |
| | Trimethoprim and Trimethoprim-Sulfamethoxazole |

486
(1)

| | |
| --- | --- |
| | Fluoroquinolones (Quinolones) |

486
(2)
488
(1)
488
(1)
488
(1)
488
(1)

| | |
| --- | --- |
| | Urinary Antispasmodics/Antimuscarinics |

489
(2)
491
(36)

| | |
| --- | --- |
| | HIV and AIDS-Related Agents |

493
(20)
494
(1)
494
(1)

| | |
| --- | --- |
| | Laboratory and Diagnostic Tests |

494
(2)
496
(12)
497
(1)

| | |
| --- | --- |
| | Drug Class-Related Adverse Effects |

497
(1)

| | |
| --- | --- |
| | Nucleoside Reverse Transcriptase Inhibitors |

497
(1)

| | |
| --- | --- |
| | Nonnucleoside Reverse Transcriptase Inhibitors (NNRTIs) |

497
(1)
497
(1)

| | |
| --- | --- |
| | Prototype Drug Chart 34-1: Zidovudine |

498
(1)

| | |
| --- | --- |
| | Prototype Drug Chart 34-2: Efavirenz |

499
(1)

| | |
| --- | --- |
| | Antiretroviral Combinations |

500
(1)

| | |
| --- | --- |
| | Summary of Antiretroviral Agents |

500
(1)

| | |
| --- | --- |
| | Prototype Drug Chart 34-3: Lopinavir/Ritonavir |

501
(6)

| | |
| --- | --- |
| | Antiretroviral Therapy: The Nurse's Role |

507
(1)
508
(1)

| | |
| --- | --- |
| | Adherence to Drug Regimen |

508
(1)

| | |
| --- | --- |
| | Opportunistic Infections and Kaposi's Sarcoma |

509
(1)
509
(1)
509
(1)
509
(1)

| | |
| --- | --- |
| | Herpes Simplex Virus (HSV) |

509
(1)
509
(1)

| | |
| --- | --- |
| | Mycobacterium avium Complex |

509
(1)

| | |
| --- | --- |
| | Pneumocystis carinii Pneumonia |

509
(1)
509
(1)
509
(1)
509
(1)
509
(1)
509
(1)

| | |
| --- | --- |
| | Antiretroviral Therapy in Pregnancy |

510
(1)

| | |
| --- | --- |
| | Postexposure Prophlaxis for Health Care Workers |

511
(1)

| | |
| --- | --- |
| | The Future of HIV/AIDS-Related Agents |

511
(2)
513
(14)
514
(1)
514
(1)
514
(1)

| | |
| --- | --- |
| | Vaccine-Preventable Diseases |

514
(4)
518
(1)
518
(1)

| | |
| --- | --- |
| | Immunization Before Foreign Travel |

518
(1)

| | |
| --- | --- |
| | Reporting of Diseases and Adverse Reactions |

518
(4)

| | |
| --- | --- |
| | Prototype Drug Chart 35-1: Varicella |

522
(1)
522
(2)

| | |
| --- | --- |
| | Recent Developments and the Future of Vaccines |

524
(3)
527
(46)
529
(24)
530
(1)

| | |
| --- | --- |
| | Genetic, Infective, Environmental, and Dietary Influences |

530
(1)

| | |
| --- | --- |
| | Cell-Cycle Nonspecific and Specific Drugs |

531
(1)
532
(4)
532
(1)
532
(1)

| | |
| --- | --- |
| | General Side Effects and Adverse Reactions |

532
(1)

| | |
| --- | --- |
| | Anticancer Therapy in Outpatient Clinics and in the Home |

532
(4)
536
(2)
536
(2)

| | |
| --- | --- |
| | Prototype Drug Chart 36-1: Cyclophosphamide |

538
(1)
538
(4)
541
(1)
542
(4)

| | |
| --- | --- |
| | Doxorubicin and Plicamycin |

542
(1)

| | |
| --- | --- |
| | Prototype Drug Chart 36-2: 5-Fluorouracil |

543
(1)

| | |
| --- | --- |
| | Prototype Drug Chart 36-3: Doxorubicin |

544
(2)
546
(1)

| | |
| --- | --- |
| | Targeted Therapies (Topoisomerase Inhbitors, Tyrosine Kinase Inhibitors, Proteosome Inhibitors, Monoclonal Antibodies, Angiogenesis Inhibitors) |

547
(2)
549
(1)
549
(2)
549
(1)
549
(1)

| | |
| --- | --- |
| | Gonadotropin-Releasing Hormone Analogues |

549
(1)
549
(1)
549
(2)
551
(1)
551
(2)

| | |
| --- | --- |
| | Biologic Response Modifiers |

553
(20)
554
(1)
555
(3)
555
(3)

| | |
| --- | --- |
| | Colony-Stimulating Factors |

558
(5)
558
(1)

| | |
| --- | --- |
| | Prototype Drug Chart 37-1: Epoeitin Alfa (Erythopoietin) |

559
(1)

| | |
| --- | --- |
| | Granulocyte and Pegfilgrastim (Neulasta) Colony-Stimulating Factor |

560
(1)

| | |
| --- | --- |
| | Prototype Drug Chart 37-2: Filgrastim |

561
(1)

| | |
| --- | --- |
| | Prototype Drug Chart 37-3: Sargramostim |

562
(1)

| | |
| --- | --- |
| | Granulocyte Macrophage Colony-Stimulating Factor |

562
(1)
563
(1)
564
(1)
564
(5)
565
(1)
566
(3)
569
(4)

| | |
| --- | --- |
| | Eleven: Respiratory Agents |

573
(30)

| | |
| --- | --- |
| | Drugs for Common Upper Respiratory Disorders |

575
(11)
576
(1)

| | |
| --- | --- |
| | Common Cold, Acute Rhinitis, and Allergic Rhinitis |

576
(7)
576
(1)

| | |
| --- | --- |
| | Prototype Drug Chart 38-1: Deiphenhydramine |

577
(3)

| | |
| --- | --- |
| | Nasal and Systemic Decongestants |

580
(1)

| | |
| --- | --- |
| | Intranasal Glucocorticoids |

581
(1)
581
(1)

| | |
| --- | --- |
| | Prototype Drug Chart 38-2: Dextromethorphan Hydrobromide |

582
(1)
582
(1)
583
(1)
584
(2)

| | |
| --- | --- |
| | Drugs for Acute and Chronic Lower Respiratory Disorders |

586
(17)
587
(1)

| | |
| --- | --- |
| | Chronic Obstructive Pulmonary Disease |

587
(1)
588
(1)

| | |
| --- | --- |
| | Sympathomimetics: Alpha- and Beta2-Adrenergic Agonists |

588
(3)
588
(1)
589
(1)

| | |
| --- | --- |
| | Prototype Drug Chart 39-1: Metaproterenol |

590
(1)
590
(1)

| | |
| --- | --- |
| | Use of an Aerosol Inhaler |

590
(1)
591
(1)

| | |
| --- | --- |
| | Methylxanthine (Xanthine) Derivatives |

592
(3)
593
(2)

| | |
| --- | --- |
| | Leukotriene Receptor Antagonists and Synthesis Inhibitors |

595
(1)

| | |
| --- | --- |
| | Glucocorticoids (Steroids) |

596
(2)

| | |
| --- | --- |
| | Prototype Drug Chart 39-2: Montelukast |

598
(1)
598
(1)

| | |
| --- | --- |
| | Drug Therapy for Asthma According to Severity |

599
(1)

| | |
| --- | --- |
| | Drug Therapy for Asthma According to Age |

599
(1)
599
(1)
599
(1)
599
(1)
599
(4)

| | |
| --- | --- |
| | Twelve: Cardiovascular Agents |

603
(80)

| | |
| --- | --- |
| | Cardiac Glycosides, Antianginals, and Antidysrhythmics |

606
(20)
607
(1)
607
(5)

| | |
| --- | --- |
| | Nonpharmacologic Measures to Treat Heart Failure |

608
(1)
608
(1)

| | |
| --- | --- |
| | Prototype Drug Chart 40-1: Digoxin (Lanoxin) |

609
(2)

| | |
| --- | --- |
| | Phosphodiesterase Inhibitors |

611
(1)

| | |
| --- | --- |
| | Other Agents Used to Treat Heart Failure |

612
(1)
612
(6)
612
(1)

| | |
| --- | --- |
| | Nonpharmacologic Measures to Control Angina |

612
(1)

| | |
| --- | --- |
| | Types of Antianginal Drugs |

612
(2)

| | |
| --- | --- |
| | Prototype Drug Chart 40-2: Nitroglycerin |

614
(4)
618
(8)
618
(1)

| | |
| --- | --- |
| | Cardiac Action Potentials |

618
(1)

| | |
| --- | --- |
| | Types of Antidysrhythmic Drugs |

619
(4)

| | |
| --- | --- |
| | Prototype Drug Chart 40-3: Acebutolol HCI |

623
(3)
626
(14)
627
(2)

| | |
| --- | --- |
| | Thiazides and Thiazide-Like Diuretics |

629
(3)

| | |
| --- | --- |
| | Prototype Drug Chart 41-1: Hydrochlorothiazide |

630
(2)

| | |
| --- | --- |
| | Loop (High-Ceiling) Diuretics |

632
(3)

| | |
| --- | --- |
| | Prototype Drug Chart 41-2: Furosemide |

633
(2)
635
(1)

| | |
| --- | --- |
| | Carbonic Anhydrase Inhibitors |

636
(1)

| | |
| --- | --- |
| | Potassium-Sparing Diuretics |

636
(4)

| | |
| --- | --- |
| | Prototype Drug Chart 41-3: Triameterene |

637
(3)
640
(19)
641
(1)

| | |
| --- | --- |
| | Selected Regulators of Blood Pressure |

641
(1)
641
(1)

| | |
| --- | --- |
| | Cultural Responses to Antihypertensive Agents |

641
(1)

| | |
| --- | --- |
| | Hypertension in Older Adults |

642
(1)

| | |
| --- | --- |
| | Nonpharmacologic Control of Hypertension |

642
(1)

| | |
| --- | --- |
| | New Guidelines for Hypertension |

642
(1)

| | |
| --- | --- |
| | Pharmacologic Control of Hypertension |

643
(9)
643
(1)

| | |
| --- | --- |
| | Sympatholytics (Sympathetic Depressants) |

644
(1)

| | |
| --- | --- |
| | Prototype Drug Chart 42-1: Metoprolol |

645
(5)

| | |
| --- | --- |
| | Prototype Drug Chart 42-2: Prazosin (HCI) |

650
(1)

| | |
| --- | --- |
| | Direct-Acting Arteriolar Vasodilators |

651
(1)

| | |
| --- | --- |
| | Angiotensin Antagonists (Angiotensin-Converting Enzyme [ACE] Inhibitors) |

652
(1)

| | |
| --- | --- |
| | Angiotensin II Receptor Antagonists (Blockers) |

653
(2)

| | |
| --- | --- |
| | Prototype Drug Chart 42-3: Losartan Potassium |

655
(1)
655
(4)

| | |
| --- | --- |
| | Prototype Drug Chart 42-4: Amlodipine |

657
(2)

| | |
| --- | --- |
| | Anticoagulants, Antiplatelets, and Thrombolytics |

659
(14)
660
(1)

| | |
| --- | --- |
| | Pathophysiology: Thrombus Formation |

660
(1)
660
(7)
660
(1)
661
(1)

| | |
| --- | --- |
| | Prototype Drug Chart 43-1: Heparin and Warfarin Sodium |

662
(5)
667
(1)
667
(6)

| | |
| --- | --- |
| | Prototype Drug Chart 43-2: Clopidogrel Bisulfate |

668
(1)

| | |
| --- | --- |
| | Prototype Drug Chart 43-3: Tissue Plasminogen Activator (tPA) |

669
(4)

| | |
| --- | --- |
| | Antilipidemics and Peripheral Vasodilators |

673
(10)
674
(1)
674
(5)

| | |
| --- | --- |
| | Nonpharmacologic Methods for Cholesterol Reduction |

674
(1)
675
(1)

| | |
| --- | --- |
| | Prototype Drug Chart 44-1: Atorvastatin |

676
(3)
679
(4)

| | |
| --- | --- |
| | Prototype Drug Chart 37-3: Isoxsuprine HCI |

680
(1)
680
(1)
680
(3)

| | |
| --- | --- |
| | Thirteen: Gastrointestinal Agents |

683
(38)

| | |
| --- | --- |
| | Drugs for Gastrointestinal Tract Disorders |

685
(21)
686
(1)
686
(6)

| | |
| --- | --- |
| | Nonpharmocologic Measures |

686
(1)

| | |
| --- | --- |
| | Nonprescription Antiemetics |

686
(1)
687

| | |
| --- | --- |
| | Prototype Drug Chart 45-1: Promethazine HCI |

562
(130)
692
(2)
692
(1)

| | |
| --- | --- |
| | Prototype Drug Chart 45-2: Ipecac Syrup |

693
(1)
694
(3)

| | |
| --- | --- |
| | Nonpharmacologic Measures |

694
(1)
694
(1)
694
(1)

| | |
| --- | --- |
| | Prototype Drug Chart 45-3: Diphenoxylate with Atropine |

695
(2)
697
(9)

| | |
| --- | --- |
| | Nonpharmacologic Measures |

697
(1)
697
(2)

| | |
| --- | --- |
| | Prototype Drug Chart 45-4: Bisacodyl |

699
(2)

| | |
| --- | --- |
| | Prototype Drug Chart 45-5: Psyllium |

701
(5)
706
(15)
707
(1)

| | |
| --- | --- |
| | Predisposing Factors in Peptic Ulcer Disease |

707
(1)
708
(1)

| | |
| --- | --- |
| | Gastroesophageal Reflux Disease |

708
(1)

| | |
| --- | --- |
| | Nonpharmocologic Measures for Managing Peptic Ulcer and Gastroesophageal Reflux Disease |

708
(1)
709
(8)
710
(1)
710
(1)
710
(1)

| | |
| --- | --- |
| | Prototype Drug Chart 46-1: Aluminum Hydroxide |

711
(2)
713
(1)

| | |
| --- | --- |
| | Prototype Drug Chart 46-2: Ranitidine |

714
(2)

| | |
| --- | --- |
| | Prototype Drug Chart 46-3: Lansoprazole |

716
(1)

| | |
| --- | --- |
| | Proton Pump Inhibitors (Gastric Acid Secretion Inhibitors, Gastric Acid Pump Inhibitors) |

717
(1)

| | |
| --- | --- |
| | Pepsin Inhibitor (Mucosal Protective Drug) |

718
(1)

| | |
| --- | --- |
| | Prototype Drug Chart 46-4: Sucralfate |

718
(1)

| | |
| --- | --- |
| | Prostaglandin Analogue Antiulcer Drug |

719
(2)

| | |
| --- | --- |
| | Fourteen: Eye, Ear, and Skin Agents |

721
(32)

| | |
| --- | --- |
| | Drugs for Disorders of the Eye and the Ear |

724
(16)
725
(1)

| | |
| --- | --- |
| | Drugs for Disorders of the Eye |

725
(10)
725
(1)
725
(1)

| | |
| --- | --- |
| | Antiinfectives and Antiinflammatories |

725
(1)
725
(2)
727
(2)

| | |
| --- | --- |
| | Prototype Drug Chart 47-1: Pilocarpine |

729
(4)

| | |
| --- | --- |
| | Anticholinergic Mydriatics and Cycloplegics |

733
(2)

| | |
| --- | --- |
| | Administration of Eyedrops and Ointments |

735
(1)

| | |
| --- | --- |
| | Clients with Eye Disorders: General Suggestions for Client Teaching |

735
(1)

| | |
| --- | --- |
| | Drugs for Disorders of the Ear |

735
(5)
735
(3)

| | |
| --- | --- |
| | Antihistamine-Decongestants |

738
(1)
738
(1)
738
(1)

| | |
| --- | --- |
| | Administration of Ear Medications |

738
(1)

| | |
| --- | --- |
| | Clients with Ear Disorders: General Suggestions for Client Teaching |

738
(2)

| | |
| --- | --- |
| | Drugs for Dermatologic Disorders |

740
(13)
741
(1)

| | |
| --- | --- |
| | Acne Vulgaris and Psoriasis |

741
(5)
741
(2)
743
(1)

| | |
| --- | --- |
| | Side Effects and Adverse Reactions: Acne Vulgaris and Psoriasis |

744
(2)
746
(1)
746
(1)
746
(1)
747
(1)
747
(1)

| | |
| --- | --- |
| | Burns and Burn Preparations |

748
(5)
748
(1)
748
(1)

| | |
| --- | --- |
| | Prototype Drug Chart 48-1: Mafenide Acetate |

749
(4)

| | |
| --- | --- |
| | Fifteen: Endocrine Agents |

753
(38)

| | |
| --- | --- |
| | Endocrine Pharmacology: Pituitary, Thyroid, Parathyroids, and Adrenals |

757
(18)
758
(1)
758
(4)
758
(2)

| | |
| --- | --- |
| | Prototype Drug Chart 49-1: Corticotropin, Corticotropin Repository, Corticotropin-Zinc Hydroxide |

760
(1)
761
(1)
762
(4)
762
(1)

| | |
| --- | --- |
| | Prototype Drug Chart 49-2: Levothyroxine Sodium |

763
(1)
763
(3)
766
(1)
766
(1)

| | |
| --- | --- |
| | Prototype Drug Chart 49-3: Calcitrol |

766
(1)
767
(8)
768
(1)

| | |
| --- | --- |
| | Prototype Drug Chart 49-4: Prednisone |

769
(1)

| | |
| --- | --- |
| | Glucocorticoid Inhibitors |

770
(1)
770
(5)
775
(16)
776
(1)
776
(15)
776
(3)

| | |
| --- | --- |
| | Prototype Drug Chart 50-1: Insulins |

779
(4)

| | |
| --- | --- |
| | Oral Antidiabetic Drugs (Oral Hypoglycemic Drugs) |

783
(3)

| | |
| --- | --- |
| | Prototype Drug Chart 50-2: Glipizide |

786
(2)

| | |
| --- | --- |
| | Prototype Drug Chart 50-3: Metformin |

788
(1)
789
(1)
789
(2)

| | |
| --- | --- |
| | Sixteen: Reproductive and Gender-Related Agents |

791
(114)

| | |
| --- | --- |
| | Drugs Associated with the Female Reproductive Cycle I: Pregnancy and Preterm Labor |

795
(21)
796
(1)
796
(2)

| | |
| --- | --- |
| | Therapeutic Drug and Herbal Use in Pregnancy |

798
(7)
798
(1)
799
(1)
799
(1)

| | |
| --- | --- |
| | Drugs for Minor Discomforts of Pregnancy |

800
(5)

| | |
| --- | --- |
| | Drugs That Decrease Uterine Muscle Contractility |

805
(3)
805
(1)
806
(2)

| | |
| --- | --- |
| | Corticosteroid Therapy in Preterm Labor |

808
(1)

| | |
| --- | --- |
| | Betamethasone (Celestone) |

808
(1)
809
(1)

| | |
| --- | --- |
| | Drugs for Pregnancy-Induced Hypertension |

809
(7)

| | |
| --- | --- |
| | Drugs Associated with the Female Reproductive Cycle II: Labor, Delivery, and the Preterm Neonate |

816
(23)

| | |
| --- | --- |
| | Drugs for Pain Control During Labor |

817
(13)
818
(4)
822
(8)

| | |
| --- | --- |
| | Drugs That Enhance Uterine Muscle Contractility |

830
(5)
831
(1)
832
(1)

| | |
| --- | --- |
| | Prototype Drug Chart 52-1: Oxytocin |

833
(2)

| | |
| --- | --- |
| | Surfactant Therapy in Preterm Birth |

835
(4)
835
(4)

| | |
| --- | --- |
| | Drugs Associated with the Postpartum and the Newborn |

839
(20)
840
(1)

| | |
| --- | --- |
| | Drugs Used During the Postpartum Period |

840
(9)

| | |
| --- | --- |
| | Pain Relief for Uterine Contractions |

841
(1)

| | |
| --- | --- |
| | Pain Relief for Perineal Wounds and Hemorrhoids |

841
(4)
845
(1)

| | |
| --- | --- |
| | Promotion of Bowel Function |

846
(3)
849
(4)
849
(2)
851
(2)

| | |
| --- | --- |
| | Drugs Administered to the Newborn Immediately After Delivery |

853
(6)

| | |
| --- | --- |
| | Immunization During the Newborn Period Before Discharge |

854
(5)

| | |
| --- | --- |
| | Drugs Related to Women's Health and Disorders |

859
(21)
860
(1)

| | |
| --- | --- |
| | Oral Contraceptive Products |

860
(6)

| | |
| --- | --- |
| | Estrogen-Progestin Combination Products |

860
(1)
861
(1)
862
(4)

| | |
| --- | --- |
| | Alternative Methods of Contraception |

866
(1)
866
(1)
866
(1)
866
(1)
866
(1)
866
(1)
867
(1)
867
(1)
867
(1)
867
(1)
867
(1)

| | |
| --- | --- |
| | Drugs Used to Treat Hormone Dysfunction |

868
(9)
868
(3)
871
(2)
873
(2)

| | |
| --- | --- |
| | Prototype Drug Chart 54-1: Conjugated Estrogens |

875
(2)
877
(3)
877
(1)
877
(3)

| | |
| --- | --- |
| | Drugs Related to Reproductive Health: Male Reproductive Disorders |

880
(12)
881
(1)

| | |
| --- | --- |
| | Substances Related to Male Reproductive Disorders |

881
(11)
881
(1)

| | |
| --- | --- |
| | Prototype Drug Chart 55-1: Testosterone |

882
(4)
886
(1)
886
(1)

| | |
| --- | --- |
| | Drugs Used in Other Male Reproductive Disorders |

887
(5)

| | |
| --- | --- |
| | Drugs Related to Reproductive Health: Infertility and Sexually Transmitted Diseases |

892
(13)
893
(1)

| | |
| --- | --- |
| | Drugs Related to Infertility Treatment |

893
(4)
893
(1)
893
(2)

| | |
| --- | --- |
| | Prototype Drug Chart 56-1: Clomiphene Citrate |

895
(1)
895
(1)

| | |
| --- | --- |
| | Drug Therapy for Male Infertility |

896
(1)

| | |
| --- | --- |
| | Drugs Used in the Treatment of Sexually Transmitted Diseases |

897
(6)
897
(5)
902
(1)
903
(2)

| | |
| --- | --- |
| | Seventeen: Emergency Agents |

905
(19)

| | |
| --- | --- |
| | Adult and Pediatric Emergency Drugs |

906
(18)
907
(1)

| | |
| --- | --- |
| | Oxygen as an Emergency Drug |

907
(1)

| | |
| --- | --- |
| | Emergency Drugs for Cardiac Disorders |

907
(5)
908
(1)
908
(1)
908
(1)
909
(1)
909
(1)
909
(1)
909
(1)
910
(1)
910
(1)

| | |
| --- | --- |
| | Prototype Drug Chart 57-1: Lidocaine HCI |

911
(1)
911
(1)
911
(1)
912
(1)
912
(1)
912
(1)

| | |
| --- | --- |
| | Emergency Drugs for Neurosurgical Disorders |

912
(2)
913
(1)

| | |
| --- | --- |
| | Prototype Drug Chart 57-2: Mannitol |

914
(1)
914
(1)

| | |
| --- | --- |
| | Emergency Drugs for Poisoning |

914
(2)
915
(1)
915
(1)
915
(1)

| | |
| --- | --- |
| | Prototype Drug Chart 57-3: Naloxone HCI |

916
(1)

| | |
| --- | --- |
| | Emergency Drugs for Shock |

916
(3)
916
(1)

| | |
| --- | --- |
| | Prototype Drug Chart 57-4: Dopamine HCI |

917
(1)
918
(1)
918
(1)
918
(1)
919
(1)

| | |
| --- | --- |
| | Diphenhydramine Hydrochloride |

919
(1)
919
(1)
919
(1)

| | |
| --- | --- |
| | Emergency Drugs for Hypertensive Crises and Pulmonary Edema |

919
(5)
919
(1)
920
(1)
920
(1)

| | |
| --- | --- |
| | Prototype Drug Chart 57-5: Sodium Nitroprusside |

921
(1)
921
(3)
Appendix A: Generic Drugs with Corresponding Canadian Trade Drug Names
924
(3)
Appendix B: Therapeutic Drug Monitoring (TDM)
927
(5)
Appendix C: Selected Drug-Drug Interactions
932
(2)
Appendix D: Selected Herb-Drug Interactions
934
(2)
Appendix E: Selected Sugar-Free Products
936
(1)
Appendix F: Selected Alcohol-Free Products
937
(1)
Appendix G: Potential Weapons of Bioterrorism
938
(2)
Appendix H: Abbreviations
940
(2)
Appendix I: Examples of Internet Sites
942
(1)
Appendix J: Top Prescribed Drugs in 2004
943
(6)
References
949
(10)
Index
959