Note: Supplemental materials are not guaranteed with Rental or Used book purchases.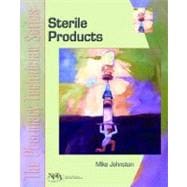 Pharmacy Technician Series, The: Sterile Products
ISBN13:
9780131147560
by
Johnston, Mike
;
NPTA
Summary
Part of the Prentice Hall Pharmacy Technician Series, Sterile Products is a comprehensive book covering the complex practice of sterile product preparation and correct aseptic technique. It covers principles of aseptic technique, terms, methods, products and includes a "how-to" on standard sterile product preparations.Pharmacy Technician Students and Professionals.
Table of Contents
Preface
xi
About the Authors
xiii
About NPTA
xiv
Acknowledgments
xv
Contributors
xvii
Reviewers
xviii

| | |
| --- | --- |
| | Introduction to Sterile Products |

1
(9)
1
(1)
2
(4)
2
(1)
2
(1)
3
(1)
3
(1)
3
(3)
6
(1)
7
(1)
8
(2)

| | |
| --- | --- |
| | Facilities, Garb, and Equipment |

10
(22)
10
(1)

| | |
| --- | --- |
| | Facilities and Clean Room |

11
(7)
12
(1)
13
(3)
16
(2)
18
(2)

| | |
| --- | --- |
| | Personal Attire within the IV Area |

18
(1)
18
(2)
20
(8)
20
(1)
20
(3)
23
(4)
27
(1)
28
(1)
29
(1)
30
(2)
32
(14)
32
(1)
33
(1)
33
(1)
34
(1)

| | |
| --- | --- |
| | Electrolytes Added to Total Parenteral Nutrition (TPN) Preparations |

35
(1)
36
(1)
37
(1)

| | |
| --- | --- |
| | Body Surface Area and Nomograms |

37
(4)
41
(2)
43
(1)
44
(2)

| | |
| --- | --- |
| | Properties of Sterile Products |

46
(10)
46
(1)
47
(1)
47
(1)
47
(1)

| | |
| --- | --- |
| | Compatibility and Stability |

48
(1)
49
(1)

| | |
| --- | --- |
| | Osmolality and Osmolarity |

50
(3)
51
(1)
52
(1)
52
(1)
53
(1)
54
(2)
56
(23)
56
(1)
57
(2)
57
(1)
57
(2)
59
(1)
59
(1)
59
(13)
60
(2)

| | |
| --- | --- |
| | Performing a Straight Draw |

62
(2)

| | |
| --- | --- |
| | Reconstituting a Powdered Vial |

64
(1)
65
(4)

| | |
| --- | --- |
| | Removing Fluid from an Ampule |

69
(1)

| | |
| --- | --- |
| | Preparing a Sterile Dosage Form |

70
(2)
72
(2)

| | |
| --- | --- |
| | Factor VIII, Factor IX, and Other Blood Products |

72
(1)

| | |
| --- | --- |
| | Product Description and Handling Information |

72
(2)
74
(1)
75
(2)
77
(2)

| | |
| --- | --- |
| | Sterile Product Preparations |

79
(13)
79
(1)
80
(2)
81
(1)
82
(1)
82
(1)
83
(1)

| | |
| --- | --- |
| | Personal Controlled Anesthesia (PCA) |

84
(1)
84
(1)

| | |
| --- | --- |
| | Neonates and Pediatric Patients |

84
(1)
85
(1)
85
(1)

| | |
| --- | --- |
| | Total Parenteral Nutrition (TPN) |

86
(1)
86
(2)
86
(1)

| | |
| --- | --- |
| | Plasma Protein Fraction (PPF) |

86
(1)

| | |
| --- | --- |
| | Immunoglobulin (Gammar, IgG) |

86
(1)
87
(1)
88
(1)
88
(1)
89
(1)
90
(2)

| | |
| --- | --- |
| | Total Parenteral Nutrition (TPN) |

92
(11)
92
(1)
93
(3)
94
(1)

| | |
| --- | --- |
| | Calories and Carbohydrates |

94
(1)
95
(1)

| | |
| --- | --- |
| | Electrolytes and Minerals |

95
(1)
96
(1)
96
(2)
98
(1)
98
(1)
99
(1)
99
(1)
99
(1)
100
(1)
101
(2)
103
(21)
103
(2)
105
(1)

| | |
| --- | --- |
| | Compounding Chemotherapy Medications |

106
(8)
108
(5)
113
(1)
113
(1)

| | |
| --- | --- |
| | Withdrawing a Cytotoxic Agent |

114
(1)

| | |
| --- | --- |
| | Procedures for Handling Sterile Injectable Hazardous Drugs |

115
(2)
117
(1)

| | |
| --- | --- |
| | Disposal of Cytotoxic Medications |

117
(1)
118
(1)

| | |
| --- | --- |
| | ASHP Guidelines for Safe Handling of Cytotoxic Drugs |

119
(1)
120
(1)
120
(2)
122
(2)

| | |
| --- | --- |
| | Quality Control and Assurance |

124
(17)
124
(1)

| | |
| --- | --- |
| | Elements of Quality in Pharmacy |

125
(1)
125
(1)

| | |
| --- | --- |
| | Quality-Assurance Functions |

125
(1)
125
(1)
126
(1)
126
(1)
126
(1)
126
(1)
127
(1)
127
(1)
127
(1)

| | |
| --- | --- |
| | ASHP Guidelines on Quality Assurance for Pharmacy-Prepared Sterile Products |

127
(7)
127
(3)
130
(2)
132
(2)

| | |
| --- | --- |
| | Core Concepts from USP 797 and ASHP Guidelines |

134
(2)
134
(1)
135
(1)

| | |
| --- | --- |
| | Personnel, Education, and Evaluation |

135
(1)

| | |
| --- | --- |
| | Storage and Handling Inside and Outside the Pharmacy |

135
(1)
135
(1)

| | |
| --- | --- |
| | Aseptic Technique, Product Preparation, and Garb |

136
(1)
136
(1)
136
(1)

| | |
| --- | --- |
| | Documentation and Labeling |

136
(1)
137
(2)
139
(2)
Appendix A Terminology and Abbreviations
141
(7)
Appendix B Common Intravenous Medications
148
(3)
Appendix C Training and Validation Forms
151
(21)
Appendix D Instructions for Left-Handed Personnel
172
(6)
Appendix E Resources and References
178
(2)
Appendix F Answers
180
(4)
Index
184