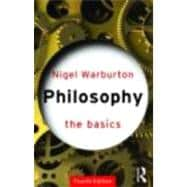 Questions About This Book?
What version or edition is this?
This is the 4th edition with a publication date of 7/1/2004.
What is included with this book?
The New copy of this book will include any supplemental materials advertised. Please check the title of the book to determine if it should include any CDs, lab manuals, study guides, etc.
Related Products
Summary
Philosophy: The Basicsis the most successful short introduction to philosophy published in recent years. For the fourth edition, Warburton has added short sections to several chapters, revised others and brought the further reading sections up to date. New additions include sections on the environment, playing "God" in genetic science, Darwinian theory and free will, war, consciousness and the meaning of death and notion of an afterlife. This book is for anyone coming to philosophy for the first time. This fourth edition ofPhilosophy:The Basicswill be one of the first titles in the completeBasicsredesign (which includes a new cover design and new text design).
Author Biography
Nigel Warburton is Senior Lecturer at the Open University
Table of Contents
Preface
xiii
Introduction
1
(1)

| | |
| --- | --- |
| | Philosophy and its history |

2
(1)
3
(2)
5
(1)

| | |
| --- | --- |
| | The limits of what philosophy can do |

6
(1)
6
(1)
7
(2)
9
(2)
11
(28)
12
(1)

| | |
| --- | --- |
| | Criticisms of the Design Argument |

13
(2)
15
(1)
16
(1)
16
(1)

| | |
| --- | --- |
| | Criticisms of the First Cause Argument |

17
(1)
18
(1)

| | |
| --- | --- |
| | Criticisms of the Ontological Argument |

19
(1)

| | |
| --- | --- |
| | Knowledge, proof and the existence of God |

20
(1)
21
(1)

| | |
| --- | --- |
| | Attempted solutions to the Problem of Evil |

22
(2)
24
(1)

| | |
| --- | --- |
| | Criticisms of the Free Will Defence |

24
(3)

| | |
| --- | --- |
| | The argument from miracles |

27
(1)
27
(3)

| | |
| --- | --- |
| | The Gambler's Argument: Pascal's Wager |

30
(1)

| | |
| --- | --- |
| | Criticisms of the Gambler's Argument |

31
(1)
32
(1)

| | |
| --- | --- |
| | Criticisms of non-realism about God |

33
(1)
33
(2)
35
(1)
36
(1)

| | |
| --- | --- |
| | Would immortality be tedious? |

36
(1)

| | |
| --- | --- |
| | Criticism of the tedium of immortality |

36
(1)
37
(1)
37
(2)
39
(28)
40
(1)
40
(1)

| | |
| --- | --- |
| | Criticisms of Christian ethics |

41
(1)
42
(4)

| | |
| --- | --- |
| | Criticisms of Kantian ethics |

46
(2)
48
(1)
48
(1)

| | |
| --- | --- |
| | Criticisms of utilitarianism |

49
(3)
52
(1)

| | |
| --- | --- |
| | Criticism of negative utilitarianism |

53
(1)
53
(1)
54
(1)

| | |
| --- | --- |
| | Criticisms of virtue theory |

55
(1)
56
(3)
59
(1)
59
(1)
60
(2)
62
(1)

| | |
| --- | --- |
| | Criticisms of moral relativism |

62
(1)
63
(1)
64
(1)
65
(1)
66
(1)
67
(25)
67
(2)

| | |
| --- | --- |
| | Equal distribution of money |

69
(1)

| | |
| --- | --- |
| | Criticisms of equal distribution of money |

69
(2)

| | |
| --- | --- |
| | Equal opportunity in employment |

71
(1)
72
(1)

| | |
| --- | --- |
| | Criticisms of reverse discrimination |

73
(1)

| | |
| --- | --- |
| | Political equality: democracy |

74
(1)
74
(1)
75
(1)
75
(2)
77
(1)
77
(1)

| | |
| --- | --- |
| | Criticisms of negative freedom |

78
(1)
79
(1)
80
(1)

| | |
| --- | --- |
| | Criticisms of Mill on free speech |

81
(1)

| | |
| --- | --- |
| | Removing freedom: punishment |

82
(1)

| | |
| --- | --- |
| | Punishment as retribution |

82
(1)

| | |
| --- | --- |
| | Criticisms of retributivism |

83
(1)
83
(1)
84
(1)
84
(1)

| | |
| --- | --- |
| | Criticisms of protection of society |

85
(1)
85
(1)
86
(1)
86
(2)

| | |
| --- | --- |
| | Criticisms of civil disobedience |

88
(2)
90
(1)
90
(2)
92
(18)
92
(1)

| | |
| --- | --- |
| | Scepticism about the evidence of the senses |

93
(1)
93
(1)

| | |
| --- | --- |
| | Criticisms of the Illusion Argument |

94
(1)
95
(1)
96
(2)
98
(1)
99
(1)
99
(1)
99
(2)

| | |
| --- | --- |
| | Criticisms of representative realism |

101
(1)
102
(1)
103
(2)
105
(1)

| | |
| --- | --- |
| | Criticisms of phenomenalism |

106
(1)
107
(1)

| | |
| --- | --- |
| | Criticisms of causal realism |

108
(1)
109
(1)
109
(1)
110
(17)

| | |
| --- | --- |
| | The simple view of scientific method |

111
(1)

| | |
| --- | --- |
| | Criticisms of the simple view |

112
(2)
114
(4)

| | |
| --- | --- |
| | Attempted solutions to the Problem of Induction |

118
(2)

| | |
| --- | --- |
| | Falsificationism: conjecture and refutation |

120
(2)

| | |
| --- | --- |
| | Criticisms of falsificationism |

122
(2)
124
(1)
125
(1)
125
(1)
125
(2)
127
(21)

| | |
| --- | --- |
| | Philosophy of mind and psychology |

127
(1)
128
(1)
128
(1)
129
(1)
130
(2)

| | |
| --- | --- |
| | Dualism without interaction |

132
(1)
133
(1)
134
(1)

| | |
| --- | --- |
| | Criticisms of type-identity theory |

135
(2)
137
(1)

| | |
| --- | --- |
| | Criticisms of token-identity theory |

138
(1)
138
(1)

| | |
| --- | --- |
| | Criticisms of behaviourism |

139
(3)
142
(1)

| | |
| --- | --- |
| | Criticism of functionalism |

143
(1)
144
(1)

| | |
| --- | --- |
| | The argument from analogy |

144
(1)

| | |
| --- | --- |
| | Criticisms of the argument from analogy |

145
(1)
146
(1)
146
(2)
148
(17)
149
(1)

| | |
| --- | --- |
| | The family resemblance view |

149
(1)

| | |
| --- | --- |
| | Criticisms of the family resemblance view |

149
(1)

| | |
| --- | --- |
| | The significant form theory |

150
(1)

| | |
| --- | --- |
| | Criticisms of the significant form theory |

151
(1)
152
(1)

| | |
| --- | --- |
| | Criticisms of the idealist theory |

152
(1)
153
(1)

| | |
| --- | --- |
| | Criticisms of the institutional theory |

154
(2)
156
(1)
156
(1)

| | |
| --- | --- |
| | Criticisms of anti-intentionalism |

157
(1)

| | |
| --- | --- |
| | Performance, interpretation, authenticity |

158
(1)

| | |
| --- | --- |
| | Historical authenticity in performance |

159
(1)

| | |
| --- | --- |
| | Criticisms of historical authenticity in performance |

159
(1)

| | |
| --- | --- |
| | Forgeries and artistic value |

160
(4)
164
(1)
164
(1)
Index
165