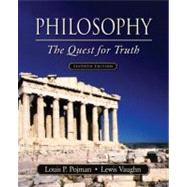 Questions About This Book?
What version or edition is this?
This is the 7th edition with a publication date of 5/9/2008.
What is included with this book?
The Used copy of this book is not guaranteed to include any supplemental materials. Typically, only the book itself is included.
Related Products
Summary
Praised for its unique combination of accessibility and comprehensiveness, Philosophy: The Quest for Truth is one of the best-selling textbooks for the introduction to philosophy course. Now in its seventh edition, this acclaimed text provides an excellent selection of classical and contemporary readings on nineteen key problems in philosophy. Louis P. Pojman and new coeditor Lewis Vaughn have carefully organized the essays in each section so that they present pro/con dialogues that allow students to compare and contrast the philosophers' positions. Topics covered include the nature of philosophy, logic, the existence of God, immortality, knowledge, the mind-body question, personal identity, free will and determinism, ethics, political philosophy, the meaning of life, abortion, capital punishment, animal rights, and affirmative action. Pojman and Vaughn provide substantial introductions to each major section. In addition, each of the eighty-four readings is accompanied by study questions, end-of-reading reflective questions, and an individual introduction featuring a biographical sketch of the philosopher. Short bibliographies following each major section, a detailed glossary of key terms, and an appendix--on reading and writing philosophy papers--further enhance the text's pedagogical value. FEATURES OF THE SEVENTH EDITION * Eleven new readings including selections by David Chalmers, Roderick M. Chisholm, Jerry A. Fodor, David Hume, Soren Kierkegaard, Don Marquis, Michael Martin, James Rachels, Bertrand Russell, Harvey Siegel, and Judith Jarvis Thomson * An expanded and improved discussion of logic and arguments (in Part I) * Updated headnotes and bibliographies * An Instructor's Manual that provides a concise summary of each reading; a bank of 672 test questions (multiple-choice and true/false); a set of essay questions for each reading; a list of key terms; sample syllabi/course schedules; and useful web links * An Online Student Study Guide containing more than three hundred study questions; flashcards for all key terms; two essay questions for each reading; and a list of helpful web links categorized by philosophical problem
Table of Contents
New to this edition
Each Part opens with an Introduction and ends with Suggestions for Further Reading
Preface
What Is Philosophy?
Socratic Wisdom
Of Enthusiasm and the Quest for Truth
The Value of Philosophy
Excursus: A Little Bit of Logic
Deductive and Inductive Reasoning
Inference to the Best Explanation
Some Applications
Fallacies of Reasoning
Exercises in Critical Reasoning
Questions for Discussion
Philosophy Of Religion
Is Belief in God Rationally Justified?
Arguments for the Existence of God
The Cosmological Argument Pro
The Five Ways
The Kalam Cosmological Argument and the Anthropic Principle
Contra
A Critique of the Cosmological Argument
The Teleological Argument Pro
The Watch and the Watchmaker Contra
A Critique of the Teleological Argument
The Ontological Argument
Pro et Contra
The Ontological Argument
An Analysis of the Ontological Argument
Why Is There Evil?
Why Is There Evil?
Why Doesn't God Intervene to Prevent Evil?
There Is a Reason Why God Allows Evil
Is Faith Compatible with Reason?
Yes, Faith Is a Logical Bet
The Ethics of Belief
The Will to Believe
A Debate on the Rationality of Religious Belief
Religious Belief Without Evidence
Faith and Truth
Holy Spirit Epistemology
Can Religion Cure Our Troubles?
Knowledge
What Can We Know?
Classical Theories of Knowledge
Cartesian Doubt and the Search for Foundational Knowledge
The Empiricist Theory of Knowledge
An Idealist Theory of Knowledge
The Origin of Our Ideas and Skepticism about Causal Reasoning
An Argument Against Skepticism
Truth, Rationality, and Cognitive Relativism
The Correspondence Theory of Truth
The Pragmatic Theory of Truth
Dismantling Truth: Solidarity versus Objectivity
Postmodernism and Truth
Relativism
Philosophy Of Mind: The Mind-Body Problem
What Am I? A Mind or a Body?
Dualistic Interactionism
Exorcising Descartes' "Ghost in the Machine"
A Contemporary Defense of Dualism
On Functionalism and Materialism
What Is It Like to Be a Bat?
The Mind-Body Problem
Property Dualism
Minds, Brains, and Computers
Who Am I? Do We Have Personal Identity?
Our Psychological Properties Define the Self
We Have No Substantial Self with Which We Are Identical
Brain Transplants and Personal Identity: A Dialogue
Is Ther
Table of Contents provided by Publisher. All Rights Reserved.