Note: Supplemental materials are not guaranteed with Rental or Used book purchases.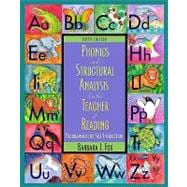 Phonics and Structural Analysis for the Teacher of Reading Programmed for Self-Instruction
ISBN13:
9780132080941
by
Fox, Barbara J.
Related Products
Summary
Phonics for the Teacher of Reading,tenth edition, presents the context of phonics as one strategy for identifying and learning new words. Designed for classroom teachers, reading teachers, and special education teachers who will soon be entering teaching for the first time, this text provides a tutorial for learning the elements of phonemic awareness and phonics. In addition, it helps sharpen teachers'knowledge of phonics, onsets and rimes, and how syllables affect pronunciation.
Table of Contents
TABLE OF CONTENTS
Preface ix
Self-Evaluation I: A Pretest 1
General Knowledge and Terminology 9
Events That Shaped English Spelling 9
What Does the Research Say about Teaching Phonics? 10
Basic Elements of Phonics 12
Box 1.1: Green Glass or Green Grass? Two English Phonemes
Box 1.2: An Allophone Experiment 16
Graphophonic, Syntactic, and Semantic Cues 21
Box 1.3: Spanish Phonemes 22
Review 1 24
References 25
Introduction 27
Review 2 30
Single-Letter Consonants 31
m, q, r, v 33
Box 2.1: How Would a Duck Quack without Q? 35
Review 3 36
b, h, k, t, P 36
Study Guide: Consonants b, h, k, t, m, p, q, r, v 41
Review 4 42
d, f, j, n, z 43
Box 2.2: Why Z Comes Last 48
Study Guide: Consonants d, f, j, n, z; Digraphs dg, gh, ph; Suffix -cd
Review 5 50
C, g, W, Y 51
Box 2.3: Why Not Kfor Cat? 54
Study Guide: Consonants c, g, s, t, w, x, Y 65
Review 7 66
Consonant Digraphs 68
Box 2.4: Too Many English Sounds, Too Few English Letters:
The French Solution 69
Review 8 70
ch, sh, zh 71
Review 9 73
th, jIi, wh 73
Box 2.5: An Easy Way to Recognize Voiced and Voiceless Phonemes and Some
Insight into Invented Spelling 75
Review 10 76
ng 77
Study Guide: Consonant Digraphs ch, sh, th, wh, ng 78
Review 11 79
Consonant Clusters and Blends 80
Study Guide: Consonant Clusters and Blends 83
Review 12 84
Recap I 85
Review 17 120
Diphthongs 121
Review 18 123
Vowel Digraphs 124
Review 19 126
Other Vowel Pairs 126
Study Guide: Diphthongs, Vowel Digraphs, and Other Vowel Pairs 130
Review 20 131
Recap II 132
Q A
Review of Phonemes 135
Review Outline 136
Onsets and Rimes 149
Study Guide: Onsets and Rimes and 50 Common Rimes
Review 21 157
Contents 156
Introduction 87
Review 13 90
Short Vowel Sounds 90
Study Guide: Short Vowels 97
Review 14 98
Long Vowel Sounds 99
Box 3.1: Final E Solves Four Spelling Problems
Box 3.2: The Extra E 107
Study Guide: Long Vowels 108
Review 15 110
Study Guide: Schwa 113
Review 16 114
Other Single Vowels 114
Study Guide: Other Single Vowels 120
Introduction 159
Clues to Placement of Accents
Study Guide: Syllable Accents
Review 22 167
Clues to Syllable Division 167
Study Guide: Syllable Division
Review 23 179
Recap III 179
Contents
Introduction 185
Review 24 188
Prefixes and Suffixes, Contractions, and Compound Words 188
Study Guide: Prefixes for Word Study 194
Study Guide: Suffixes for Word Study 195
Study Guide: Contractions for Word Study 196
Review 25 197
Spelling Generalizations for Adding Prefixes and Suffixes to Words 198
Study Guide: Spelling Generalizations for Adding Prefixes and Suffixes toWords 207
Review 26 209
Recap IV 209
Self-Evaluation II: A Posttest 213
Answers to the Pretest and Posttest
Answers to the Reviews 229
Appendix A: Phonics and Structural Analysis Generalizations 241
Appendix B: Graphemes, Key Symbols, and Key Words 245
Glossary 247