Note: Supplemental materials are not guaranteed with Rental or Used book purchases.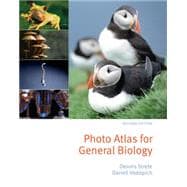 Questions About This Book?
What version or edition is this?
This is the 2nd edition with a publication date of 8/1/2006.
What is included with this book?
The Used copy of this book is not guaranteed to include any supplemental materials. Typically, only the book itself is included.
Summary
This photo atlas provides insight into the organisms that live all around us, which we seldom have the opportunity to observe. This atlas attempts to cover the diversity of plants and animals as they exist in their many niches. How do we do that?: Clear line drawings accompany most of the full-color photos, which makes identifying details of the photos easier. Easy-to-understand labeling helps the student learn. Excellent, crisp photography provides the most accurate portrayal of biological subjects. The photographs emphasize "process" and are labeled with complete descriptions of the subject or process. Book jacket.
Table of Contents
Preface
vii
1
(7)
8
(5)
13
(15)
14
(3)
17
(11)

| | |
| --- | --- |
| | Plant Mitosis and Gametogenesis |

28
(4)
28
(1)
29
(1)
30
(1)
31
(1)

| | |
| --- | --- |
| | Animal Cell Mitosis and Meiosis |

32
(8)

| | |
| --- | --- |
| | Meiosis---A Diagrammatic Presentation |

37
(3)
40
(3)
43
(8)
43
(5)
48
(3)
51
(7)
51
(1)
52
(1)
53
(2)
55
(2)
57
(1)
58
(4)
62
(3)
62
(1)
63
(1)
64
(1)
65
(4)
69
(6)
69
(1)
70
(1)
70
(5)
75
(16)
75
(3)
78
(3)
81
(3)
84
(4)
88
(3)
91
(27)

| | |
| --- | --- |
| | Phylum Porifera---Sponges |

91
(2)

| | |
| --- | --- |
| | Phylum Cnidaria---Jellyfish, Hydras, and Anemones |

93
(5)

| | |
| --- | --- |
| | Phylum Platyhelminthes---Flatworms |

98
(4)

| | |
| --- | --- |
| | Phylum Nematoda---Roundworms |

102
(2)

| | |
| --- | --- |
| | Phylum Annelida---Segmented Worms |

104
(3)

| | |
| --- | --- |
| | Phylum Mollusca---Snails, Clams, And Octopuses |

107
(3)

| | |
| --- | --- |
| | Phylum Arthropoda---Arachnids, Crustaceans, And Insects |

110
(5)

| | |
| --- | --- |
| | Phylum Echinodermata---Sea Stars, Urchins, And Sea Cucumbers |

115
(3)
118
(4)
122
(9)
122
(1)
123
(1)
124
(1)
125
(1)
126
(2)
128
(1)
129
(2)
131
(41)
131
(2)
133
(4)
137
(1)
138
(4)
142
(4)
146
(2)
148
(24)

| | |
| --- | --- |
| | Human Biology---Histology and Anatomy of Systems |

172
(76)
172
(3)
175
(1)
176
(16)
192
(9)
201
(8)
209
(3)
212
(1)
213
(1)
214
(1)
215
(7)
222
(3)
225
(7)
232
(5)
237
(4)

| | |
| --- | --- |
| | Female Reproductive System |

241
(4)
245
(3)
248
(10)
249
(1)

| | |
| --- | --- |
| | Cleavage Divisions and Neurulation in Frog Egg |

250
(2)

| | |
| --- | --- |
| | Early Embryonic Development in Chick |

252
(2)
254
(2)
256
(2)
Appendix A Measurements and Solutions
258
(2)
Appendix B Classification and Defining Characteristics of the Major Groups of Organisms
260
(7)
Credits
267
(1)
Index
268