Note: Supplemental materials are not guaranteed with Rental or Used book purchases.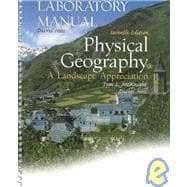 Summary
Carrying forthTom L. McKnight's well-known thematic focus on landscape appreciation, this best-seller fosters a solid understanding of Earth and its physical geography. Its clear, user-friendly writing style, superior art program, and abundant pedagogy appeal to a wide variety of readers. Updates and expands coverage of global environmental change, including a new section on measuring and understanding climate change. Expands section on human alteration of the atmosphere, including ozone depletion and air pollution. Expands sections on tsunamis and human modification of shorelines. A useful reference for anyone interested in physical geography.
Table of Contents
Introduction to Earth
Portraying Earth
Introduction to the Atmosphere
Insolation and Temperature
Atmospheric Pressure and Wind
Atmospheric Moisture
Transient Atmospheric Flows and Disturbances
Climatic Zones and Types
The Hydrosphere
Cycles and Patterns in the Biosphere
Terrestrial Flora and Fauna
Soils
Introduction to Landform Study
The Internal Processes
Weathering and Mass Wasting
The Fluvial Processes
Solution Processes and Karst Topography
The Topography of Arid Lands
Glacial Modification of Terrain
Coastal Processes and Terrain
The International System of Units (SI)
U.S. Geological Survey Topographic Maps
Meteorological Tables
The Weather Station Model
Table of Contents provided by Publisher. All Rights Reserved.