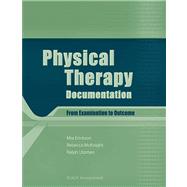 Summary
Complete and accurate documentation is one of the most essential skills for a physical therapist to develop and use effectively. Necessary for both new and experienced practitioners, Physical Therapy Documentation: From Examination to Outcome will teach and explain physical therapy documentation from A to Z. Physical Therapy Documentationcovers all of the fundamentals for prospective physical therapists preparing to work in the clinic or clinicians looking to refine and update their skills. Dr. Mia Erickson along with Rebecca McKnight and Dr. Ralph Utzman discuss documentation issues while providing a framework for the actual documentation format. In addition,Physical Therapy Documentationdraws comparisons between the familiar, traditional documentation formats and contemporary models to provide a foundation for clinicians and students to use when documenting in any practice setting. Practice exercises and case studies are provided throughout the text demonstrating note-writing across the continuum of care. This text will allow the student or clinician to produce quality documentation consistent with current standards of practice. The Guide to Physical Therapist Practice is referenced throughout the text as the model for patient/client management. Whatrs"s Inside: Disablement models Reasons for documentation Documentation formats Documentation and patient-client management Discussion of reimbursement issues Discussion of legal issues Practical tips for note writing ThroughoutPhysical Therapy Documentation, The World Health Organizationrs"s International Classification of Functioning, Disability, and Health (ICF)language is used. The text is also correlated with the Nagi Model, which is well-known to most physical therapists, to help provide a bridge from the older model to the contemporary model. Physical Therapy Documentationprovides physical therapy students, educators, and clinicians with a valuable reference tool for documentation within contemporary physical therapy practice.
Author Biography
Mia Erickson, EdD, PT, CHT, ATC is currently an Associate Professor and Co-Academic Coordinator of Clinical Education at West Virginia University. She has a Bachelor's degree in Secondary Education and Athletic Training from West Virginia University. She received a Master of Science degree in Physical Therapy from the University of Indianapolis in 1996 and completed her Doctoral degree in Education at West Virginia University in 2002. She participates in clinical practice in Fairmont, WV in outpatient hand and upper extremity rehabilitation. Rebecca McKnight, PT, MS is currently the Program Coordinator of the Physical Therapist Assistant Program at Ozarks Technical Community College in Springfield, MO. She also is an adjunct instructor at the Physical Therapist Program at Missouri State University. Rebecca received her Bachelor's of Science degree in Physical Therapy from St. Louis University in 1992 and her post-professional Master's of Science degree from Rocky Mountain University of Health Professions in 1999. Rebecca has recently begun a consulting business with her husband (Reach Consulting) and provides consultation related to curriculum design, development, and assessment. Rebecca is an active member of the American Physical Therapy Association, primarily within the Education Section. Ralph R. Utzman, PT, MPH, PhD is Associate Professor and Co-Academic Coordinator of Clinical Education in the Division of Physical Therapy at the West Virginia University School of Medicine. He holds a Bachelor's degree in Physical Therapy and a Master's degree in Public Health from West Virginia University, and a Doctor of Philosophy degree in Health Related Sciences, Physical Therapy Track from the MCV Campus of Virginia Commonwealth University. He currently practices as part of an interdisciplinary care team for people with Parksinson's disease. He teaches in the areas of professional practice roles, practice administration, and clinical skills.
Table of Contents
Acknowledgments
About the Authors
Introduction
Overview of Disablement
Reasons for Documenting in Physical Therapy
Documenting Patient/Client Management
Documentation Formats
Rules for Writing in Medical Records
Recording Subjective Information
Recording Objective Information
Writing the Assessment and the Plan
Interim and Discharge Notes
Examining Your Patients' Outcomes
Legal, Regulatory, and Policy Issues in Documentation
Documentation and Reimbursement
APTA Guidelines for Physical Therapy Documentation of Patient/Client Management
Abbreviations and Symbols
Sample Forms
Preferred Practice Patterns
Glossary
Index
Table of Contents provided by Publisher. All Rights Reserved.