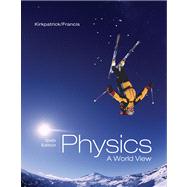 Includes 2-weeks free access to
step-by-step solutions for this book.
Step-by-Step solutions are actual worked out problems to the questions at the end of each chapter that help you understand your homework and study for your exams. Chegg and eCampus are providing you two weeks absolutely free. 81% of students said using Step-by-Step solutions prepared them for their exams.
Questions About This Book?
Why should I rent this book?
Renting is easy, fast, and cheap! Renting from eCampus.com can save you hundreds of dollars compared to the cost of new or used books each semester. At the end of the semester, simply ship the book back to us with a free UPS shipping label! No need to worry about selling it back.
How do rental returns work?
Returning books is as easy as possible. As your rental due date approaches, we will email you several courtesy reminders. When you are ready to return, you can print a free UPS shipping label from our website at any time. Then, just return the book to your UPS driver or any staffed UPS location. You can even use the same box we shipped it in!
What version or edition is this?
This is the 6th edition with a publication date of 1/24/2006.
What is included with this book?
The New copy of this book will include any supplemental materials advertised. Please check the title of the book to determine if it should include any CDs, lab manuals, study guides, etc.
The Rental copy of this book is not guaranteed to include any supplemental materials. You may receive a brand new copy, but typically, only the book itself.
Summary
This text contains a running story line about how the current physics "world view" came to be. This story line is divided into nine parts framed by an introductory chapter ("A World View") which puts the approach into context. This approach gives non-science students an appreciation for the laws of nature and physics contribution to that understanding. The new sixth edition uses the latest physics education principles to emphasize conceptual understanding, both in the main narrative and in the accompanying media program. Designed to fit the specific needs of any non-majors physics course, the text is flexible, fully modular and now can be customized to fit any syllabus through Thomson's TextChoice custom solution program. Mathematics is used minimally, but for instructors wishing to incorporate more problem-solving skills and quantitative reasoning, the optional, slightly more detailed, "Problem Solving to accompany Physics: A World View" student supplement reveals more of the beauty and power of mathematics in physics. The new edition includes access to PhysicsNow, a powerful personal student study companion. This interactive online resource uses a series of chapter-specific diagnostics to gauge students' unique study needs, then provides a Personalized Learning Plan that focuses their study time on the concepts they need to review most. Active Figure tutorial simulations provide an opportunity for students to learn through observation, further enhancing conceptual understanding.
Table of Contents
Preface
xxi
1
(13)
2
(1)
2
(3)
5
(1)
6
(3)
9
(3)
12
(2)
14
(19)
15
(1)
16
(2)
18
(1)
19
(2)
21
(2)

| | |
| --- | --- |
| | A First Look at Falling Objects |

23
(2)

| | |
| --- | --- |
| | Free Fall: Making a Rule of Nature |

25
(2)

| | |
| --- | --- |
| | Starting with an Initial Velocity |

27
(1)
27
(1)
28
19
(5)

| | |
| --- | --- |
| | Galileo: Immoderate Genius |

24
(9)
33
(23)
34
(1)

| | |
| --- | --- |
| | The Beginnings of Our Modern Explanation |

35
(1)
36
(2)
38
(2)
40
(3)
43
(1)
44
(1)
44
(1)
45
(1)
46
(1)
46
(1)
47
(4)
51

| | |
| --- | --- |
| | Newton: Diversified Brilliance |

37
(11)
48
(8)
56
(18)
57
(1)
58
(2)

| | |
| --- | --- |
| | Acceleration in Circular Motion |

60
(1)
60
(6)

| | |
| --- | --- |
| | Launching an Apple into Orbit |

66
(1)
66
(3)
69
62
(6)

| | |
| --- | --- |
| | Floating in Defiance of Gravity |

68
(6)
74
(22)
75
(1)
76
(3)

| | |
| --- | --- |
| | The Law of Universal Gravitation |

79
(1)
80
(1)

| | |
| --- | --- |
| | Gravity near Earth's Surface |

81
(2)
83
(1)
84
(2)

| | |
| --- | --- |
| | How Far Does Gravity Reach? |

86
(1)
87
(1)
88

| | |
| --- | --- |
| | Kepler: Music of the Spheres |

76
(6)
82
(14)

| | |
| --- | --- |
| | Interlude The Discovery of Invariants |

93
(3)
96
(15)
97
(1)

| | |
| --- | --- |
| | Changing an Object's Momentum |

97
(2)

| | |
| --- | --- |
| | Conservation of Linear Momentum |

99
(2)
101
(2)
103
(1)

| | |
| --- | --- |
| | Airplanes, Balloons, and Rockets |

104
(2)
106

| | |
| --- | --- |
| | Landing the Hard Way: No Parachute! |

99
(6)

| | |
| --- | --- |
| | Noether: The Grammar of Physics |

105
(6)
111
(23)
112
(1)
113
(1)

| | |
| --- | --- |
| | Conservation of Kinetic Energy |

114
(1)
115
(1)
116
(2)

| | |
| --- | --- |
| | Gravitational Potential Energy |

118
(1)

| | |
| --- | --- |
| | Conservation of Mechanical Energy |

119
(2)
121
(1)
122
(3)

| | |
| --- | --- |
| | Is Conservation of Energy a Hoax? |

125
(2)
127
(1)
128

| | |
| --- | --- |
| | Stopping Distances for Cars |

117
(7)
124
(3)
127
(7)
134
(20)
135
(1)
135
(3)
138
(1)
139
(2)
141
(1)

| | |
| --- | --- |
| | Rotational Kinetic Energy |

142
(1)
142
(1)

| | |
| --- | --- |
| | Conservation of Angular Momentum |

143
(1)

| | |
| --- | --- |
| | Angular Momentum: A Vector |

144
(2)
146
(8)

| | |
| --- | --- |
| | Interlude Universality of Motion |

152
(2)
154
(22)
155
(1)

| | |
| --- | --- |
| | Motions Viewed in Different Reference Systems |

156
(1)
157
(1)

| | |
| --- | --- |
| | Accelerating Reference Systems |

158
(2)

| | |
| --- | --- |
| | Realistic Inertial Forces |

160
(3)
163
(1)

| | |
| --- | --- |
| | Earth: A Nearly Inertial System |

164
(2)

| | |
| --- | --- |
| | Noninertial Effects of Earth's Motion |

166
(4)
170
162
(7)
169
(7)
176
(31)
177
(1)

| | |
| --- | --- |
| | Searching for the Medium of Light |

178
(1)
178
(1)
179
(2)
181
(4)
185
(1)

| | |
| --- | --- |
| | Experimental Evidence for Time Dilation |

186
(1)
187
(3)
190
(1)

| | |
| --- | --- |
| | Relativistic Laws of Motion |

191
(1)
192
(3)
195
(2)
197
188
(3)

| | |
| --- | --- |
| | Einstein: Person of the Century |

191
(2)

| | |
| --- | --- |
| | Global Positioning System (GPS) |

193
(3)
196
(11)

| | |
| --- | --- |
| | Interlude The Search for Atoms |

204
(3)
207
(20)
208
(1)
209
(2)

| | |
| --- | --- |
| | Chemical Evidence of Atoms |

211
(1)

| | |
| --- | --- |
| | Masses and Sizes of Atoms |

212
(2)
214
(1)
215
(1)

| | |
| --- | --- |
| | Atomic Speeds and Temperature |

216
(2)
218
(2)
220
(2)
222
221
(6)
227
(20)
228
(1)
228
(2)
230
(1)
231
(1)
232
(1)
233
(1)
233
(3)
236
(2)
238
(3)
241
229
(6)

| | |
| --- | --- |
| | Solid Liquids and Liquid Solids |

235
(4)
239
(1)
240
(7)
247
(21)
248
(1)
249
(1)
250
(1)

| | |
| --- | --- |
| | Heat, Temperature, and Internal Energy |

251
(1)
252
(1)
252
(3)
255
(1)
256
(2)
258
(1)
259
(1)
260
(2)
262
(1)
263

| | |
| --- | --- |
| | Joule: A New View of Energy |

251
(12)
263
(5)
268
(20)
269
(2)
271
(1)

| | |
| --- | --- |
| | Perpetual-Motion Machines |

272
(1)
273
(1)
274
(1)
275
(3)
278
(1)
279
(2)

| | |
| --- | --- |
| | Entropy and Our Energy Crisis |

281
(1)
281
279
(1)
280
(8)

| | |
| --- | --- |
| | Interlude Waves---Something Else That Moves |

286
(2)
288
(25)
289
(2)
291
(2)
293
(1)
293
(2)

| | |
| --- | --- |
| | Waves: Vibrations That Move |

295
(2)
297
(2)
299
(1)
300
(2)
302
(2)
304
(2)
306
(1)
307
296
(3)
299
(14)
313
(23)
314
(1)
315
(1)
316
(1)
317
(2)
319
(2)
321
(2)
323
(1)
324
(1)
325
(3)
328
(1)
328
318
(4)

| | |
| --- | --- |
| | Loudest and Softest Sounds |

322
(5)

| | |
| --- | --- |
| | Breaking the Sound Barrier |

327
(9)

| | |
| --- | --- |
| | Interlude The Mystery of Light |

333
(3)
336
(22)
337
(2)
339
(1)
340
(1)
341
(1)
342
(1)
343
(2)

| | |
| --- | --- |
| | Images Produced by Mirrors |

345
(1)
346
(2)
348
(2)
350
(3)
353
338
(6)
344
(14)
358
(24)
359
(2)

| | |
| --- | --- |
| | Total Internal Reflection |

361
(1)
362
(1)
363
(1)
364
(2)
366
(1)
367
(1)

| | |
| --- | --- |
| | Images Produced by Lenses |

368
(3)
371
(1)
371
(3)
374
(1)
375
(2)
377
364
(9)
373
(3)

| | |
| --- | --- |
| | The Hubble Space Telescope |

376
(6)
382
(21)
383
(1)
384
(1)
385
(2)
387
(3)
390
(2)
392
(4)
396
(1)
396
389
(5)
394
(9)

| | |
| --- | --- |
| | Interlude An Electrical and Magnetic World |

401
(2)
403
(23)
404
(1)
405
(1)
406
(1)
407
(2)
409
(2)
411
(2)
413
(1)
414
(2)
416
(2)
418
(2)
420

| | |
| --- | --- |
| | Franklin: The American Newton |

407
(12)
419
(7)
426
(20)
427
(1)
428
(1)
429
(1)
430
(1)
431
(2)

| | |
| --- | --- |
| | The Danger of Electricity |

433
(1)

| | |
| --- | --- |
| | A Model for Electric Current |

433
(3)
436
(3)
439
(2)
441

| | |
| --- | --- |
| | The Real Cost of Electricity |

438
(8)
446
(27)
447
(2)

| | |
| --- | --- |
| | Electric Currents and Magnetism |

449
(1)
450
(1)
451
(2)
453
(1)

| | |
| --- | --- |
| | Charged Particles in Magnetic Fields |

454
(1)

| | |
| --- | --- |
| | Magnetism and Electric Currents |

455
(2)
457
(1)
458
(2)
460
(1)
461
(3)
464
(2)
466
452
(7)

| | |
| --- | --- |
| | ``Wireless'' Battery Charger |

459
(4)

| | |
| --- | --- |
| | Maxwell: Unifying the Electromagnetic Spectrum |

463
(2)
465
(8)

| | |
| --- | --- |
| | Interlude The Story of the Quantum |

471
(2)
473
(25)
474
(1)
474
(3)
477
(1)

| | |
| --- | --- |
| | The Discovery of the Electron |

478
(1)
479
(1)
479
(3)
482
(2)
484
(2)
486
(2)
488
(3)
491
(1)
492
(1)
493

| | |
| --- | --- |
| | Rutherford: At the Crest of the Wave |

481
(3)

| | |
| --- | --- |
| | Planck: Founder of Quantum Mechanics |

484
(6)

| | |
| --- | --- |
| | Bohr: Creating the Atomic World |

490
(8)
498
(26)
499
(1)
499
(3)
502
(3)
505
(1)
506
(1)

| | |
| --- | --- |
| | The Quantum-Mechanical Atom |

507
(2)

| | |
| --- | --- |
| | The Exclusion Principle and the Periodic Table |

509
(2)

| | |
| --- | --- |
| | The Uncertainty Principle |

511
(2)

| | |
| --- | --- |
| | The Complementarity Principle |

513
(1)
514
(1)
515
(2)
517
501
(8)
509
(15)

| | |
| --- | --- |
| | Interlude The Subatomic World |

522
(2)
524
(24)

| | |
| --- | --- |
| | The Discovery of Radioactivity |

525
(1)
526
(2)
528
(1)

| | |
| --- | --- |
| | The Discovery of Neutrons |

529
(1)
529
(1)
530
(3)
533
(2)
535
(2)
537
(1)

| | |
| --- | --- |
| | Biological Effects of Radiation |

538
(1)
539
(3)
542
(2)
544
527
(9)
536
(4)
540
(8)
548
(23)
549
(1)
549
(1)
550
(2)
552
(2)
554
(1)
555
(2)
557
(3)
560
(2)
562
(2)
564
(1)
565
(1)
566

| | |
| --- | --- |
| | Goeppert-Mayer: Magic Numbers |

556
(2)

| | |
| --- | --- |
| | Fermi: A Man for All Seasons |

558
(3)

| | |
| --- | --- |
| | Meitner: A Physicist Who Never Lost Her Humanity |

561
(2)
563
(8)
571
(19)
572
(3)
575
(1)
576
(2)
578
(1)

| | |
| --- | --- |
| | The Elementary Particle Zoo |

579
(2)
581
(2)
583
(2)
585
(1)
586

| | |
| --- | --- |
| | Feynman: Surely You're Joking, Mr. Feynman |

577
(13)
590
591
593
594

| | |
| --- | --- |
| | Cosmic Background Radiation |

596

| | |
| --- | --- |
| | Dark Matter and Dark Energy |

597
598

| | |
| --- | --- |
| | Quarks, the Universe, and Love |

600
601
Appendix Nobel Laureates in Physics
1
(4)
Answers to Most Odd-Numbered Questions and Exercises
5
Credits
1
(1)
Glossary
1
(1)
Index
1