Note: Supplemental materials are not guaranteed with Rental or Used book purchases.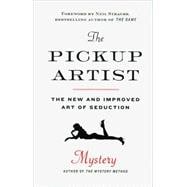 The Pickup Artist
ISBN13:
9780345518194
by
MYSTERY
Questions About This Book?
What version or edition is this?
This is the edition with a publication date of 1/26/2010.
What is included with this book?
The New copy of this book will include any supplemental materials advertised. Please check the title of the book to determine if it should include any CDs, lab manuals, study guides, etc.
Summary
The world's greatest pickup artist is back! After the bestselling expose The Game pulled back the curtain on Mystery and his culture of professional pickup artists, he became an international phenomenon. Unfortunately, while it's no secret that Mystery's ideas are wildly effective, women have started to catch on. They've seen the show and heard the routines-so now it's time for the next level of game! With techniques honed over fifteen years of trial, error, and ultimate triumph, and following his hit VH1 reality series, the celebrated sensei is back with his latest living-large exploits and a new and improved playbook for the twenty-first-century playboy. As the book begins, Mystery and his crew have withdrawn to their swank Miami mansion to plot their next move. When a new student comes to stay at the house, Mystery draws him deep into the pickup-artist lifestyle and shows him an intimate portrait of the master of seduction. Mystery lays out a complete system of game, and unveils his latest (and fully field-tested) strategies and techniques. The Pickup Artist includes * a list of all the triggers that create-and destroy-attraction * a new way to approach strangers and start a conversation: microcalibrated openers * Mystery's most powerful humor technique, the Absurd-so you'll never run out of things to say again * a full chapter on physical escalation (touching, kissing, "making a move") * the solution to inner-game issues, for when you're not confident enough * and much, much more. Whether he's holding court with eager disciples in South Beach, hanging out with his crew of fellow super-seducers in Las Vegas, or partying it up in the Hollywood Hills, Mystery is never far from where the action is-and never fails to get a piece of it. Now it's your turn. Read The Pickup Artist and get into the game.
Author Biography
Mystery is the author of The Mystery Method, the star of VH1's The Pickup Artist, and the founder of VenusianArts.com, the top pickup training organization in the world. He has appeared on Late Night with Conan O'Brien, The Daily Show with Jon Stewart, Jimmy Kimmel Live!, and a wide variety of media including CNN, The New York Times, and Playboy. Mystery lives in Los Angeles and enjoys his travels.

Chris Odom, aka Lovedrop, has traveled with Mystery for years, coaching students in the field and speaking at pickup seminars and conferences all over the world. He is the author of Revelation, the co-writer of The Mystery Method, and a founder of VenusianArts.com. He lives in Los Angeles with his girlfriend.
Excerpts
Chapter One


WELCOME TO MIAMI

"I am indulging in my humanity," I said.
I took a long drag from my spliff and then passed it matter-of-factly to the blonde seated next to me (without looking at her). She took it as I continued, "And I can say to all of you now, beyond a shadow of a doubt, that I"-pause-"have earned it. Eh, brother?" I smiled at Lovedrop, my trusty wingman.
"Mystery, you're damn right," said Lovedrop, "and this is going to be a great year." He raised a glass of chocolate protein shake and took a swig.
"I'm just living in the Now," I said, making a grand, sweeping gesture with my hands. "The Universe presents itself. I mean, look at all the math. It's absolutely brilliant." My straight, dark hair was pulled back into a ponytail, an expression of fascination fixed on my angular face.
The blonde next to me wore my trademark fuzzy black hat. I had used it earlier in the night as a lock-in prop. It was too big on her, and she looked very cute with it on. She had almond-shaped doe eyes and wide, Slavic features-my favorite type. She smiled at me. It was on. I'd been working on this one for a few hours; I was just comfort building now.
"This couch looks like something out of The Jetsons!" said the other girl, a brunette with long, straight hair. She wore a green cocktail dress and dark eye makeup. "I love this rug, though. It must cost you a fortune to have it cleaned."
The four of us-Lovedrop, the two women, and I-relaxed on a white shag rug. Lining the wall around us was a futuristic, white leather couch. Everything was white. The fourteen-thousand-dollar custom curtains were white. The giant avant-garde, plastic light fixtures around the house were white. Even the dog was white.
Seated in a nook nearby at a glass table was our acquaintance, the Rat. He was using his debit card to crush a few small blue pills on the surface of the table. The Rat flashed a sagging, loose smile from wet lips.
"Hey LD," he said, a slight whine to his voice, slurring, "you want one of these Roxies?"
Lovedrop smirked. "Haven't you had enough already? You look like you're about to drool all over that table."
The girls giggled.
"Is that a no?" The Rat kept smiling greasily as if to say, You know you want some.
A projector played music videos on the far wall of the room, and a bouncy hip-hop song came on. Lovedrop got up and started to dance to the music, bathed in the changing light of the projector. "I love this song," he said, and he was only half lying. It wasn't what he would actually sit around listening to through a pair of headphones, but it was perfect for dancing with girls.
The brunette stood up and started to dance with him. "Do you guys own this house?" she asked, the shag rug feeling oh-so-soft under her bare feet. All the pieces came together as a vibe: the beat of the music, the light from the projector, the dancing, the laughter, the smoke in the air. He put one hand on her hip and circled the other in the air like swinging a lasso.
"Hey Mystery," said Lovedrop, "remember the Matthew McConaughey chicken dance? In Vegas." He started flapping his arms like a chicken.
"I don't know about Matthew McConaughey, but you're in Miami now," said the Rat. "Hey LD, you look like the Backstreet Boys with that dance you're doing." He snickered under his breath and licked his lips.
"I guess I was lucky all I got was their dance moves," said Lovedrop. "And meanwhile you got stuck with their goatee, smack-dab in the middle of your face."
"Ouch," said the brunette. She smiled at Lovedrop and tucked her hair behind one ear.
The Rat scooted back in his futuristic chair and placed his hand on his chest indignantly. "LD, I'm hurt," he said in his whiny voice. "I'm hurt that you would say that. After everything that I would do for you." He actually sounded sad; it was good.
The Rat paused and
---

Excerpted from The Pickup Artist: The New and Improved Art of Seduction by Mystery Staff
All rights reserved by the original copyright owners. Excerpts are provided for display purposes only and may not be reproduced, reprinted or distributed without the written permission of the publisher.