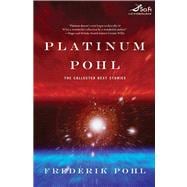 Platinum Pohl : The Collected Best Stories
by
Pohl
Summary
In his more-than-fifty-year career, Frederik Pohl has won the Hugo, Nebula, and all the other major SF awards multiple times. A towering figure of the genre as both author and editor, Pohls short fiction offers readers a fascinating array of wonders. This definitive collection, gathering his finest work, is a treasury of brilliantly entertaining science fiction. It includes his Hugo and Nebula finalist novella The Gold at the Starbows End; the Nebula finalists Shaffery Among the Imortals, Growing Up in Edge City, and The Greening of BedStuy; the Hugo finalist Servant of the People; the Hugo Awardwinning tales The Meeting (a collaboration with C. M. Kornbluth) and Fermi and Frost; and many others. In this comprehensive, outstanding collection of memorable stories, Pohls masterful storytelling and imagination draw readers into delightful worlds: some familiar, some alien, but all compulsively inviting in their sense of wonder. Thats why its called Platinum Pohlonly the highest standards of quality apply.
Author Biography
Bestselling, multiple Hugo and Nebula Award-winning SF author, Frederik Pohl has written over thirty successful novels, has been the award-winning editor of SF magazines and anthologies, and has collaborated on classic SF novels such as The Space Merchants as well as having written such fine solo novels as Gateway, Beyond the Blue Event Horizon, Man Plus, and The Boy Who Would Live Forever. Mr. Pohl is a former president of the Science Fiction Writers of America, and has been active in myriad other ways in the field for many decades. He lives in Palatine, Illinois.
Table of Contents
Introduction
p. 9
The Merchants of Venus
p. 13
The Things That Happen
p. 59
The High Test
p. 74
My Lady Green Sleeves
p. 83
The Kindly Isle
p. 108
The Middle of Nowhere
p. 124
I Remember a Winter
p. 136
The Greening of Bed-Stuy
p. 141
To See Another Mountain
p. 180
The Mapmakers
p. 193
Spending a Day at the Lottery Fair
p. 216
The Celebrated No-Hit Inning
p. 223
Some Joys Under the Star
p. 233
Servant of the People
p. 242
Waiting for the Olympians
p. 255
Criticality
p. 284
Shaffery Among the Immortals
p. 294
The Day the Icicle Works Closed
p. 304
Saucery
p. 327
The Gold at the Starbow's End
p. 336
Growing Up in Edge City
p. 372
The Knights of Arthur
p. 380
Creation Myths of the Recently Extinct
p. 407
The Meeting (with C. M. Kornbluth)
p. 409
Let the Ants Try
p. 417
Speed Trap
p. 425
The Day the Martians Came
p. 433
Day Million
p. 438
The Mayor of Mare Tranq
p. 442
Fermi and Frost
p. 448
Afterword: Fifty Years and Counting
p. 459
Table of Contents provided by Ingram. All Rights Reserved.