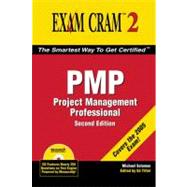 Questions About This Book?
What version or edition is this?
This is the edition with a publication date of 1/1/2006.
What is included with this book?
The eBook copy of this book is not guaranteed to include any supplemental materials. Typically only the book itself is included.
Related Products
Summary
ThePMP Exam Cram 2, Second Editionprovides PMP exam candidates a condensed and focused study vehicle. Organized for optimal learning of criccal project management steps, it covers all objective areas presented by PMI. Candidates using thePMP Exam Cram 2, Second Editionwill be able to easily decipher and effectively use PMI's PMBOK. You'll also find notes, tips and cautions to extend on PMP content, and it will explain the differences between traditional methods of project management and what PMI considers to be good project management techniques. Exam Alerts will help alert you to content that will most likely appear on the PMP exam, and practice questions are found both in the book and on the accompanying CD-ROM. You'll even be prepared for last-minute studying with the Cram Sheet tearcard. Give yourself the best chance possible for a great test score with thePMP Exam Cram 2, Second Edition.
Table of Contents
Introduction
xiv
Self-Assessment
xxx

| | |
| --- | --- |
| | Project Management Framework Fundamentals |

1
(32)

| | |
| --- | --- |
| | Understanding the Project Management Framework |

2
(1)

| | |
| --- | --- |
| | What a Project Is and What It Is Not |

2
(2)
3
(1)

| | |
| --- | --- |
| | A Project Is an Endeavor Undertaken to Produce a Unique Product or Service |

3
(1)

| | |
| --- | --- |
| | Programs, Portfolios, and the PMO |

3
(1)

| | |
| --- | --- |
| | What Project Management Is |

4
(1)

| | |
| --- | --- |
| | Project Management Knowledge Areas |

4
(2)

| | |
| --- | --- |
| | Knowledge Area Changes in the PMBOK Guide, Third Edition |

6
(2)

| | |
| --- | --- |
| | How Project Management Affects Other Areas of Management |

8
(3)

| | |
| --- | --- |
| | Understanding Application Area Knowledge and Standards |

9
(1)

| | |
| --- | --- |
| | Understanding General Management Skills |

10
(1)

| | |
| --- | --- |
| | Understanding Interpersonal Skills |

10
(1)

| | |
| --- | --- |
| | Understanding Project Life Cycles |

11
(3)

| | |
| --- | --- |
| | Who Are the Stakeholders? |

14
(1)
15
(1)

| | |
| --- | --- |
| | Working with Organizational Politics and Influences |

15
(1)

| | |
| --- | --- |
| | Differentiating Functional, Matrix, and Projectized Organizational Structures |

16
(2)

| | |
| --- | --- |
| | Functional Organizational Structure |

17
(1)

| | |
| --- | --- |
| | Matrix Organizational Structure |

17
(1)

| | |
| --- | --- |
| | Projectized Organizational Structure |

17
(1)

| | |
| --- | --- |
| | Understanding the Project Environment |

18
(1)

| | |
| --- | --- |
| | Managing the Triple Constraint |

19
(1)

| | |
| --- | --- |
| | Project Management Process Groups |

20
(1)

| | |
| --- | --- |
| | Understanding Project Life Cycle and Project Management Processes Relationships |

21
(1)

| | |
| --- | --- |
| | Processes, Process Groups, and Knowledge Areas |

22
(2)

| | |
| --- | --- |
| | Understanding Process Interaction Customization |

24
(2)
26
(3)

| | |
| --- | --- |
| | Answers to Exam Prep Questions |

29
(2)
31
(2)

| | |
| --- | --- |
| | Understanding Project Initiation |

33
(18)

| | |
| --- | --- |
| | The Function of Project Initiation |

34
(1)

| | |
| --- | --- |
| | The Project Charter and Its Purpose |

35
(3)

| | |
| --- | --- |
| | The Project Manager Assignment |

38
(1)

| | |
| --- | --- |
| | Developing the Project Charter---Tools and Techniques |

38
(2)

| | |
| --- | --- |
| | Project Selection Methods |

39
(1)

| | |
| --- | --- |
| | Project Management Methodology |

39
(1)

| | |
| --- | --- |
| | Project Management Information System |

40
(1)
40
(1)

| | |
| --- | --- |
| | Using Management by Objectives |

40
(1)

| | |
| --- | --- |
| | Accounting Concepts Used with Project Initiation |

41
(2)

| | |
| --- | --- |
| | Developing the Preliminary Project Scope Statement |

43
(3)
46
(2)

| | |
| --- | --- |
| | Answers to Exam Prep Questions |

48
(2)
50
(1)

| | |
| --- | --- |
| | The Project Planning Process Group |

51
(28)

| | |
| --- | --- |
| | Understanding PMI's Project Planning Process Group |

52
(2)

| | |
| --- | --- |
| | Exploring Key Aspects of the Planning Processes |

54
(1)

| | |
| --- | --- |
| | Developing the Project Management Plan |

55
(1)
56
(3)

| | |
| --- | --- |
| | Work Breakdown Structure: A Common and Dangerous Omission |

57
(2)

| | |
| --- | --- |
| | Activity Planning---From WBS to Project Schedule |

59
(11)
60
(1)
61
(1)
61
(4)

| | |
| --- | --- |
| | Estimating Activity Resources |

65
(1)

| | |
| --- | --- |
| | Estimating Activity Durations |

66
(1)

| | |
| --- | --- |
| | Developing the Project Schedule |

67
(3)

| | |
| --- | --- |
| | Critical Cost Estimating Factors |

70
(2)
72
(3)

| | |
| --- | --- |
| | Answers to Exam Prep Questions |

75
(2)
77
(2)

| | |
| --- | --- |
| | Elements of Project Planning |

79
(28)

| | |
| --- | --- |
| | Additional Project Management Plan Components |

80
(3)
80
(1)
81
(1)

| | |
| --- | --- |
| | Quality Management Planning |

81
(1)
81
(1)

| | |
| --- | --- |
| | Procurement Management Planning |

81
(1)

| | |
| --- | --- |
| | Communication Management Plan |

81
(1)

| | |
| --- | --- |
| | Other Significant Items Found in Project Management Plans |

82
(1)

| | |
| --- | --- |
| | Understanding Key Risk Management Principles and PMI's Risk Management Philosophy |

83
(1)
84
(6)

| | |
| --- | --- |
| | Risk Management Planning and Risk Response Planning |

84
(1)
84
(1)

| | |
| --- | --- |
| | Risk Probability and Impact |

85
(1)

| | |
| --- | --- |
| | Risk Identification, Analysis, Response Planning, and Monitoring/Controlling |

85
(5)

| | |
| --- | --- |
| | Activity Resource Estimating, Cost Estimating, and Organizational Planning |

90
(3)

| | |
| --- | --- |
| | The Project Manager's HR Responsibilities |

90
(1)

| | |
| --- | --- |
| | Key Human Resource Principles |

91
(1)

| | |
| --- | --- |
| | The Staffing Management Plan |

92
(1)

| | |
| --- | --- |
| | Understanding Key Quality Management Principles and PMI's Management Philosophy |

93
(4)

| | |
| --- | --- |
| | Quality Theories and PMI Quality Management Approach |

94
(1)

| | |
| --- | --- |
| | The Plan-Do-Check-Act Cycle |

95
(1)

| | |
| --- | --- |
| | Quality Approaches and Project Management |

95
(1)
96
(1)

| | |
| --- | --- |
| | Differences Among Quality Planning, Quality Assurance, and Quality Control |

96
(1)

| | |
| --- | --- |
| | Understanding Key Procurement Management Principles and PMI's Procurement Management Philosophy |

97
(3)
98
(1)

| | |
| --- | --- |
| | The Contract Statement of Work |

98
(1)
98
(2)

| | |
| --- | --- |
| | The Procurement Management Plan |

100
(1)

| | |
| --- | --- |
| | Building a Communication Plan |

100
(2)
102
(2)

| | |
| --- | --- |
| | Answers to Exam Prep Questions |

104
(2)
106
(1)

| | |
| --- | --- |
| | Project Management Executing Processes |

107
(22)

| | |
| --- | --- |
| | Executing a Project Management Plan |

108
(16)
108
(2)
110
(2)

| | |
| --- | --- |
| | Acquiring and Developing the Project Team |

112
(5)
117
(3)

| | |
| --- | --- |
| | Managing Project Procurement |

120
(4)
124
(2)

| | |
| --- | --- |
| | Answers to Exam Prep Questions |

126
(1)
127
(2)
129
(20)
130
(15)

| | |
| --- | --- |
| | Factors That Cause Project Change |

131
(1)

| | |
| --- | --- |
| | Approving Project Changes |

132
(1)

| | |
| --- | --- |
| | The Project Feedback Loop |

133
(1)

| | |
| --- | --- |
| | Providing Corrective Action for a Project |

134
(1)

| | |
| --- | --- |
| | Using the WBS to Control the Project Scope |

135
(1)

| | |
| --- | --- |
| | Identifying Variance with Earned Value Management |

136
(1)

| | |
| --- | --- |
| | Measuring Quality Control |

137
(2)

| | |
| --- | --- |
| | Managing Your Project Team |

139
(2)

| | |
| --- | --- |
| | Communicating How Your Project Is Performing |

141
(1)

| | |
| --- | --- |
| | Risk Monitoring and Risk Control |

142
(2)
144
(1)
145
(2)

| | |
| --- | --- |
| | Answers to Exam Prep Questions |

147
(1)
148
(1)
149
(20)

| | |
| --- | --- |
| | The Project Closing Process Group |

150
(12)
152
(3)
155
(2)
157
(1)

| | |
| --- | --- |
| | Ending a Contract or Project |

158
(3)
161
(1)
162
(3)

| | |
| --- | --- |
| | Answers to Exam Prep Questions |

165
(2)
167
(2)

| | |
| --- | --- |
| | Professional Responsibility |

169
(18)

| | |
| --- | --- |
| | PMI PMP Code of Professional Conduct |

170
(1)

| | |
| --- | --- |
| | Understanding Responsibilities to the Profession |

171
(4)

| | |
| --- | --- |
| | Compliance with All Organizational Rules and Policies |

172
(2)

| | |
| --- | --- |
| | Candidate/Certificant Professional Practice |

174
(1)

| | |
| --- | --- |
| | Advancement of the Profession |

174
(1)

| | |
| --- | --- |
| | Understanding Responsibilities to Customers and the Public |

175
(3)

| | |
| --- | --- |
| | Qualifications, Experience, and Performance of Professional Services |

175
(1)

| | |
| --- | --- |
| | Conflict of Interest Situations and Other Prohibited Professional Conduct |

176
(2)
178
(2)

| | |
| --- | --- |
| | Exam Prep Practice Questions |

180
(3)

| | |
| --- | --- |
| | Answers to Exam Prep Questions |

183
(2)
185
(2)
187
(12)
187
(2)
189
(1)
189
(1)
189
(10)

| | |
| --- | --- |
| | Answers to Practice Exam 1 |

199
(8)
207
(10)

| | |
| --- | --- |
| | Answers to Practice Exam 2 |

217
(8)

| | |
| --- | --- |
| | Appendix A CD Contents and Installation Instructions |

225
(6)
225
(1)
225
(1)
225
(1)
226
(1)
226
(1)
226
(1)
226
(1)
226
(1)

| | |
| --- | --- |
| | Random Questions and Order of Answers |

226
(1)

| | |
| --- | --- |
| | Detailed Explanations of Correct and Incorrect Answers |

227
(1)

| | |
| --- | --- |
| | Attention to Exam Objectives |

227
(1)
227
(2)

| | |
| --- | --- |
| | Creating a Shortcut to the MeasureUp Practice Tests |

228
(1)
229
(2)

| | |
| --- | --- |
| | Appendix B Additional Resources |

231
(4)
231
(1)
231
(1)
232
(3)
Glossary
235
(12)
Index
247
Excerpts
= 0) {slash = '\\';} else {slash = '/';}openLoc = figLoc.substring(0, figLoc.lastIndexOf(slash) + 1);while (pPage.substring(0,3) == '../') {openLoc = openLoc.substring(0, openLoc.lastIndexOf(slash, openLoc.length - 2)+ 1);pPage = pPage.substring(3, pPage.length + 1);}popUpWin =window.open('','popWin','resizable=1,scrollbars=1,location=0,toolbar=0,width=525,height=394');figDoc = popUpWin.document;zhtm= ' ' + pPage + ' ';zhtm += ' ';zhtm += ' ';zhtm += ' ';zhtm += '' + pPage.substring(pPage.lastIndexOf('/') + 1, pPage.length) + '';zhtm += ' ';figDoc.write(zhtm);figDoc.close();}// modified 3.1.99 RWE v4.1 --> Introduction IntroductionThe Project Management Professional (PMP) certification is a valued asset in the ever-evolving professional project management field. PMP certification in the professional arena ensures employers are hiring a project manager with thorough, tested knowledge in project management principles; years of hands-on, specific experience performing project management tasks; and a commitment to continuing education in the field of project management. Among fellow PMP-certified practitioners, PMP certification allows colleagues a commonality of experience and opportunities for networking. PMPs share the same frame of reference in project management, regardless of the field of endeavor.PMP-certified individuals work in a wide array of industries, from aerospace to telecommunications. Many hiring supervisors specify PMP certification as a preferred skill set when soliciting project managers.Both private and public sector employers recognize the value a PMP- certified employee brings to a project. Corporations embrace the consistent application of project management methodologies for initiating, planning, executing, controlling, and closing projects. The Project Management Institute (PMI) project framework is highly praised by companies and government entities whether they are engaged in large-scale development projects or simply undertaking small, reengineering initiatives. In both scenarios, the PMI approach offers a consistent project management methodology that can be tailored to the size and complexity of the project. This framework, coupled with the PMP certification program, ensures that PMP-certified practitioners are in high demand in the workforce.PMI has brought the art and science of project management full circle through its PMP certification program and methodology, the Project Management Body of Knowledge (PMBOK). PMI seeks to evaluate project management professionals through the application and certification process to ensure a dependable workforce with solid credentials. The PMP Certification Examination tests for comprehensive project management knowledge as well as a thorough understanding o