Note: Supplemental materials are not guaranteed with Rental or Used book purchases.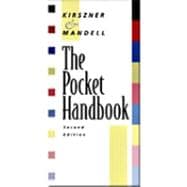 Questions About This Book?
What version or edition is this?
This is the edition with a publication date of 10/10/2002.
What is included with this book?
The New copy of this book will include any supplemental materials advertised. Please check the title of the book to determine if it should include any CDs, lab manuals, study guides, etc.
Summary
A truly portable reference guide, offering coverage of all of the topics that you would expect to find in a bigger and more expensive handbook, now can be customized for nine different disciplines!
Table of Contents
Preface
iii

| | |
| --- | --- |
| | PART 1 WRITING ESSAYS AND PARAGRAPHS |

1
(16)
3
(8)

| | |
| --- | --- |
| | Understanding Essay Structure |

3
(1)

| | |
| --- | --- |
| | Writing Effective Thesis Statements |

4
(1)
5
(2)
7
(1)
8
(3)
11
(6)

| | |
| --- | --- |
| | Writing Unified Paragraphs |

11
(1)

| | |
| --- | --- |
| | Writing Coherent Paragraphs |

12
(1)

| | |
| --- | --- |
| | Writing Well-Developed Paragraphs |

13
(1)

| | |
| --- | --- |
| | Writing Introductory and Concluding Paragraphs |

14
(3)

| | |
| --- | --- |
| | PART 2 WRITING GRAMMATICAL SENTENCES |

17
(30)

| | |
| --- | --- |
| | Revising Comma Splices and Fused Sentences |

19
(2)
19
(1)
20
(1)

| | |
| --- | --- |
| | Revising with Coordinating Conjunctions |

20
(1)

| | |
| --- | --- |
| | Revising with Subordinating Conjunctions or Relative Pronouns |

20
(1)

| | |
| --- | --- |
| | Revising Sentence Fragments |

21
(4)

| | |
| --- | --- |
| | Attaching the Fragment to an Independent Clause |

22
(1)

| | |
| --- | --- |
| | Deleting the Subordinating Conjunction or Relative Pronoun |

23
(1)

| | |
| --- | --- |
| | Supplying the Missing Subject or Verb |

24
(1)
25
(5)

| | |
| --- | --- |
| | Making Subjects and Verbs Agree |

25
(3)

| | |
| --- | --- |
| | Making Pronouns and Antecedents Agree |

28
(2)
30
(7)
30
(3)
33
(2)
35
(1)
36
(1)
37
(5)

| | |
| --- | --- |
| | Understanding Pronoun Case |

37
(1)

| | |
| --- | --- |
| | Determining Pronoun Case in Special Situations |

38
(2)

| | |
| --- | --- |
| | Revising Common Errors of Pronoun Reference |

40
(2)

| | |
| --- | --- |
| | Using Adjectives and Adverbs Correctly |

42
(5)

| | |
| --- | --- |
| | Using Adjectives as Subject Complements |

42
(1)

| | |
| --- | --- |
| | Using Adverbs Appropriately |

42
(1)

| | |
| --- | --- |
| | Using Comparative and Superlative Forms |

43
(4)

| | |
| --- | --- |
| | PART 3 WRITING EFFECTIVE SENTENCES |

47
(22)
49
(4)

| | |
| --- | --- |
| | Using Compound and Complex Sentences |

49
(1)
50
(1)
51
(1)

| | |
| --- | --- |
| | Varying Sentence Openings |

52
(1)

| | |
| --- | --- |
| | Varying Standard Word Order |

52
(1)

| | |
| --- | --- |
| | Writing Concise Sentences |

53
(4)

| | |
| --- | --- |
| | Eliminating Nonessential Words |

53
(1)

| | |
| --- | --- |
| | Eliminating Unnecessary Repetition |

54
(1)

| | |
| --- | --- |
| | Tightening Rambling Sentences |

55
(2)

| | |
| --- | --- |
| | Revising Awkward or Confusing Sentences |

57
(3)

| | |
| --- | --- |
| | Revising Unwarranted Shifts |

57
(1)

| | |
| --- | --- |
| | Revising Mixed Constructions |

58
(1)

| | |
| --- | --- |
| | Revising Faulty Predication |

59
(1)
60
(2)

| | |
| --- | --- |
| | Using Parallelism Effectively |

60
(1)

| | |
| --- | --- |
| | Revising Faulty Parallelism |

61
(1)

| | |
| --- | --- |
| | Placing Modifiers Carefully |

62
(3)

| | |
| --- | --- |
| | Revising Misplaced Modifiers |

62
(1)

| | |
| --- | --- |
| | Revising Intrusive Modifiers |

63
(1)

| | |
| --- | --- |
| | Revising Dangling Modifiers |

63
(2)
65
(4)
65
(1)

| | |
| --- | --- |
| | Avoiding Pretentious Diction |

65
(1)
65
(1)
65
(4)

| | |
| --- | --- |
| | PART 4 UNDERSTANDING PUNCTUATION |

69
(30)
71
(3)
71
(1)
72
(1)
73
(1)
74
(7)

| | |
| --- | --- |
| | Setting Off Independent Clauses |

74
(1)

| | |
| --- | --- |
| | Setting Off Items in a Series |

74
(1)

| | |
| --- | --- |
| | Setting Off Introductory Elements |

75
(1)

| | |
| --- | --- |
| | Setting Off Nonessential Material |

76
(3)

| | |
| --- | --- |
| | Using Commas in Other Conventional Contexts |

79
(1)

| | |
| --- | --- |
| | Using Commas to Prevent Misreading |

79
(1)
80
(1)
81
(2)

| | |
| --- | --- |
| | Separating Independent Clauses |

81
(1)

| | |
| --- | --- |
| | Separating Items in a Series |

81
(1)

| | |
| --- | --- |
| | Editing Misused Semicolons |

82
(1)
83
(3)

| | |
| --- | --- |
| | Forming the Possessive Case |

83
(2)

| | |
| --- | --- |
| | Indicating Omissions in Contractions |

85
(1)
85
(1)
86
(6)

| | |
| --- | --- |
| | Setting Off Quoted Speech or Writing |

86
(3)
89
(1)

| | |
| --- | --- |
| | Setting Off Words Used in Special Ways |

89
(1)

| | |
| --- | --- |
| | Using Quotation Marks with Other Punctuation |

89
(2)

| | |
| --- | --- |
| | Editing Misused Quotation Marks |

91
(1)
92
(7)
92
(1)
93
(1)
94
(1)
95
(1)
95
(1)
96
(3)

| | |
| --- | --- |
| | PART 5 SPELLING AND MECHANICS |

99
(18)
101
(3)

| | |
| --- | --- |
| | Understanding Spelling and Punctuation |

101
(1)
102
(2)
104
(3)

| | |
| --- | --- |
| | Capitalizing Proper Nouns |

104
(2)

| | |
| --- | --- |
| | Capitalizing Important Words in Titles |

106
(1)
107
(3)

| | |
| --- | --- |
| | Setting Off Titles and Names |

107
(1)

| | |
| --- | --- |
| | Setting Off Foreign Words and Phrases |

108
(1)

| | |
| --- | --- |
| | Setting Off Elements Spoken of as Themselves and Terms Being Defined |

108
(1)

| | |
| --- | --- |
| | Using Italics for Emphasis |

109
(1)
110
(2)

| | |
| --- | --- |
| | Breaking a Word at the End of the Line |

110
(1)
110
(2)
112
(3)
112
(1)

| | |
| --- | --- |
| | Abbreviating Organization Names and Technical Terms |

112
(1)

| | |
| --- | --- |
| | Abbreviating Dates, Times of Day, Temperatures, and Numbers |

112
(1)

| | |
| --- | --- |
| | Editing Misused Abbreviations |

113
(2)
115
(2)

| | |
| --- | --- |
| | Spelled-Out Numbers versus Numerals |

115
(1)

| | |
| --- | --- |
| | Conventional Uses of Numerals |

116
(1)

| | |
| --- | --- |
| | PART 6 WRITING WITH SOURCES |

117
(48)
119
(19)
120
(1)

| | |
| --- | --- |
| | Doing Exploratory Research and Formulating a Research Question |

120
(1)

| | |
| --- | --- |
| | Assembling a Working Bibliography |

121
(1)

| | |
| --- | --- |
| | Developing a Tentative Thesis |

122
(1)
123
(2)
125
(6)
131
(1)

| | |
| --- | --- |
| | Outlining, Drafting, and Revising |

131
(7)

| | |
| --- | --- |
| | Using and Evaluating Library Sources |

138
(9)
138
(6)

| | |
| --- | --- |
| | Evaluating Library Sources |

144
(3)

| | |
| --- | --- |
| | Using and Evaluating Internet Sources |

147
(11)

| | |
| --- | --- |
| | Using the World Wide Web for Research |

147
(4)

| | |
| --- | --- |
| | Using Other Internet Tools |

151
(2)

| | |
| --- | --- |
| | Evaluating Internet Sites |

153
(3)
156
(2)

| | |
| --- | --- |
| | Integrating Sources and Avoiding Plagiarism |

158
(7)

| | |
| --- | --- |
| | Integrating Source Material into Your Writing |

158
(3)
161
(4)

| | |
| --- | --- |
| | PART 7 DOCUMENTING SOURCES |

165
(74)
169
(31)
169
(15)

| | |
| --- | --- |
| | MLA Manuscript Guidelines |

184
(1)

| | |
| --- | --- |
| | Sample MLA Research Paper |

185
(15)
200
(21)
200
(6)

| | |
| --- | --- |
| | APA Manuscript Guidelines |

206
(3)

| | |
| --- | --- |
| | Sample APA Research Paper |

209
(12)

| | |
| --- | --- |
| | Chicago and Other Documentation Styles |

221
(18)
221
(4)

| | |
| --- | --- |
| | Chicago Style Manuscript Guidelines |

225
(2)

| | |
| --- | --- |
| | Sample Chicago Style Research Paper (excerpts) |

227
(4)
231
(2)

| | |
| --- | --- |
| | CBE Manuscript Guidelines |

233
(1)

| | |
| --- | --- |
| | Sample CBE Research Paper (excerpts) |

234
(3)

| | |
| --- | --- |
| | Using Other Documentation Styles |

237
(2)
239
(28)

| | |
| --- | --- |
| | Designing Documents and Web Pages |

241
(11)

| | |
| --- | --- |
| | Understanding Document Design |

241
(6)
247
(5)

| | |
| --- | --- |
| | Writing for the Workplace |

252
(8)

| | |
| --- | --- |
| | Writing Letters of Application |

252
(2)
254
(3)
257
(2)
259
(1)

| | |
| --- | --- |
| | Making Oral Presentations |

260
(7)
260
(1)
261
(1)
262
(1)
263
(1)
264
(1)
264
(3)

| | |
| --- | --- |
| | PART 9 GRAMMAR, USAGE, and ESL REVIEW |

267
(2)
Appendix A Grammar Review
269
(9)
Appendix B Usage Review
278
(10)
Appendix C ESL Review
288
(8)
Index
296