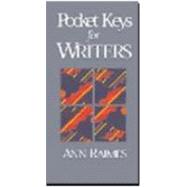 Pocket Keys for Writers 2009
by
Unknown
Summary
Pocket Keys for Writers, 2/e, is a handy reference tool that provides big writing help in a small package. This indispensable pocket-style handbook covers the essentials of the writing process, as well as research, documentation, evaluating print and electronic sources, punctuation, and mechanics. Written by a recognized leader in ESL instruction, Pocket Keys is an excellent resource for ESL writers, with a strong ESL section and ESL notes throughout the text. In short, the text delivers concise, up-to-date, and practical information in a highly accessible, reasonably priced format. The Second Edition of Pocket Keys retains the hallmark Keys organization and use of color, as well as Key Points boxes and the popular Five C's of Style. Also in this edition, material on using visuals in written projects helps students enhance the impact of their documents. Coverage of research and documentation includes using online databases and evaluating web sites.
Table of Contents
The Writing Process
Working Through the Process
Stating a Thesis, Providing Support
Presenting Your Document: College, Career, and Online
Using Sources
Searching for Sources
Evaluating and Keeping Track of Sources
Recognizing a Scholarly Article
Citing Sources, Avoiding Plagiarism
Integrating Source Material
Indicating the Boundaries of a Citation
Documenting Sources
MLA Style
APA Style
CBE Style
Chicago Manual of Style
The 5 C's of Style
First C: Cut
Second C: Check for Action
Third C: Connect
Fourth C: Commit
Fifth C: Choose Vivid, Appropriate, and Inclusive Words
Common Sentence Problems
Sentence Fragments
Run-ons and Comma Splices
Sentence Snarls
Verbs
Subject-Verb Agreement
Pronouns
Adjectives and Adverbs
Punctuation and Mechanics
Commas
Apostrophe
Quotation Marks
Other Punctuation Marks
Italics and Underlining
Capitals, Abbreviations, Numbers
Hyphens
Online Guidelines
For Multilingual/ESL Writers
A, An and The
Infinitive, -ing, and -ed Forms
Sentence Structure and Word Order
Table of Contents provided by Publisher. All Rights Reserved.