Note: Supplemental materials are not guaranteed with Rental or Used book purchases.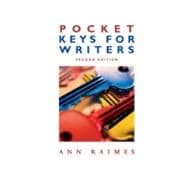 Pocket Keys for Writers
ISBN13:
9780618445462
by
Raimes, Ann
Summary
Pocket Keys for Writers,2/e, is a handy reference tool that provides big writing help in a small package. This indispensable pocket-style handbook covers the essentials of the writing process, as well as research, documentation, evaluating print and electronic sources, punctuation, and mechanics. Written by a recognized leader in ESL instruction,Pocket Keysis an excellent resource for ESL writers, with a strong ESL section and ESL notes throughout the text. In short, the text delivers concise, up-to-date, and practical information in a highly accessible, reasonably priced format. The Second Edition ofPocket Keysretains the hallmark Keys organization and use of color, as well as "Key Points" boxes and the popular "Five C's of Style." New to this edition, material on using visuals in written projects helps students enhance the impact of their documents. Expanded coverage of research and documentation includes using online databases and evaluating web sites. New!Argument coverage in Part 1, "The Writing Process," provides students with practical guidance on constructing a good argument, formulating an arguable claim, and providing reasons and evidence. New!Material on using visuals and multimedia in written projects helps students to consider issues of visual rhetoric in their writing and how they might enhance the clarity and impact of their documents. Students learn how to effectively use such features as typeface, color, headings, lists, tables and graphs, illustrations, and interactive media. Expanded!Coverage of Research and Documentation includes updated sections on using search engines, keyword searches, online indexes, and databases and doing field research. In addition, a unique and timely new chart, "Reading a Web Site," helps students evaluate and properly document online sources. Expanded!Part 3: "Steering Clear of Plagiarism" now includes the following sections: "What Is plagiarism?" "Checklist: Ways to Avoid Plagiarizing," and "Driving the organization of a paper with ideas, not sources." Updated and expanded!Coverage of MLA, APA,Chicago Manual of Style,and CBE/CSE documentation styles reflects changes found in the most recent editions of these four documentation style manuals.Pocket Keysnow covers in greater detail, with more examples, how to document such electronic sources as full-text online databases, online encyclopedias, and Web Sites. Bracketed labels on selected sample citations show at a glance what types of information to include and how to format, arrange, and punctuate that information. Lively student writing samples from student research papers illustrate documentation techniques and development of a thesis. Topics covered include "Safety First: Women and Men in Police and Fire Departments" (showing MLA documentation style); "Absolute Auditory Thresholds" (showing APA documentation style); and the work of artist Piet Mondrian (showing Chicago documentation style).
Table of Contents
The Writing Process
Working Through the Process
Stating a Thesis, Providing Support
Presenting Your Document: College, Career, and Online
Using Sources
Searching for Sources
Evaluating and Keeping Track of Sources
Recognizing a Scholarly Article
Citing Sources, Avoiding Plagiarism
Integrating Source Material
Indicating the Boundaries of a Citation
Documenting Sources
MLA Style
APA Style
CBE Style
Chicago Manual of Style
The 5 C's of Style
First C: Cut
Second C: Check for Action
Third C: Connect
Fourth C: Commit
Fifth C: Choose Vivid, Appropriate, and Inclusive Words
Common Sentence Problems
Sentence Fragments
Run-ons and Comma Splices
Sentence Snarls
Verbs
Subject-Verb Agreement
Pronouns
Adjectives and Adverbs
Punctuation and Mechanics
Commas
Apostrophe
Quotation Marks
Other Punctuation Marks
Italics and Underlining
Capitals, Abbreviations, Numbers
Hyphens
Online Guidelines
For Multilingual/ESL Writers
A, An and The
Infinitive, -ing, and -ed Forms
Sentence Structure and Word Order
Table of Contents provided by Publisher. All Rights Reserved.