Note: Supplemental materials are not guaranteed with Rental or Used book purchases.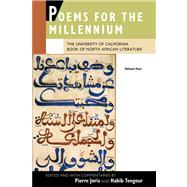 Poems for the Millennium Vol. 4 : The University of California Book of North African Literature
ISBN13:
9780520273856
by
Joris, Pierre
;
Tengour, Habib
Questions About This Book?
What version or edition is this?
This is the edition with a publication date of 1/31/2013.
What is included with this book?
The New copy of this book will include any supplemental materials advertised. Please check the title of the book to determine if it should include any CDs, lab manuals, study guides, etc.
The eBook copy of this book is not guaranteed to include any supplemental materials. Typically only the book itself is included.
Summary
In this fourth volume of the landmark Poems for the Millennium series, Pierre Joris and Habib Tengour present a comprehensive anthology of the written and oral literatures of the Maghreb, the region of North Africa that spans the modern nation states of Libya, Tunisia, Algeria, Morocco, and Mauritania, and including a section on the influential Arabo-Berber and Jewish literary culture of Al-Andalus, which flourished in Spain between the ninth and fifteenth centuries. Beginning with the earliest pictograms and rock drawings and ending with the work of the current generation of post-independence and diasporic writers, this volume takes in a range of cultures and voices, including Berber, Phoenician, Jewish, Roman, Vandal, Arab, Ottoman, and French. Though concentrating on oral and written poetry and narratives, the book also draws on historical and geographical treatises, philosophical and esoteric traditions, song lyrics, and current prose experiments. These selections are arranged in five chronological "diwans" or chapters, which are interrupted by a series of "books" that supply extra detail, giving context or covering specific cultural areas in concentrated fashion. The selections are contextualized by a general introduction that situates the importance of this little-known culture area and individual commentaries for nearly each author.
Table of Contents
Thanks and Acknowledgments
Introduction
A Book of Multiple Beginnings
Prologue
The First Human Beings, Their Sons and Amazon Daughters
Hanno the Navigator (Carthage, c. sixth century B.C.E.)
from The Periplos of Hanno
Callimachus (Cyrene, 310-c. 240 B.C.E.)
Thirteen Epigrammatic Poems
Mago (Carthage, pre-second century B.C.E.)
from De Agricultura
Lucius Apuleius (Madaurus, now M'Daourouch, c. 123-c. 180 C.E.)
from The Golden Ass, or Metamorphoses
Quintus Septimius Florens Tertullianus (Carthage, c. 160-c. 220 C.E.)
from De Pallio (The Cloak)
from Scorpiace (The Scorpion)
Thascius Caecilius Cyprianus (Carthage, early third century-258 C.E.)
from Epistle to Donatus
Lucius Lactantius (Cirta?, c. 240-Trier?, c. 320 C.E.)
from De Ave Phoenice
Aurelius Augustinus Hipponensis (Saint Augustine) (Thagaste, 354-Hippo, 430 C.E.)
from Confessions
from De Doctrina Christiana
from De fide rerum invisibilium
from Psalmus contra Partem Donati
Blossius Aemilius Dracontius (Carthage, c. 455-c. 505 C.E.)
The Chariot of Venus
De Mensibus (Months)
The Origin of Roses
Luxorius (Carthage, sixth century C.E.)
[They say, that when the fierce bear gives birth . . .]
Premature Chariot
First Diwan
A Book of In-Betweens: Al-Andalus, Sicily, the Maghreb
Prologue
Anonymous Muwashshaha
Some Kharjas
Ibn Hani al-Andalusi (Seville, c. 934-Barca, Libya, 973)
Al-Jilnar
Extinction Is the Truth . . .
Ibn Darradj al-Qastalli (958-1030)
from Ode in Praise of Khairan al-'Amiri, Emir of Almería
from Ode in Praise of al-Mansur al-'Amiri, Emir of Córdoba
Abu Amir Ibn Shuhayd (Córdoba, 992-1035)
from Qasida (I)
Córdoba
from Qasida (II)
"As he got his fill of delirious wine"
Gravestone Qasida
Yusuf ibn Harun al-Ramadi (d. c. 1022)
Hugging Letters and Beauty Spots
Silver Breast
Gold Nails
The Swallow
O Rose . . .
Yosef ibn Abitur (mid-tenth century-c. 1012)
The "Who?" of Ibn Abitur of Córdoba
Hafsa bint Hamdun (Wadi al-Hijara, now Guadalajara, tenth century)
Four Poems
Samuel Ha-Levi ibn Nagrella, called ha-Nagid, "the Prince" (Merida, 993-Granada, 1055)
Three Love Poems
War Poem
Ibn Hazm (Córdoba, 994-Niebla, 1064)
My Heart
from The Neck-Ring of the Dove
FROM "AUTHOR'S PREFACE"
OF FALLING IN LOVE WHILE ASLEEP
Wallada bint al-Mustakfi (Córdoba, 994-1091)
Six Poems
Ibn Rashiq (Masila, Algeria, c. 1-Mazara, Sicily, c. 1064)
from Lament over the Fall of the City of Kairouan
Ibn Zaydun (Córdoba, 1003-1071)
Fragments from the Qasida in the Rhyme of Nun
Written from al-Zahra'
Salomon ibn Gabirol (Malaga, c. 1020-Valencia, c. 1058)
The 16-Year-Old Poet
from The Crown of Kingdom
Al Mu'tamid ibn Abbad (Seville, 1040-Aghmat, 1095)
To Abu Bakr ibn 'Ammar Going to Silves
To Rumaykiyya
Ibn Hamdis (Noto, Sicily, 1056-Majorca, 1133)
He Said, Remembering Sicily and His Home, Syracuse
Ibn Labbana (Benissa, mid-eleventh century-Majorca, 1113)
Al-Mu'tamid and His Family Go into Exile
Two Muwashshahat
Moses ibn Ezra (Granada, c. 1058-c. 1135)
Drinking Song
Song
Al-A'ma al-Tutili (b. Tudela, c. late eleventh century-d. 1126)
Water-Fire Muwashshaha
Ibn Khafadja (Alcita, province of Valencia, 1058-1138)
The River
Yehuda Halevi, the Cantor of Zion (Toledo, 1075-Cairo, 1141)
from Yehuda Halevi's Songs to Zion
The Garden
Ibn Quzman (Córdoba, 1078-1160)
[A muwashshaha]
The Crow
Abraham ibn Ezra (1089-1164)
"I have a garment"
Abu Madyan Shu'ayb (Sidi Boumedienne) (Cantillana, 1126-Tlemcen, 1198)
You Will Be Served in Your Glass
Hafsa bint al-Hajj Arrakuniyya (Granada, 1135-Marrakech, 1190)
Eight Poems
Ibn Arabi, al-Sheikh al-Akhbar (Murcia, 1165-Damascus, 1240)
"I
Table of Contents provided by Publisher. All Rights Reserved.