Note: Supplemental materials are not guaranteed with Rental or Used book purchases.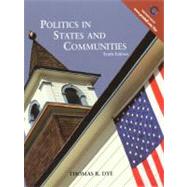 Politics in States and Communities
ISBN13:
9780130206800
by
Dye, Thomas R.
Summary
For courses in State, Local, and State and Local Government and Urban Politics.This best selling text explores political conflict in American states and communities. It compares the public policy and government management strategies of state and local governments with a focus on the sources and nature of conflict. The book's coverage demonstrates using a clear, accessible approach how American states and communities play an important role in the political life of the nation.
Table of Contents
Preface
xv

| | |
| --- | --- |
| | Politics in States and Communities |

1
(24)

| | |
| --- | --- |
| | A Political Approach to States and Communities |

2
(1)

| | |
| --- | --- |
| | The Comparative Study to States and Communities |

2
(5)
7
(3)

| | |
| --- | --- |
| | The Politics of Immigration |

10
(2)

| | |
| --- | --- |
| | Liberalism and Conservatism in the States |

12
(3)

| | |
| --- | --- |
| | Policy Responsibilities of States and Communities |

15
(3)

| | |
| --- | --- |
| | ``States,'' ``Districts,'' and ``Territories'' |

18
(7)

| | |
| --- | --- |
| | Democracy and Constitutionalism in the States |

25
(28)

| | |
| --- | --- |
| | Constitutional Government in the States |

26
(3)

| | |
| --- | --- |
| | State Constitutions: An Overview |

29
(5)

| | |
| --- | --- |
| | Constitutional Change in the States |

34
(4)
38
(2)

| | |
| --- | --- |
| | Direct versus Representative Democracy |

40
(3)

| | |
| --- | --- |
| | The Politics of State Initiatives |

43
(10)

| | |
| --- | --- |
| | States, Communities, and American Federalism |

53
(35)
54
(1)
54
(2)
56
(2)

| | |
| --- | --- |
| | The Structure of American Federalism |

58
(6)

| | |
| --- | --- |
| | Battles in the States over Constitutional Amendments |

64
(2)

| | |
| --- | --- |
| | How Money Shifted Power to Washington |

66
(7)

| | |
| --- | --- |
| | The Politics of Grants-in-Aid |

73
(2)

| | |
| --- | --- |
| | Federalism: Variations on the Theme |

75
(4)

| | |
| --- | --- |
| | Coercive Federalism: Preemptions and Mandates |

79
(2)

| | |
| --- | --- |
| | Devolution: Can Federalism Be Revived? |

81
(2)

| | |
| --- | --- |
| | Interstate Relations---Horizontal Federalism |

83
(5)

| | |
| --- | --- |
| | Participation in State Politics |

88
(36)

| | |
| --- | --- |
| | The Nature of Political Participation |

89
(1)
89
(3)
92
(5)

| | |
| --- | --- |
| | Securing the Right to Vote |

97
(2)
99
(1)

| | |
| --- | --- |
| | Minorities in State Politics |

100
(4)
104
(1)

| | |
| --- | --- |
| | Young and Old in State Politics |

105
(1)

| | |
| --- | --- |
| | Interest Groups in State Politics |

106
(4)

| | |
| --- | --- |
| | Functions and Tactics of Interest Groups |

110
(3)

| | |
| --- | --- |
| | Comparing Interest Group Power in the States |

113
(4)

| | |
| --- | --- |
| | Protest as Political Participation |

117
(7)

| | |
| --- | --- |
| | Parties and Campaigns in The States |

124
(32)

| | |
| --- | --- |
| | American Political Parties in Disarray |

125
(2)
127
(5)

| | |
| --- | --- |
| | State Party Organizations and Activists |

132
(4)

| | |
| --- | --- |
| | Republican and Democratic Party Fortunes in the States |

136
(2)

| | |
| --- | --- |
| | Party Competition in the States |

138
(3)

| | |
| --- | --- |
| | The Policy Effects of Party Competition |

141
(2)

| | |
| --- | --- |
| | Professional Media Campagins |

143
(4)
147
(9)

| | |
| --- | --- |
| | Legislators in State Politics |

156
(43)

| | |
| --- | --- |
| | Functions of State Legislatures |

157
(1)

| | |
| --- | --- |
| | The Making of a State Legislator |

158
(3)

| | |
| --- | --- |
| | Minorities and Women in State Legislatures |

161
(4)

| | |
| --- | --- |
| | Getting to the State Capitol |

165
(2)

| | |
| --- | --- |
| | The Great Incumbency Machine |

167
(1)

| | |
| --- | --- |
| | The Unpopularity of State Legislatures |

168
(2)

| | |
| --- | --- |
| | Legislative Apportionment and Districting |

170
(5)

| | |
| --- | --- |
| | Legislative Organization and Procedure |

175
(4)
179
(3)

| | |
| --- | --- |
| | Legislative Institutionalization |

182
(4)

| | |
| --- | --- |
| | Leadership and Role-Playing in Legislatures |

186
(2)

| | |
| --- | --- |
| | Party Politics in State Legislatures |

188
(3)

| | |
| --- | --- |
| | Are Legislators Responsible Policy Makers |

191
(2)

| | |
| --- | --- |
| | Lobbying in State Legislatures |

193
(6)

| | |
| --- | --- |
| | Governors in State Politics |

199
(28)

| | |
| --- | --- |
| | The Many Roles of a Governor |

200
(2)
202
(2)
204
(4)

| | |
| --- | --- |
| | Executive Power in State Government |

208
(6)

| | |
| --- | --- |
| | The Governor's Legislative Powers |

214
(3)

| | |
| --- | --- |
| | Divided Government: Governor versus the Legislature |

217
(2)

| | |
| --- | --- |
| | Impeachments and Investigations |

219
(1)

| | |
| --- | --- |
| | The Governor as Political Leader |

220
(3)
223
(4)

| | |
| --- | --- |
| | Bureaucratic Politics in States and Communities |

227
(31)

| | |
| --- | --- |
| | Government and Bureaucracy |

228
(1)

| | |
| --- | --- |
| | Sources of Bureaucratic Power |

228
(2)

| | |
| --- | --- |
| | The Growth of Bureaucratic Power |

230
(1)
230
(4)

| | |
| --- | --- |
| | Bureaucracy, Democracy and Responsiveness |

234
(6)

| | |
| --- | --- |
| | The Power of Public Employee Unions |

240
(3)

| | |
| --- | --- |
| | Reform, Privatization, and ``Reinventing Government'' |

243
(5)
248
(3)

| | |
| --- | --- |
| | The Politics of Budgeting |

251
(7)

| | |
| --- | --- |
| | Courts, Crime, and Correctional Policy |

258
(38)

| | |
| --- | --- |
| | Politics and the Judicial Process |

259
(1)
260
(2)

| | |
| --- | --- |
| | The New Judicial Federalism |

262
(2)

| | |
| --- | --- |
| | The Structure of Court Systems |

264
(2)
266
(3)
269
(2)
271
(3)
274
(4)

| | |
| --- | --- |
| | Federalism and Law Enforcement |

278
(1)

| | |
| --- | --- |
| | Police Protection in the States |

279
(1)

| | |
| --- | --- |
| | Police and Law Enforcement |

280
(3)

| | |
| --- | --- |
| | The Politics of Prosecution |

283
(2)

| | |
| --- | --- |
| | State Prisons and Correctional Policies |

285
(4)
289
(7)

| | |
| --- | --- |
| | Community Political Systems |

296
(29)

| | |
| --- | --- |
| | Communities as Settings for Politics |

297
(2)

| | |
| --- | --- |
| | Eighty-Six Thousand Governments |

299
(1)

| | |
| --- | --- |
| | County Governments: Rural and Urban |

300
(8)

| | |
| --- | --- |
| | Cities as ``Municipal Corporations'' |

308
(3)
311
(4)

| | |
| --- | --- |
| | Types of Cities and Forms of Government |

315
(2)
317
(3)

| | |
| --- | --- |
| | At-Large and District Elections |

320
(5)

| | |
| --- | --- |
| | Participation in Community Politics |

325
(35)
326
(3)

| | |
| --- | --- |
| | Parties in Big-City Politics |

329
(1)

| | |
| --- | --- |
| | Old-Style Machine Politics |

330
(1)
331
(7)

| | |
| --- | --- |
| | The Recruitment of City Council Members |

338
(4)

| | |
| --- | --- |
| | Council Members: Responsible Policy Makers? |

342
(2)

| | |
| --- | --- |
| | City Managers in Municipal Politics |

344
(3)
347
(2)

| | |
| --- | --- |
| | Minorities and Women in Local Politics |

349
(3)

| | |
| --- | --- |
| | Interest Groups in Community Politics |

352
(8)

| | |
| --- | --- |
| | Metropolitics: Conflict in the Metropolis |

360
(28)

| | |
| --- | --- |
| | The Metropolis: Setting for Conflict |

361
(4)
365
(5)

| | |
| --- | --- |
| | The Concentration of Social Problems in the Inner City |

370
(2)
372
(2)

| | |
| --- | --- |
| | The Case for Metropolitan Consolidation |

374
(2)

| | |
| --- | --- |
| | The Case for ``Fragmented'' Government |

376
(1)

| | |
| --- | --- |
| | Metropolitan Government as Marketplace |

377
(1)

| | |
| --- | --- |
| | Metropolitan Government ``Solutions'' |

378
(3)

| | |
| --- | --- |
| | The Politics of Metropolitan Consolidation |

381
(7)

| | |
| --- | --- |
| | Community Power and Land Use Control |

388
(35)

| | |
| --- | --- |
| | Models of Community Power |

389
(3)

| | |
| --- | --- |
| | Elitism in America Communities |

392
(3)

| | |
| --- | --- |
| | Economic Power in Communities |

395
(2)

| | |
| --- | --- |
| | Political Power in Communities |

397
(3)

| | |
| --- | --- |
| | Planning and Zoning: Instruments of Government Control |

400
(5)
405
(1)
406
(2)

| | |
| --- | --- |
| | Housing and Community Development Policy |

408
(4)
412
(11)

| | |
| --- | --- |
| | Politics and Civil Rights |

423
(33)
424
(1)

| | |
| --- | --- |
| | The Struggle Against Segregation |

425
(2)

| | |
| --- | --- |
| | State Resistance to Desegregation |

427
(2)

| | |
| --- | --- |
| | Busing and Racial Balancing in Schools |

429
(2)

| | |
| --- | --- |
| | The Civil Rights Act of 1964 |

431
(3)

| | |
| --- | --- |
| | Affirmative Action Battles |

434
(6)
440
(3)

| | |
| --- | --- |
| | Native Americans and Tribal Government |

443
(3)

| | |
| --- | --- |
| | Americans with Disabilities |

446
(1)
447
(2)
449
(7)

| | |
| --- | --- |
| | The Politics of Education |

456
(32)

| | |
| --- | --- |
| | Goals in Educational Policy |

457
(1)

| | |
| --- | --- |
| | Educational Performance Measurement |

458
(2)
460
(4)

| | |
| --- | --- |
| | ``Reinventing'' Education |

464
(3)

| | |
| --- | --- |
| | The Limited Federal Role in Education |

467
(2)

| | |
| --- | --- |
| | Organizing Public Education in the States |

469
(2)

| | |
| --- | --- |
| | Battles over School Finances |

471
(2)
473
(1)

| | |
| --- | --- |
| | The School District Superintendents |

474
(1)

| | |
| --- | --- |
| | School Boards: Responsible Policy Makers? |

475
(2)

| | |
| --- | --- |
| | The Politics of Higher Education |

477
(4)

| | |
| --- | --- |
| | Reading, Writing, and Religion |

481
(7)

| | |
| --- | --- |
| | The Politics of Poverty, Welfare, and Health |

488
(18)
489
(1)
490
(3)
493
(1)

| | |
| --- | --- |
| | An Overview of Welfare Policy |

494
(2)

| | |
| --- | --- |
| | Moving Toward Welfare Reform |

496
(2)
498
(3)

| | |
| --- | --- |
| | Politics and Health Care Reform |

501
(5)

| | |
| --- | --- |
| | The Politics of Financing and Taxation |

506
(21)

| | |
| --- | --- |
| | An Overview of Government Finances |

507
(1)

| | |
| --- | --- |
| | Types of Taxes and Tax Politics |

507
(5)

| | |
| --- | --- |
| | Explaining State Tax Systems |

512
(2)
514
(2)
516
(1)

| | |
| --- | --- |
| | City Fiscal Stress and Cutback Management |

517
(3)

| | |
| --- | --- |
| | When Ends Don't Meet: State and Local Debt |

520
(2)
522
(5)
Photo Credits
527
(2)
Index
529