Note: Supplemental materials are not guaranteed with Rental or Used book purchases.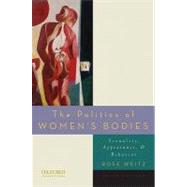 The Politics of Women's Bodies Sexuality, Appearance, and Behavior
ISBN13:
9780195390636
by
Weitz, Rose
Related Products
Summary
For the past three decades, feminist scholars have examined how the female body and ideas about the female body affect women's lives. Revised and updated in its third edition, The Politics of Women's Bodies: Sexuality, Appearance, and Behavior brings together recent critical writings in this important field. The selections reflect three themes: how ideas about women's bodies in the United States are socially constructed, how these social constructions can be used to control women's lives, and how women attempt to resist these forces. Exceptionally well-written and edited for accessibility, the articles cover a wide range of topics and also address issues of class, ethnicity, and sexual orientation. Featuring eleven new cutting-edge articles, the third edition of The Politics of Women's Bodies expands the book's focus with coverage of intersexuality, fatness, body modification, images of African American and Latina women, Goth culture and women's sexuality, how poverty is marked on the female body, how boys' concerns about masculinity lead them to subjugate girls' bodies, and other issues. This edition also includes new introductions to each article that explain key concepts and put the articles in context. A unique interdisciplinary anthology, The Politics of Women's Bodies, Third Edition, is ideal for undergraduate courses on the body or sexuality. It is also an excellent fit for introductory courses in women's studies as well as courses in women and health, feminist theory, and the psychology, anthropology, or sociology of women.
Author Biography
Rose Weitz is Professor of Women and Gender Studies at Arizona State University. She is the author of The Sociology of Health, Illness, and Health Care: A Critical Approach, Fifth Edition (2009), Rapunzel's Daughters: What Women's Hair Tells Us About Women's Lives (2004), and Life with AIDS (1991).
Table of Contents
Preface
p. x
The Social Construction of Women's Bodies
p. 1
A History of Women's Bodies
p. 3
Believing Is Seeing: Biology as Ideology
p. 13
Becoming a Gendered Body: Practices of Preschools
p. 27
Women and Medicalization: A New Perspective
p. 49
Affronting Reason
p. 67
Foucault, Femininity, and the Modernization of Patriarchal Power
p. 76
The Politics of Sexuality
p. 99
Menarche and the (Hetero) sexualization of the Female Body
p. 101
Daring to Desire: Culture and the Bodies of Adolescent Girls
p. 120
"Get Your Freak On": Sex, Babies, and Images of Black Femininity
p. 143
Brian, Brow, and Booty: Latina Iconicity in U.S. Popular Culture
p. 155
"So Full of Myself as a Chick": Goth Women, Sexual Independence, and Gender Egalitarianism
p. 163
The Politics of Appearance
p. 177
Breasted Experience: The Look and the Feeling
p. 179
Designing Women: Cultural Hegemony and the Exercise of Power among Women Who Have Undergone Elective Mammoplasty
p. 192
Women and Their Hair: Seeking Power Through Resistance and Accommodation
p. 214
Branded with Infamy: Inscriptions of Poverty and Class in the United States
p. 232
Letting Ourselves Go: Making Room for the Fat Body in Feminist Scholarship
p. 245
Rip Tide: Swimming Through Life with Rheumatoid Arthritis
p. 255
Reclaiming the Female Body: Women Body Modifiers and Feminist Debates
p. 268
The Politics of Behavior
p. 283
From the "Muscle Moll" to the "Butch" Ballplayer: Mannishness, Lesbianism, and Homophobia in U.S. Women's Sport
p. 285
"Holding Back": Negotiating a Glass Ceiling on Women's Muscular Strength
p. 301
Compulsive Heterosexuality: Masculinity and Dominance
p. 318
Till Death Us Do Part
p. 329
Backlash and Continuity: The Political Trajectory of Fetal Rights
p. 344
Table of Contents provided by Ingram. All Rights Reserved.