Note: Supplemental materials are not guaranteed with Rental or Used book purchases.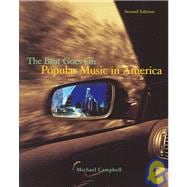 Questions About This Book?
What version or edition is this?
This is the 2nd edition with a publication date of 2/25/2005.
What is included with this book?
The Used copy of this book is not guaranteed to include any supplemental materials. Typically, only the book itself is included.
Related Products
Summary
Enhance your understanding of popular music with POPULAR MUSIC IN AMERICA: AND THE BEAT GOES ON! This fascinating music text provides a chronological examination of the roots and history of American popular music from 1840 to the present. Throughout the text, you are asked to relate music to other music, music to words, and music to cultural context in order to further develop and apply your active listening skills. Learning is made easy with the book-specific website that contains an active listening guide, tutorials, and more. You will complete the text with a comprehensive understanding of popular music: where it came from, how it evolved, how styles interrelate, and how patterns of influence helped shape it over the years.
Table of Contents
Preface
xv

| | |
| --- | --- |
| | The Elements and Identity of Popular Music |

1
(19)

| | |
| --- | --- |
| | Muddy Waters and the Electric Blues |

1
(1)

| | |
| --- | --- |
| | The Sound of Electric Blues |

2
(1)

| | |
| --- | --- |
| | The Message of the Lyrics |

2
(1)

| | |
| --- | --- |
| | The Message of the Music: Defining the Sounds |

3
(4)

| | |
| --- | --- |
| | Listening Guide: ``Standing Around Crying'' |

7
(1)

| | |
| --- | --- |
| | Chuck Berry and the Roots of Rock and Roll |

8
(1)

| | |
| --- | --- |
| | The Message of the Lyrics |

9
(2)

| | |
| --- | --- |
| | Listening Guide: ``Maybellene'' |

11
(1)
12
(3)

| | |
| --- | --- |
| | Toward a Definition of Popular Music |

15
(4)

| | |
| --- | --- |
| | Looking Back, Looking Ahead |

19
(1)
19
(1)

| | |
| --- | --- |
| | Popular Music in the Nineteenth Century |

20
(24)

| | |
| --- | --- |
| | High-Brow, Low-Brow in America During The Early Nineteenth Century |

20
(1)
20
(1)

| | |
| --- | --- |
| | Rural Music: Anglo-American Folk Music |

21
(2)

| | |
| --- | --- |
| | Listening Guide: ``Old Joe Clark'' |

23
(1)
23
(1)

| | |
| --- | --- |
| | The Birth of American Popular Music |

24
(1)

| | |
| --- | --- |
| | America's Emerging Identity |

24
(1)
25
(1)

| | |
| --- | --- |
| | Listening Guide: ``De Boatmen's Dance'' |

26
(3)

| | |
| --- | --- |
| | Stephen Foster and the Development of a New American Style |

29
(1)

| | |
| --- | --- |
| | Listening Guide: ``Old Folks at Home'' |

29
(2)

| | |
| --- | --- |
| | African American Entertainers After the Civil War |

31
(2)

| | |
| --- | --- |
| | Diversity in Popular Stage Entertainment After The Civil War |

33
(1)
33
(1)
34
(1)
34
(1)
35
(1)
36
(1)
36
(2)

| | |
| --- | --- |
| | Dance Rhythms in Popular Songs |

38
(1)

| | |
| --- | --- |
| | Listening Guide: ``Take Me Out to the Ball Game'' |

39
(1)
40
(1)
41
(1)

| | |
| --- | --- |
| | Looking Back, Looking Ahead |

42
(1)
43
(1)

| | |
| --- | --- |
| | The Emergence of African American Music |

44
(22)
44
(2)

| | |
| --- | --- |
| | Listening Guide: ``Maple Leaf Rag'' |

46
(2)
48
(1)
49
(1)
50
(2)
52
(2)

| | |
| --- | --- |
| | The Sound of Country Blues |

54
(1)

| | |
| --- | --- |
| | Listening Guide: ``Hellhound on My Trail'' |

55
(1)

| | |
| --- | --- |
| | The Sound of Classic Blues |

56
(1)

| | |
| --- | --- |
| | Listening Guide: ``Empty Bed Blues'' |

57
(2)
59
(4)

| | |
| --- | --- |
| | Listening Guide: ``Dippermouth Blues'' |

63
(2)

| | |
| --- | --- |
| | King Oliver's Creole Jazz Band |

| | |
| --- | --- |
| | Looking Back, Looking Ahead |

65
(1)
65
(1)

| | |
| --- | --- |
| | The Modern Era in Popular Music |

66
(27)
66
(1)

| | |
| --- | --- |
| | Sex, Booze, and All That Jazz |

67
(1)

| | |
| --- | --- |
| | The First Technological Revolution: From Radio to Talking Pictures |

68
(2)

| | |
| --- | --- |
| | Song and Dance in the Modern Era |

70
(1)
70
(1)

| | |
| --- | --- |
| | Listening Guide: ``Charleston'' |

71
(3)

| | |
| --- | --- |
| | The New Popular Song and the Integration of Song and Dance |

74
(2)

| | |
| --- | --- |
| | Listening Guide: ``Sunday'' |

76
(3)
79
(1)

| | |
| --- | --- |
| | George Gershwin's Rhapsody in Blue |

79
(2)

| | |
| --- | --- |
| | Listening Guide: Rhapsody in Blue |

81
(3)

| | |
| --- | --- |
| | Louis Armstrong and Jazz as Art |

84
(1)

| | |
| --- | --- |
| | Listening Guide: ``West End Blues'' |

85
(3)
88
(1)

| | |
| --- | --- |
| | Jazz, Blues, and the Birth of Modern Popular Singing |

88
(1)

| | |
| --- | --- |
| | Listening Guide: ``After You've Gone'' |

89
(2)

| | |
| --- | --- |
| | Looking Back, Looking Ahead |

91
(1)
92
(1)
93
(25)

| | |
| --- | --- |
| | Fred, Ginger, and the Acceptance of the Modern Popular Song |

93
(1)

| | |
| --- | --- |
| | Listening Guide: ``Cheek to Cheek'' |

94
(3)

| | |
| --- | --- |
| | Fletcher Henderson and the Roots of Big-Band Swing |

97
(1)

| | |
| --- | --- |
| | Listening Guide: ``Wrappin' It Up'' |

98
(1)
99
(1)

| | |
| --- | --- |
| | The Sound of Swing: Glenn Miller's ``Chattanooga Choo Choo'' |

100
(1)

| | |
| --- | --- |
| | Listening Guide: ``Chattanooga Choo Choo'' |

101
(2)

| | |
| --- | --- |
| | The Sound of Sweet: ``Heart and Soul'' |

103
(1)

| | |
| --- | --- |
| | Listening Guide: ``Heart and Soul'' |

104
(2)
106
(1)

| | |
| --- | --- |
| | Billie Holiday and the Next Major Step in Popular Song |

106
(1)

| | |
| --- | --- |
| | Listening Guide: ``All of Me'' |

107
(2)
109
(1)
109
(1)

| | |
| --- | --- |
| | Duke Ellington's ``Ko-ko'' |

110
(1)

| | |
| --- | --- |
| | Listening Guide: ``Ko-ko'' |

111
(1)

| | |
| --- | --- |
| | Edward ``Duke'' Ellington |

| | |
| --- | --- |
| | Song Interpretation: Popular Singing After World War II |

112
(2)

| | |
| --- | --- |
| | Listening Guide: ``Taking a Chance on Love'' |

114
(1)

| | |
| --- | --- |
| | Looking Back, Looking Ahead |

115
(2)
117
(1)
118
(25)

| | |
| --- | --- |
| | Popular Song as a Dramatic Tool |

119
(1)

| | |
| --- | --- |
| | George M. Cohan: Toward an American Musical Comedy |

120
(1)

| | |
| --- | --- |
| | Music On-stage in the Early Twentieth Century |

120
(1)
121
(1)

| | |
| --- | --- |
| | Listening Guide: ``Yankee Doodle Boy'' |

122
(1)

| | |
| --- | --- |
| | Show Boat: An American Musical Play |

123
(1)

| | |
| --- | --- |
| | Music On-stage in the 1920s |

124
(1)
124
(1)

| | |
| --- | --- |
| | Listening Guide: ``Ol' Man River'' |

125
(3)

| | |
| --- | --- |
| | Oklahoma! and the Golden Era of Musical Theater |

128
(1)

| | |
| --- | --- |
| | Oklahoma! The Musical as Drama |

128
(1)
128
(1)

| | |
| --- | --- |
| | Listening Guide: ``Oh, What a Beautiful Mornin''' |

129
(3)

| | |
| --- | --- |
| | Beyond the Broadway Musical: West Side Story |

132
(1)

| | |
| --- | --- |
| | Listening Guide: ``Cool'' |

133
(1)
134
(1)

| | |
| --- | --- |
| | Musical Theater in the Rock Era |

135
(1)
135
(1)

| | |
| --- | --- |
| | Contemporary Musical Theater |

136
(2)

| | |
| --- | --- |
| | Listening Guide: ``Another Hundred People'' |

138
(3)
141
(1)

| | |
| --- | --- |
| | Looking Back, Looking Ahead |

141
(1)
142
(1)

| | |
| --- | --- |
| | Country and Folk Music, 1920--1955 |

143
(27)

| | |
| --- | --- |
| | The Emergence of Country and Folk Music |

143
(1)

| | |
| --- | --- |
| | Technology Creates Country Music from Folk |

144
(1)

| | |
| --- | --- |
| | Ralph Peer and the Lomaxes: Country and Folk Music |

144
(3)

| | |
| --- | --- |
| | Country Music Hits the Pop Charts |

147
(1)

| | |
| --- | --- |
| | Vernon Dalhart and ``The Prisoner's Song'' |

147
(1)

| | |
| --- | --- |
| | Listening Guide: ``The Prisoner's Song'' |

147
(2)

| | |
| --- | --- |
| | August 1927, Bristol, Tennessee |

149
(2)

| | |
| --- | --- |
| | Listening Guide: ``Blue Yodel No. 11'' |

151
(1)

| | |
| --- | --- |
| | Country's New Directions in the 1930s |

152
(1)

| | |
| --- | --- |
| | Bob Wills: Putting the Swing in Country |

153
(1)

| | |
| --- | --- |
| | Listening Guide: ``Steel Guitar Rag'' |

154
(1)

| | |
| --- | --- |
| | Gene Autry: Putting the ``Western'' in ``Country and Western'' |

155
(1)
156
(1)

| | |
| --- | --- |
| | Woody Guthrie: Folk Splits from Country |

157
(1)

| | |
| --- | --- |
| | Listening Guide: ``Do-Re-Mi'' |

158
(1)

| | |
| --- | --- |
| | On the Charts: Country after World War II |

159
(1)

| | |
| --- | --- |
| | Bill Monroe and the Birth of Bluegrass |

159
(2)

| | |
| --- | --- |
| | Listening Guide: ``It's Mighty Dark to Travel'' |

161
(1)

| | |
| --- | --- |
| | Hank Williams and the Redefinition of Country Music |

162
(2)

| | |
| --- | --- |
| | Listening Guide: ``Your Cheatin' Heart'' |

164
(2)

| | |
| --- | --- |
| | Folk Goes Pop (By Accident) |

166
(1)

| | |
| --- | --- |
| | Listening Guide: ``This Land Is Your Land'' |

167
(1)

| | |
| --- | --- |
| | Looking Back, Looking Ahead |

168
(1)
169
(1)

| | |
| --- | --- |
| | Latin Music in the United States |

170
(24)
171
(1)
171
(1)

| | |
| --- | --- |
| | Latin Music in the United States |

172
(1)

| | |
| --- | --- |
| | The First Stage: Latin Dances as Exotic Novelty |

173
(1)

| | |
| --- | --- |
| | Don Azpiazu and the Cuban Rumba |

173
(1)

| | |
| --- | --- |
| | Listening Guide: ``El Manisero'' (``The Peanut Vendor'') |

174
(1)

| | |
| --- | --- |
| | The Second Stage: Hybrids and Transformations |

175
(1)

| | |
| --- | --- |
| | American-generated Latin Hybrids: Porter, Cugat, and the Latin Song |

175
(1)

| | |
| --- | --- |
| | Listening Guide: ``Begin the Beguine'' |

176
(2)

| | |
| --- | --- |
| | Latin-generated Transformations |

178
(2)

| | |
| --- | --- |
| | Listening Guide: ``Complicacion'' |

180
(2)

| | |
| --- | --- |
| | The Third Stage: Latin and Caribbean Music in the Rock Era |

182
(1)
182
(2)

| | |
| --- | --- |
| | Listening Guide: ``The Girl from Ipanema'' |

184
(2)

| | |
| --- | --- |
| | Hispanic Music: Tango, Salsa, and Tejano |

186
(1)

| | |
| --- | --- |
| | Listening Guide: ``Oblivion'' |

187
(4)

| | |
| --- | --- |
| | Listening Guide: ``En el Cielo No Hay Cerveza'' (``In Heaven There Is No Beer'') |

191
(1)

| | |
| --- | --- |
| | Looking Back, Looking Ahead |

192
(1)
193
(1)

| | |
| --- | --- |
| | Rhythm and Blues and Rock and Roll, 1945--1960 |

194
(33)

| | |
| --- | --- |
| | Postwar Rhythm and Blues, 1945--1955 |

194
(2)

| | |
| --- | --- |
| | The Sounds of Rhythm and Blues |

196
(1)

| | |
| --- | --- |
| | Listening Guide: ``Choo Choo Ch'Boogie'' |

197
(2)
199
(1)

| | |
| --- | --- |
| | Listening Guide: ``Bo Diddley'' |

200
(1)
201
(1)
202
(1)

| | |
| --- | --- |
| | The Rhythmic Roots of Rock and Roll |

202
(2)

| | |
| --- | --- |
| | Listening Guide: ``Roll `Em, Pete'' |

204
(1)
205
(1)

| | |
| --- | --- |
| | Listening Guide: ``Rock Around the Clock'' |

205
(4)

| | |
| --- | --- |
| | Rock and Roll Versus Rhythm and Blues |

209
(2)

| | |
| --- | --- |
| | Listening Guide: ``Johnny B. Goode'' |

211

| | |
| --- | --- |
| | Rock and Roll's Second Generation |

213

| | |
| --- | --- |
| | Listening Guide: ``Not Fade Away'' |

214
(1)

| | |
| --- | --- |
| | The Fall of Rock and Roll |

215
(1)

| | |
| --- | --- |
| | Rhythm and Blues, 1955--1960 |

215
(1)
216
(1)

| | |
| --- | --- |
| | Listening Guide: ``I Only Have Eyes for You'' |

217
(1)
218
(1)
219
(1)

| | |
| --- | --- |
| | Listening Guide: ``Charlie Brown'' |

220
(2)
222
(2)

| | |
| --- | --- |
| | Listening Guide: ``Will You Love Me Tomorrow'' |

224
(2)

| | |
| --- | --- |
| | Looking Back, Looking Ahead |

226
(1)
226
(1)

| | |
| --- | --- |
| | The Rock Revolution: Rock and Soul in the 1960s |

227
(50)

| | |
| --- | --- |
| | The Rock Revolution: A Historical Perspective |

227
(5)
232
(1)

| | |
| --- | --- |
| | Listening Guide: ``Pretty Woman'' |

233
(3)

| | |
| --- | --- |
| | Listening Guide: ``Subterranean Homesick Blues'' |

236
(4)
240
(2)

| | |
| --- | --- |
| | Listening Guide: ``I Heard It Through the Grapevine'' |

242
(3)
245
(1)
246
(2)

| | |
| --- | --- |
| | Listening Guide: ``I Saw Her Standing There'' |

248
(1)

| | |
| --- | --- |
| | Listening Guide: ``Get Back'' |

249
(4)
253
(2)
255
(1)
255
(3)
258
(2)
260
(1)

| | |
| --- | --- |
| | Listening Guide: ``Cold Sweat'' |

261
(1)
262
(1)

| | |
| --- | --- |
| | The Decline and the Legacy of Soul |

263
(1)

| | |
| --- | --- |
| | The Diversity of Rock: San Francisco in the late 1960s |

264
(3)

| | |
| --- | --- |
| | Listening Guide: ``Thank You (Falettinme Be Mice Elf Agin)'' |

267
(2)

| | |
| --- | --- |
| | Resonances from the Revolution: Popular Song in the Rock Era |

269
(1)
270
(1)

| | |
| --- | --- |
| | Listening Guide: ``The Look of Love'' |

271
(2)

| | |
| --- | --- |
| | The Significance of the Rock Revolution |

273
(2)

| | |
| --- | --- |
| | Looking Back, Looking Ahead |

275
(1)
275
(2)

| | |
| --- | --- |
| | Rock and Rhythm and Blues in the 1970s |

277
(24)

| | |
| --- | --- |
| | The Popular-Music Industry in the 1970s |

278
(1)
278
(2)
280
(2)

| | |
| --- | --- |
| | The Music of the 1970s: Point and Counterpoint |

282
(1)
283
(1)

| | |
| --- | --- |
| | Black Music in the Early 1970s |

283
(1)

| | |
| --- | --- |
| | Black Issues, Black Voices |

284
(1)
284
(1)

| | |
| --- | --- |
| | Listening Guide: ``Where Is the Love'' |

285
(1)

| | |
| --- | --- |
| | Crossroads: The Harmonic Intersection of the 1970s |

286
(2)
288
(1)
288
(1)
289
(2)

| | |
| --- | --- |
| | Dressing Up: Rock as Art and Theater |

291
(1)
291
(2)

| | |
| --- | --- |
| | David Bowie as Ziggy Stardust |

293
(3)
296
(1)

| | |
| --- | --- |
| | Dressing Down: It's Still Rock and Roll |

296
(1)
297
(1)
298
(1)

| | |
| --- | --- |
| | British Versus American Rock |

299
(1)

| | |
| --- | --- |
| | Looking Back, Looking Ahead |

299
(1)
300
(1)

| | |
| --- | --- |
| | Counterpoint: New Trends of the Late 1970s |

301
(24)
302
(1)
303
(1)

| | |
| --- | --- |
| | Jimmy Cliff and the Sound of Reggae |

304
(1)
304
(1)

| | |
| --- | --- |
| | Listening Guide: ``The Harder They Come'' |

305
(1)

| | |
| --- | --- |
| | Reggae as an International Music |

306
(1)
307
(1)
308
(1)

| | |
| --- | --- |
| | Listening Guide: ``Tear the Roof off the Sucker (Give Up the Funk)'' |

309
(1)

| | |
| --- | --- |
| | Earth, Wind & Fire: A Black Music Synthesis |

310
(2)

| | |
| --- | --- |
| | Listening Guide: ``Shining Star'' |

312
(1)
313
(1)

| | |
| --- | --- |
| | The Village People: Disco out of the Closet |

314
(2)

| | |
| --- | --- |
| | Listening Guide: ``Y.M.C.A.'' |

316
(1)

| | |
| --- | --- |
| | Dance Fads and the Influence of Disco |

317
(1)
318
(2)
320
(1)
321
(1)
322
(1)

| | |
| --- | --- |
| | Looking Back, Looking Ahead |

323
(1)
324
(1)

| | |
| --- | --- |
| | Country and Beyond: The Roots and Fruits of Folk Music |

325
(21)
325
(1)

| | |
| --- | --- |
| | Singer-songwriters in the 1970s |

326
(1)
327
(1)

| | |
| --- | --- |
| | Outside the Law: Keeping Country Pure |

328
(1)

| | |
| --- | --- |
| | Listening Guide: ``Okie from Muskogee'' |

329
(2)

| | |
| --- | --- |
| | Country Royalty: George and Tammy |

331
(2)

| | |
| --- | --- |
| | Listening Guide: ``He Stopped Loving Her Today'' |

333
(2)
335
(1)

| | |
| --- | --- |
| | Neo-traditional Country Music in the 1980s |

335
(1)

| | |
| --- | --- |
| | Newgrass: Bluegrass Meets the World |

336
(1)

| | |
| --- | --- |
| | Listening Guide: ``Duke and Cookie'' |

337
(2)
339
(1)

| | |
| --- | --- |
| | Listening Guide: ``Boil the Breakfast Early'' |

340
(1)
341
(1)

| | |
| --- | --- |
| | Listening Guide: ``Zydeco Gris-gris'' |

342
(2)

| | |
| --- | --- |
| | Old Wine, New Bottles: New Sounds in Traditional Styles |

344
(1)

| | |
| --- | --- |
| | Looking Ahead: Country Music in the 1990s |

345
(1)
345
(1)

| | |
| --- | --- |
| | Rock and Black Music Since 1980 |

346
(41)
347
(1)

| | |
| --- | --- |
| | The New Digital Technologies |

348
(2)

| | |
| --- | --- |
| | The Implications of Digital Technology |

350
(1)
351
(1)

| | |
| --- | --- |
| | The Antecedents of Electronica |

352
(1)

| | |
| --- | --- |
| | Music for Dancing, Places to Dance |

353
(1)
354
(1)

| | |
| --- | --- |
| | Listening Guide: ``Nude Photo'' |

355
(2)
357
(1)
357
(1)

| | |
| --- | --- |
| | Rap and African American Culture |

358
(3)

| | |
| --- | --- |
| | Listening Guide: ``Life's a B****,'' |

361
(2)
363
(1)
364
(2)
366
(1)

| | |
| --- | --- |
| | Listening Guide: ``Don't Want to Be a Fool'' |

366
(3)

| | |
| --- | --- |
| | Restoring Rock's Conscience |

369
(1)
370
(1)
371
(1)

| | |
| --- | --- |
| | Nirvana: Alternative Breaks Through |

372
(2)

| | |
| --- | --- |
| | High Brow/Low Brow: Two Perspectives on 1990s Rock |

374
(1)
374
(1)
375
(1)
376
(1)
376
(1)

| | |
| --- | --- |
| | The Roots of the World Music Movement |

377
(1)

| | |
| --- | --- |
| | The Emergence of World Music |

377
(1)
378
(2)

| | |
| --- | --- |
| | Listening Guide: ``Itche Koutche'' |

380
(1)
381
(2)
383
(1)

| | |
| --- | --- |
| | Listening Guide: ``Yarum Praise Song''/``Niles'' |

383
(2)
385
(2)
Glossary
387
(18)
Index
405