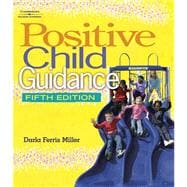 Questions About This Book?
What version or edition is this?
This is the 5th edition with a publication date of 8/17/2006.
What is included with this book?
The Used copy of this book is not guaranteed to include any supplemental materials. Typically, only the book itself is included.
Summary
Positive Child Guidance 5E includes numerous revisions to make this practical, readable text even more developmentally appropriate, culturally sensitive, and academically sound than its predecessor. Intended to equip adults with information for guiding, managing, and coping with children's behavior, Positive Child Guidance 5E also helps to make sense of children's efforts to understand their own emerging needs and feelings while handling adult expectations. Open-ended solutions are presented to encourage students to engage in higher levels of thinking, analyzing, and synthesizing. The text addresses the rightful positioning of both behavior modification and maturation within an overall effective guidance strategy. Positive Child Guidance 5E outlines workable methods for preventing or redirecting inappropriate behaviors and helping children grow up to be useful citizens in a democratic social structure. Innovative strategies include detailed information on using American Sign Language as a tool to empower young children in expressing themselves to support guidance. Inclusion of children with special needs is addressed in terms of guidance issues. In addition, this revised text addresses how the cultural differences of children, parents, and early childhood educators affect day-to-day guidance. Because no single guidance strategy is appropriate for all children at all ages, this book addresses typical characteristics and needs of children as they proceed through chronological and developmental stages. It provides a range of practical, effective, and flexible guidance strategies based on principles of straightforward communication and assertiveness. This book outlines practical, workable steps for creating a cooperative, respectful community of children and adults with special emphasis on sensitivity to cultural and gender-based needs and differences.
Table of Contents
Preface
xxi
Acknowledgments
xxx
1
(30)
1
(4)

| | |
| --- | --- |
| | Child-Rearing in Today's World |

5
(5)

| | |
| --- | --- |
| | Why Is Parent and Professional Training in Child Guidance Important? |

7
(2)

| | |
| --- | --- |
| | Who Should Be Responsible for the Well-Being and Guidance of Children? |

9
(1)

| | |
| --- | --- |
| | Short-Term Objectives for Child Guidance |

10
(7)

| | |
| --- | --- |
| | What Are the Rights of Children? |

13
(2)

| | |
| --- | --- |
| | How Do We Tell the Difference between Enforcing Reasonable Safety Rules and Being Overprotective? |

15
(1)

| | |
| --- | --- |
| | Why Should Children Be Involved in Maintaining and Protecting Their Environment? |

16
(1)

| | |
| --- | --- |
| | Long-Term Goals for Child Guidance |

17
(4)

| | |
| --- | --- |
| | The Nurturing Environment and Long-Term Development |

19
(2)

| | |
| --- | --- |
| | Children---Our Investment in the Future |

21
(2)
23
(1)
23
(1)
23
(1)

| | |
| --- | --- |
| | The Spoiled Child---Myth or Reality? |

23
(1)
24
(1)
24
(5)
29
(2)

| | |
| --- | --- |
| | Understanding Children's Behavior |

31
(66)
31
(5)

| | |
| --- | --- |
| | Infants (Birth to Twelve Months) |

36
(16)

| | |
| --- | --- |
| | Do Infants Intentionally Respond By Crying? |

36
(1)

| | |
| --- | --- |
| | Can Babies Misbehave On Purpose? |

37
(1)
37
(2)

| | |
| --- | --- |
| | What Are Reflex Responses, and What Is Unconscious Conditioning? |

39
(1)

| | |
| --- | --- |
| | What Is Classical Conditioning? |

39
(1)

| | |
| --- | --- |
| | What Is Operant Conditioning? |

40
(1)
40
(1)

| | |
| --- | --- |
| | How Do Babies Develop Control of Their Actions? |

41
(1)
41
(1)

| | |
| --- | --- |
| | How Does Trauma and Chronic Stress Affect an Infant's Brain Development? |

42
(1)

| | |
| --- | --- |
| | How Do Babies Develop Trust? |

43
(1)

| | |
| --- | --- |
| | What Is Learned Helplessness? |

43
(1)

| | |
| --- | --- |
| | How Do I Answer Parents' Sleep Questions? |

44
(1)

| | |
| --- | --- |
| | Which Is Best: Flexible Spontaneity or Predictable Routines? |

45
(1)

| | |
| --- | --- |
| | What Are Interaction Styles? |

46
(2)

| | |
| --- | --- |
| | What Do We Mean by Secure Attachment to Caregivers? |

48
(1)
49
(1)

| | |
| --- | --- |
| | Separation and Stranger Anxieties |

50
(1)

| | |
| --- | --- |
| | How Do Babies Perceive Themselves and Their Surroundings? |

51
(1)

| | |
| --- | --- |
| | Toddlers (Twelve Months to Three Years) |

52
(15)

| | |
| --- | --- |
| | Can Toddlers Control Their Feelings and Actions? |

52
(1)

| | |
| --- | --- |
| | How Does Awareness of Cause and Effect Develop? |

53
(1)

| | |
| --- | --- |
| | Toddlers Need to Explore Their Surroundings |

54
(1)

| | |
| --- | --- |
| | Safety Is a Major Issue in Toddler Care |

54
(2)

| | |
| --- | --- |
| | Learning Environments for Toddlers |

56
(1)

| | |
| --- | --- |
| | Can Toddlers Read Body Language? |

57
(1)

| | |
| --- | --- |
| | How Does Verbal Communication Begin? |

58
(1)

| | |
| --- | --- |
| | What Kind of Language Experiences Are Good for Toddlers? |

59
(1)
60
(1)
60
(1)

| | |
| --- | --- |
| | How Can I Make Friends with a Shy Toddler? |

60
(2)

| | |
| --- | --- |
| | Why Are Toddlers so Possessive? |

62
(1)

| | |
| --- | --- |
| | Why Do Some Toddlers Become so Attached to Security Blankets, Pacifiers, and so Forth? |

63
(1)

| | |
| --- | --- |
| | Why Are Toddlers Stubborn One Minute, Then Clingy the Next? |

64
(1)

| | |
| --- | --- |
| | Are Toddlers Aware of Themselves? |

65
(1)

| | |
| --- | --- |
| | Why Do Toddlers Get so Excited and Happy When They Imitate Each Other? |

66
(1)

| | |
| --- | --- |
| | Preschoolers (Three to Five Years) |

67
(11)

| | |
| --- | --- |
| | Can Preschoolers Make Plans and Decisions? |

67
(1)

| | |
| --- | --- |
| | Meeting Preschoolers' Needs for Communication |

68
(1)

| | |
| --- | --- |
| | Communicating Successfully with Preschoolers |

69
(1)

| | |
| --- | --- |
| | Teaching Preschoolers to Use Words to Express Their Feelings |

69
(1)

| | |
| --- | --- |
| | Does Stress Strain Your Patience with Children? |

70
(2)

| | |
| --- | --- |
| | Friendships Are Important to Preschoolers |

72
(2)

| | |
| --- | --- |
| | How Do Preschoolers Learn to Accept Responsibility? |

74
(1)

| | |
| --- | --- |
| | Allow Preschoolers to Do Things That Are Difficult |

74
(1)

| | |
| --- | --- |
| | Helping Preschoolers Follow Rules |

74
(2)

| | |
| --- | --- |
| | How Do Preschoolers Develop a Positive Sense of Self? |

76
(1)

| | |
| --- | --- |
| | Should Children Be Encouraged to Compete? |

77
(1)

| | |
| --- | --- |
| | Early School-Agers (Five to Eight Years) |

78
(7)

| | |
| --- | --- |
| | Why Do Early School-Agers Ask so Many Questions? |

78
(1)

| | |
| --- | --- |
| | Why Do They Get so Angry If They Do Not Always Win? |

79
(1)

| | |
| --- | --- |
| | How Can I Earn the Respect of School-Agers? |

80
(1)

| | |
| --- | --- |
| | Why Do Early School-Agers Resist Going to Child Care? |

81
(1)

| | |
| --- | --- |
| | Why Do Early School-Agers Get so Upset about Fairness? |

82
(1)

| | |
| --- | --- |
| | Why Do They Insist on Picking Their Own Clothes? |

82
(1)

| | |
| --- | --- |
| | How Can We Help Early School-Agers Become Productive? |

83
(1)

| | |
| --- | --- |
| | How Can We Support Their Self-Esteem? |

84
(1)

| | |
| --- | --- |
| | Older School-Agers (Nine to Twelve Years) |

85
(5)

| | |
| --- | --- |
| | Why Do Older School-Aged Children Argue so Much? |

85
(1)

| | |
| --- | --- |
| | How Can I Get Older School-Agers to Trust and Respect Me? |

86
(1)

| | |
| --- | --- |
| | Why Do Older School-Agers Try so Hard to Be ``Popular''? |

86
(1)

| | |
| --- | --- |
| | Why Do Older School-Aged Children Love Pranks and Jokes? |

87
(1)

| | |
| --- | --- |
| | How Can We Support Older School-Agers' Self-Esteem? |

87
(3)
90
(1)
90
(1)
91
(1)

| | |
| --- | --- |
| | ``I'm Never Gonna `Vite You to My Birth'ay!'' |

91
(1)
91
(1)
91
(5)
96
(1)

| | |
| --- | --- |
| | Serving Culturally Diverse Children and Families |

97
(74)

| | |
| --- | --- |
| | Understanding the Dynamic Nature of Culture |

97
(3)

| | |
| --- | --- |
| | What Is Ordinary Culture? |

98
(1)

| | |
| --- | --- |
| | Does Everyone Have Culture? |

99
(1)

| | |
| --- | --- |
| | Understanding Children and Families in the Context of Their Communities |

100
(5)

| | |
| --- | --- |
| | How Did Bronfenbrenner Suggest Visualizing a Person's Inner Self? |

101
(1)

| | |
| --- | --- |
| | What Is Unconditional Acceptance? |

102
(1)

| | |
| --- | --- |
| | What Is Ethical Responsibility? |

103
(2)

| | |
| --- | --- |
| | Prejudice, Racism, and Discrimination |

105
(5)

| | |
| --- | --- |
| | Where Did Prejudice Come From? |

105
(1)

| | |
| --- | --- |
| | When Does Discrimination Begin in Children? |

106
(1)

| | |
| --- | --- |
| | What Are Other Early Signs of Prejudice in Young Children? |

107
(1)

| | |
| --- | --- |
| | What Is Multicultural Education? |

108
(1)

| | |
| --- | --- |
| | How Can We Teach Young Children to Resist Bias? |

108
(2)

| | |
| --- | --- |
| | How Can I Spot Bias, Stereotypes, and Myths About Underrepresented Groups in Books and Other Media? |

110
(2)

| | |
| --- | --- |
| | What Things Should I Know So I Can be More Considerate to People from Other Cultures? |

112
(8)

| | |
| --- | --- |
| | Are There Some Things I Can Easily Do to Help Parents from Other Cultures Feel More Comfortable? |

113
(2)

| | |
| --- | --- |
| | Will These Tips Keep Me from Ever Culturally Offending Anyone? |

115
(2)

| | |
| --- | --- |
| | Are There Some Things I Can Easily Do to Help Children from Other Cultures Feel More Comfortable? |

117
(3)

| | |
| --- | --- |
| | How Can I Learn to be More Culturally Sensitive? |

120
(2)
122
(7)

| | |
| --- | --- |
| | How Does Culture Affect Adults' Styles of Interaction? |

122
(1)

| | |
| --- | --- |
| | How Does Culture Affect a Person's Learning Approach? |

122
(1)

| | |
| --- | --- |
| | How Does Culture Affect Social Role Expectations? |

123
(2)

| | |
| --- | --- |
| | How Does Culture Shape Our Use of Language? |

125
(1)

| | |
| --- | --- |
| | How Does Culture Shape Our Intellectual Approach? |

126
(3)

| | |
| --- | --- |
| | How Can We Expand Children's Emotional-Social Intelligence? |

129
(1)
129
(1)
130
(1)
130
(2)

| | |
| --- | --- |
| | Baba Rebear and Salty Green Paper |

130
(2)
132
(1)
132
(38)
170
(1)

| | |
| --- | --- |
| | Understanding the Reasons for Problem Behavior |

171
(43)

| | |
| --- | --- |
| | Defining Problem Behavior |

171
(5)

| | |
| --- | --- |
| | What Do We Mean by Functional and Dysfunctional Behaviors? |

174
(1)

| | |
| --- | --- |
| | The Adult-Centered Definition of Misbehavior |

174
(1)

| | |
| --- | --- |
| | The Child-Centered Definition of Misbehavior |

175
(1)

| | |
| --- | --- |
| | Stages of Moral Development in Young Children |

176
(2)

| | |
| --- | --- |
| | Components of Moral Development |

178
(5)
178
(1)
178
(1)
179
(1)
179
(1)

| | |
| --- | --- |
| | How Do Young Children Learn Right from Wrong? |

180
(3)

| | |
| --- | --- |
| | Methods to Support Children's Moral Development |

183
(2)

| | |
| --- | --- |
| | Provide Nurturing and Support |

183
(1)
184
(1)

| | |
| --- | --- |
| | Model Appropriate Behavior |

184
(1)

| | |
| --- | --- |
| | Teach Democratic Decision-Making and Discussion |

185
(1)
185
(8)
185
(2)

| | |
| --- | --- |
| | How Do Infants Show Differences in Temperament? |

187
(1)

| | |
| --- | --- |
| | What Has Jerome Kagan's Research Taught Us about Temperament? |

188
(1)

| | |
| --- | --- |
| | How Can We Support the Spirited Child? |

189
(4)

| | |
| --- | --- |
| | Underlying Causes of Problem Behavior |

193
(14)

| | |
| --- | --- |
| | Inappropriate Expectations |

194
(1)

| | |
| --- | --- |
| | Misunderstanding Expectations |

195
(1)
195
(2)

| | |
| --- | --- |
| | Gleeful Abandon, Group Contagion |

197
(1)
198
(1)
199
(2)
201
(1)
202
(1)
203
(2)
205
(2)
207
(1)
207
(1)
207
(1)

| | |
| --- | --- |
| | Is a ``Really Good Spanking'' Really Good? |

207
(1)
208
(1)
208
(4)
212
(2)

| | |
| --- | --- |
| | Guidelines for Effective Guidance |

214
(29)

| | |
| --- | --- |
| | Ignore Mildly Annoying Behavior That is Neither Harmful Nor Unfair |

214
(2)

| | |
| --- | --- |
| | Focus Attention Elsewhere |

215
(1)

| | |
| --- | --- |
| | Discreetly Redirect Slightly Inappropriate Behavior to More Positive Substitute Behavior |

215
(1)

| | |
| --- | --- |
| | Assist the Child In Recognizing the General Effects of Positive Behaviors |

216
(1)

| | |
| --- | --- |
| | Immediately Interrupt Behavior That is Harmful or Unfair |

216
(1)

| | |
| --- | --- |
| | What Do I Do About Biting? |

217
(6)

| | |
| --- | --- |
| | Intervene as Firmly as Necessary but as Gently as Possible |

219
(2)
221
(1)

| | |
| --- | --- |
| | Remove the Child from a Problem Situation |

222
(1)

| | |
| --- | --- |
| | Questions About Sex-Related Issues |

223
(2)

| | |
| --- | --- |
| | Assertively Shape Positive Behavior |

225
(14)
226
(1)
227
(1)
228
(2)

| | |
| --- | --- |
| | Adapt Objects, Events, and Attitudes to Remove Possible Causes of Problem Behavior |

230
(1)

| | |
| --- | --- |
| | Offer Assistance and Encouragement |

231
(1)
231
(2)

| | |
| --- | --- |
| | Redirect Inappropriate Behavior Firmly and Respectfully |

233
(1)

| | |
| --- | --- |
| | Clearly Express Appropriate Feelings |

234
(1)

| | |
| --- | --- |
| | Explain the Potential Consequences of Unacceptable Behavior |

235
(1)

| | |
| --- | --- |
| | Provide Persistent Follow-Up and Enforce Logical Consequences Firmly and Respectfully |

236
(1)

| | |
| --- | --- |
| | Emphasize Unconditional Caring and Affection |

236
(1)

| | |
| --- | --- |
| | Maintain and Express Confidence that a Problem Will Be Resolved |

237
(1)

| | |
| --- | --- |
| | Protect Children's Dignity and Privacy |

237
(1)

| | |
| --- | --- |
| | Be Willing to Start Over to Forgive and Forget |

237
(2)
239
(1)
239
(1)
239
(1)

| | |
| --- | --- |
| | Will and the Cream Cheese Won Ton |

239
(1)
240
(1)
240
(2)
242
(1)

| | |
| --- | --- |
| | Planning the Prosocial Environment |

243
(35)
243
(1)

| | |
| --- | --- |
| | Three Key Elements of Prosocial Behavior |

244
(1)

| | |
| --- | --- |
| | Setting the Stage for Appropriate Behavior |

244
(10)

| | |
| --- | --- |
| | How Can the Physical Environment Support Prosocial Behavior? |

244
(1)

| | |
| --- | --- |
| | What Are Ineffective Child Care Environments Like? |

245
(2)

| | |
| --- | --- |
| | What is a Developmentally Appropariate Environment? |

247
(3)

| | |
| --- | --- |
| | What Effect Does the Environment Have on Child Guidance? |

250
(1)

| | |
| --- | --- |
| | How Do Schedules Support Positive Behavior? |

251
(3)

| | |
| --- | --- |
| | The Nurturing Social Environment |

254
(6)

| | |
| --- | --- |
| | How Relaxed, Playful Environments Encourage Prosocial Behavior |

254
(2)

| | |
| --- | --- |
| | Creating a Cooperative Setting |

256
(1)

| | |
| --- | --- |
| | Developmental Appropriate Activities, Materials, and Routines |

256
(1)

| | |
| --- | --- |
| | Why Consistency Is so Important |

257
(2)

| | |
| --- | --- |
| | How Can I Support Cooperativeness? |

259
(1)
260
(11)

| | |
| --- | --- |
| | How Can I Be More Nurturing and Patient? |

260
(2)

| | |
| --- | --- |
| | How Does a Nurturing Adult Respond to Aggression? |

262
(1)

| | |
| --- | --- |
| | Can Children Learn Appropriate Behavior through Imitation? |

263
(3)

| | |
| --- | --- |
| | How Can I Provide Affirmation, Affection, and Acceptance? |

266
(2)

| | |
| --- | --- |
| | How Can I Provide Positive Recognition and Encouragement? |

268
(1)

| | |
| --- | --- |
| | Am I Willing to Enforce Rules Even if it Would Be Easier to Look the Other Way? |

269
(1)

| | |
| --- | --- |
| | Am I Willing to Protect Individual Rights? |

270
(1)
271
(1)
271
(1)
271
(1)

| | |
| --- | --- |
| | William and the Nature Walk |

271
(1)
272
(1)
273
(3)
276
(2)
278
(39)

| | |
| --- | --- |
| | Building a Foundation for Positive Communication |

278
(17)

| | |
| --- | --- |
| | When Does Communication Begin? |

279
(1)

| | |
| --- | --- |
| | How Can Adults Assist the Development of Early Communication Skills in Infants? |

279
(1)

| | |
| --- | --- |
| | What Are Typical Characteristics of Early Communication? |

280
(1)

| | |
| --- | --- |
| | Why Positive, Mutual Communication Is Important for Child Guidance |

281
(2)

| | |
| --- | --- |
| | How Attentive Listening Can Nurture the Child's Developing Sense of Self |

283
(1)

| | |
| --- | --- |
| | Three Basic Human Needs Underlying Requests for Help |

283
(1)

| | |
| --- | --- |
| | Are These Listening and Helping Strategies Only Appropriate for Use with Young Children? |

284
(1)

| | |
| --- | --- |
| | Appropriate Responses to Requests for Action or Information |

285
(3)

| | |
| --- | --- |
| | Appropriate Responses to Requests for Understanding and Attention |

288
(4)

| | |
| --- | --- |
| | How Should Caregivers Respond to Requests for Dependency or Inappropriate Interaction? |

292
(2)

| | |
| --- | --- |
| | Are Listening and Helping Strategies Relevant to the Care of Babies and Toddlers? |

294
(1)

| | |
| --- | --- |
| | Addressing Underlying Feelings |

295
(5)

| | |
| --- | --- |
| | When and How Should Adults Express Their Feelings to Children? |

296
(1)

| | |
| --- | --- |
| | How Can Children Be Helped to Understand Their Feelings? |

297
(2)

| | |
| --- | --- |
| | How Can Children Be Helped to Confront Troublesome Feelings? |

299
(1)

| | |
| --- | --- |
| | Positive Instructions Versus Negative Commands |

300
(2)

| | |
| --- | --- |
| | Characteristics of Assertive Communication |

302
(5)

| | |
| --- | --- |
| | Key Factors in Assertive Communication |

303
(4)

| | |
| --- | --- |
| | Characteristics of Nonproductive Communication |

307
(2)

| | |
| --- | --- |
| | How Do These Stereotypes Show Up as Problems? |

307
(2)

| | |
| --- | --- |
| | If These Stereotypical Communication Styles Are Ineffective, What Will Work? |

309
(1)

| | |
| --- | --- |
| | Managing the Positive Confrontation |

309
(4)

| | |
| --- | --- |
| | When Is Confrontation Appropriate? |

310
(1)

| | |
| --- | --- |
| | How Confrontations with Children Can Be Made Positive and Assertive |

311
(1)

| | |
| --- | --- |
| | How Attention Can Be Kept Focused on Confronting the Issues at Hand |

311
(1)

| | |
| --- | --- |
| | How Children Can Be Taught Responsibility |

312
(1)
313
(1)
313
(1)
314
(1)

| | |
| --- | --- |
| | ``I'll Leave You Here Forever'' |

314
(1)
314
(1)
314
(1)
315
(2)

| | |
| --- | --- |
| | Nonverbal Cues and Appropriate Consequences |

317
(46)

| | |
| --- | --- |
| | Nonverbal Cues and Body Language |

317
(4)

| | |
| --- | --- |
| | What Is the Significance of Nonverbal Cues for Young Children? |

318
(1)

| | |
| --- | --- |
| | Why Should Nonverbal Cues Be Consistent with Verbal Communication? |

318
(1)

| | |
| --- | --- |
| | Focus Attention at the Child's Eye Level |

319
(2)

| | |
| --- | --- |
| | Helping Children Resolve Problems Independently |

321
(17)
322
(1)

| | |
| --- | --- |
| | Help Children Learn to Use Words to Express Themselves to Each Other |

323
(1)

| | |
| --- | --- |
| | Should We Force Children to Apologize? |

324
(1)

| | |
| --- | --- |
| | How Can We Recognize and Encourage Internal Control? |

325
(1)

| | |
| --- | --- |
| | How Does American Sign Language Support Positive Child Guidance? |

326
(12)

| | |
| --- | --- |
| | Logical and Natural Consequences |

338
(12)
338
(1)
338
(2)

| | |
| --- | --- |
| | Should Children Be Rescued from the Consequences of Their Actions? |

340
(1)

| | |
| --- | --- |
| | What Is the Difference Between Punishment and Guidance? |

341
(5)

| | |
| --- | --- |
| | How Can I Be Firm without Seeming Angry? |

346
(1)

| | |
| --- | --- |
| | Avoid Overindulging and Overprotecting Children |

347
(2)

| | |
| --- | --- |
| | Help Children Learn to Make Choices within Limits |

349
(1)
350
(4)

| | |
| --- | --- |
| | External Conditions that Support Appropriate Behavior |

351
(1)

| | |
| --- | --- |
| | What Is Behavior Modification and How Should It Be Used? |

352
(1)

| | |
| --- | --- |
| | Why Behavior Modification Does Not Work All the Time |

353
(1)
354
(1)
355
(1)
355
(1)

| | |
| --- | --- |
| | The Big Boys and the Very Muddy Day |

355
(1)
356
(1)
357
(3)
360
(1)
361
(2)

| | |
| --- | --- |
| | Addressing Persistent, Unproductive Patterns of Behavior |

363
(38)

| | |
| --- | --- |
| | Reacting to Needs---Maslow's Hierarchy |

363
(7)

| | |
| --- | --- |
| | What Is the Role of Self-Esteem in Repeated Misbehavior? |

364
(5)

| | |
| --- | --- |
| | How Can I Support the Child's Development of Self-Esteem? |

369
(1)

| | |
| --- | --- |
| | The No-Lose Method of Conflict Resolution |

370
(1)
371
(2)

| | |
| --- | --- |
| | Attention-Seeking Behavior |

373
(3)

| | |
| --- | --- |
| | Clinging, Feigning Ineptness |

373
(1)

| | |
| --- | --- |
| | Artificial Charm, Competitiveness |

374
(1)

| | |
| --- | --- |
| | Clowning, Acting Out, Silliness |

375
(1)

| | |
| --- | --- |
| | Laziness, Compulsiveness, Obnoxiousness |

375
(1)
376
(7)

| | |
| --- | --- |
| | Manipulativeness, Vengefulness |

376
(1)
377
(1)
378
(5)
383
(3)

| | |
| --- | --- |
| | Destructiveness, Aggressiveness |

383
(2)
385
(1)

| | |
| --- | --- |
| | Fits of Anger, Tantrums, Defiance |

386
(1)

| | |
| --- | --- |
| | Withdrawn, Passive Behavior |

386
(2)

| | |
| --- | --- |
| | Cyclical Self-Stimulation |

386
(1)

| | |
| --- | --- |
| | Rejection of Social Interchange |

387
(1)

| | |
| --- | --- |
| | Internalization of Stress |

387
(1)

| | |
| --- | --- |
| | Display of Ineptness and Hopelessness |

388
(1)

| | |
| --- | --- |
| | Screening for Developmental ``Red Flags'' |

388
(4)

| | |
| --- | --- |
| | Can Hearing Problems Affect Behavior? |

388
(1)

| | |
| --- | --- |
| | Other Physical Conditions That Affect Behavior |

389
(1)

| | |
| --- | --- |
| | Can the Presence of Behavioral Problems Signal the Possibility of Child Abuse or Neglect? |

389
(1)

| | |
| --- | --- |
| | Consequences of Maltreatment |

390
(2)

| | |
| --- | --- |
| | Locating Community Resources |

392
(1)
393
(1)
394
(1)
394
(1)
395
(1)

| | |
| --- | --- |
| | ``Thank Heaven for Sarah'' |

395
(1)
396
(1)
397
(2)
399
(2)

| | |
| --- | --- |
| | Taking a New Look at Children |

401
(18)

| | |
| --- | --- |
| | Identifying Personal Biases |

401
(4)

| | |
| --- | --- |
| | Responding More Objectively to Individual Children |

402
(3)
405
(3)

| | |
| --- | --- |
| | How Observation Supports Positive Guidance |

405
(1)

| | |
| --- | --- |
| | What Do I Need to Get Started? |

405
(1)

| | |
| --- | --- |
| | How Will I Use My Observations? |

406
(1)

| | |
| --- | --- |
| | How Does My Observation Become a Plan? |

407
(1)

| | |
| --- | --- |
| | What if My Plan Does Not Work? |

407
(1)

| | |
| --- | --- |
| | How Can I Be Sure My Plan Is Working? |

408
(1)
408
(5)

| | |
| --- | --- |
| | What Is an Anecdotal Record? |

409
(1)

| | |
| --- | --- |
| | What Is a Running Account? |

410
(1)
410
(2)
412
(1)

| | |
| --- | --- |
| | Which Method of Recording Observations Works Best? |

413
(1)
413
(1)
414
(1)
414
(1)

| | |
| --- | --- |
| | The Mysterious Case of the Spinning Peg |

414
(1)
414
(1)
415
(2)
417
(2)

| | |
| --- | --- |
| | Historical and Cultural Beliefs about Child Guidance |

419

| | |
| --- | --- |
| | Historical Perspectives and Guidance Theories |

419
(13)

| | |
| --- | --- |
| | How the Modern World Has Influenced Thinking about Child Guidance |

421
(5)
426
(2)

| | |
| --- | --- |
| | How Life Is Different for Contemporary Children in Today's Changing World |

428
(1)

| | |
| --- | --- |
| | Preparation for Participation in a Democracy |

429
(1)

| | |
| --- | --- |
| | How Early Influences Affect Children's Growth and Development in Terms of Their Learning Appropriate Behavior |

430
(1)

| | |
| --- | --- |
| | The Strain of Changing Disciplinary Traditions |

431
(1)

| | |
| --- | --- |
| | Cultural Influences on Child Guidance |

432
(3)

| | |
| --- | --- |
| | Preparing Children for the Realities of an Adult World |

434
(1)

| | |
| --- | --- |
| | How Do Young Children Learn About Their Role in the World? |

435
(12)

| | |
| --- | --- |
| | When Does Cultural Learning Begin? |

439
(1)

| | |
| --- | --- |
| | Parental Expectations Related to Social and Economic Settings |

440
(3)

| | |
| --- | --- |
| | Understanding Cultural Differences |

443
(4)
447
(3)

| | |
| --- | --- |
| | Is a Child's Personality Mostly the Result of Nature or Nurture? |

448
(2)

| | |
| --- | --- |
| | What Do Current Experts Say About the Origin of Intelligence and Personality? |

450
(7)

| | |
| --- | --- |
| | The Nature versus Nurture Controversy |

450
(5)

| | |
| --- | --- |
| | If There Are Different Views about How Children Develop, How Do I Know Which Philosophy Is Right? |

455
(2)
457
(1)
457
(1)
458
(1)

| | |
| --- | --- |
| | Bringing Home a Baby Bumblebee |

458
(1)
458
(1)
459
(2)
461
Appendix A
1
(1)
Appendix B
1
(1)
Glossary
1
(1)
References
1
(1)
Index
1