Note: Supplemental materials are not guaranteed with Rental or Used book purchases.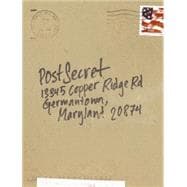 PostSecret: Extraordinary Confessions from Ordinary Lives
ISBN13:
9780060899196
by
Warren, Frank
HarperCollins Publications
Questions About This Book?
What version or edition is this?
This is the edition with a publication date of 12/1/2009.
What is included with this book?
The New copy of this book will include any supplemental materials advertised. Please check the title of the book to determine if it should include any CDs, lab manuals, study guides, etc.
Summary
The project that captured a nation's imagination. The instructions were simple, but the results were extraordinary. "You are invited to anonymously contribute a secret to a group art project. Your secret can be a regret, fear, betrayal, desire, confession, or childhood humiliation. Reveal anything -- as long as it is true and you have never shared it with anyone before. Be brief. Be legible. Be creative." It all began with an idea Frank Warren had for a community art project. He began handing out postcards to strangers and leaving them in public places -- asking people to write down a secret they had never told anyone and mail it to him, anonymously. The response was overwhelming. The secrets were both provocative and profound, and the cards themselves were works of art -- carefully and creatively constructed by hand. Addictively compelling, the cards reveal our deepest fears, desires, regrets, and obsessions. Frank calls them "graphic haiku," beautiful, elegant, and small in structure but powerfully emotional. As Frank began posting the cards on his website, PostSecret took on a life of its own, becoming much more than a simple art project. It has grown into a global phenomenon, exposing our individual aspirations, fantasies, and frailties -- our common humanity. Every day dozens of postcards still make their way to Frank, with postmarks from around the world, touching on every aspect of human experience. This extraordinary collection brings together the most powerful, personal, and beautifully intimate secrets Frank Warren has received -- and brilliantly illuminates that human emotions can be unique and universal at the same time.
Excerpts
PostSecret
Extraordinary Confessions from Ordinary Lives
Introduction
In November 2004, I printed 3,000 postcards inviting people to share a secret with me: something that was true, something they had never told anyone. I handed out these cards at subway stations, I left them in art galleries, and I slipped them between the pages of library books. Then, slowly, secrets began to find their way to my mailbox.
After several weeks I stopped passing out postcards but secrets kept coming. Homemade postcards made from cardboard, old photographs, wedding invitations, and other personal items artfully decorated arrived from all over the world. Some of the secrets were written in Portuguese, French, German, Hebrew, and even Braille.
One of the first PostSecrets I received looked like nothing more than a worn postcard filled with two shopping lists. But squeezed into the corner was a soulful admission, "I am still struggling with what I've become."
Like fingerprints, no two secrets are identical, but every secret has a story behind it. From the clues on this card, I imagined that this person had an internal struggle about sharing the secret. It was so difficult that they tried to use up the postcard as a shopping list, twice. But the urge to reconcile with a painful personal truth was so strong that they were ultimately able to find the courage to share it.
Secrets have stories; they can also offer truths. After seeing thousands of secrets, I understand that sometimes when we believe we are keeping a secret, that secret is actually keeping us. A New Zealander recently wrote the following about what they had learned from the PostSecret project, "The things that make us feel so abnormal are actually the things that make us all the same."
I invite you to contemplate each of the shared secrets in these pages: to imagine the stories behind the personal revelations and to search for the meaning they hold. As you read these postcards you may not only be surprised by what you learn about others, but also reminded of your own secrets that have been hiding. That is what happened to me.
After reading one particular PostSecret, I was reminded of a childhood humiliation -- something that happened to me more than thirty years ago. I never thought of it as a secret, yet I had never told anyone about it. From a memory that felt fresh, I chose my words carefully and expressed my secret on a postcard. I shared it with my wife and daughter. The next day, I went to the post office, and physically let it go into a mailbox. I walked away feeling lighter.
I like to think that this project germinated from that secret I kept buried for most of my life. At a level below my awareness, I needed to share it, but I was not brave enough to do it alone. So I found myself inviting others at galleries and libraries to first share their secrets with me. And when their postcards found me, I was able to find the courage to identify my secret and share it too.
We all have secrets: fears, regrets, hopes, beliefs, fantasies, betrayals, humiliations. We may not always recognize them but they are part of us -- like the dreams we can't always recall in the morning light.
Some of the most beautiful postcards in this collection came from very painful feelings and memories. I believe that each one of us has the ability to discover, share, and grow our own dark secrets into something meaningful and beautiful.
-- Frank
PostSecret
Extraordinary Confessions from Ordinary Lives
. Copyright © by Frank Warren. Reprinted by permission of HarperCollins Publishers, Inc. All rights reserved. Available now wherever books are sold.
---

Excerpted from Postsecret by Frank Warren
All rights reserved by the original copyright owners. Excerpts are provided for display purposes only and may not be reproduced, reprinted or distributed without the written permission of the publisher.