Note: Supplemental materials are not guaranteed with Rental or Used book purchases.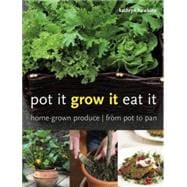 Pot It, Grow It, Eat It : Home-Grown Produce from Pot to Pan
ISBN13:
9781847736659
by
Kathryn Hawkins
Summary
What could be more satisfying than growing your own fruit and vegetables and then eating them, freshly picked? There's no need to have lots of land: it can be done anywhere--in windowsill containers, balconies, and small backyards. This combination growing guide and cookbook explains how anyone, anywhere can go straight from pot to pan. It offers: - A how-to of cultivation: tools and materials, containers, and siting - An illustrated A-Z vegetable, herb and fruit directory, with each entry listing planting, siting, maintenance and harvesting details, plus storing and freezing instructions - A cookbook chapter, with 25 fresh, simple recipes for appetizers, entrees, and desserts This is the perfect book for a holistic, healthy lifestyle!
Author Biography
Kathryn Hawkins is a cookery writer and food stylist. She has worked on several women's magazines and has written a number of books. She is the author of Pancakes!, Bread!, Fruit!. The Allotment Cookbook and more recently. The Fruit veg Grower's Cookbook, all published by New Holland.
Table of Contents
Introduction
p. 6
Practicalities of container gardening
p. 8
Getting started
p. 10
Vegetable, herb and fruit directory
p. 20
Garlic
p. 22
Leek
p. 24
Onion
p. 26
Carrot
p. 28
Potato
p. 30
Turnip, including Beetroot
p. 32
Broccoli and Calabrese
p. 34
Cabbage and Kale
p. 36
Cauliflower
p. 38
Oriental greens
p. 40
Spinach, including Chard
p. 42
Broad bean
p. 44
French bean
p. 46
Pea
p. 48
Runner bean
p. 50
Aubergine
p. 52
Courgette and Summer squash
p. 54
Mushroom
p. 56
Pepper and Chilli
p. 58
Sweetcorn
p. 60
Herbs and edible flowers
p. 62
Summer radish
p. 68
Lettuce
p. 70
Other salad leaves
p. 72
Cucumber and Gherkin
p. 74
Sprouting seeds
p. 76
Tomato
p. 78
Apple
p. 80
Cherry
p. 82
Pear
p. 84
Plum
p. 86
Blueberry
p. 88
Cranberry
p. 90
Currants
p. 92
Gooseberry
p. 94
Raspberry and Blackberry
p. 96
Strawberry
p. 98
Rhubarb
p. 100
Citrus fruit
p. 102
Recipes
p. 104
Starters, light meals and salads
p. 106
Main meals
p. 116
Desserts, puddings and preserves
p. 127
Useful addresses, bibliography and acknowledgements
p. 141
Index
p. 142
Table of Contents provided by Ingram. All Rights Reserved.