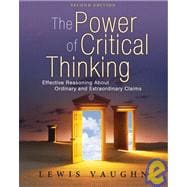 The Power of Critical Thinking; Effective Reasoning About Ordinary and Extraordinary Claims
by
Lewis Vaughn
Oxford University Press, USA
List Price: $79.95
Usually Ships in 3-5 Business Days
Questions About This Book?
What version or edition is this?
This is the 2nd edition with a publication date of 1/22/2007.
What is included with this book?
The Used copy of this book is not guaranteed to inclue any supplemental materials. Typically, only the book itself is included.
Summary
Enhanced by many innovative exercises, examples, and pedagogical features, The Power of Critical Thinking: Effective Reasoning About Ordinary and Extraordinary Claims, Second Edition, explores the essentials of critical reasoning, argumentation, logic, and argumentative essay writing while also incorporating material on important topics that most other texts leave out. Author Lewis Vaughn offers comprehensive treatments of core topics, including an introduction to claims and arguments, discussions of propositional and categorical logic, and full coverage of the basics of inductive reasoning. Building on this solid foundation, he also delves into areas neglected by other texts, adding extensive material on "inference to the best explanation" and on scientific reasoning; a thorough look at the evaluation of evidence and credibility; and a chapter on the psychological and social factors that can impede critical thinking. Additional notable elements are a chapter on moral reasoning, advice on how to evaluate Internet sources, and guidelines for evaluating occult, paranormal, or supernatural claims. The Power of Critical Thinking, Second Edition, integrates many pedagogical features including hundreds of diverse exercises, examples, and illustrations; progressive, stand-alone writing modules; numerous text boxes; step-by-step guidelines for evaluating claims, arguments, and explanations; a glossary of important terms; and many reminders, summaries, and review notes throughout. The text is supplemented by a companion website at www.oup.com/us/criticalthinking (offering a student study guide and more), and an Instructor's Manual with Test Questions (available both in print and on a CD). This unique text features a modular structure that allows instructors to teach the chapters in almost any order. Written in a student-friendly style and enhanced by humor where appropriate, it is ideal for courses in critical thinking, introduction to logic, informal logic, argumentative writing, and introduction to argumentation. New to the Second Edition * Full-color throughout and an expanded art program (37 more photos and illustrations) * A new writing module--an annotated sample student paper--and five additional essays for analysis * A new section on evaluating news reports and advertising * Timely discussions of intelligent design and population (nonintervention) studies * Expanded coverage of experts and authors and reasons to doubt their reliability * More "Field Problems" and exercise questions * Chapter objectives and key terms with definitions for each chapter
Author Biography

Lewis Vaughn is the author or coauthor of several books, including: Bioethics: Principles, Issues, and Cases (OUP, 2008); How to Think About Weird Things: Critical Thinking for a New Age, Fifth Edition (2007); Doing Ethics: Moral Reasoning and Contemporary Issues (2007); Doing Philosophy: An Introduction Through Thought Experiments, Third Edition (2006); and Writing Philosophy: A Student's Guide to Writing Philosophy Essays (OUP, 2005).

Table of Contents
Each chapter includes a Summary, Exercises, Field Problem(s), Self-Assessment Quiz, and Writing Assignments
Preface
Basics
The Power of Critical Thinking
Why It Matters
How It Works
Claims and Reasons
Reasons and Arguments
Arguments in the Rough
Critical Thinking and Writing: Module 1
The "Environment" of Critical Thinking
Perils of a Haunted Mind
The Almighty Self
The Power of the Group
Perils of a Haunted Worldview
Subjective Relativism
Social Relativism
Skepticism
Critical Thinking and Writing: Module 2
Making Sense of Arguments
Argument Basics
Judging Arguments
Finding Missing Parts
Argument Patterns
Diagramming Arguments
Assessing Long Arguments
Critical Thinking and Writing: Module 3
Reasons
Reasons for Belief and Doubt
When Claims Conflict
Experts and Evidence
Personal Experience
Impairment
Expectation
Innumeracy
Fooling Ourselves
Resisting Contrary Evidence
Looking for Confirming Evidence
Preferring Available Evidence
Claims in the News
Inside the News
Sorting Out the News
Critical Thinking and Writing: Module 4
Faulty Reasoning
Irrelevant Premises
Genetic Fallacy
Composition
Division
Appeal to the Person
Equivocation
Appeal to Popularity
Appeal to Tradition
Appeal to Ignorance
Appeal to Emotion
Red Herring
Straw Man
Unacceptable Premises
Begging the Question
False Dilemma
Slippery Slope
Hasty Generalization
Faulty Analogy
Arguments
Deductive Reasoning: Propositional Logic
Connectives and Truth Values
Conjunction
Disjunction
Negation
Conditional
Checking for Validity
Simple Arguments
Tricky Arguments
Streamlined Evaluation
Deductive Reasoning: Categorical Logic
Statements and Classes
Translations and Standard Form
Terms
Quantifiers
Diagramming Categorical Statements
Sizing Up Categorical Syllogisms
Inductive Reasoning
Enumerative Induction
Sample Size
Representativeness
Opinion Polls
Analogical Induction
Causal Arguments
Testing for Causes
Causal Confusions
Necessary and Sufficient Conditions
Explanations
Inference to the Best Explanation
Explanations and Inference
Theories and Consistency
Theories and Criteria
Testability
Fruitfulness
Scope
Simplicity
Conservatism
Telling Good Theories from Bad
A Doomed Flight
An Amazing Cure
Judging Scientific Theories
Science and Not Science
The Scientific Method
Testing Scientific Theories
Judging Scientific Theories
Copernicus Versus Ptolemy
Evolution Versus Creationism
Science and Weird Theories
Making Weird Mistakes
Leaping to the Weirdest Theory
Mixing What Seems with What Is
Misunderstanding the Possibilities
Judging Weird Theories
Crop Circles
Table of Contents provided by Publisher. All Rights Reserved.