Note: Supplemental materials are not guaranteed with Rental or Used book purchases.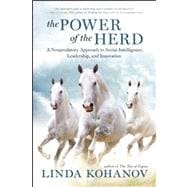 The Power of the Herd A Nonpredatory Approach to Social Intelligence, Leadership, and Innovation
ISBN13:
9781577316763
by
Kohanov, Linda
Summary
A pioneer of the human-equine relationship applies the lessons of the herd to the worlds of human relations, organizations, and leadership. A groundbreaking book that turns established leadership theories on their head, The Power of the Herd will appeal both to those already touched by her previous writing and a new audience of people looking for innovative ways to cultivate visionary leadership.
Author Biography
Linda Kohanov founded Epona Equestrian Services to explore the healing potential of working with horses and offer programs on everything from stress reduction and parenting to consensus-building and mindfulness. She lives in Tucson, AZ.
Table of Contents
Contents

Introduction

Part I: A Brief History of Power

Chapter One: The Horse in My Cathedral

Chapter Two: Legacy of Power

Chapter Three: Hidden Wisdom

Chapter Four: Revolution and Evolution

Chapter Five: The Lion and the Horse

Chapter Six: The Melancholy Truths

Chapter Seven: Abel's Genius

Chapter Eight: Herd Power

Part II: The Necessity of Vision

Chapter Nine: The Invisible

Chapter Ten: Moon Dance

Chapter Eleven: Sticks and Stones

Chapter Twelve: The Challenge

Part III: Horse Sense at Work: The Twelve "Power of the Herd" Guiding Principles

Guiding Principle Overview

Chapter Thirteen: Guiding Principle 1: Use Emotions as Information

Chapter Fourteen: Guiding Principle 2: Listen to Your Horse

Chapter Fifteen: Guiding Principle 3: Manage Contagious Emotions

Chapter Sixteen: Guiding Principle 4: Master Boundaries and Assertiveness

Chapter Seventeen: Guiding Principle 5: Develop a High Tolerance for Vulnerability

Chapter Eighteen: Guiding Principle 6: Choose the Programs; Be the Programmer

Chapter Nineteen: Guiding Principle 7: Conserve Energy for True Emergencies

Chapter Twenty: Guiding Principle 8: Employ Nonpredatory Power Liberally and Predatory Power Sparingly

Chapter Twenty-One: Guiding Principle 9: Prepare for Difficult Conversations

Chapter Twenty-Two: Guiding Principle 10: Engage in Consensual Leadership

Chapter Twenty-Three: Guiding Principle 11: Cultivate Emotional Heroism

Chapter Twenty-Four: Guiding Principle 12: Enjoy the Ride

Appendix. How to Choose an Instructor
Acknowledgments
Endnotes
Index
About the Author