Note: Supplemental materials are not guaranteed with Rental or Used book purchases.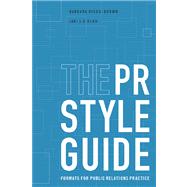 Questions About This Book?
What version or edition is this?
This is the 1st edition with a publication date of 7/23/2003.
What is included with this book?
The New copy of this book will include any supplemental materials advertised. Please check the title of the book to determine if it should include any CDs, lab manuals, study guides, etc.
Related Products
Summary
1. Introduction. 2. Annual Reports. 3. Audio News Release. 4. Brochures. 5. Communication Audits. 6. Direct Mail. 7. Media Kits. 8. Media Lists. 9. Media Tours. 10. Newsletters. 11. News Releases. 12. Opinion-Editorials (Op-Eds). 13. Public Service Announcements (PSAs). 14. Speeches. 15. Video News Releases (VNRs). 16. Web Pages. 17. Toolbox. A) Billing B) Email C) Employee Publications D) Media Clipping E) Memoranda F) Mission Statements G) News Conferences H) Pitch Letters I) Proposals J) Videoconferencing. Appendix A: Organization Profiles for Examples 1. Each One Teach One 2. Formative Enterprises, Inc. 3. City of Emerald Heights.
Table of Contents
Preface
xv
1
(9)
1
(1)
2
(1)
3
(1)
4
(1)
4
(1)
5
(3)
5
(1)
5
(3)
8
(1)
9
(1)
10
(11)
10
(1)
10
(1)
11
(1)
11
(1)
12
(1)
12
(3)
12
(1)
13
(2)
15
(1)
15
(2)
17
(4)
21
(16)
21
(1)
22
(1)
22
(1)
23
(1)
24
(1)
24
(6)
24
(1)
25
(5)
30
(1)
30
(1)
31
(6)
37
(8)
37
(1)
38
(1)
38
(3)
41
(1)
41
(1)
41
(2)
41
(1)
42
(1)
43
(1)
44
(1)
45
(13)
45
(1)
46
(1)
46
(1)
47
(1)
48
(1)
48
(2)
48
(1)
49
(1)
50
(1)
51
(1)
52
(6)
58
(34)
58
(1)
59
(1)
59
(1)
60
(1)
61
(1)
62
(6)
62
(1)
63
(1)
63
(5)
68
(1)
69
(2)
71
(21)
92
(8)
92
(1)
93
(1)
93
(1)
94
(1)
94
(1)
95
(2)
95
(1)
96
(1)
97
(1)
97
(2)
99
(1)
100
(6)
100
(1)
101
(1)
102
(1)
102
(1)
103
(2)
103
(2)
105
(1)
106
(18)
106
(2)
108
(1)
109
(1)
109
(1)

| | |
| --- | --- |
| | What Should They Look Like? |

109
(5)
109
(1)
110
(2)
112
(1)
113
(1)
114
(1)
115
(1)
116
(8)
124
(13)
124
(2)
126
(1)
126
(3)
129
(1)
129
(2)
131
(2)
131
(1)
132
(1)
133
(1)
133
(2)
135
(2)
137
(5)
137
(1)
138
(1)
138
(1)
139
(1)
140
(1)
140
(1)
140
(1)
141
(1)
141
(1)

| | |
| --- | --- |
| | Public Service Advertisements and Announcements |

142
(15)
142
(1)
143
(1)
143
(1)
144
(1)
144
(1)
144
(4)
144
(1)
145
(3)
148
(1)
149
(1)
150
(7)
157
(9)
157
(1)
157
(1)
158
(1)
158
(1)
158
(1)

| | |
| --- | --- |
| | Special-Occasion Speeches |

159
(1)
159
(1)
159
(1)
160
(2)
160
(1)
161
(1)
162
(1)
162
(2)
164
(2)

| | |
| --- | --- |
| | Video News Releases and Electronic Press Kits |

166
(18)
166
(1)
167
(1)
168
(1)
169
(1)
169
(1)
170
(3)
170
(1)
170
(3)
173
(1)
174
(1)
175
(9)
184
(13)
184
(1)
185
(1)
185
(1)
186
(1)
187
(1)
187
(3)
187
(2)
189
(1)
190
(1)
190
(2)
192
(5)

| | |
| --- | --- |
| | APPENDIX A Public Communications Toolbox |

197
(16)
197
(1)
198
(1)
199
(1)
200
(1)

| | |
| --- | --- |
| | Media Advisories/Media Alerts |

201
(1)
202
(1)
202
(1)
203
(1)
204
(2)
206
(1)
206
(2)
208O
(1)
209
(4)

| | |
| --- | --- |
| | APPENDIX B Organization Profiles |

213
(6)
213
(3)
216
(1)

| | |
| --- | --- |
| | Formative Enterprises, Inc. |

217
(2)
Glossary
219
(4)
Sources
223
(6)
Index
229