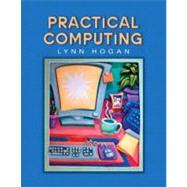 List Price: $70.80
In Stock Usually Ships in 24 Hours
Questions About This Book?
What version or edition is this?
This is the 1st edition with a publication date of 1/1/2005.
What is included with this book?
The Used copy of this book is not guaranteed to inclue any supplemental materials. Typically, only the book itself is included.
Summary
Appropriate for all beginning-level courses in personal computing. Practical Computing has been crafted to address the unique challenges novices face in mastering PCs. It combines user-friendly design, creative multimedia tools, and a focus on useful skills students can apply immediately, either at home or in the workplace. Lynn Hogan helps you ease students into computing, building their confidence as they learn about hardware, software, and the Internet. The book is organized to reflect the way new users typically explore their personal computers. Hogan first explains what computers do and how they function. She introduces the concept of software; then explains what Microsoft Windows does and how to work with it. Because many new users are frustrated by lost or missing files, Hogan carefully addresses managing files and folders. Next, students begin exploring the Internet and emailwith coverage of skills, concepts, and ethical issues. The book contains a full section on creating documents, spreadsheets, simple databases, graphics, and presentations with Microsoft Office. Throughout, Hogan draws upon her extensive experience teaching beginners, as well as the input of many other computer literacy instructors. Instructors have access to a comprehensive CD-ROM containing Instructors Manuals in Word and PDF formats; solutions to all questions and exercises; multiple, customizable PowerPoint slide presentations; Computer Concepts animations; TechTV videos, and all image files displayed in the text.
Table of Contents
| | |
| --- | --- |
| | Understanding Your Personal Computer |

1
(28)

| | |
| --- | --- |
| | Introducing the Personal Computers |

2
(3)

| | |
| --- | --- |
| | Powering On a Computer System |

5
(1)
6
(17)
6
(6)
12
(3)
15
(3)
18
(2)
20
(3)

| | |
| --- | --- |
| | Shutting Down Your System |

23
(1)

| | |
| --- | --- |
| | Setting Up a New Personal Computer |

23
(6)
29
(33)

| | |
| --- | --- |
| | Understanding System Software |

30
(12)
30
(3)
33
(4)
37
(1)
37
(2)
39
(1)
40
(1)
40
(1)
41
(1)

| | |
| --- | --- |
| | Understanding Application Software |

42
(20)
42
(1)
42
(1)
42
(1)
43
(1)
43
(1)
43
(3)
46
(1)
47
(1)
48
(1)
49
(2)

| | |
| --- | --- |
| | Major Categories of Application Software |

51
(11)
62
(36)

| | |
| --- | --- |
| | Understanding the Windows Concept |

63
(1)

| | |
| --- | --- |
| | Knowing Your Way around the Desktop |

64
(5)
65
(1)
65
(2)
67
(1)
68
(1)

| | |
| --- | --- |
| | The System Tray and Clock |

69
(1)

| | |
| --- | --- |
| | Working with Programs and Windows |

69
(5)
70
(1)
71
(2)
73
(1)

| | |
| --- | --- |
| | Understanding User Accounts |

74
(3)
74
(1)
75
(1)

| | |
| --- | --- |
| | Switching between Accounts |

76
(1)
77
(6)
77
(1)
78
(1)
79
(1)
79
(1)

| | |
| --- | --- |
| | Moving and Resizing a Window |

80
(1)

| | |
| --- | --- |
| | Working with More Than One Window at a Time |

81
(2)
83
(5)
83
(1)

| | |
| --- | --- |
| | Changing Display Settings |

84
(1)
84
(1)
85
(1)

| | |
| --- | --- |
| | Adjusting Screen Resolution |

86
(1)

| | |
| --- | --- |
| | Adjusting Mouse Double-Click Speed |

87
(1)
88
(1)
88
(4)

| | |
| --- | --- |
| | Working with a Computer That Fails to Respond |

92
(6)

| | |
| --- | --- |
| | Understanding Files, Folders, and Disk Maintenance |

98
(26)

| | |
| --- | --- |
| | Understanding File and Folder Concepts |

99
(3)
99
(1)
100
(2)
102
(5)

| | |
| --- | --- |
| | Viewing Contents of a Disk |

102
(1)
102
(4)
106
(1)
107
(8)
108
(2)
110
(1)
111
(1)
112
(2)

| | |
| --- | --- |
| | The Scheduled Task Wizard |

114
(1)

| | |
| --- | --- |
| | Backing Up (Copying Files) |

115
(9)

| | |
| --- | --- |
| | Copying Files to a CD-R or CD-RW |

116
(8)

| | |
| --- | --- |
| | Working with Files and Folders |

124
(23)

| | |
| --- | --- |
| | Introducing Windows Explorer |

125
(3)
128
(2)
130
(2)
132
(1)
133
(2)

| | |
| --- | --- |
| | Deleting Folders and Files |

135
(1)

| | |
| --- | --- |
| | Understanding the Recycle Bin |

136
(1)

| | |
| --- | --- |
| | Sending Files to the Recycle Bin |

136
(1)
136
(1)

| | |
| --- | --- |
| | Customizing the Recycle Bin |

137
(1)

| | |
| --- | --- |
| | Copying and Moving Files and Folders |

137
(1)

| | |
| --- | --- |
| | Selecting Multiple Files and Folders |

138
(2)

| | |
| --- | --- |
| | Finding Files and Folders |

140
(7)
147
(32)
148
(2)

| | |
| --- | --- |
| | Connecting to the Internet |

150
(7)
150
(1)
151
(1)
151
(1)
152
(1)

| | |
| --- | --- |
| | Integrated Services Digital Network (ISDN) |

152
(1)

| | |
| --- | --- |
| | Digital Subscriber Line (DSL) |

152
(1)
153
(1)
153
(2)

| | |
| --- | --- |
| | Internet Service Providers |

155
(1)
156
(1)

| | |
| --- | --- |
| | Creating an Account with an Online Service |

157
(1)

| | |
| --- | --- |
| | Understanding Web Addresses |

158
(3)
161
(1)
162
(2)
164
(3)
167
(5)

| | |
| --- | --- |
| | Search Engines and Directories |

167
(2)
169
(3)

| | |
| --- | --- |
| | Using Favorites (Bookmarks) and the History List |

172
(2)

| | |
| --- | --- |
| | Understanding Societal Implications |

174
(5)

| | |
| --- | --- |
| | Working with the Internet |

179
(23)
180
(3)

| | |
| --- | --- |
| | Collecting and Printing Items from the Internet |

183
(4)

| | |
| --- | --- |
| | Collecting Text from the Internet to Save |

184
(2)

| | |
| --- | --- |
| | Selectively Printing from the Internet |

186
(1)
186
(1)
187
(2)

| | |
| --- | --- |
| | Understanding Privacy and Security Concerns |

189
(13)
189
(1)
190
(1)
191
(1)
192
(1)
193
(1)

| | |
| --- | --- |
| | Understanding Adware and Spyware |

194
(2)
196
(1)
197
(5)
202
(27)
203
(2)
203
(2)
205
(1)

| | |
| --- | --- |
| | Creating an E-mail Account |

205
(3)

| | |
| --- | --- |
| | Introducing Outlook Express |

208
(1)

| | |
| --- | --- |
| | Selecting Outlook Express as Your E-mail Client |

209
(1)
209
(8)
217
(1)
218
(4)

| | |
| --- | --- |
| | Creating and Adding an Attachment to an E-mail Message |

218
(2)

| | |
| --- | --- |
| | Understanding File Compression Software |

220
(1)

| | |
| --- | --- |
| | Retrieving, Saving, and Opening Attachments |

220
(2)
222
(2)

| | |
| --- | --- |
| | Practicing E-mail Etiquette |

224
(5)

| | |
| --- | --- |
| | Creating Documents (Using Microsoft Word 2002) |

229
(27)

| | |
| --- | --- |
| | Introducing Word Processing |

230
(1)

| | |
| --- | --- |
| | Creating and Managing Documents |

230
(15)
232
(1)
232
(1)
232
(2)

| | |
| --- | --- |
| | Menu Bar, Toolbars, and the Ruler Bar |

234
(1)
235
(1)
235
(1)
235
(2)
237
(1)
237
(1)

| | |
| --- | --- |
| | Checking Spelling and Grammar |

237
(1)
238
(1)

| | |
| --- | --- |
| | Saving a Document in a Different File Format |

238
(1)
239
(1)

| | |
| --- | --- |
| | Opening and Editing an Existing Document |

240
(1)
240
(3)
243
(1)
243
(1)

| | |
| --- | --- |
| | Creating a Document Using a Template |

244
(1)

| | |
| --- | --- |
| | Formatting Text, Paragraphs, and Documents |

245
(11)
246
(1)

| | |
| --- | --- |
| | Changing the Appearance of Characters |

246
(1)
246
(3)
249
(7)

| | |
| --- | --- |
| | Creating Spreadsheets (Using Microsoft Excel 2002) |

256
(35)

| | |
| --- | --- |
| | Introducing Spreadsheet Software |

257
(3)
259
(1)

| | |
| --- | --- |
| | Creating and Managing Workbooks |

260
(8)
260
(2)

| | |
| --- | --- |
| | Navigating within a Worksheet |

262
(1)
262
(1)

| | |
| --- | --- |
| | Working with Multiple Worksheets |

263
(2)
265
(1)
265
(1)

| | |
| --- | --- |
| | Opening and Editing an Existing Workbook |

265
(1)

| | |
| --- | --- |
| | Changing Page Setup Options |

265
(3)
268
(1)

| | |
| --- | --- |
| | Selecting, Copying, and Moving Workbook Contents |

268
(6)

| | |
| --- | --- |
| | Selecting Ranges, Columns, and Rows |

269
(2)

| | |
| --- | --- |
| | Inserting and Deleting Columns and Rows |

271
(1)

| | |
| --- | --- |
| | Cutting, Copying, and Pasting Cell Contents |

272
(2)
274
(7)
275
(2)

| | |
| --- | --- |
| | Understanding the Order of Precedence |

277
(1)
277
(1)

| | |
| --- | --- |
| | Working with Absolute and Relative Cell References |

278
(3)
281
(10)

| | |
| --- | --- |
| | Using Spelling Check and AutoCorrect |

281
(1)
282
(1)
282
(1)
283
(8)
Appendix: Checklist for Purchasing a Home Computer
291
(1)
Interpreting Computer Advertisements
291
(2)
Recommended Minimum Specifications
293
(2)
Online or In-Store Purchase
295
(2)
Glossary
297
(8)
Credits
305
(1)
Index
306