Note: Supplemental materials are not guaranteed with Rental or Used book purchases.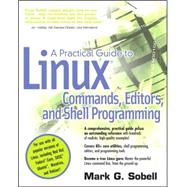 Practical Guide to Linux Commands, Editors, and Shell Programming, A
ISBN13:
9780131478237
by
Sobell, Mark G.
Questions About This Book?
What version or edition is this?
This is the 1st edition with a publication date of 1/1/2006.
What is included with this book?
The eBook copy of this book is not guaranteed to include any supplemental materials. Typically only the book itself is included.
Related Products
Summary
Praise for Mark Sobell's Books "I keep searching for books that collect everything you want to know about a subject in one place, and keep getting disappointed. Usually the books leave out some important topic, while others go too deep in some areas and must skim lightly over the others. A Practical Guide to Red Hatreg; Linuxreg; is one of those rare books that actually pulls it off. Mark G. Sobell has created a single reference for Red Hat Linux that cannot be beat! This marvelous text (with a 4-CD set of Linux Fedora Core 2 included) is well worth the price. This is as close to an 'everything you ever needed to know' book that I've seen. It's just that good and rates 5 out of 5." -Ray Lodato, Slashdot contributor "Mark Sobell has written a book as approachable as it is authoritative." -Jeffrey Bianchine, Advocate, Author, Journalist "Excellent reference book, well suited for the sysadmin of a linux cluster, or the owner of a PC contemplating installing a recent stable linux. Don't be put off by the daunting heft of the book. Sobell has striven to be as inclusive as possible, in trying to anticipate your system administration needs." -Wes Boudville, Inventor "A Practical Guide to Red Hatreg; Linuxreg; is a brilliant book. Thank you Mark Sobell." -C. Pozrikidis, University of California at San Diego "This book presents the best overview of the Linux operating system that I have found. . . . It should be very helpful and understandable no matter what the reader's background is: traditional UNIX user, new Linux devotee, or even Windows user. Each topic is presented in a clear, complete fashion and very few assumptions are made about what the reader knows. . . . The book is extremely useful as a reference, as it contains a 70-page glossary of terms and is very well indexed. It is organized in such a way that the reader can focus on simple tasks without having to wade through more advanced topics until they are ready." -Cam Marshall, Marshall Information Service LLC, Member of Front Range UNIX Users Group FRUUG, Boulder, Colorado "Conclusively, this is THE book to get if you are a new Linux user and you just got into RH/Fedora world. There's no other book that discusses so many different topics and in such depth." -Eugenia Loli-Queru, Editor in Chief, OSNews.com The Most Useful Linux Tutorial and Reference Ever, with Hundreds of High-Quality Examples Covering Every Linux Distribution!To be truly productive with Linux, you need to thoroughly master the shells and the command line. Until now, you had to buy two books to gain that mastery: a tutorial on fundamental Linux concepts and techniques, plus a separate reference. Worse, most Linux references offer little more than prettied-up man pages. Now, there's a far better solution. Renowned Linux expert Mark Sobell has brought together comprehensive, insightful guidance on the tools system administrators, developers, and power users need most, and an outstanding day-to-day reference, both in the same book. This book is 100 percent distribution and release agnostic: You can use it on any Linux system, now and for years to come. What's more, it's packed with hundreds of high-quality examples: better examples than you'll find in any other Linux guidebook. This is Linux from the ground up: the clearest explanations and most useful knowledge about everything from filesystems to shells, editors to utilities, and programming tools to regula
Table of Contents
Preface
xxvii
1
(18)

| | |
| --- | --- |
| | The GNU--Linux Connection |

2
(3)

| | |
| --- | --- |
| | The History of GNU--Linux |

2
(2)
4
(1)
5
(1)

| | |
| --- | --- |
| | The Heritage of Linux: UNIX |

5
(1)

| | |
| --- | --- |
| | What Is So Good About Linux? |

6
(4)

| | |
| --- | --- |
| | Why Linux Is Popular with Hardware Companies and Developers |

7
(1)
8
(1)
8
(1)

| | |
| --- | --- |
| | The C Programming Language |

9
(1)
10
(5)

| | |
| --- | --- |
| | Linux Has a Kernel Programming Interface |

10
(1)

| | |
| --- | --- |
| | Linux Can Support Many Users |

10
(1)
11
(1)

| | |
| --- | --- |
| | Linux Provides a Secure Hierarchical Filesystem |

11
(1)

| | |
| --- | --- |
| | The Shell: Command Interpreter and Programming Language |

12
(2)

| | |
| --- | --- |
| | A Large Collection of Useful Utilities |

14
(1)

| | |
| --- | --- |
| | Interprocess Communication |

14
(1)
14
(1)

| | |
| --- | --- |
| | Additional Features of Linux |

15
(1)

| | |
| --- | --- |
| | GUIs: Graphical User Interfaces |

15
(1)

| | |
| --- | --- |
| | (Inter)networking Utilities |

16
(1)
16
(1)
16
(1)
17
(2)

| | |
| --- | --- |
| | PART I The Linux Operating System |

19
(118)
21
(20)

| | |
| --- | --- |
| | Conventions Used in This Book |

22
(2)
24
(1)

| | |
| --- | --- |
| | Logging In from a Terminal |

24
(1)

| | |
| --- | --- |
| | Logging In Remotely: Terminal Emulation, ssh, and telnet |

25
(1)
25
(3)

| | |
| --- | --- |
| | Which Shell Are You Running? |

26
(1)
26
(2)

| | |
| --- | --- |
| | Curbing Your Power: Superuser Access |

28
(1)

| | |
| --- | --- |
| | Getting the Facts: Where to Find Documentation |

29
(6)
29
(1)

| | |
| --- | --- |
| | man: Displays the System Manual |

30
(2)

| | |
| --- | --- |
| | info: Displays Information About Utilities |

32
(2)

| | |
| --- | --- |
| | HOWTOs: Finding Out How Things Work |

34
(1)

| | |
| --- | --- |
| | Using the Internet to Get Help |

34
(1)
35
(3)

| | |
| --- | --- |
| | What to Do If You Cannot Log In |

36
(1)
36
(1)
36
(1)
37
(1)
38
(1)
39
(1)
39
(2)
41
(34)
42
(1)
43
(2)

| | |
| --- | --- |
| | Is: Lists the Names of Files |

43
(1)

| | |
| --- | --- |
| | cat: Displays a Text File |

44
(1)
44
(1)

| | |
| --- | --- |
| | less Is more: Displaying a Text File One Screen at a Time |

45
(1)

| | |
| --- | --- |
| | hostname: Displays the System Name |

45
(1)
45
(7)
45
(1)

| | |
| --- | --- |
| | mv: Changes the Name of a File |

46
(1)
47
(1)
48
(1)

| | |
| --- | --- |
| | head: Displays the Beginning of a File |

49
(1)

| | |
| --- | --- |
| | tail: Displays the End of a File |

49
(1)

| | |
| --- | --- |
| | sort: Displays a File in Order |

50
(1)

| | |
| --- | --- |
| | uniq: Removes Duplicate Lines from a File |

51
(1)
51
(1)

| | |
| --- | --- |
| | file: Tests the Contents of a File |

52
(1)

| | |
| --- | --- |
| | (Pipe): Communicates Between Processes |

52
(1)
53
(3)
53
(1)

| | |
| --- | --- |
| | date: Displays the Time and Date |

54
(1)

| | |
| --- | --- |
| | script: Records a Linux Session |

54
(1)

| | |
| --- | --- |
| | unix2dos: Converts Linux Files to Windows Format |

55
(1)

| | |
| --- | --- |
| | Compressing and Archiving Files |

56
(5)
56
(1)

| | |
| --- | --- |
| | bunzip2 and bzcat: Decompress a File |

57
(1)
58
(1)

| | |
| --- | --- |
| | tar: Packs and Unpacks Files |

58
(3)
61
(2)

| | |
| --- | --- |
| | which and whereis: Locate a Utility |

61
(1)

| | |
| --- | --- |
| | apropos: Searches for a Keyword |

62
(1)

| | |
| --- | --- |
| | slocate: Searches for a File |

63
(1)

| | |
| --- | --- |
| | Obtaining User and System Information |

63
(4)

| | |
| --- | --- |
| | who: Lists Users on the System |

64
(1)

| | |
| --- | --- |
| | finger: Lists Users on the System |

64
(2)

| | |
| --- | --- |
| | w: Lists Users on the System |

66
(1)

| | |
| --- | --- |
| | Communicating with Other Users |

67
(2)
67
(1)

| | |
| --- | --- |
| | mesg: Denies or Accepts Messages |

68
(1)
69
(1)
69
(3)
72
(1)
73
(2)
75
(32)

| | |
| --- | --- |
| | The Hierarchical Filesystem |

76
(1)

| | |
| --- | --- |
| | Directory and Ordinary Files |

77
(11)
78
(2)

| | |
| --- | --- |
| | mkdir: Creates a Directory |

80
(1)
81
(1)
82
(1)
83
(1)
84
(2)

| | |
| --- | --- |
| | Important Standard Directories and Files |

86
(2)
88
(3)

| | |
| --- | --- |
| | rmdir: Deletes a Directory |

88
(1)
89
(1)

| | |
| --- | --- |
| | mv, cp: Moves or Copies a File |

90
(1)
90
(1)
91
(5)

| | |
| --- | --- |
| | Is --1: Displays Permissions |

91
(1)

| | |
| --- | --- |
| | chmod: Changes Access Permissions |

92
(2)

| | |
| --- | --- |
| | Setuid and Setgid Permissions |

94
(1)

| | |
| --- | --- |
| | Directory Access Permissions |

94
(2)
96
(6)
97
(2)
99
(2)
101
(1)
102
(1)
103
(2)
105
(2)
107
(30)
108
(5)
108
(3)

| | |
| --- | --- |
| | Processing the Command Line |

111
(2)

| | |
| --- | --- |
| | Executing the Command Line |

113
(1)

| | |
| --- | --- |
| | Standard Input and Standard Output |

113
(12)
114
(1)

| | |
| --- | --- |
| | The Keyboard and Screen as Standard Input and Standard Output |

115
(1)
116
(6)
122
(3)

| | |
| --- | --- |
| | Running a Program in the Background |

125
(2)

| | |
| --- | --- |
| | Filename Generation/Pathname Expansion |

127
(5)
128
(1)
129
(1)

| | |
| --- | --- |
| | The [ ] Special Characters |

130
(2)
132
(1)
133
(1)

| | |
| --- | --- |
| | Utilities and Builtins Introduced in This Chapter |

134
(1)
134
(2)
136
(1)
137
(116)
139
(56)
140
(1)

| | |
| --- | --- |
| | Tutorial: Creating and Editing a File with vim |

141
(7)
141
(1)
142
(2)
144
(1)
144
(3)

| | |
| --- | --- |
| | Ending the Editing Session |

147
(1)
148
(1)

| | |
| --- | --- |
| | Introduction to vim Features |

148
(6)
149
(1)
149
(1)
150
(1)

| | |
| --- | --- |
| | Correcting Text as You Insert It |

151
(1)
151
(1)

| | |
| --- | --- |
| | Line Length and File Size |

151
(1)
151
(1)
152
(1)

| | |
| --- | --- |
| | Abnormal Termination of an Editing Session |

152
(1)

| | |
| --- | --- |
| | Recovering Text After a Crash |

153
(1)

| | |
| --- | --- |
| | Command Mode: Moving the Cursor |

154
(4)

| | |
| --- | --- |
| | Moving the Cursor by Characters |

155
(1)

| | |
| --- | --- |
| | Moving the Cursor to a Specific Character |

155
(1)

| | |
| --- | --- |
| | Moving the Cursor by Words |

156
(1)

| | |
| --- | --- |
| | Moving the Cursor by Lines |

156
(1)

| | |
| --- | --- |
| | Moving the Cursor by Sentences and Paragraphs |

157
(1)

| | |
| --- | --- |
| | Moving the Cursor Within the Screen |

157
(1)

| | |
| --- | --- |
| | Viewing Different Parts of the Work Buffer |

158
(1)
158
(2)
158
(1)
159
(1)
159
(1)
159
(1)

| | |
| --- | --- |
| | Quoting Special Characters in Input Mode |

159
(1)

| | |
| --- | --- |
| | Command Mode: Deleting and Changing Text |

160
(4)
160
(1)
160
(1)
160
(2)
162
(1)
163
(1)
163
(1)

| | |
| --- | --- |
| | Searching and Substituting |

164
(6)

| | |
| --- | --- |
| | Searching for a Character |

164
(1)
164
(2)

| | |
| --- | --- |
| | Substituting One String for Another |

166
(4)
170
(1)
170
(1)
171
(1)
171
(1)

| | |
| --- | --- |
| | Yank, Put, and Delete Commands |

171
(3)

| | |
| --- | --- |
| | The General-Purpose Buffer |

171
(1)
172
(1)
173
(1)

| | |
| --- | --- |
| | Reading and Writing Files |

174
(1)
174
(1)
174
(1)

| | |
| --- | --- |
| | Identifying the Current File |

175
(1)
175
(5)

| | |
| --- | --- |
| | Setting Parameters from Within vim |

175
(1)

| | |
| --- | --- |
| | Setting Parameters in a Startup File |

176
(1)
176
(1)
177
(3)

| | |
| --- | --- |
| | Advanced Editing Techniques |

180
(4)
180
(1)
181
(1)
182
(1)

| | |
| --- | --- |
| | Executing Shell Commands from Within vim |

182
(2)
184
(4)
184
(1)
185
(1)
185
(1)
185
(1)
186
(1)
186
(1)
187
(1)
187
(1)
188
(5)
193
(1)
194
(1)
195
(58)
196
(2)
196
(1)
197
(1)

| | |
| --- | --- |
| | Tutorial: Getting Started with emacs |

198
(6)
198
(1)
199
(1)
199
(1)
199
(1)
200
(2)

| | |
| --- | --- |
| | Editing at the Cursor Position |

202
(1)

| | |
| --- | --- |
| | Saving and Retrieving the Buffer |

203
(1)
204
(5)
204
(1)

| | |
| --- | --- |
| | Key Sequences and Commands |

205
(1)

| | |
| --- | --- |
| | META-x: Running a Command Without a Key Binding |

205
(1)
205
(1)
206
(1)

| | |
| --- | --- |
| | Scrolling Through a Buffer |

206
(1)
207
(1)
207
(2)
209
(3)
212
(13)
212
(1)
213
(2)

| | |
| --- | --- |
| | Cut and Paste: Yanking Killed Text |

215
(1)

| | |
| --- | --- |
| | Inserting Special Characters |

216
(1)
217
(2)
219
(1)
220
(2)
222
(2)

| | |
| --- | --- |
| | Foreground Shell Commands |

224
(1)

| | |
| --- | --- |
| | Background Shell Commands |

224
(1)

| | |
| --- | --- |
| | Language-Sensitive Editing |

225
(10)
226
(1)
226
(3)
229
(3)
232
(1)
233
(1)
233
(2)
235
(5)
236
(1)
237
(2)
239
(1)
240
(1)
240
(1)
241
(7)
248
(2)
250
(3)
253
(132)
255
(84)
256
(1)
257
(20)
257
(3)

| | |
| --- | --- |
| | Commands That Are Symbols |

260
(1)

| | |
| --- | --- |
| | Redirecting Standard Error |

260
(3)

| | |
| --- | --- |
| | Writing a Simple Shell Script |

263
(4)

| | |
| --- | --- |
| | Separating and Grouping Commands |

267
(4)
271
(3)

| | |
| --- | --- |
| | Manipulating the Directory Stack |

274
(3)
277
(15)
278
(3)
281
(2)
283
(8)
291
(1)
292
(3)
293
(1)
293
(1)
294
(1)
295
(17)

| | |
| --- | --- |
| | Variables That Control History |

295
(2)

| | |
| --- | --- |
| | Reexecuting and Editing Commands |

297
(8)
305
(7)
312
(3)

| | |
| --- | --- |
| | Single Versus Double Quotation Marks in Aliases |

312
(1)
313
(2)
315
(3)

| | |
| --- | --- |
| | Controlling bash Features and Options |

318
(4)
318
(1)
319
(3)

| | |
| --- | --- |
| | Processing the Command Line |

322
(10)
323
(1)
323
(1)

| | |
| --- | --- |
| | Parsing and Scanning the Command Line |

323
(1)
323
(9)
332
(2)
334
(2)
336
(3)
339
(46)
340
(1)

| | |
| --- | --- |
| | Entering and Leaving the TC Shell |

341
(2)
342
(1)

| | |
| --- | --- |
| | Features Common to the Bourne Again and TC Shells |

343
(6)

| | |
| --- | --- |
| | Command Line Expansion (Substitution) |

344
(4)
348
(1)
348
(1)

| | |
| --- | --- |
| | Manipulating the Directory Stack |

349
(1)
349
(1)

| | |
| --- | --- |
| | Redirecting Standard Error |

349
(1)

| | |
| --- | --- |
| | Working with the Command Line |

350
(5)
350
(3)
353
(1)
354
(1)
355
(13)
356
(1)
356
(1)

| | |
| --- | --- |
| | Arrays of String Variables |

357
(1)
358
(2)
360
(1)
361
(1)
361
(7)
368
(9)
368
(3)
371
(1)
371
(1)
372
(1)
373
(2)
375
(1)
376
(1)
376
(1)
377
(4)
381
(1)
382
(2)
384
(1)

| | |
| --- | --- |
| | PART IV Programming Tools |

385
(196)
387
(48)
388
(8)
388
(1)
389
(4)

| | |
| --- | --- |
| | Compiling and Linking a C Program |

393
(3)
396
(3)
397
(1)

| | |
| --- | --- |
| | Creating Shared Libraries |

398
(1)

| | |
| --- | --- |
| | make: Keeps a Set of Programs Current |

399
(8)
401
(3)
404
(3)
407
(10)

| | |
| --- | --- |
| | gcc: Compiler Warning Options |

408
(3)
411
(6)
417
(1)
417
(3)

| | |
| --- | --- |
| | strace: Traces System Calls |

418
(1)
418
(1)
419
(1)
420
(10)

| | |
| --- | --- |
| | CVS: Concurrent Versions System |

420
(10)
430
(1)
431
(1)
432
(3)

| | |
| --- | --- |
| | Programming the Bourne Again Shell |

435
(92)
436
(34)
437
(3)
440
(2)
442
(7)
449
(2)
451
(2)
453
(3)
456
(3)
459
(1)
459
(7)
466
(2)
468
(2)
470
(4)
474
(13)
474
(1)
475
(3)
478
(2)
480
(5)

| | |
| --- | --- |
| | Expanding Null and Unset Variables |

485
(2)
487
(14)

| | |
| --- | --- |
| | type: Displays Information About a Command |

487
(1)
487
(4)
491
(2)
493
(4)
497
(1)
497
(3)

| | |
| --- | --- |
| | A Partial List of Builtins |

500
(1)
501
(9)
501
(2)

| | |
| --- | --- |
| | Logical Evaluation (Conditional Expressions) |

503
(1)
504
(1)
505
(5)
510
(10)
510
(3)
513
(7)
520
(2)
522
(2)
524
(3)

| | |
| --- | --- |
| | The gawk Pattern Processing Language |

527
(36)
528
(1)
528
(1)
529
(1)
529
(1)
530
(7)
530
(1)
531
(1)
531
(1)
531
(1)
532
(1)
533
(1)
534
(1)
534
(1)
535
(2)
537
(17)

| | |
| --- | --- |
| | Advanced gawk Programming |

554
(5)

| | |
| --- | --- |
| | getline: Controlling Input |

554
(3)
557
(1)

| | |
| --- | --- |
| | Getting Input from a Network |

558
(1)
559
(1)
560
(1)
561
(1)
561
(2)
563
(18)
564
(1)
564
(1)
564
(1)
565
(3)
565
(1)
566
(1)
567
(1)

| | |
| --- | --- |
| | The Pattern Space and the Hold Space |

568
(1)
568
(10)
578
(1)
579
(2)
581
(244)

| | |
| --- | --- |
| | Standard Multiplicative Suffixes |

586
(1)
587
(1)
587
(238)

| | |
| --- | --- |
| | sample Very brief description of what the utility does |

588
(1)

| | |
| --- | --- |
| | aspell Checks a file for spelling errors |

589
(4)

| | |
| --- | --- |
| | at Executes commands at a specified time |

593
(3)

| | |
| --- | --- |
| | bzip2 Compresses or decompresses files |

596
(2)
598
(1)

| | |
| --- | --- |
| | cat Joins and displays files |

599
(2)

| | |
| --- | --- |
| | cd Changes to another working directory |

601
(2)

| | |
| --- | --- |
| | chgrp Changes the group associated with a file |

603
(1)

| | |
| --- | --- |
| | chmod Changes the access mode (permissions) of a file |

604
(4)

| | |
| --- | --- |
| | chown Changes the owner of a file and/or the group the file is associated with |

608
(2)
610
(2)

| | |
| --- | --- |
| | comm Compares sorted files |

612
(2)

| | |
| --- | --- |
| | configure Configures source code automatically |

614
(2)
616
(3)

| | |
| --- | --- |
| | cpio Creates an archive or restores files from an archive |

619
(5)

| | |
| --- | --- |
| | crontab Maintains crontab files |

624
(3)

| | |
| --- | --- |
| | cut Selects characters or fields from input lines |

627
(3)

| | |
| --- | --- |
| | date Displays or sets the system time and date |

630
(3)

| | |
| --- | --- |
| | dd Converts and copies a file |

633
(3)

| | |
| --- | --- |
| | df Displays disk space usage |

636
(2)

| | |
| --- | --- |
| | diff Displays the differences between two files |

638
(6)

| | |
| --- | --- |
| | du Displays information on disk usage by file |

644
(3)
647
(2)

| | |
| --- | --- |
| | expr Evaluates an expression |

649
(4)

| | |
| --- | --- |
| | file Displays the classification of a file |

653
(2)

| | |
| --- | --- |
| | find Finds files based on criteria |

655
(6)

| | |
| --- | --- |
| | finger Displays information about users |

661
(3)

| | |
| --- | --- |
| | fmt Formats text very simply |

664
(2)

| | |
| --- | --- |
| | fsck Checks and repairs a filesystem |

666
(5)

| | |
| --- | --- |
| | ftp Transfers files over a network |

671
(7)

| | |
| --- | --- |
| | gcc Compiles C and C++ programs |

678
(5)

| | |
| --- | --- |
| | grep Searches for a pattern in files |

683
(5)

| | |
| --- | --- |
| | gzip Compresses or decompresses files |

688
(3)

| | |
| --- | --- |
| | head Displays the beginning of a file |

691
(2)

| | |
| --- | --- |
| | kill Terminates a process by PID |

693
(2)

| | |
| --- | --- |
| | killall Terminates a process by name |

695
(2)

| | |
| --- | --- |
| | less Displays text files, one screen at a time |

697
(5)

| | |
| --- | --- |
| | In Makes a link to a file |

702
(3)

| | |
| --- | --- |
| | lpr Sends files to printers |

705
(3)

| | |
| --- | --- |
| | Is Displays information about one or more files |

708
(7)

| | |
| --- | --- |
| | make Keeps a set of programs current |

715
(6)

| | |
| --- | --- |
| | man Displays documentation for commands |

721
(3)

| | |
| --- | --- |
| | mkdir Creates a directory |

724
(1)

| | |
| --- | --- |
| | mkfs Creates a filesystem on a device |

725
(3)

| | |
| --- | --- |
| | Mtools Uses DOS-style commands on files and directories |

728
(4)

| | |
| --- | --- |
| | mv Renames or moves a file |

732
(2)

| | |
| --- | --- |
| | nice Changes the priority of a command |

734
(2)

| | |
| --- | --- |
| | nohup Runs a command that keeps running after you log out |

736
(1)

| | |
| --- | --- |
| | od Dumps the contents of a file |

737
(5)

| | |
| --- | --- |
| | paste Joins corresponding lines from files |

742
(2)

| | |
| --- | --- |
| | pr Paginates files for printing |

744
(2)

| | |
| --- | --- |
| | ps Displays process status |

746
(4)

| | |
| --- | --- |
| | rcp Copies one or more files to or from a remote system |

750
(2)

| | |
| --- | --- |
| | rlogin Logs in on a remote system |

752
(1)

| | |
| --- | --- |
| | rm Removes a file (deletes a link) |

753
(2)

| | |
| --- | --- |
| | rmdir Removes a directory |

755
(1)

| | |
| --- | --- |
| | rsh Executes commands on a remote system |

756
(2)

| | |
| --- | --- |
| | scp Securely copies one or more files to or from a remote system |

758
(2)

| | |
| --- | --- |
| | sleep Creates a process that sleeps for a specified interval |

760
(2)

| | |
| --- | --- |
| | sort Sorts and/or merges files |

762
(9)

| | |
| --- | --- |
| | split Divides a file in into sections |

771
(2)

| | |
| --- | --- |
| | ssh Securely executes commands on a remote system |

773
(4)

| | |
| --- | --- |
| | strings Displays strings of printable characters |

777
(1)

| | |
| --- | --- |
| | stty Displays or sets terminal parameters |

778
(5)

| | |
| --- | --- |
| | tail Displays the last part (tail) of a file |

783
(3)

| | |
| --- | --- |
| | tar Stores or retrieves files to/from an archive file |

786
(5)

| | |
| --- | --- |
| | tee Copies standard input to standard output and one or more files |

791
(1)

| | |
| --- | --- |
| | telnet Connects to a remote system over a network |

792
(2)

| | |
| --- | --- |
| | test Evaluates an expression |

794
(4)

| | |
| --- | --- |
| | top Dynamically displays process status |

798
(3)

| | |
| --- | --- |
| | touch Changes a file's access and/or modification time |

801
(3)

| | |
| --- | --- |
| | tr Replaces specified characters |

804
(3)

| | |
| --- | --- |
| | tty Displays the terminal pathname |

807
(1)

| | |
| --- | --- |
| | tune2fs Changes parameters on an ext2 or ext3 filesystem |

808
(2)

| | |
| --- | --- |
| | umask Establishes the file-creation permissions mask |

810
(2)

| | |
| --- | --- |
| | uniq Displays unique lines |

812
(2)

| | |
| --- | --- |
| | w Displays information about system users |

814
(2)

| | |
| --- | --- |
| | wc Displays the number of lines, words, and bytes |

816
(1)

| | |
| --- | --- |
| | which Shows where in PATH a command is located |

817
(2)

| | |
| --- | --- |
| | who Displays information about logged-in users |

819
(2)

| | |
| --- | --- |
| | xargs Converts standard input into command lines |

821
(4)
825
(34)

| | |
| --- | --- |
| | Appendix A: Regular Expressions |

827
(10)
828
(1)
828
(1)
828
(1)
828
(1)
829
(1)
829
(1)
830
(1)
830
(1)

| | |
| --- | --- |
| | Quoting Special Characters |

831
(1)
831
(1)
831
(1)

| | |
| --- | --- |
| | Empty Regular Expressions |

832
(1)
832
(1)
833
(1)
833
(1)
833
(1)

| | |
| --- | --- |
| | Extended Regular Expressions |

834
(1)
835
(2)
837
(10)
838
(1)

| | |
| --- | --- |
| | Finding Linux-Related Information |

839
(1)
839
(1)
840
(1)
841
(1)
841
(1)
841
(1)
842
(2)

| | |
| --- | --- |
| | Office Suites and Word Processors |

844
(1)
844
(3)

| | |
| --- | --- |
| | Appendix C: Keeping the System Up-to-Date |

847
(12)

| | |
| --- | --- |
| | yum: Updates and Installs Packages |

848
(1)
848
(1)
849
(1)

| | |
| --- | --- |
| | Apt: An Alternative to yum |

850
(1)
851
(4)
855
(1)
856
(1)
856
(1)
857
(2)
Glossary
859
(54)
Index
913
Excerpts
A Practical Guide to Linux Commands, Editors, and Shell Programmingexplains how to work with the Linux operating system from the command line. The first few chapters quickly bring readers with little computer experience up to speed. The rest of the book is appropriate for more experienced computer users. This book does not describe a particular release or distribution of Linux but rather pertains to all recent versions of Linux. Command line interface (CLI).In the beginning there was the command line (textual) interface (CLI), which enabled you to give Linux commands from the command line. There was no mouse or icons to drag and drop. Some programs, such as emacs , implemented rudimentary windows using the very minimal graphics available in the ASCII character set. Reverse video helped separate areas of the screen. Linux was born and raised in this environment. Naturally all of the original Linux tools were invoked from the command line. The real power of Linux still lies in this environment, which explains why many Linux professionals work exclusivelyfrom the command line. Using clear descriptions and lots of examples, this book shows you how to get the most out of your Linux system using the command line interface. Linux distributions.A Linux distribution comprises the Linux kernel, utilities, and application programs. Many distributions are available, including Debian, Red Hat, Fedora Core, SUSE, Mandriva (formerly Mandrake), KNOPPIX, and Slackware. Although the distributions differ from one another in various ways, all of them rely on the Linux kernel, utilities, and applications. This book is based on the code that is common to most distributions. As a consequence you can use it regardless of which distribution you are running. Overlap.If you read A Practical Guide to Red Hat Linux : Fedora Core and Red Hat Enterprise Linux, Second Edition,or a subsequent edition, you will notice some overlap between that book and the one you are reading now. The introduction, the appendix on regular expressions, and the chapters on the utilities (Chapter 3 of this book--notPart V), the filesystem, and programming tools are very similar in the two books. The three chapters that cover the Bourne Again Shell ( bash ) have been expanded and rewritten for this text. Chapters that appear in this book and but not in A Practical Guide to Red Hat Linux, Second Edition,include those covering the vim and emacs editors, the TC Shell ( tcsh ), the gawk and sed languages, and Part V, which describes 80 of the most useful Linux utility programs in detail. Audience.This book is designed for a wide range of readers. It does not require programming experience, although some experience using a general-purpose computer is helpful. It is appropriate for the following readers: Studentstaking a class in which they use Linux Power userswho want to explore the power of Linux from command line Professionalswho use Linux at work System administratorswho need a deeper understanding of Linux and the tools that are available to them Computer science studentswho are studying the Linux operating system Programmerswho need to understand the Linux programming environment Technical executiveswho want to get a grounding in Linux Benefits.A Practical Guide to Linux Commands, Editors, and Shell