Note: Supplemental materials are not guaranteed with Rental or Used book purchases.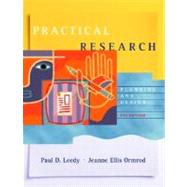 Questions About This Book?
What version or edition is this?
This is the 8th edition with a publication date of 1/1/2005.
What is included with this book?
The Used copy of this book is not guaranteed to include any supplemental materials. Typically, only the book itself is included.
Summary
Written in uncommonly engaging, lucid, and elegant prose, this book is an "understand-it-yourself, do-it-yourself" manual designed to help readers understand the fundamental structure of quality research and the methodical process that leads to genuinely significant results. It guides the reader, step-by-step, from the selection of a problem to study, through the process of conducting authentic research, to the preparation of a completed report, with practical suggestions based on a solid theoretical framework and sound pedagogy. This book will show readers two things: 1) that quality research demands planning and design; and, 2) how their own research projects can be executed effectively and professionally.For researchers and research analysts in any discipline.
Table of Contents
Introduction
xxi
1
(11)
1
(1)
2
(5)

| | |
| --- | --- |
| | Discovering the Discipline of Research |

7
(2)

| | |
| --- | --- |
| | Browsing the Periodicals Section of the Library |

8
(1)

| | |
| --- | --- |
| | Finding Journals on the Internet |

8
(1)

| | |
| --- | --- |
| | Practical Application: Evaluating the Research of Others |

9
(2)

| | |
| --- | --- |
| | Checklist: Reflective Questions to Consider When Evaluating Research |

9
(1)

| | |
| --- | --- |
| | Guidelines: Benefiting from Others' Research |

10
(1)
11
(1)
12
(31)

| | |
| --- | --- |
| | General Tools of Research |

12
(1)

| | |
| --- | --- |
| | The Library and Its Resources as a Tool of Research |

13
(4)

| | |
| --- | --- |
| | The Library of the Quiet Past |

13
(1)

| | |
| --- | --- |
| | The Library of the Stormy Present |

14
(1)

| | |
| --- | --- |
| | How to Access Information Quickly and Efficiently |

14
(3)

| | |
| --- | --- |
| | The Computer and Its Software as a Tool of Research |

17
(3)

| | |
| --- | --- |
| | Taking Advantage of the Internet |

17
(2)
19
(1)

| | |
| --- | --- |
| | Learning More About the Internet |

19
(1)

| | |
| --- | --- |
| | Practical Application: Using the Internet to Facilitate Communication |

20
(1)

| | |
| --- | --- |
| | Practical Application: Using E-mail |

20
(1)

| | |
| --- | --- |
| | Guidelines: Getting Started on E-mail |

21
(1)

| | |
| --- | --- |
| | Measurement as a Tool of Research |

21
(8)

| | |
| --- | --- |
| | Measuring Insubstantial Phenomena: An Example |

22
(2)

| | |
| --- | --- |
| | Interpretation of the Data |

24
(1)

| | |
| --- | --- |
| | Four Scales of Measurement |

25
(2)

| | |
| --- | --- |
| | Validity and Reliability of Measurement |

27
(2)

| | |
| --- | --- |
| | Statistics as a Tool of Research |

29
(2)
30
(1)

| | |
| --- | --- |
| | Primary Functions of Statistics |

30
(1)

| | |
| --- | --- |
| | The Human Mind as a Tool of Research |

31
(3)
31
(1)
32
(1)
33
(1)
33
(1)

| | |
| --- | --- |
| | Collaboration with Others |

34
(1)

| | |
| --- | --- |
| | Language as a Tool of Research |

34
(2)

| | |
| --- | --- |
| | The Value of Knowing Two or More Languages |

35
(1)

| | |
| --- | --- |
| | The Importance of Writing |

36
(1)

| | |
| --- | --- |
| | Practical Application: Communicating Effectively Through Writing |

36
(4)

| | |
| --- | --- |
| | Guidelines: Writing to Communicate |

36
(2)

| | |
| --- | --- |
| | Using Technology Guidelines: Using a Word Processor |

38
(2)

| | |
| --- | --- |
| | Practical Application: Identifying Important Tools in Your Discipline |

40
(1)

| | |
| --- | --- |
| | Checklist: Interviewing an Expert Researcher |

40
(1)

| | |
| --- | --- |
| | Reflections on Significant Research |

41
(1)
41
(2)

| | |
| --- | --- |
| | Part II Focusing Your Research Efforts |

| | |
| --- | --- |
| | The Problem: The Heart of the Research Process |

43
(21)

| | |
| --- | --- |
| | Finding Research Projects |

43
(2)

| | |
| --- | --- |
| | Practical Application: Identifying and Describing the Research Problem |

45
(6)

| | |
| --- | --- |
| | Guidelines: Finding a Legitimate Problem |

45
(2)

| | |
| --- | --- |
| | Guidelines: Stating the Research Problem |

47
(3)

| | |
| --- | --- |
| | Checklist: Evaluating the Research Problem |

50
(1)

| | |
| --- | --- |
| | Dividing the Research Problem into Subproblems |

51
(3)

| | |
| --- | --- |
| | Subproblems Versus PseudoSubproblems |

51
(1)

| | |
| --- | --- |
| | Characteristics of Subproblems |

51
(1)
52
(2)

| | |
| --- | --- |
| | Every Problem Needs Further Delineation |

54
(3)

| | |
| --- | --- |
| | Stating the Hypotheses and/or Research Questions |

54
(1)
55
(1)
55
(1)
56
(1)
57
(1)

| | |
| --- | --- |
| | Ordering the Topics in a Research Proposal |

57
(1)

| | |
| --- | --- |
| | A Sample Research Proposal |

57
(3)

| | |
| --- | --- |
| | Practical Application: Writing the First Sections of a Proposal |

60
(2)

| | |
| --- | --- |
| | Checklist: Evaluating Your Proposed Research Project |

60
(2)

| | |
| --- | --- |
| | Practical Application: Reappraising a Proposed Research Problem |

62
(1)

| | |
| --- | --- |
| | Guidelines: Fine-Tuning Your Research Problem |

62
(1)
63
(1)

| | |
| --- | --- |
| | Review of the Related Literature |

64
(21)

| | |
| --- | --- |
| | Understanding the Role of the Review |

64
(1)

| | |
| --- | --- |
| | Sources and Strategies for Locating Related Literature |

65
(6)

| | |
| --- | --- |
| | Using the Library Catalog |

65
(1)

| | |
| --- | --- |
| | Using Indexes, Abstracts, and Other General References |

66
(1)
67
(2)

| | |
| --- | --- |
| | Additional Strategies for Zeroing in on Relevant Literature |

69
(2)

| | |
| --- | --- |
| | Practical Application: Conducting a Literature Search |

71
(4)

| | |
| --- | --- |
| | Guidelines: Using Your Library Time Efficiently |

72
(3)

| | |
| --- | --- |
| | Organizing the Information You Have Collected |

75
(1)

| | |
| --- | --- |
| | Creating Computer Databases |

75
(1)
76
(1)

| | |
| --- | --- |
| | Practical Application: Beginning Your Review of the Related Literature |

76
(1)

| | |
| --- | --- |
| | Evaluating, Organizing, and Synthesizing the Literature |

77
(2)

| | |
| --- | --- |
| | Practical Application: Writing the Section on the Related Literature |

79
(2)

| | |
| --- | --- |
| | Guidelines: Writing a Clear and Cohesive Review |

79
(2)

| | |
| --- | --- |
| | A Sample Research Proposal |

81
(3)
84
(1)

| | |
| --- | --- |
| | Planning Your Research Project |

85
(30)

| | |
| --- | --- |
| | Planning a General Approach |

85
(3)

| | |
| --- | --- |
| | The Basic Format of All Research |

85
(2)

| | |
| --- | --- |
| | Research Planning Versus Research Methodology |

87
(1)

| | |
| --- | --- |
| | General Criteria for a Research Project |

88
(1)

| | |
| --- | --- |
| | The Nature and Role of Data in Research |

88
(5)
88
(1)

| | |
| --- | --- |
| | Data Are Transient and Ever Changing |

89
(1)

| | |
| --- | --- |
| | Primary Data Versus Secondary Data |

89
(2)

| | |
| --- | --- |
| | Criteria for the Admissibility of Data |

91
(1)

| | |
| --- | --- |
| | Identifying Appropriate Measurement Instruments |

91
(2)

| | |
| --- | --- |
| | Linking Data and Research Methodology |

93
(4)

| | |
| --- | --- |
| | Comparing Quantitative and Qualitative Approaches |

94
(3)

| | |
| --- | --- |
| | Considering the Validity of Your Method |

97
(4)
97
(2)
99
(1)

| | |
| --- | --- |
| | Validity in Qualitative Research |

100
(1)

| | |
| --- | --- |
| | Ethical Issues in Research |

101
(3)
101
(1)
101
(1)
102
(1)

| | |
| --- | --- |
| | Honesty with Professional Colleagues |

102
(1)
102
(2)

| | |
| --- | --- |
| | Professional Codes of Ethics |

104
(1)

| | |
| --- | --- |
| | Planning for Data Collection |

104
(1)

| | |
| --- | --- |
| | Practical Application: Choosing a Research Approach |

105
(2)

| | |
| --- | --- |
| | Guidelines: Deciding Whether to Use a Quantitative or Qualitative Approach |

105
(2)

| | |
| --- | --- |
| | Practical Application: Judging the Feasibility of a Research Project |

107
(3)

| | |
| --- | --- |
| | Checklist: Determining Whether a Proposed Research Project Is Realistic and Practical |

107
(3)

| | |
| --- | --- |
| | When You Can't Anticipate Everything in Advance: The Value of a Pilot Study |

110
(1)

| | |
| --- | --- |
| | Practical Application: Establishing Research Criteria and Justifying Your Research Methodology |

110
(1)

| | |
| --- | --- |
| | Practical Application: Developing a Plan of Attack |

111
(2)

| | |
| --- | --- |
| | Using Project Management Software and Electronic Planners |

113
(1)

| | |
| --- | --- |
| | Keeping an Optimistic and Task-Oriented Outlook |

113
(1)
113
(2)

| | |
| --- | --- |
| | Writing the Research Proposal |

115
(18)

| | |
| --- | --- |
| | Researcher and Architect: Planners in Common |

115
(1)

| | |
| --- | --- |
| | Characteristics of a Proposal |

116
(3)

| | |
| --- | --- |
| | A Proposal Is a Straightforward Document |

117
(1)

| | |
| --- | --- |
| | A Proposal Is Not a Literary Production |

117
(1)

| | |
| --- | --- |
| | A Proposal Is Clearly Organized |

117
(2)

| | |
| --- | --- |
| | Organizing a Research Proposal |

119
(2)

| | |
| --- | --- |
| | Formatting Headings and Subheadings |

120
(1)

| | |
| --- | --- |
| | Practical Application: Writing Your Proposal |

121
(5)

| | |
| --- | --- |
| | Guidelines: Writing the First Draft |

121
(3)

| | |
| --- | --- |
| | Guidelines: Revising Your Proposal |

124
(2)

| | |
| --- | --- |
| | Common Weaknesses in Research Proposals |

126
(1)

| | |
| --- | --- |
| | Practical Application: Strengthening Your Proposal |

127
(1)

| | |
| --- | --- |
| | Checklist: Features Detracting from Proposal Effectiveness |

127
(1)

| | |
| --- | --- |
| | Final Thoughts About Proposal Writing |

128
(1)

| | |
| --- | --- |
| | A Sample Research Proposal |

129
(3)
132
(1)

| | |
| --- | --- |
| | Part III Qualitative Research Methodologies |

133
(28)

| | |
| --- | --- |
| | The Nature of the Research Problem and Planning in Qualitative Research |

134
(1)

| | |
| --- | --- |
| | When to Choose a Qualitative Approach |

134
(1)

| | |
| --- | --- |
| | Qualitative Research Designs |

135
(8)
135
(2)
137
(2)
139
(1)
140
(2)
142
(1)

| | |
| --- | --- |
| | Collecting Data in Qualitative Research |

143
(3)
144
(1)
145
(1)
146
(1)

| | |
| --- | --- |
| | Practical Application: Conducting Interviews in a Qualitative Study |

146
(4)

| | |
| --- | --- |
| | Guidelines: Conducting a Productive Interview |

147
(2)

| | |
| --- | --- |
| | Using Technology to Facilitate Data Collection and Transcription |

149
(1)

| | |
| --- | --- |
| | Organizing and Analyzing the Data from Qualitative Studies |

150
(2)

| | |
| --- | --- |
| | Using Computer Databases to Facilitate Data Organization and Interpretation |

151
(1)

| | |
| --- | --- |
| | Practical Application: Planning a Qualitative Study |

152
(2)

| | |
| --- | --- |
| | Checklist: Planning a Qualitative Study |

152
(2)

| | |
| --- | --- |
| | Criteria for Evaluating Qualitative Research |

154
(1)

| | |
| --- | --- |
| | Practical Application: Evaluating a Qualitative Study |

155
(1)

| | |
| --- | --- |
| | Checklist: Evaluating Qualitative Research Studies |

155
(1)
156
(4)
160
(1)
161
(18)

| | |
| --- | --- |
| | Data Sources in Historical Research |

162
(4)

| | |
| --- | --- |
| | Collecting Historical Records |

165
(1)

| | |
| --- | --- |
| | Online Databases About Historical Events |

165
(1)

| | |
| --- | --- |
| | Practical Application: Handling Historical Data Systematically |

166
(1)

| | |
| --- | --- |
| | A Paper-and-Pencil Approach |

166
(1)

| | |
| --- | --- |
| | A Computerized Approach to Collecting and Organizing Your Data |

166
(1)

| | |
| --- | --- |
| | Evaluating and Interpreting Historical Data |

167
(1)
167
(1)
167
(1)

| | |
| --- | --- |
| | Considering Historical Time and Historical Space |

168
(4)
169
(1)
170
(2)

| | |
| --- | --- |
| | Psychological or Conceptual Historical Research |

172
(1)

| | |
| --- | --- |
| | The Fascination of Searching for Roots |

172
(1)

| | |
| --- | --- |
| | Practical Application: Historical Research Writing |

172
(2)

| | |
| --- | --- |
| | Checklist: Comparing Two Records of a Significant Event in History |

173
(1)

| | |
| --- | --- |
| | Guidelines: Writing the Historical Research Report |

174
(1)
174
(3)
177
(2)

| | |
| --- | --- |
| | Part IV Quantitative Research Methodologies |

179
(38)

| | |
| --- | --- |
| | Descriptive Research Designs |

179
(6)
179
(1)
180
(2)
182
(1)
183
(2)

| | |
| --- | --- |
| | Using Checklists and Rating Scales |

185
(2)

| | |
| --- | --- |
| | Practical Application: Planning and Conducting Interviews |

187
(3)

| | |
| --- | --- |
| | Guidelines: Conducting Interviews in a Quantitative Study |

187
(1)

| | |
| --- | --- |
| | An Example in International Relations |

188
(2)

| | |
| --- | --- |
| | Practical Application: Constructing and Administering a Questionnaire |

190
(7)

| | |
| --- | --- |
| | Guidelines: Constructing a Questionnaire |

190
(2)

| | |
| --- | --- |
| | Guidelines: Maximizing Your Return Rate for a Mailed Questionnaire |

192
(4)

| | |
| --- | --- |
| | Using Databases, Word Processing, and Mail Merge in Developing Questionnaire Materials |

196
(1)

| | |
| --- | --- |
| | Using Scanners to Facilitate Data Tabulation |

197
(1)

| | |
| --- | --- |
| | Practical Application: Computerizing Data Collection in Descriptive Research |

197
(1)

| | |
| --- | --- |
| | Choosing a Sample in a Descriptive Study |

198
(12)
199
(7)

| | |
| --- | --- |
| | Sampling in Surveys of Very Large Populations |

206
(1)

| | |
| --- | --- |
| | Identifying a Sufficient Sample Size |

207
(1)

| | |
| --- | --- |
| | Bias in Research Sampling |

208
(2)

| | |
| --- | --- |
| | Practical Application: Population Analysis for a Descriptive Survey |

210
(2)

| | |
| --- | --- |
| | Checklist: Analyzing a Population |

211
(1)

| | |
| --- | --- |
| | Interpreting Data in Descriptive Research |

212
(1)
212
(1)
212
(4)
216
(1)

| | |
| --- | --- |
| | Experimental and Ex Post Facto Designs |

217
(28)

| | |
| --- | --- |
| | Independent and Dependent Variables |

218
(1)

| | |
| --- | --- |
| | The Importance of Control |

219
(3)

| | |
| --- | --- |
| | Overview of Experimental and Ex Post Facto Designs |

222
(1)
223
(2)

| | |
| --- | --- |
| | Design 1: One-Shot Experimental Case Study |

223
(1)

| | |
| --- | --- |
| | Design 2: One-Group Pretest-Posttest Design |

224
(1)

| | |
| --- | --- |
| | Design 3: Static Group Comparison |

224
(1)

| | |
| --- | --- |
| | True Experimental Designs |

225
(2)

| | |
| --- | --- |
| | Design 4: Pretest-Posttest Control Group Design |

225
(1)

| | |
| --- | --- |
| | Design 5: Solomon Four-Group Design |

225
(1)

| | |
| --- | --- |
| | Design 6: Posttest-Only Control Group Design |

226
(1)

| | |
| --- | --- |
| | Design 7: Within-Subjects Design |

226
(1)

| | |
| --- | --- |
| | Quasi-Experimental Designs |

227
(5)

| | |
| --- | --- |
| | Design 8: Nonrandomized Control Group Pretest-Posttest Design |

227
(1)

| | |
| --- | --- |
| | Design 9: Simple Time-Series Design |

228
(1)

| | |
| --- | --- |
| | Design 10: Control Group, Time-Series Design |

228
(1)

| | |
| --- | --- |
| | Design 11: Reversal Time-Series Design |

229
(1)

| | |
| --- | --- |
| | Design 12: Alternating Treatment Design |

229
(1)

| | |
| --- | --- |
| | Design 13: Multiple Baseline Design |

229
(2)

| | |
| --- | --- |
| | Using Designs 11, 12, and 13 in Single-Subject Studies |

231
(1)
232
(1)

| | |
| --- | --- |
| | Design 14: Simple Ex Post Facto Design |

232
(1)
233
(5)

| | |
| --- | --- |
| | Design 15: Randomized Two-Factor Design |

233
(1)

| | |
| --- | --- |
| | Design 16: Combined Experimental and Ex Post Facto Design |

233
(5)
238
(1)

| | |
| --- | --- |
| | Conducting Experiments on the Internet |

239
(1)

| | |
| --- | --- |
| | Testing Your Hypotheses, and Beyond |

239
(1)

| | |
| --- | --- |
| | Practical Application: Identifying Research Designs |

239
(1)
240
(4)
244
(1)

| | |
| --- | --- |
| | Statistical Techniques for Analyzing Quantitative Data |

245
(37)

| | |
| --- | --- |
| | Exploring and Organizing a Data Set |

245
(6)

| | |
| --- | --- |
| | Organizing Data to Make Them Easier to Think About and Interpret |

248
(1)

| | |
| --- | --- |
| | Using Computer Spreadsheets to Organize and Analyze Data |

249
(2)

| | |
| --- | --- |
| | Choosing Appropriate Statistics |

251
(6)
252
(1)

| | |
| --- | --- |
| | Considering the Nature of the Data |

253
(4)
257
(10)

| | |
| --- | --- |
| | Points of Central Tendency |

257
(4)

| | |
| --- | --- |
| | Measures of Variability: Dispersion and Deviation |

261
(4)

| | |
| --- | --- |
| | Measures of Relationship: Correlation |

265
(2)
267
(8)

| | |
| --- | --- |
| | Estimating Population Parameters |

267
(3)
270
(3)
273
(2)

| | |
| --- | --- |
| | Using Statistical Software Packages |

275
(1)
276
(1)
277
(2)

| | |
| --- | --- |
| | Practical Application: Analyzing Data in a Quantitative Study |

279
(2)

| | |
| --- | --- |
| | Checklist: Questions to Consider When Choosing a Statistical Procedure |

280
(1)
281
(1)

| | |
| --- | --- |
| | Part V Preparing the Research Report |

| | |
| --- | --- |
| | Technical Details: Style, Format, and Organization of the Research Report |

282
(27)
282
(2)

| | |
| --- | --- |
| | ``Surfing'' the Internet for Writing Assistance |

283
(1)
283
(1)

| | |
| --- | --- |
| | Planning a Research Report |

284
(4)

| | |
| --- | --- |
| | Description of the Research Problem |

284
(1)

| | |
| --- | --- |
| | Description of the Method |

285
(1)
285
(1)

| | |
| --- | --- |
| | Interpretation of the Data |

286
(1)
287
(1)

| | |
| --- | --- |
| | A Graphic Organizer for the Research Report |

288
(1)

| | |
| --- | --- |
| | Front Matter and End Matter |

289
(3)
289
(1)
290
(1)
290
(2)
292
(1)

| | |
| --- | --- |
| | Organizing the Research Report |

292
(3)
295
(1)
295
(1)
295
(1)

| | |
| --- | --- |
| | Practical Application: Developing a Writing Schedule |

296
(2)

| | |
| --- | --- |
| | Guidelines: Developing a Workable Schedule |

297
(1)

| | |
| --- | --- |
| | Practical Application: Critiquing a Research Report |

298
(2)

| | |
| --- | --- |
| | Checklist: Criteria for Critiquing a Research Report |

298
(2)

| | |
| --- | --- |
| | Beyond the Unpublished Research Report: Presenting and Publishing |

300
(1)
300
(1)
300
(1)
301
(1)
301
(1)
301
(2)
303
(2)

| | |
| --- | --- |
| | Computing Basic Descriptive Statistics |

305
(1)

| | |
| --- | --- |
| | Computing Inferential Statistics |

306
(3)
References
309
(4)
Index
313