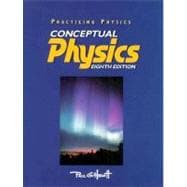 List Price: $56.27

More New and Used
from Private Sellers
Summary
Conceptual Physics, Tenth Edition helps readers connect physics to their everyday experiences and the world around them with additional help on solving more mathematical problems. Hewitt's text is famous for engaging readers with analogies and imagery from real-world situations that build a strong conceptual understanding of physical principles ranging from classical mechanics to modern physics. With this strong foundation, readers are better equipped to understand the equations and formulas of physics, and motivated to explore the thought-provoking exercises and fun projects in each chapter. Included in the package is the workbook. Mechanics, Properties of Matter, Heat, Sound, Electricity and Magnetism, Light, Atomic and Nuclear Physics, Relativity. For all readers interested in conceptual physics.
Table of Contents
About Science
Mechanics
Newton's First Law of Motion: Inertia
Linear Motion
Newton's Second Law of Motion: Force and Acceleration
Newton's Third Law of Motion: Action and Reaction
Momentum
Energy
Rotational Motion
Gravity
Projectile and Satellite Motion
Properties of Matter
Atomic Nature of Matter
Solids
Liquids
Gases and Plasmas
Heat
Temperature, Heat and Expansion
Heat Transfer
Change of Phase
Thermodynamics
Sound
Vibrations and Waves
Sound
Musical Sounds
Electricity and Magnetism
Electrostatics
Electric Current
Magnetism
Electromagnetic Induction
Light
Properties of Light
Color
Reflection and Refraction
Light Waves
Light Emission
Light Quanta
Atomic and Nuclear Physics
The Atom and the Quantum
Atomic Nucleus and Radioactivity
Nuclear Fission and Fusion
Relativity
Special Theory of Relativity
General Theory of Relativity
Appendices
Systems of Measurement
More About Motion
Graphing
More About Vectors
Exponential Growth and Doubling Time
Table of Contents provided by Publisher. All Rights Reserved.