Note: Supplemental materials are not guaranteed with Rental or Used book purchases.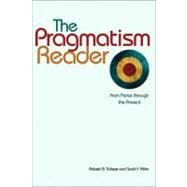 Questions About This Book?
What version or edition is this?
This is the edition with a publication date of 3/21/2011.
What is included with this book?
The New copy of this book will include any supplemental materials advertised. Please check the title of the book to determine if it should include any CDs, lab manuals, study guides, etc.
Summary
The Pragmatism Readeris the essential anthology of this important philosophical movement. Each selection featured here is a key writing by a leading pragmatist thinker, and represents a distinctively pragmatist approach to a core philosophical problem. The collection includes work by pragmatism's founders, Charles Peirce, William James, and John Dewey, as well as seminal writings by mid-twentieth-century pragmatists such as Sidney Hook, C. I. Lewis, Nelson Goodman, Rudolf Carnap, Wilfrid Sellars, and W.V.O. Quine. This reader also includes the most important work in contemporary pragmatism by philosophers like Susan Haack, Cornel West, Hilary Putnam, Richard Rorty, Cheryl Misak, and Robert Brandom. Each selection is a stand-alone piece--not an excerpt or book chapter--and each is presented fully unabridged. The Pragmatism Readerchallenges the notion that pragmatism fell into a midcentury decline and was dormant until the advent of "neopragmatism" in the 1980s. This comprehensive anthology reveals a rich and highly influential tradition running unbroken through twentieth-century philosophy and continuing today. It shows how American pragmatist philosophers have contributed to leading philosophical debates about truth, meaning, knowledge, experience, belief, existence, justification, and freedom. Covers pragmatist philosophy from its origins to today Features key writings by the leading pragmatist thinkers Demonstrates the continuity and enduring influence of pragmatism Challenges prevailing notions about pragmatism Includes only stand-alone pieces, completely unabridged Reflects the full range of pragmatist themes, arguments, concerns, and commitments
Author Biography
Robert B. Talisse is professor of philosophy at Vanderbilt University. His books include A Pragmatist Philosophy of Democracy.
Table of Contents
Introduction
p. 1
Charles S. Peirce
Some Consequences Of Four Incapacities
p. 12
The Fixation Of Belief
p. 37
How To Make Our Ideas Clear
p. 50
William James
Philosophical Conceptions And Practical Results
p. 66
Pragmatisms Conception Of Truth
p. 79
The Will To Believe
p. 92
John Dewey
The Need For A Recovery Of Philosophy
p. 109
The Influence Of Darwinism On Philosophy
p. 141
Creative Democracy The Task Before Us
p. 150
Sidney Hook
The Democratic Way Of Life
p. 155
C. I. Lewis
A Pragmatic Conception Of The A Priori
p. 166
Nelson Goodman
Words, Works, Worlds
p. 174
The New Riddle Of Induction
p. 188
W.V.O. Quine
Two Dogmas Of Empiricism
p. 202
On What There Is
p. 221
Natural Kinds
p. 234
Rudolf Carnap
Empiricism, Semantics, And Ontology
p. 249
Wilfrid Sellars
Language As Thought And Communication
p. 265
Donald Davidson
On The Very Idea Of A Conceptual Scheme
p. 286
Hilary Putnam
Meaning and Reference
p. 299
Realism with A Human Face
p. 309
A Reconsideration Of Deweyan Democracy
Richard Rorty
p. 353
The World Well Lost
p. 353
Solidarity Or Objectivity?
p. 367
The Priority Of Democracy To Philosophy
p. 381
Cornel West
p. 403
Dispensing With Metaphysics In Religious Thought
p. 403
Susan Haack
Double Aspect Found Herentism: New Theory Of Empirical Justification
p. 407
Richard A. Posner
Pragmatic Adjudication
p. 423
Robert Brandom
From Truth to Semantics; A Path Through Making It Explict
p. 440
Huw Price
Truth As A Convenient Friction
p. 451
Cheryl Misak
Making Disagreement Matter: Pragmatism And Deliberative Democracy
p. 471
Credits
p. 485
Index
p. 487
Table of Contents provided by Ingram. All Rights Reserved.