Note: Supplemental materials are not guaranteed with Rental or Used book purchases.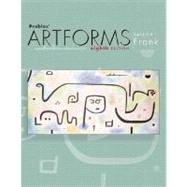 Questions About This Book?
What version or edition is this?
This is the 8th edition with a publication date of 1/1/2009.
What is included with this book?
The Used copy of this book is not guaranteed to include any supplemental materials. Typically, only the book itself is included.
Summary
For courses in Art Appreciation, Art courses for non-majors, and one-semester Introduction to Art classes. From the First Edition in 1972, ARTFORMS has been as visually exciting as the individual works of art that are reproduced in it. ARTFORMS grew out of a desire to introduce art through an engaging visual experience. It is written and designed to help readers build an informed foundation for individual understanding and enjoyment of art. By introducing art theory, practice, and history in a single volume, this book aims to draw students into a new or expanded awareness of the visual arts. The goal is to engage readers in the process of realizing their own innate creativity. In the new, Eighth Edition, the title has been modified to Prebles' ARTFORMS, acknowledging the pioneering contribution of the original authors, Duane and Sarah Preble, to the study of art. Their vision and spirit have touched hundreds of thousands of students who have studied ARTFORMS.
Table of Contents
Acknowledgments
xii
Preface
xiii
Cd Overview
xviii
1
(38)
2
(13)
2
(1)
3
(2)

| | |
| --- | --- |
| | Purposes and Functions of Art |

5
(10)

| | |
| --- | --- |
| | Biography: Jazz, Memory, and Metaphor: Romare Bearden |

11
(4)

| | |
| --- | --- |
| | Awareness, Creativity, and Communication |

15
(24)
15
(1)
15
(1)
16
(2)

| | |
| --- | --- |
| | Aesthetics, Art, and Beauty |

18
(4)

| | |
| --- | --- |
| | Art in the World: Early Encounters with the Artist Within |

20
(2)
22
(1)
22
(1)

| | |
| --- | --- |
| | Untrained and Folk Artists |

23
(3)
26
(1)
26
(1)
27
(4)
31
(1)

| | |
| --- | --- |
| | Seeing and Responding to Form |

32
(3)

| | |
| --- | --- |
| | Biography: A Personal Vision: Georgia O'Keeffe |

34
(1)
35
(4)

| | |
| --- | --- |
| | Artists at Work: Carlos Fresquez |

38
(1)

| | |
| --- | --- |
| | PART TWO The Language of Visual Experience |

39
(60)
40
(32)
41
(3)
44
(2)
46
(2)
48
(7)
55
(4)

| | |
| --- | --- |
| | Artists at Work: Kristin Jones and Andrew Ginzel |

56
(3)
59
(2)
61
(7)
68
(4)
72
(19)
72
(3)
75
(5)

| | |
| --- | --- |
| | Emphasis and Subordination |

80
(1)
80
(2)
82
(1)
82
(2)
84
(4)
88
(3)

| | |
| --- | --- |
| | Biography: Expression Is Foremost: Henri Matisse |

90
(1)
91
(8)
91
(2)
93
(6)

| | |
| --- | --- |
| | Biography: Putting Art into Words: Peter Plagens |

97
(1)

| | |
| --- | --- |
| | Art in the World: Visiting It |

98
(1)

| | |
| --- | --- |
| | PART THREE The Media of Art |

99
100
(15)

| | |
| --- | --- |
| | Biography: A Life's Work in Ten Years: Vincent van Gogh |

104
(1)
105
(3)
108
(3)
111
(2)
113
(2)
115
(12)
116
(3)
119
(1)
119
(4)
123
(1)
123
(1)
124
(3)

| | |
| --- | --- |
| | Art in the World: Art as Activism |

126
(1)
127
(14)
128
(2)
130
(4)
134
(4)
138
(3)

| | |
| --- | --- |
| | Art in the World: Printing It |

140
(1)

| | |
| --- | --- |
| | Camera Arts and Digital Imaging |

141
(24)
141
(9)

| | |
| --- | --- |
| | Biography: ``A Photographer at My Very Core:'' Margaret Bourke-White |

147
(3)
150
(8)
158
(1)
159
(6)

| | |
| --- | --- |
| | Artists at Work: James Johnson |

163
(1)

| | |
| --- | --- |
| | Art in the World: Digitizing It |

164
(1)

| | |
| --- | --- |
| | Graphic Design and Illustration |

165
(10)
165
(1)
166
(6)

| | |
| --- | --- |
| | Biography: Design Between the Eyes: Chaz Maviyane-Davies |

170
(2)
172
(3)
175
(16)

| | |
| --- | --- |
| | Freestanding and Relief Sculpture |

175
(1)
176
(10)

| | |
| --- | --- |
| | Artists at Work: Scott Chamberlin |

178
(8)
186
(3)
189
(2)

| | |
| --- | --- |
| | Clay, Glass, Metal, Wood, Fiber |

191
(15)
192
(4)

| | |
| --- | --- |
| | Biography: Shaping Her People's Heritage: Nampeyo |

194
(2)
196
(1)
197
(1)
198
(1)
199
(7)

| | |
| --- | --- |
| | Biography: Stitched into History: Faith Ringgold |

205
(1)

| | |
| --- | --- |
| | Architecture and Environmental Design |

206
206
(18)

| | |
| --- | --- |
| | Biography: Deconstructing a Building: Zaha Hadid |

220
(3)

| | |
| --- | --- |
| | Biography: Radical Innovator: Frank Lloyd Wright |

223
(1)
224
(2)
226

| | |
| --- | --- |
| | Art in the World: Where We Live |

228

| | |
| --- | --- |
| | PART FOUR Art as Cultural Heritage |

22
(325)

| | |
| --- | --- |
| | From the Earliest Art to the Bronze Age |

230
(12)
230
(3)
233
(3)

| | |
| --- | --- |
| | The Beginnings of Civilization |

236
(1)
236
(2)
238
(4)

| | |
| --- | --- |
| | The Classical and Medieval West |

242
(21)
242
(6)
248
(2)

| | |
| --- | --- |
| | Early Christian and Byzantine Art |

250
(7)

| | |
| --- | --- |
| | The Middle Ages in Europe |

257
(6)

| | |
| --- | --- |
| | Renaissance and Baroque Europe |

263
(26)
263
(16)

| | |
| --- | --- |
| | Biography: The Artist as Scientist: Leonardo da Vinci |

270
(1)

| | |
| --- | --- |
| | Biography: Temperamental Genius: Michelangelo Buonarroti |

271
(8)
279
(10)

| | |
| --- | --- |
| | Biography: Insight and Compassion: Rembrandt van Rijn |

283
(4)

| | |
| --- | --- |
| | Art in the World: Engendering It |

287
(1)

| | |
| --- | --- |
| | Art in the World: Preserving It |

288
(1)
289
(28)
289
(7)
296
(3)
299
(10)
309
(8)
317
(8)
318
(1)
319
(1)
320
(1)
321
(4)

| | |
| --- | --- |
| | Art in the World: Looting It |

324
(1)

| | |
| --- | --- |
| | Africa, Oceania, and the Americas |

325
(22)
325
(6)
331
(5)
336
(6)

| | |
| --- | --- |
| | Biography: Warrior, Captive, and Artist: Howling Wolf |

341
(1)

| | |
| --- | --- |
| | Pre-Columbian Central and South America |

342
(5)

| | |
| --- | --- |
| | Art in the World: Repatriating It |

346
(1)

| | |
| --- | --- |
| | PART FIVE The Modern World |

347
(108)

| | |
| --- | --- |
| | Late Eighteenth and Nineteenth Centuries |

348
(32)
348
(2)
350
(4)
354
(2)
356
(7)

| | |
| --- | --- |
| | Biography: Flouting Social Conventions: Rosa Bonheur |

359
(4)
363
(6)

| | |
| --- | --- |
| | Biography: Devoted to Light: Claude Monet |

365
(4)

| | |
| --- | --- |
| | The Post-Impressionist Period |

369
(11)

| | |
| --- | --- |
| | Biography: Nature as Source: Paul Cezanne |

372
(5)

| | |
| --- | --- |
| | Biography: Struggling Idealist: Paul Gauguin |

377
(3)
380
(17)

| | |
| --- | --- |
| | The Fauves and Expressionism |

381
(4)
385
(6)

| | |
| --- | --- |
| | Biography: Restless Creativity: Pablo Picasso |

390
(1)

| | |
| --- | --- |
| | Toward Abstraction Sculpture |

391
(1)

| | |
| --- | --- |
| | The Modern Spirit in America |

392
(2)

| | |
| --- | --- |
| | Futurism and the Celebration of Motion |

394
(3)
397
(22)
397
(3)
400
(1)
400
(5)

| | |
| --- | --- |
| | Biography: Compelling Autobiographer: Frida Kahlo |

404
(1)
405
(2)
407
(3)
410
(5)

| | |
| --- | --- |
| | Biography: Painting for the People: Diego Rivera |

413
(2)
415
(2)

| | |
| --- | --- |
| | African-American Modernists |

417
(2)

| | |
| --- | --- |
| | Postwar Modern Movements in the West |

419
(28)

| | |
| --- | --- |
| | Abstract Expressionism and Related Art |

419
(6)

| | |
| --- | --- |
| | Photography and Architecture at Mid-Century |

425
(2)
427
(3)

| | |
| --- | --- |
| | Biography: Art and Ordinary Life: Robert Rauschenberg |

428
(2)
430
(2)
432
(3)
435
(2)
437
(1)

| | |
| --- | --- |
| | Site Works and Earthworks |

438
(2)

| | |
| --- | --- |
| | Installations and Environments |

440
(2)
442
(2)
444
(3)

| | |
| --- | --- |
| | Artists at Work: Mierle Ukeles |

445
(1)

| | |
| --- | --- |
| | Art in the World: Censoring It |

446
(1)

| | |
| --- | --- |
| | Modern Art Beyond the West |

447
(8)
447
(1)
448
(2)
450
(2)
452
(1)
453
(2)

| | |
| --- | --- |
| | PART SIX The Postmodern World |

455
(22)

| | |
| --- | --- |
| | Postmodernity and Global Art |

456
(21)
457
(1)
458
(3)
461
(2)
463
(3)
466
(2)

| | |
| --- | --- |
| | Artists at Work: R. M. Fischer |

467
(1)
468
(2)
470
(7)
Timeline
477
(4)
Glossary
481
(8)
Pronunciation Guide
489
(2)
Notes
491
(3)
Suggested Readings
494
(2)
Suggested Websites
496
(2)
Index
498