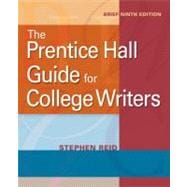 Questions About This Book?
What version or edition is this?
This is the 9th edition with a publication date of 1/8/2010.
What is included with this book?
The Used copy of this book is not guaranteed to include any supplemental materials. Typically, only the book itself is included.
Summary
The Prentice Hall Guide for College Writersfocuses on writing for a variety of purposes in a rhetorical situation. Although audience, context, and writing situation are important, a writerrs"s purpose should be and has always been the focal point of the sequence of assignments. The Prentice Hall Guidebegins with observing and remembering, which are personally important to the writer. It then turns to more reader-based, academic purposes, including critical reading, expository writing, and argumentative writing. Each chapter in this sequence is self-contained, with introductions, guidelines, professional and student models, writing process advice, research tips, revising guidelines, peer review questions, and postscript reflections on the assignment.
Table of Contents
Table of Contents
Thematic Contents
Preface
Credits
Chapter 1 Writing Myths and Rituals
Writing Fitness: Rituals and Practice
Place, Time, and Tools
Energy and Attitude
Keeping a Journal
Reading Entries Ï Write-to-Learn Entries Ï Writing Entries
Warming Up: Journal Exercises
"On Keeping a Journal" by Roy Hoffman
Chapter 2 Situations, Purposes, and Processes for Writing
The Rhetorical Situation
Elements of the Rhetorical Situation
The Writer Ï The Occasion Ï Purpose Ï Audience Ï Genre Ï Context
Why the Rhetorical Situation Is Important
Purposes for Writing
Writer-Based Purposes
Subject- and Audience-Based Purposes
Combinations of Purposes
Subject, Purpose, and Thesis
Purpose and Audience
Audience Analysis
Purpose, Audience, and Genre
Analyzing the Rhetorical Situation
Purpose, Audience, and Context in Two Essays
"The Struggle to Be an All-American Girl" by Elizabeth Wong
"I'm OK, but You're Not" by Robert Zoellner
Dimensions of the Writing Process
Collecting
Shaping
Drafting
Revising
The Whole Process
Warming Up: Journal Exercises
A Writing Process at Work: Collecting and Shaping
"Athletes and Education" by Neil H. Petrie
"On Writing 'Athletes and Education'" by Neil Petrie
A Writing Process at Work: Drafting and Revising
From the Rough Draft of "The Declaration of Independence" by Thomas Jefferson
Chapter 3 Observing
Techniques for Writing About Observations
Observing People
Observing Places
Observing Objects
Warming Up: Journal Exercises
"Take This Fish and Look at It" by Samuel H. Scudder
* "Trailing History" by Scott Vogel
Observing: The Writing Process
Assignment for Observing
Choosing a Subject
Collecting
Sketching Ï Taking Double-Entry Notes Ï Answering Questions Ï Freewriting
Shaping
Spatial Order Ï Chronological Order Ï Comparison/Contrast Ï Definition Ï Simile, Metaphor, and Analogy Ï Title, Introduction, and Conclusion
Drafting
Reread Journal Entries and Notes Ï Reobserve Your Subject Ï Reexamine Purpose, Audience, Dominant Idea, and Shape Ï Create a Draft
Revising
Gaining Distance and Objectivity Ï Rereading and Responding to Your Readers Ï Guidelines for Revision Ï Genre Ï Context
Peer Response
Postscript on the Writing Process
"Permanent Tracings" by Jennifer Macke (student)
"Empty Windows" by Stephen White (student)
Chapter 4 Remembering
Techniques for Writing About Memories
Remembering People
Remembering Places
Remembering Events
Warming Up: Journal Exercises
"Beauty: When the Other Dancer Is the Self" by Alice Walker
"César Chávez Saved My Life" by Daniel "Nene" Alejandrez
Remembering: The Writing Process
Assignment for Remembering
Choosing a Subject
Collecting
Shaping
Genre Ï Chronological Order Ï Comparison/Contrast Ï Image Ï Voice and Tone Ï Persona Ï Dialogue Ï Title, Introduction, and Conclusion
Drafting
Revising
Guidelines for Revision
Peer Response
Postscript on the Writing Process
"The Wind Catcher" by Todd Petry (student)
"The Red Chevy" by Juli Bovard (student)
Chapter 5 Reading
Techniques for Analyzing and Responding to Texts
Critical Reading Strategies
Double-Entry Log Ï Critical Rereading Guide
Guidelines for Class Discussion
Summarizing and Responding to an Essay
"Teach Diversity—with a Smile" by Barbara Ehrenreich
Summarizing
Summary of "Teach Diversity—with a Smile"
Responding
Types of Responses Ï Kinds of Evidence
Response to "Teach Diversity—with a Smile"
Warming Up: Journal Exercises
"Letter to America" by Margaret Atwood
Casebook on Responses to Climate Change
"The IPCC Fourth Assessment" by Jerald L. Schnoor
* "A Climate Repair Manual" by Gary Stix
* "The Rise of Renewable Energy" by Daniel M. Kammen
* "50 Things You Can Do"
Reading and Writing Processes
Assignment for Reading/Writing
Choosing a Subject
"Teaching Tolerance in America" by Dudley Erskine Devlin
Collecting
Text Annotation Ï Reading Log
Shaping
Avoiding Plagiarism
Summary Shaping
Description Ï Paraphrase Ï Direct Quotation Ï Avoiding Plagiarism
Sample Summaries
Response Shaping
Analyzing Ï Agreeing/Disagreeing Ï Interpreting and Reflecting
Outlines for Summary/Response Essays
Drafting
Revising
Guidelines for Revision
Peer Response
Postscript on the Writing Process
"Letter to Margaret Atwood" by Dean C. Swift (student)
"Two Responses to Deborah Tannen" by Jennifer Koester and Sonja H. Browe (students)
Chapter 6 Analyzing and Designing Visuals
Techniques for Analyzing Visuals
Analyzing Visuals
Composition Ï Focal Point Ï Narrative Ï Themes
Analyzing Visuals with Text
Analyzing Visuals in Context
"Progress or Not" by Jonathan Alter
"Who's a Looter?" by Tania Ralli
Analyzing the Genre of the Visual
Rhetorical Appeals to the Audience
Appeal to Reason Ï Appeal to Emotion Ï Appeal to Character and Credibility Ï Combined Appeal in an Ad
Techniques for Designing Visuals
Warming Up: Journal Exercises
* "Analysis of RosettaStone Ad" by Sarah Kay Hurst (student)
"Miss Clairol's 'Does She … or Doesn't She?': How to Advertise a Dangerous Product" by James B. Twitchell
Processes for Analyzing and Designing Visuals
Assignment for Analyzing Visuals
Assignment for Designing Visuals
Choosing a Subject
Collecting
Shaping
Analysis Focused on the Visual
"Triple Self-Portrait" by Charles Rosen and Henri Zerner
Analysis Focused on the Social Context
"Out of the Picture on the Abortion Ban" by Ellen Goodman
Analysis Focused on the Story
"Coming Home" by Carolyn Kleiner Butler
Drafting
Peer Response
Revising
Guidelines for Revision
Postscript on the Writing Process
"Some Don't Like Their Blues at All" by Karyn M. Lewis (student)
"Weight Loss 101 for the Adult Fitness Program" by Lawrence Fletcher (student)
Chapter 7 Investigating
Techniques for Investigative Writing
Report on a Research Study
* "Drivers on Cell Phones Are as Bad as Drunks"
Brief Report with Graphics
"Gimme An A (I Insist!)" by Abigail Sullivan Moore
Profile of a Person
* "Face to Face" by David Kushner
Interview
* "Henry Louis Gates Jr. Will Now Take Your Questions"
Warming Up: Journal Exercises
"Surfin' the Louvre" by Elizabeth Larsen
"The Homeless and Their Children" by Jonathan Kozol
Investigating: The Writing Process
Assignment for Investigating
Choosing a Subject
Community Service Learning
Collecting
Asking Questions Ï Summarizing Ï Citing Sources in Your Text
Research Tips
Doing Field Research
Interviewing Ï Writing Questionnaires
Shaping
Inverted Pyramid Ï Chronological Order Ï Comparison and Contrast Ï Additional Shaping Strategies Ï Title, Introduction, and Conclusion
Drafting
Peer Response
Revising
Guidelines for Revision
Postscript on the Writing Process
"The Hollywood Indian " by Lauren Strain (student)
"My Friend Michelle, an Alcoholic" by Bridgid Stone (student)
Chapter 8 Explaining
Techniques for Explaining
Explaining What: Definition
Explaining How: Process Analysis
Explaining Why: Causal Analysis
Warming Up: Journal Exercises
"Multiracialness" by LaMer Steptoe (student)
"How to Take Control of Your Credit Cards" by Suze Orman
"How Male and Female Students Use Language Differently" by Deborah Tannen
Explaining: The Writing Process
Assignment for Explaining
Choosing a Subject
Collecting
Questions Ï Branching Ï Observing Ï Remembering Ï Reading Ï Investigating
Research Tips
Shaping
Audience and Genre Ï Definition and Classification Ï Example Ï Voice and Tone Ï Chronological Order and Process Analysis Ï Causal Analysis Ï Introduction and Lead-In Ï Lead-In, Thesis, and Essay Map Ï Paragraph Transitions and Hooks Ï Body Paragraphs
Tips for Integrating Images
Drafting
Revising
Guidelines for Revision
Peer Response
Postscript on the Writing Process
* "White Lies: White-Collar Crime in America" by Chris Blakely (student)
"Anorexia Nervosa" by Nancie Brosseau (student)
Chapter 9 Evaluating
Techniques for Writing Evaluations
Evaluating Commercial Products or Services
"The Hybrid Grows Up," by Consumer Reports
Evaluating Works of Art
* "'American Gothic,' Pitchfork Perfect" by Paul Richard
Evaluating Performances
* "Slumdog Millionaire" by Manohla Dargis
Warming Up: Journal Exercises
"Evaluating a Web Site" by Robin Williams and John Tollett
"All's Not Well in Land of 'The Lion King'" by Margaret Lazarus
"Today's Special" by David Sedaris
Evaluating: The Writing Process
Assignment for Evaluating
Choosing a Subject
Collecting
Observing Ï Remembering Ï Reading Ï Investigating
Shaping
Audience and Genre Ï Analysis by Criteria Ï Comparison and Contrast Ï Chronological Order Ï Causal Analysis Ï Title, Introduction, and Conclusion
Research Tips
Peer Response
Drafting
Revising
Guidelines for Revision
Postscript on the Writing Process
"Borrowers Can be Choosy" by Linda Meininger (student)
* "Vulgar Propriety" by Courtney Klockeman (student)
Chapter 10 Problem Solving
Techniques for Problem Solving
Demonstrating That a Problem Exists
Proposing a Solution and Convincing Your Readers
Warming Up: Journal Exercises
* "Should Educators Use Commercial Services to Combat Plagiarism?" by John Barrie and Rebecca Moore Howard
"One Thing to Do About Food" by Eric Schlosser, Marion Nestle, Michael Pollan, Troy Duster and Elizabeth Ransom, Peter Singer, and Jim Hightower
"The Argument Culture" by Deborah Tannen
Problem Solving: The Writing Process
Assignment for Problem Solving
Choosing a Subject
Collecting
Identify and Focus on the Specific Problem Ï Demonstrate That the Problem Needs a Solution Ï Discover Possible Solutions Ï Evaluate Possible Solutions Ï Convince Your Readers Ï Answers Possible Objections Ï List Possible Steps for Implementation Ï Observing Ï Remembering Ï Reading and Investigating
Research Tips
Shaping
Genres for Problem Solving Ï Outlines for Problem Solving Ï Causal Analysis Ï Criteria Analysis Ï Chronological Order
Drafting
Peer Response
Revising
Guidelines for Revision
Postscript on the Writing Process
* "Can Citizen Journalism Pick Up the Pieces?" by Adam Richman (student)
"New Regulations and You" by Jessica Cook (student)
Chapter 11 Arguing
Techniques for Writing Arguments
Claims for Written Argument
Claims of Fact or Definition Ï Claims about Cause and Effect Ï Claims about Value Ï Claims about Solutions or Policies
Appeals for Written Argument
Appeal to Reason Ï Appeal to Character Ï Appeal to Emotion Ï Combined Appeals
Rogerian Argument
The Toulmin Method of Argument
Example of a Toulmin Analysis Ï Using the Toulmin Model
Warming Up: Journal Exercises
"The Internet: A Clear and Present Danger?" by Cathleen A. Cleaver
* Multigenre Casebook on Web 2.0
* "You Have No Friends" by Farhad Manjoo
* "…And Why I Hate It" by Sarah Kliff
* "Facebook U.S. Audience Growth"
* "Teens Feel Safe on MySpace" by Larry D. Rosen
* "Protect the Willfully Ignorant" by Lily Huang
* "Think Before You Post" AdCouncil
* "Wikipedia and the Meaning of Truth" by Simson L. Garfinkel
* "Can Wikipedia Handle Stephen Colbert's Truthiness?" by James Montgomery
* "Why You Can't Cite Wikipedia in My Class" by Neil L. Waters
* "Professors Should Embrace Wikipedia" by Mark A. Wilson
* "Twitter on the Barricades in Iran: Six Lessons Learned" by Noam Cohen
Arguing: The Writing Process
Assignment for Arguing
Choosing a Subject
Collecting
Remembering Ï Observing Ï Investigating
Analyzing Statistics
Shaping
List "Pro" and "Con" Arguments Ï Draw Circle of Alternative Positions Ï Outlines for Arguments Ï Developing Arguments
Research Tips
Drafting
Revising
Revision Guidelines Ï Revising Fallacies in Logic
Peer Response
Postscript on the Writing Process
"Welfare Is Still Necessary for Women and Children in the U.S." by Crystal Sabatke (student)
"Standardized Tests: Shouldn't We Be Helping Our Students?" by Eric Boese (student)
Chapter 12 Responding to Literature
Responding to a Short Story
"The Story of an Hour" by Kate Chopin
Responding to a Poem
"Musée des Beaux Arts" by W. H. Auden
Techniques for Responding to Literature
Warming Up: Journal Exercises
Purposes for Responding to Literature
Responding to Short Fiction
Character Ï Plot Ï Narrative Point of View Ï Setting Ï Style Ï Theme
"The Lesson" by Toni Cade Bambara
Responding to Poetry
Voice and Tone Ï Word Choice Ï Figures of Speech Ï Sound, Rhyme, and Rhythm Ï Style Ï Theme
Five Contemporary Poems by Aurora Levins Morales, Gary Soto, Joy Harjo, Wislawa Szymborska, and Yusef Komunyakaa
Responding to Literature: The Writing Process
Assignment for Responding to Literature
Collecting
Shaping
Explaining Relationships Ï Evaluating Ï Arguing Ï Investigating Changes in Interpretation
Drafting
Revising
Guidelines for Revision
Postscript on the Writing Process
* "Facing It: Reflections on War" by Grace Rexroth (student)
"Death: The Final Freedom" by Pat Russell (student)
Chapter 13 Researching
Techniques for Researching
Using Purpose, Audience and Genre as Guides
Know Your Purpose / Accommodate Your Audience / Consider Your Genre
Finding the Best Sources: Currency, Reliability, and Relevance
Planning Your Research
Warming Up: Journal Exercise
Maintaining Your Voice and Purpose: Effectively Incorporating Sources
Documenting Your Sources
Research Processes
Assignment for Researching
Choosing a Subject
Narrowing and Focusing Your Subject
Warming Up: Journal Exercise
Developing a Research Strategy
Collecting and Notetaking
Record Bibliographic Information Ï Note the Source's Relevance, Reliability, and Currency Ï Summarize Pertinent Source Material Ï Note Key Quotations ÏSynthesize Sources in Your Notes Ï Rethink and Revise Your Hypothesis or Working Thesis
Choosing and Evaluating Sources
Primary and Secondary Sources Ï Background Information and General Reference Ï The 21st Century Library: Physical and Online Sources Ï Online Database Sources Ï Open Web Sources
Writing Processes
Shaping
Plan Ï Working Outline
Drafting
What Sources to Cite Ï Avoiding Plagiarism Ï How to Cite Sources in Your Text Ï Identify Cited References (MLA Style)
Revising
Guidelines for Revision
Documenting Sources
In-Text Documentation: MLA Style Ï Works Cited List: MLA Style Ï In-Text Documentation: APA Style Ï References List: APA Style
"Foreign Language Study: An American Necessity" by Kate McNerny (student) (MLA Format Research Paper)
Appendix: Writing Under Pressure
Know Your Audience
Analyze Key Terms
Make a Sketch Outline
Know the Material
Practice Writing
Proofread and Edit
Sample Essay Questions and Responses
Index
* new to this edition