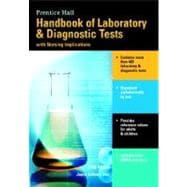 Prentice Hall Handbook of Laboratory and Diagnostic Tests with Nursing Implications
by
Kee, Joyce LeFever
Related Products
Summary
This reference provides quick, pertinent information on laboratory and diagnostic tests with an emphasis on reference values and normal findings, descriptions, purposes, procedures, clinical problems and drug affects, factors affecting tests results, nursing implications and client teaching. 15 new laboratory tests. 5 new diagnostic tests. New section on pacemaker testing and school nursing function. Updated laboratory test values for adults and children. Updated tests for the top 20 common clinical problems. UNIQUE - drugs with serum therapeutic and toxic levels for the Therapeutic Drug Monitoring (TCM). All nursing professionals and students.
Table of Contents
Preface
p. ix
Notice of Privacy Practices
p. xiii
Acknowledgments
p. xv
Contributors and Consultants
p. xvii
Considerations for Use of Laboratory Tests
p. 1
List of Laboratory Tests
p. 4
Laboratory Tests
p. 8
Considerations for Use of Diagnostic Tests
p. 361
List of Diagnostic Tests
p. 363
Diagnostic Tests
p. 365
School Health Services: Education, Screening, and Testing
p. 523
Therapeutic Drug Monitoring (TDM)
p. 531
Laboratory Test Values for Adults and Children
p. 541
Clinical Problems with Laboratory and Diagnostic Tests
p. 569
Bibliography
p. 575
Index
p. 585
Table of Contents provided by Ingram. All Rights Reserved.