Note: Supplemental materials are not guaranteed with Rental or Used book purchases.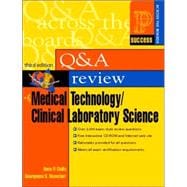 Prentice Hall Health's Question and Answer Review of Medical Technology/Clinical Laboratory Science
ISBN13:
9780838503409
by
Ciulla, Anna
;
Buescher, Georganne
Summary
Prentice Hall Health Review Series About the book A leader in the field, Q & A Review of Medical Technology Clinical Laboratory Science, 3e by Anna Ciulla, MCC, MT (ASCP) SC, CC (RC) & Georganne Buescher, Ed.D., MS, SM (AMM) is the text for certification review. The new Third Edition has been revised and updated to reflect today's current practices, include more clinical case studies, highlight the latest technology and terminology, and features new coverage of molecular methods. Comprehensive presentation of exam material is combined with a corresponding CD-ROM and Companion Website that provides additional review. As you build confidence by digging into this rich content review, you'll find that the Prentice Hall Health test preparation system is a blueprint for success across the boards. Boost Your Scores, Launch Your Career! Our technology solutions allow you to gain more practice and review. Log onto www.prenhall.com/review to find additional questions, rationales, and links to related resources, or explore the free CD-ROM, which includes a mock examination. About the Authors Anna Ciulla, MCC, MT(ASCP)SC, CC(NRCC) is an Associate Professor and Chair of the Department of Medical Technology at the University of Delaware. She has been recognized for professional excellence with numerous awards including the American Society of Clinical Pathologists Associate Member Section Excellence in Education award. Actively involved in education and the community, Professor Ciulla has held committee appointments and advisory positions throughout her more than 25 years of experience. She has also authored and contributed to chemistry texts. Georganne Buescher, Ed.D., MS, SM (AMM) is the Associate Dean of the College of Graduate Studies and the Director of the Master of Science Programs in the basic sciences at Thomas Jefferson University. She was awarded the Lindback Prize for Distinguished Teaching in the basic sciences in 1993 and continues to be active in both the didactic and laboratory instruction of medical students. She serves as Chairman of the Advisory Board for the Medical Laboratory Technician Program at Montgomery County College. She has co-authored self-study courses and is published by the Colorado Association for Continuing Medical Laboratory Education. About the Series Success Across the Boards is a study system that revolutionizes exam preparation for a variety of health care professions. By integrating interactive technology with authoritative content and realistic sample test questions, Q & A Review of Medical Technology Clinical Laboratory Science will help you join the many others who have used these materials to achieve success on the boards.
Table of Contents
1. Clinical Chemistry.
2. Hematology.
3. Hemostasis.
4. Immunology.
5. Immunohematology.
6. Microbiology.
7. Urinalysis and Body Fluids.
8. Molecular Diagnostics.
9. Laboratory Calculations.
10. General Laboratory Principles and Safety.
11. Laboratory Management.
12. Education.
13. Computers and Laboratory Informatics.
14. Self-Assessment Test.
CD-ROM.

Excerpts
Prentice Hall Health's Question & Answer Review of Medical Technology/Clinical Laboratory Science, Third Edition,has been designed to help examination candidates to prepare fob national certification or state licensure examinations. It is also a useful tool for practicing clinical laboratory scientists as a source of "refresher" information. The excellent reception received by the first two editions of the book spurred the writing of this third edition. Educators and students alike have commented that the strength of the book is in the paragraph explanations that accompany each answer. In this way users of the book can more easily augment their knowledge or clear up misunderstandings. To enhance the third edition and to make it even more valuable to users, new features have been added and some changes have been made. A color plate of 60 full-color pictures has been included to provide the user with experience in answering questions based on a color photo. Additionally, the 200-question self-assessment test has been revised and a 100-question self-assessment test for the CD-ROM has been developed as mechanisms for final evaluation of one's knowledge, thus allowing for the identification of one's strengths and weaknesses while there is still time to improve. The book contains more than 2000 multiple choice questions that cover all the areas commonly tested on national certification examinations and state licensure examinations. The majority of questions have been revised or updated based on current clinical laboratory practice, terminology, and taxonomy. Additional case study questions have been incorporated into this edition. Many of the paragraph explanations have been revised, and matching puzzles have been added to the CDROM to further assess knowledge. Overall, this book provides the essential components needed in an effective medical technology examination review book. We hope that you find this book and the accompanying CD-ROM useful, and we wish you success with the examination and with your career as a clinical laboratory scientist.