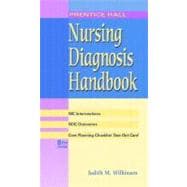 Prentice Hall Nursing Diagnosis Handbook : With NIC Interventions and NOC Outcomes
by
Wilkinson, Judith M.
List Price: $39.95

More New and Used
from Private Sellers
Related Products
Summary
This easy-to-use guide gives nurses instant access to information needed to write thorough, individualized care plans based on the most recent NANDA-approved nursing diagnoses. Nursing Interventions Classifications (NIC) and Nursing Outcome Classifications (NOC) are incorporated throughout. The guide presents diagnoses associated with medical, surgical, psychiatric, perinatal, and pediatric patient populations. Each Plan of Care includes: definition of nursing diagnosis, defining characteristics, related factors, suggestions for use, suggested alternative diagnoses, expected outcomes and evaluation criteria, NIC/NOC taxonomy, and suggested nursing actions. An excellent reference resource for staff nurses in a variety of settings, clinical nurse specialists, and staff development employees.
Table of Contents
Preface
v
Features
v
Other Features
vi
Audience
vii
Reviewers
viii
Introduction
ix
Background
ix
Nursing Process in Relation to Nursing Diagnosis
ix
Standards of Care in Relation to Nursing Diagnosis
x
Case Management and Critical Paths
x
Case Management
x
Critical Paths and Managed Care
xi
Components of Nursing Diagnosis Care Plans
xiii
Plans of Care
xiii
Nursing Diagnosis
xiii
Definition
xiii
Defining Characteristics
xiii
Related Factors
xv
Risk Factors
xv
Suggestions for Use
xv
Suggested Alternative Diagnoses
xv
NOC Outcomes
xvi
Goals/Evaluation Criteria
xvi
NIC Interventions
xvii
Nursing Activities
xvii
Clinical Conditions Guide to Nursing Diagnoses and Collaborative Problems
xix
Nursing Diagnoses
xix
Multidisciplinary (Collaborative Problems)
xix
How to Create a Nursing Diagnosis Care Plan
xxi
Assessment
xxi
Diagnosis
xxi
NOC Outcomes
xxii
Goals/Evaluation Criteria
xxii
Nursing Interventions and Activities
xxii
Creating a Critical Path
xxiii

| | |
| --- | --- |
| | Plans of Care in Alphabetical Order 1-634 |

| | |
| --- | --- |
| | Each plan of care contains the following information: |

| | |
| --- | --- |
| | Suggested Alternative Diagnoses |

| | |
| --- | --- |
| | Goals/Evaluation Criteria (Examples of NOC and Other) |

| | |
| --- | --- |
| | Nursing Activities (NIC and Other) |

| | |
| --- | --- |
| | Clinical Conditions Guide to Nursing Diagnoses and Collaborative Problems |

635
(86)
636
(29)
665
(12)
677
(11)

| | |
| --- | --- |
| | Antepartum and Postpartum Conditions |

688
(8)
696
(10)
706
(15)
Bibliography
721
(17)
Appendix A 2003--2004 Nanda International-Approved Nursing Diagnoses Grouped by Gordon's Functional Health Patterns
738
(5)
Appendix B Nanda International-Approved Nursing Diagnoses (2003--2004), Taxonomy II: Domains, Classes and Diagnoses
743
(8)
Appendix C Selected Nanda International Axis Descriptors
751
(2)
Appendix D Multidisciplinary (Collaborative) Problems Associated with Diseases and Other Physiologic Disorders
753
(10)
Appendix E Multidisciplinary (Collaborative) Problems Associated with Tests and Treatments
763
Appendix F Multidisciplinary (Collaborative) Problems Associated with Surgical Treatments
674
(92)
Appendix G Nursing Diagnoses Accepted for Further Development, Level 1.4 (Nanda International)
766
(3)
Credits
769
(2)
Index
771