Note: Supplemental materials are not guaranteed with Rental or Used book purchases.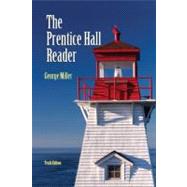 Questions About This Book?
What version or edition is this?
This is the 10th edition with a publication date of 12/21/2010.
What is included with this book?
The Used copy of this book is not guaranteed to include any supplemental materials. Typically, only the book itself is included.
Summary
Widely adopted for George Miller#x19;s supportive voice and highly#xA0;reliable writing assignments, The Prentice Hall Readerbalances classic and contemporary essays, arranged in increasing level of difficulty in each chapter.#xA0; Extensive reading, writing, and research#xA0;instruction and an exceptionally comprehensive instructor manual #xA0;make this rhetorical reader an#xA0;effective#xA0;text for any writing program.
Table of Contents
Table of Contents
How to Read an Essay
How to Write an Essay
How to Revise an Essay
Writers at Work
Chapter 1: Example
Ann Quindlen, "The Name is Mine"
Bob Greene, "Cut"
*Rick Reilly, "Getting a Second Wind"
Oscar Casares, "Ready for Some Futbol?"
Brock Read, "Can Wikipedia Ever Make the Grade?"
Student: "Looking for Love"
Literature: "Night"
Critical Reading: "Language Instinct"
Visual: "College Life"
Chapter 2: Narration
Langston Hughes, "Salvation"
*Firoozeh Dumas, "The Wedding"
Tom Haines, "Facing Famine"
Allison Perkins, "Mission Iraq"
Evan Hopkins, "Lockdown"
Student: "Ruby Slippers"
Literature: "Waiting"
Critical Reading: "Blue Hen's Chicks"
*Visual: Will Eisner: "Tell a Story"
Chapter 3: Description
Debra Anne Davis, "A Pen to the Phone"
*Eric Liu, "Po-Po"
William Least Heat Moon, "Nameless Tennessee"
Terry Tempest Williams, "The Village Watchman"
Scott Russell Sanders, "The Inheritance of Tools"
Student: "Natalie"
Literature: "Traveling to Town"
Critical Reading: "Bleak House-London"
Visual: "Mulberry Street"
Chapter 4: Division and Classification
David Bodanis, "What's in Your Toothpaste?"
*Thomas Goetz, "Does the Pleasure of Lighting Up Outweigh the Consequences"
Pico Iyer, "This Is Who I Am When No One is Looking"
Judith Ortiz Cofer, "The Myth of the Latin Woman"
Bernard R. Berelson, "The Value of Children"
Deborah Tannen, "But What Do You Mean?"
Student: "Riding the Rails"
Literature: "Child of the Americas"
Critical Reading: "Classifying Sentences"
*Visual: "Red Bull Cola"
Chapter 5: Comparison and Contrast
Alice Mathias, "The Facebook Generation"
William Zinsser, "The Transaction"
David Sedaris, "Remembering My Childhood on the Continent of Africa"
Suzanne Britt, "Neat People vs. Sloppy People"
*Michael Pollan, "Cheap Corn: Alcohol and Corn Syrup"
Megham Daum, "Virtual Love"
Student: "Minimizing the Guesswork"
Literature: "Coca-Cola and Coco-Frio"
Critical: "Oranges"
*Visual: "Everything About Us Was Opposite"
Chapter 6: Process
Lars Eigher, "My Daily Dives in the Dumpster"
Nora Ephron, "Revision and Life"
*Daniela Werner, "Almost Time to Write. Almost Time…"
David Brooks, "The Culture of Martyrdom"
*Richard N. Bolles, "The Internet: The 10% Solution"
Jennifer Kahn, "Stripped for Parts"
Student: "How to Play Dreidel"
Literature: "Recipe"
Critical: "Getting the Interview Edge"
*Visual: "Tying a Necktie"
Chapter 7: Cause and Effect"
E.M. Forster, "My Wood"
*Mark Penn, "Caffeine Crazies"
Andres Martin, "On Teenagers and Tattoos"
Brent Staples, "Black Men and Public Space"
*Michael Jernigan, "Living Dream"
*Gilbert Cruz, "Driving Us to Distraction"
Student: "Televised Violence"
Literature: "Barbie Doll"
Critical: "What Causes Migraines"
*Visual: "Polar Bear"
Chapter 8: Definition
Ellen Goodman, "Our Do-It-Yourself Economy"
Judy Brady, "I Want a Wife"
*Patrick McCormick, "Are We Being Greenwashed?"
Amy Tan, "Mother Tongue"
*Jhumpa Lahiri, "My Two Lives"
Margaret Atwood, "The Female Body"
Student: "Infallible"
Literature: "Girl"
Critical: "ADHD"
Visual: "Girl and Mirror"
Chapter 9: Argument and Persuasion
CASEBOOK: College Education
Katherine Porter, "The Value of a College Degree"
Linda Lee, "The Case Against College"
*"The 30 Occupations with the Largest Employment Growth, 2006-2016"
*Perspectives for Argument: "Who Should and Shouldn't Go to College"
CASEBOOK: Performance Enhancing Drugs: Cheating?
*Michael Dillingham, "Steroids, Sports and the Ethics of Winning"
*from Steve Yuhas, "Steroid Scandal Overblown and Hypocritical"
*Perspectives for Argument: quotes from Sharon Ryan, "What's So Bad About Performance Enhancing Drugs"; Norman Fost, "Steroids, Other 'Drugs', and Baseball"; David Fairchild, "Of Cabbages and Kings: Continuing Conversation on Performance Enhancers in Sport."
CASEBOOK: Organ Donation and Transplant
*"Buying and Selling Organs Is Unethical"
*Pete du Pont, "Have a Heart — but Pay Me for It"
*Advertisements Promoting Organ Donation
*Perspectives for Argument: short selections Michael Potts and Paul A. Byrne "Is It Morally Right for Physicians to Kill Their Patients That Good May Come?"'; Sally Satel, "The God Committee: Should Criminals Have Equal Access to Scarce Medical Treatments?"
CASEBOOK: Soda Tax?
*Veronique de Rugy, "Have a Coke and a Tax: The Economic Case Against Soda Taxes"
*Kelly D. Brownell and Thomas R. Frieden, "Ounces of Prevention — The Public Policy Case for Taxes on Sugared Beverages"
Peter Singer, "The Singer Solution to World Poverty"
*Statistics about Worldwide Need and How to Help
Student: "Lowering the Cost"
Literature: "Dulce et Decorum Est"
Critical: "Top Five Reasons"
Visual: Uncle Sam
Chapter 10: Research Paper