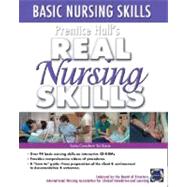 Questions About This Book?
What version or edition is this?
This is the edition with a publication date of 1/1/2005.
What is included with this book?
The Used copy of this book is not guaranteed to include any supplemental materials. Typically, only the book itself is included.
Summary
Prentice Hall's Real Nursing Skills series offers users the complete foundation for competency in performing clinical nursing skills. This is the only skills series designed to help users visualize how to perform clinical nursing skills and understanding the concepts and rationales for each skill. This series is also endorsed by INACSL - The Board of the International Nursing Association for Clinical Simulations and Learning has been involved in focus groups and reviewing the videos of these skills throughout the development of this series. The volumes in this series consist of interactive CD-ROMs with comprehensive procedures and rationales demonstrated in hundreds of realistic video clips, animations, illustrations, and photographs. For each skill, users will review: Purpose * Equipment * Preparation * Procedure * Post-Procedure * Expected Outcomes * Documentation * and Variation (if applicable). Throughout the videos, users will experience the real-life aspects of: therapeutic communication between the nurse and the client, the client's reaction to invasive skills, and cultural, gender, and age diversity among nurses and clients. Covers over 120 basic nursing skills-Skills sets include Risk Management, Activity and Exercise, Self-Care Facilitation, Immobility Management, Skin and Wound Management. Each skills set is on a separate interactive CD-ROM (total 5 CD-ROMs). Nursing Students and Nursing Professionals.
Table of Contents
Risk Management
Hand Hygiene
Using Alcohol-Based Rub
Using Soap and Water
Personal Protective Equipment (PPE) for Standard Precautions
Application and Removal of Gloves
Application and Removal of a Gown
Application and Removal of a Mask
Application and Removal of a Cap
Application and removal of eyewear
Establishing and Maintaining a Sterile Field
Applying Sterile Gloves
Sterile Drape
Adding Items to a Sterile Field
Pouring a Solution
Prepackaged Kit
Applying Restraints
Jacket Restraint
Wrist/Ankle Restraint
Specimen collection
Collect a Blood Specimen from a Central Venous Catheter
Occult Diagnostic Test on a Stool Specimen
Collect a Specimen for Culture: Sputum
Collect a Specimen for Culture: Throat
Collect a Specimen for Culture: Nasal
Collect a Specimen for Culture: Urine
Collect a Specimen for Culture: Wound
Perform a Blood Glucose Evaluation
Obtain a Blood Specimen for Culture
Phlebotomy
Vital Signs
Measuring Body Temperature
Measuring Body Temperature: Oral Non-Mercury
Measuring Body Temperature: Rectal
Measuring Body Temperature: Axillary
Measuring Body Temperature: Tympanic
Measuring a Client's Pulse Rate and Rhythm: Radial
Measuring a Client's Pulse Rate and Rhythm: Apical
Measuring Blood Pressure
Measuring Orthostatic Blood Pressure
Assessing Respiratory Rate
Pulse Oximetry
Peripheral Pulse Assessment
Carotid Artery Assessment
Activity and Exercise
Utilizing Principles of Ergonomics During Client Care
Moving the Client up in Bed with Assistance
One nurse
One nurse and drawsheet
Two nurses and drawsheet
Turning a Client to the Lateral Position in Bed
Variation: Logrolling
Positioning the client
Lateral Position
Prone Position
Supine Position
Fowlers Position
Sims Position
Dorsal Recumbent Position
Lithotomy Position
Assisting with Ambulation
One Assistant
Fall Assist Procedure
Assisting Clients to Use Mechanical Aids for Walking
Walker
Cane
Crutches
Two point gait
Three point gait
Four point gait
Swing through gait
Swing to gait
Assisting the Client in Climbing Stairs with Crutches
Assisting Client in Descending Stairs with Crutches
Performing Range of Motion Exercises
Neck (Pivot Joint)
Shoulder (Ball and Socket Joint)
Elbow (Hinge Joint)
Wrist (Condyloid Joint)
Fingers (Condyloid and Hinge Joints)
Thumb (Saddle Joint)
Hip (Ball and Socket Joint) Knee (Hinge Joint)
Ankle (Hinge Joint)
Toes (Hinge and Gliding Joints)
Self-Care Facilitation
Oral Hygiene