Note: Supplemental materials are not guaranteed with Rental or Used book purchases.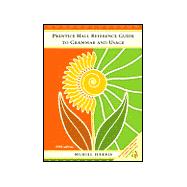 Prentice Hall Reference Guide to Grammar and Usage: Spiral
ISBN13:
9780130486059
by
Harris, Muriel
Summary
This brief, spiral-bound handbook is ideal for writers who want a clear, concise, user-friendly reference beside them while they write. Its easy-to-navigate coverage offers a wide variety of traditional topics and ESL tips as well as the most current information on writing with computers, conducting online research, and using MLA, APA, Chicago Manual, CBE and COS citation formats. It also covers all major areas of grammar and mechanics, conducting research in libraries, using the World Wide Web as a resource, documenting and evaluating both print and electronic sources, document design, and writing résumés and cover letters. For writers or anyone that needs to write in their everyday lives who would benefit from a clear and concise guide to writing.
Table of Contents
I. THE WRITING PROCESS.
1. Purposes and Audiences.
2. Writing Processes and Strategies.
3. Paragraphs.
4. Argument.
5. Writing with Computers.

II. REVISING SENTENCES FOR ACCURACY, CLARITY, AND VARIETY.
6. Comma Splices and Fused Sentences.
7. Subject-Verb Agreement.
8. Sentence Fragments.
9. Dangling and Misplaced Modifiers.
10. Parallel Constructions.
11. Consistency/Avoiding Shifts.
12. Faulty Predication.
13. Coordination and Subordination.
14. Sentence Clarity.
15. Transitions.
16. Sentence Variety.

III. PARTS OF SENTENCES.
17. Verbs.
18. Nouns and Pronouns.
19. Pronoun Case and Reference.
20. Adjectives and Adverbs.
21. Prepositions.
22. Subjects.
23. Phrases.
24. Clauses.
25. Essential and Nonessential Clauses and Phrases.
26. Sentences.

IV. PUNCTUATION.
27. Commas.
28. Apostrophes.
29. Semicolons.
30. Colons.
31. Quotation Marks.
32. Hyphens.
33. End Punctuation.
34. Other Punctuation.

V. MECHANICS AND SPELLING.
35. Capitals.
36. Abbreviations.
37. Numbers.
38. Underlining/Italics.
39. Spelling.

VI. STYLE AND WORD CHOICE.
40. Sexist Language.
41. Unnecessary Words.
42. Appropriate Words.

VII. ESL CONCERNS.
43. American Style in Writing.
44. Verbs.
45. Omitted Words.
46. Repeated Words.
47. Count and Noncount Nouns.
48. Adjectives and Adverbs.
49. Prepositions.
50. Idioms.

VIII. RESEARCH.
51. Finding a Topic.
52. Searching for Information.
53. Evaluating Sources.
54. Taking Notes.
55. Using Sources.

IX. ONLINE RESEARCH.
56. Research Online.
57. Web Resources.
58. Evaluating Internet Resources.
59. Citing Internet Resources.

X. DOCUMENTATION.
60. Documenting in MLA Style.
61. Documenting in APA Style.
62. Documenting in Other Styles.

XI. DOCUMENT DESIGN, PUBLIC WRITING, WRITING ABOUT LITERATURE.
63. Document Design.
64. Public Writing.
65. Writing About Literature.

APPENDICES.
Glossary of Usage.
Glossary of Grammatical Terms.
Answer Key for Exercises.
Index.

Excerpts
TO THE INSTRUCTOR The new material in the fifth edition of this reference guide was added for various reasons: To respond to requests from users of previous editions To keep pace with new challenges writers encounter (such as searching online for information for research papers, designing documents for more effective visual literacy, and writing public documents) To include more information writers need (such as updated guidelines for citing electronic sources, other citation formats, evaluation of sources, writing about literature, and additional Internet resources) In the first part on "The Writing Process," writers are encouraged to view the various suggestions and strategies as possibilities to try when planning, writing, and revising and to select those that are most appropriate for them. Because audience considerations are a major source of difficulty for many writers, there isnew information to help writers think about their audiences.My goal in Part One has been to help students recognize that writers compose differently and that writers need to find out what works best for them. The suggestions and strategies presented here encourage writers to get feedback from readers and to work collaboratively, to move away from the limited--and limiting--notion that writers work alone without hearing any comments from their readers as they compose various drafts of their papers. As writing courses continue to increase their emphasis on research writing, this edition hasexpanded attention to evaluating sources and integrating sources into papers.Various formats for citing sources are discussed, including MLA, APA,Chicago Manual(CM), and Council of Biology Editors (CBE) styles. Because so much research is now conducted online, an expanded section discusses doing research online and includes updated lists of resources and sites to search. There is alsoan added section on Columbia Online Style (COS).For the information about the Internet and its resources, I'm drawing on my experience in developing an online writer's resource, the Purdue University Online Writing Lab (OWL). Our OWL offers dozens of handouts on writing skills, links to useful resources for information, hypertext workshops for students, links to the most widely used search engines (along with assistance on how to search the Internet effectively), and PowerPoint workshops for you to download and present in your own classroom. You are welcome to direct your students to our Web site ( owl.english.purdue.edu ) and to use it yourself. Also new to this book is a section onDocument Design, Public Writing, and Writing About Literature.In the document design section, students will find assistance with formatting and adding visuals such as graphs, charts, and tables. The section on public writing includes information on business documents such as memos, e-mail, and letters, plus extensive help with resumes. The section on writing about literature offers writers ways to analyze literature, steps to follow as they write, resources for further information, useful terms, and conventions to keep in mind. Throughout all the editions of this reference guide to grammar and usage, I've kept in mind the countless numbers of students whom I've worked with elbow to elbow as a writing tutor and also the stacks of papers I've read as a teacher. Included here are the points of grammar and aspects of the writing process I have seen students struggle with, and so I have included all the suggestions, proofreading techniques, cautionary advice, and pitfalls to avoid that I've passed along to them. Drawing on experience derived from more years than I care to count, I have emphasized topics I know are major sources of confusion and included strategies I also know students find useful. This book is thus the result of many years of fiel