Note: Supplemental materials are not guaranteed with Rental or Used book purchases.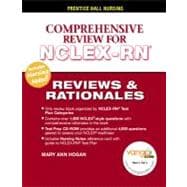 Prentice Hall's Reviews & Rationales Comprehensive NCLEX-RN Review
ISBN13:
9780131195998
by
Hogan, MaryAnn
Summary
KEY BENEFITS: - features a comprehensive outline review, hundreds of practice questions and a 265-question practice test - A FREE CD-ROM provides additional questions for review -Organization according to the new NCLEX-RN(R) test -The multi-media support that accompanies this review book - Access code for a trial subscription to NCLEX Online -Section for CGFNS-foreign nurses to help foreign nurses prepare for the CGFNS exam - Author former writer for CAT NCLEX (RN) KEY TOPICS: -Over 100 alternate test items such as prioritization, dosage calculation, enhanced image questions, and more in the book and on the CD -FREE Prentice Hall Nursing Notes Cards KEY MARKET: Nursing Students (RN)
Author Biography
Mary Ann Hogan,RN,MSN has been a nurse educator for more than 20 years, currently as a Clinical Assistant Professor at the University of Massachusetts, Amherst.She has taught in diploma, associate degree, and baccalaureate nursing programs.A former item writer for the CAT NCLEX-RN(R), she has been teaching NCLEX(R) review programs for the past 14 years, with a particular interest in working with students who have English-as-a-second-language to prepare for exams. She has contributed to a number of publications in the area of NCLEX(R) review, adult health and fundamentals of nursing. Ms. Hogan is a member of the American Nurses Association and Sigma Theta Tau International.
Table of Contents
Preparing for the NCLEX-RN(R)
The NCLEX-RN Examination
Test Preparation Strategies
The NCLEX-RN Through Candidates' Eyes
Taking the NCLEX-RN(R) Exam as a Foreign Nurse
Safe Effective Care Environment
Legal and Ethical Nursing Practice
Leadership and Management
Providing a Safe Environment
Infection Control
Health Promotion and Maintenance
Perinatal Growth and Development
Antenatal Care
Minimizing Antenatal Risk Conditions
Uncomplicated Labor and Delivery
Minimizing Complications of Labor and Delivery
Postpartum Care
Minimizing Postpartum Complications
Care of the Newborn
Childhood and Adolescent Growth and Development
Providing Immunizations
Conducting a Physical Assessment
Promoting Healthy Lifestyle Choices Across the Lifespan
Age-Related Care of Adults and Older Adults
Psychosocial Integrity
Therapeutic Communication and Environment
Culturally Competent Care
Coping with Stressors
Mental Health Disorders
Dependency and Addiction
Crisis Intervention
Physiological Integrity: Basic Care and Comfort
Nutrition
Meeting Basic Human Needs
Maintaining Function of Tubes and Drains
Alternative and Complementary Therapies
End of Life Care
Physiological Integrity: Pharmacological and Parenteral Therapies
Medication Administration
Intravenous Therapy
Administering Blood Products
Total Parenteral Nutrition
Maternal and Newborn Medications
Pediatric Medications and Dosage Calculations
Psychiatric Medications
Respiratory Medications
Cardiovascular Medications
Neurological Medications
Renal Medications
Gastrointestinal Medications
Endocrine Medications
Musculoskeletal Medications
Integumentary Medications
Eye and Ear Medications
Antineoplastic Medications
Immunologic Medications
Physiological Integrity: Reduction of Risk Potential
Laboratory Tests
Fluid and Electrolyte Balance
Acid-Base Balance
Common Diagnostic Tests
Perioperative Care
Physiological Integrity: Physiological Adaptation
Respiratory Disorders of Children or Adults
Cardiovascular Disorders of Children or Adults
Neurological Disorders of Children or Adults
Renal Disorders of Children or Adults
Gastrointestinal Disorders of Children or Adults
Metabolic or Endocrine Disorders of Children or Adults
Musculoskeletal Disorders of Children or Adults
Integumentary Disorders of Children or Adults
Eye, Ear, Nose and Throat Disorders of Children or Adults
Hematological Disorders of Children or Adults
Oncological Disorders of Children or Adults
Immunological Disorders of Children or Adults
Communicable or Infectious Diseases
Basic Life Support
Table of Contents provided by Publisher. All Rights Reserved.